What is Chase Overdraft Protection?
Ad Disclosure: This article contains references to products from our partners. We may receive compensation if you apply or shop through links in our content. You help support CreditDonkey by using our links.
(read more)
Chase charges a hefty $34 insufficient funds policy. Find out how to avoid fees with their overdraft protection services.
The easiest way to avoid overdraft fees is to sign up for Chase overdraft protection. Once you're enrolled, Chase will transfer money from your savings to cover an overdraft in your checking balance. The process is actually pretty simple.
Take a look at how to get rid of overdraft fees once and for all.
What is an overdraft?
An overdraft is when you don't have enough money in your account to cover a purchase, check or payment. And your bank or credit union pays the transaction for you.
Many banks and credit unions will charge you a fee for covering the transaction. In addition, you're required to repay the overdraft amount.
For example, you can overdraw in ATM transactions, automatic bill payments, and electronic or in-person withdrawals.
Banks and credit unions have different fees for overdraft protection. You should research a bank's overdraft policy before signing up for a checking account. Overdraft fees are one of the biggest and most frustrating charges for banking customers.
Overdraft Services
To help out checking account holders, Chase offers two main overdraft services: overdraft protection and debit card coverage.
1. Overdraft Protection
Chase's overdraft protection feature lets you link your Chase savings account to your checking account. If your checking account doesn't have enough funds to cover the purchase but your savings account does, you can transfer that amount into your checking account.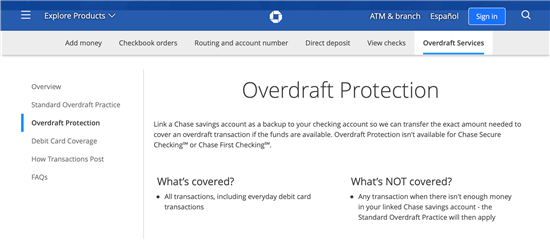 Screenshot of Chase
This service covers all transactions, including everyday debit card transactions. However, when there isn't enough money in your linked Chase savings account then you'll be charged an overdraft fee.
How to set up Chase overdraft protection on Chase Mobile ® App:

Sign in to your Chase Mobile ® App

Select the checking account you want to have Overdraft Protection

Swipe up to view the rest of the page

Select Overdraft protection

Select Choose account

Choose the savings account as the Overdraft Protection backup account for your checking account

Select Done

Review the Overdraft Protection Service Terms & Conditions and select your agreement

Select Update protection
2. Debit Card Coverage
Chase offers Debit Card Coverage for everyday debit card transactions. If you're purchasing an item and you don't have enough funds in your account, you can choose "Yes" or "No."
Select "No" - the purchase will be declined and you won't be charged a fee

Select "Yes" - Chase may cover this transaction and charge a fee. This fee will vary based on your account history, deposits you make and transaction amount.
This service covers everyday debit card transactions only (such as groceries, gasoline or dining out).
How to set up debit card coverage on Chase Mobile ® App:

Sign in to your Chase Mobile ® App

Select the checking account you want to have Debit Card Coverage

Swipe up to view the rest of the page

Select Debit card coverage

Review the Chase debit card coverage Terms & Conditions and select your agreement

Choose Coverage selection

Select Update coverage
Overall, Chase's overdraft protection is simpler than their debit card coverage service.
Overdraft Fees
If you incur an overdraft, these are the checking account fees:

$34 Insufficient Funds Fee per item

$34 Returned Item Fee per check automatic payment

If a merchant submits the same check or automatic payment multiple times, it may result in both a Returned Item Fee and Insufficient Funds Fee. If Chase returns one of these items, they'll charge you one Returned Item Fee for that item within a 30-day period.

Maximum of three fees per day (total of $102)
If you overdraw your account, you can avoid the overdraft fee. Just deposit or transfer funds into your account to cover the payment before the business day ends. Here are the cutoff times:

At a branch, before it closes

At an ATM, before 11PM ET / 8PM PT

On Chase.com or the Chase Mobile ® app or use Chase QuickPay®, before 11PM ET / 8PM PT
Chase overdraft forgiveness:
You can try to negotiate overdraft fee refunds via the Secure Message Center on the Chase website or by calling customer service (1-800-935-9935). If it's your first time, they will likely give you a free pass.
There's no fee to enroll in Overdraft Protection or Debit Card Coverage. But Overdraft Protection has fewer potential fees. To make your finances simpler, enroll in Chase Overdraft Protection.
Bottom Line
After opening a Chase bank account, signing up for overdraft protection should be one of the first things you do. You'll avoid headaches and unnecessary fees. And if you don't have a checking account with Chase yet, check out the current Chase coupon promotions.

New Chase checking customers enjoy a $200 bonus when you open a Chase Total Checking® account and set up direct deposit
Access to more than 15,000 Chase ATMs and more than 4,700 branches
Chase Mobile® app - Manage your accounts, deposit checks, transfer money and more -- all from your device.
JPMorgan Chase Bank, N.A. Member FDIC
Open your account online now
Available online nationwide except in Alaska, Hawaii and Puerto Rico. For branch locations, visit locator.chase.com.
Chase Overdraft Assist℠ - no overdraft fees if you're overdrawn by $50 or less at the end of the business day or if you're overdrawn by more than $50 and bring your account balance to overdrawn by $50 or less at the end of the next business day*

Earn a cash bonus in three steps:
Open a new eligible business checking account by December 31, 2023
Make Qualifying Deposits* of $5,000 or more in new money within 30 days of opening the new eligible business checking account
Maintain an average balance of $5,000 for the next 60 days (day 31-90) during the maintenance period**
*Qualifying Deposits are deposits of new money, which is money not currently or previously held in any account at Bank of America or Merrill
**The maintenance period begins thirty-one (31) days after account opening and ends ninety (90) calendar days after account opening.
Member FDIC

Earn up to $2,000 when you open a new eligible Citi checking account and enroll in the offer the same day
New to Relationship customers can choose their Relationship Tier.
Within 20 days of opening, deposit the minimum amount of new-to-Citibank funds.
Maintain a minimum balance for 60 consecutive calendar days from the 21st day.
If your balance falls to a lower Balance Level at any point during the maintenance period, the bonus changes.
Bonus will be paid within 30 days after you successfully complete all required activities.
Restrictions apply.

New customers who apply online for a TD Beyond Checking account can earn a $300 cash bonus after receiving direct deposits of $2,500 or more within 60 days. To qualify for this offer, you must be a U.S. resident and apply for the offer online. Offer is available in these states: CT, DC, DE, FL, MD, ME, MA, NC, NH, NJ, NY, PA, RI, SC, VT, VA
Three ways to go monthly maintenance fee-free: Monthly Maintenance fee waived when you set up direct deposits of $5,000 or more within a statement cycle, maintain a $2,500 minimum daily balance, or have a $25,000 combined balance across eligible TD accounts.
ATM perks: TD fees waived at any ATM and non-TD fees reimbursed when you keep at least a $2,500 daily balance
A little extra time. A lot of extra relief: Avoid fees with Grace Period, which gives you until 11 PM ET the next business day to fix an overdraft. Make sure your available balance is at least $0 by depositing enough to cover the overdrawn balance plus any additional transactions and TD will refund the overdraft fee to your checking account.
Fast and secure payments: TD Bank debit cards are backed by the Zero Liability guarantee and 24/7 fraud monitoring
Convenient locations with the longest hours around: We have over 1,100 locations from Maine to Florida that's open early, late, and weekends.
Get reimbursed for fees including two overdraft fees per year, all Rush Bill Payments, and one outgoing wire per statement cycle (domestic or international).
Additional TD Bank checking account perks worth talking about: Get 24/7 access to all your TD accounts with Online & Mobile Banking, plus Bill Pay, Send
Money with Zelle®, Mobile Deposit and Online Statements.

To get your $150 or $200 Bonus: What to do: Apply for your first Discover Online Savings Account, online, in the Discover App or by phone. Enter Offer Code CY923 when applying. Deposit into your account a total of at least $15,000 to earn a $150 Bonus or deposit a total of at least $25,000 to earn a $200 Bonus. Deposit must be posted to account within 30 days of account open date. Maximum bonus eligibility is $200.
What to know: Offer not valid for existing or prior Discover savings customers or existing or prior customers with savings accounts that are co-branded, or affinity accounts provided by Discover. Eligibility is based on primary account owner. Account must be open when bonus is credited. Bonus will be credited to the account within 60 days of the account qualifying for the bonus. Bonus is interest and subject to reporting on Form 1099-INT. Offer ends 12/14/2023, 11:59 PM ET. Offer may be modified or withdrawn without notice. See advertiser website for full details.
Amber Kong is a content specialist at CreditDonkey, a bank comparison and reviews website. Write to Amber Kong at amber.kong@creditdonkey.com. Follow us on Twitter and Facebook for our latest posts.
Note: This website is made possible through financial relationships with some of the products and services mentioned on this site. We may receive compensation if you shop through links in our content. You do not have to use our links, but you help support CreditDonkey if you do.
Compare: