30 Reliable Ways to Make Money Fast
This article contains references to products from our partners. We may receive compensation if you apply or shop through links in our content. You help support CreditDonkey by reading our website and using our links.
(read more)
---
Strapped for cash? There's ways to get back on track. Here are 30 reliable ideas to earn money this week, today, and right now.

© CreditDonkey
Dead car battery. Groceries. Mom's b-day gift.
Any way you slice it…
You need money. And quickly.
Luckily, there have never been more options for making cash fast.
In this guide, we break down all the legit (and legal) ways to make money fast. Plus surprising ways to cut back on your expenses.
Not having money is extremely stressful. It can lead you to make decisions you'll later regret. Remember: You don't need to do anything you're uncomfortable with. The whole point of this guide is to show you how many options you have.

1. Save $100+ in Bills with Trim

© CreditDonkey
Are you paying for a streaming service that you've used…maybe twice? You're definitely not alone. That's where Trim comes in.
Trim connects with your bank accounts, looks for subscription services in your statements, and lets you cancel them with a simple swipe of a finger.
Chances are you're paying more for subscriptions than you realize. Video streaming, music streaming, and magazines add up fast. "Trim" the fat and you could end up with $100+ in your pocket next month.
2. Tackle Debt with a Personal Loan

© CreditDonkey
Sometimes all you need is a short-term boost to get back on your feet. If that sounds like you, consider getting a personal loan.
These are short-term, unsecured loans that give you a fixed amount of money to pay back over a period of time.
Because they're unsecured, you'll never have to risk losing your valuables as collateral.
Personal loans can range from $5,000-$100,000 with terms of 2-5 years. Read our roundup of the best personal loans for more info.
Borrow Between $1,000 - $100,000
Loan Terms from 24 - 84 months
3. Pawn Your Items for Quick Cash

© CreditDonkey
There's a reason pawn shops have stuck around so long. People have been pawning for quick cash for decades.
Traditionally, people sold gold and jewelry at pawn shops. But most accept a wide array of household items, including:

Smartphones

Cameras

Flat-screen TVs

DSLR cameras by Nikon and Canon

Musical instruments

Sporting equipment
You can get an estimate from
PawnBat
for how much your items might fetch at a pawn shop. Pawnbrokers usually get about 75% of a product's retail value. This means that you'll be lucky to get about 50% of it from them.
4. Advertise Your Skills on Fiverr

© CreditDonkey
If you're good at writing, web design or have another valuable skill, you can make some quick cash with Fiverr. Fiverr is a freelance marketplace that connects you with clients from around the globe.
Gigs start at just $5 (and Fiverr keeps 20%), but the earning potential is much more. Over time, you can build your portfolio of clients and increase your prices. Many people even earn a living doing freelance work.
Fiverr is also free to use and you can get paid fairly quickly.
Other freelancing marketplaces:

5. Babysit for Cash This Weekend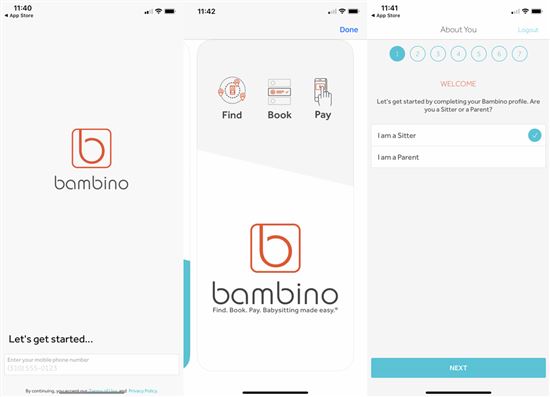 Screenshot of Bambino
Many of us may have babysat in our early teen years. But as adults, we can offer more skills that could result in more cash, like driving and cooking.
It's a great way to make cash, especially if you're good with kids.
You can ask around to see if there are opportunities in your neighborhood. You should also check out top apps like:

6. Host a Garage Sale

© CreditDonkey
Everyone has been to a yard sale at one point or another. They're a great way to earn cash for your stuff, all in one place - your home!
Special touches, like offering cold, bottled water on a hot day, could even boost your earning potential. It's all about creating a pleasant environment for shopping.
You could also consider taking the garage sale online with sites like Craigslist and eBay.
7. Pet Sit with Rover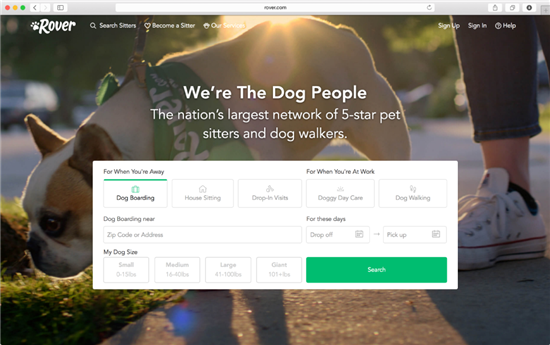 Credit: Rover
If you're looking for easy cash, pet-sitting could be your golden opportunity. When pet owners need to travel without their furry friends, they'll often hire professional pet-sitters to look after them.
Consider checking out pet-sitting sites like Rover.com and DogVacay. Usually, you'll be required to walk, feed, and play with the animals. The more positive references you have, the easier it will be to book a pet-sitting gig.
8. Look for Spare Change

© CreditDonkey
The average person has over $28 in cash and change around the house. You never know where money might be hiding: Check your closets, desks, jackets, and anywhere you may have stashed cash.
Then head out to the car. It's time to dig through the center console, underneath your seat, and anywhere else coins like to hide.
While any extra change is handy, there are ways to make it go even further. Consider using a savings app that invests your spare change and watch it grow over time.
9. Turn Change to Cash with Coinstar

© CreditDonkey
Many people take their coin jars to one of the over 17,000 Coinstar machines around the country. It's an easy way to cash in, though Coinstar's transaction fee is 12%.
To skip the fees, think about taking your change to the bank. Be sure to put your coins in rolls (which many banks offer for free). Some banks might even have their own coin counting machines, which might be free or charge a smaller fee than Coinstar.
Coinstar now offers no-free gift cards to 20 different service partners, like Amazon, Lowe's, and Dominoes. This is the best way to take advantage of Coinstar's convenience without paying the fees.
10. Earn $50/hour as a Tutor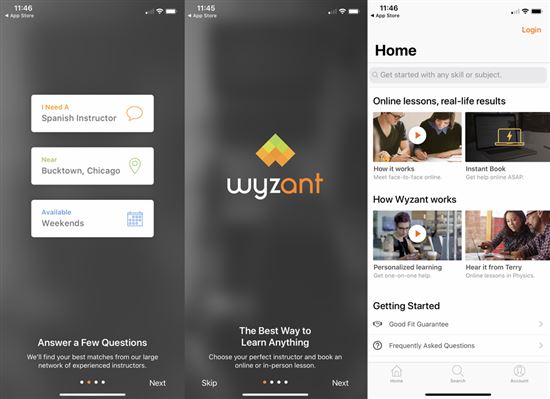 Screenshot of Wyzant
Were you a math wizard in college? Or maybe you had a particular way with words? Offer your knowledge to students and earn extra cash by tutoring.
Depending on the subject you teach, you can make $50+ per hour (even more for SAT or ACT prep).
Reach out to friends and family who have kids, or search for opportunities on local Facebook groups and Craigslist.
As with everything else on our list, there are plenty of apps to find tutoring opportunities too:

11. Sell…Anything, Anywhere

© CreditDonkey
You really can sell pretty much anything online. It doesn't even have to be your own stuff! Plenty of people have things lying around the house that they want to get rid of but don't have the time or energy to sell.
Take and post quality pictures, communicate with prospective buyers, and arrange meetups - the sky's the limit with how much you can make.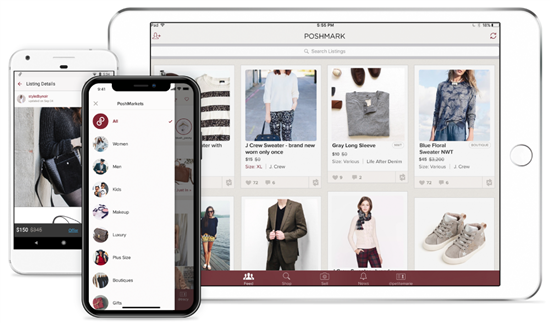 Credit: Poshmark
Where to sell:

How to Make $100 in One Day
Need a little bit of cash ASAP? Here's how to earn $100 today:
Another option: Asking friends for a loan might feel uncomfortable, but it doesn't have to be. Find our essential guidelines a little further down.
12. Make $100 with TaskRabbit

© CreditDonkey
TaskRabbit is like Fiverr, but for quick errands and tasks. The average Tasker pulls in about $110 a month doing a range of jobs including handyman work, cleaning, and other services.
To get started, simply provide a government ID and pass TaskRabbit's automated criminal background check process.
13. Cash in Credit Card Points

© CreditDonkey
Credit card points are a great way to get extra money in your pocket. (If you have a cash-back credit card, you probably know this already.)
Even travel cards will often allow you to redeem points for a statement credit.
You also aren't limited to your current statement. If you stayed at an expensive hotel a few months ago, you could redeem your points to get a statement credit on your current balance
Credit card points are worth $0.01 on average. If you have 25,000 points, for instance, this equals $25.
14. Refinance Your Student Loans

© CreditDonkey
Crazy as it sounds, NOT losing money is a great way to make money. And one way to do it is by refinancing your student loans.
Student loan refinancing is done through a private lender. They combine your loans and set an interest rate based on your creditworthiness.
If your credit has improved since graduating and you know you can afford the monthly payments, consider refinancing. You could potentially save thousands over the life of the loan.
15. Return Recent Purchases

© CreditDonkey
When stores ask you if you'd like a receipt, be sure to say yes. If something doesn't work out with the item, you can take advantage of store returns and put a little money back in your pocket.
Even if it's no longer eligible for a cash refund, you can probably still get store credit.
Don't want store credit? Sell the gift card balance for cash online (more on that later).
16. Get Paid for Taking Surveys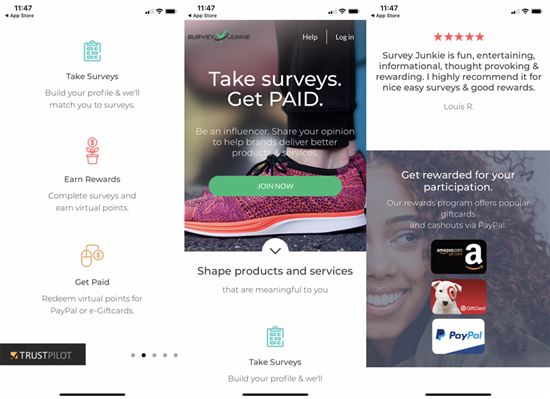 Screenshot of Survey Junkie
When companies know what you like and dislike, they can figure out how to appeal to potential customers just like you. This is why you can get paid to take surveys.
Survey sites pay anywhere from $1-$4 per hour. The real money comes with apps like Survey Junkie, which also helps you become a candidate for focus groups. That's where you can earn $50-$250 per session.

17. Join the Fleet with Lyft or Uber

© CreditDonkey
We've all ridden in an Uber or Lyft. Why not try it out for yourself? If you enjoy driving around and meeting new people, it can be an excellent option for you.
Lyft drivers make about $2 more per hour compared to Uber ($17.50 per hour vs $15.50). But nothing is stopping you from driving for both.
18. Recycle Valuable Materials

© CreditDonkey
There's far more to recycle than just bottles and cans.
Items like scrap metal or car parts can be surprisingly profitable.
Refer to sites like Earth911 to find recycling centers near you. Just be sure to recycle what you can safely (and legally) obtain.
Also check for specific requirements to ensure the recycling center will accept your items. You may have to clean or prepare any recyclables before bringing them in.
19. Deliver Take-out or Groceries

© CreditDonkey
As long as people are ordering take-out and shopping online, there's a way you can make money from it.
There are now dozens of delivery apps on the market. For most, all you need is a smartphone, access to a car, and a simple background check.
The amount you earn varies by app. Some, like Postmates, claim to pay up to $25 per hour. And you'll typically get 100% of tips.
Top delivery apps:

20. Ask Friends or Family for a Loan

© CreditDonkey
If you desperately need cash fast, few options are quicker than reaching out to friends and family. Asking for money can be awkward, but clear communication and expectations can make it easier for all parties involved.
Keep in mind these guidelines:

Make sure they can comfortably afford the loan.

Communicate expectations.

Be honest about what you need it for.

Explain why you are coming to that specific person.

Outline how you will repay the loan.

Discuss what happens if you can't pay it back in the agreed-upon time frame.

If you can't pay the whole debt at once, pay some of it.

Update the person frequently about any changes to the situation.
21. Turn Receipts to Cash with ReceiptHog

© CreditDonkey
Another reason to keep your receipts? ReceiptHog will pay you to scan them (how easy is that?).
All you have to do is snap a pic of your receipt and upload it to the ReceiptHog app. Each receipt earns points—$100 receipts earn 20 points; $10 receipts earn 5 points.
After you've earned 1,000 points, you can redeem for cash or giftcards at retailers like Amazon, Walmart, and Costco.
Similar apps:

22. Ask Your Boss for a Paycheck Advance

© CreditDonkey
With a paycheck advance, you receive a portion of your paycheck before your usual payday.
If you have a good relationship with your employer, asking for an advance usually isn't a big deal.
Just try not to make a habit of it. That may put both you and your employer in an awkward position.
23. Ask Your Boss for a Raise

© CreditDonkey
The average raise for top-ranking employees in 2020 is 4.6%. Workers with average performance can expect about 3%.
First, be sure to ask yourself if you've earned a raise. When you're ready to make the case to your boss, cite specific examples of your good job performance.
The average U.S. salary is
$56,516 per year
.
A 5% raise would be great, but that's only about $3,000 more per year. Divided by 12 annual salary payments, and you'll only get $250 more in your next check. And that excludes taxes.
24. Exchange Gift Cards for Cash
Screenshot of CardCash
Do you have unused gift cards around your house? (If so, you're definitely not alone!)
But did you know you can turn them in for cash? Check to see if there's a Cardpool Exchange Kiosk or vendor near you. You'll be able to get up to 92% of the card's current value.
Other options:

25. Sell Clothes for Cash

© CreditDonkey
If you've got some old clothes taking up space in your closet, this option is for you. Services like thredUP, along with typical consignment shops, are a great way to get money for your clothes.
In general, the more valuable your clothes are, the more you can get for them.
Poshmark is another popular option worth looking into. As one of the largest marketplaces for fashion, someone is likely looking for what you're selling.
Adding high-quality photos of your items and writing a detailed description will help attract more buyers.
26. Sell Old Electronics for $100+
The average home has about $400-$800 in unused electronics lying around. Not only can you earn a good chunk of change from your old tech, you can unclutter your house at the same time.
Check out sites like:

You can get an instant quote for your electronics. Then, print out their free shipping label and get either a PayPal or cash deposit within a week.
27. Find a Serving Job

© CreditDonkey
If you need a longer-term solution for cash, consider applying for a serving job at your favorite restuarant.
Keep in mind that national chains will tell you to apply online and wait months for a response, while mom-and-pop shops will usually be willing to talk with you in person.
If you don't have prior experience, don't worry. Consider applying for host jobs instead, which many restaurants save for newer workers.
28. Try Street Performing

© CreditDonkey
Street performing is a less traditional option, but don't count it out just yet.
With several hours in a tourist locale, you could turn your talent into cash.
Be sure to time your performances right to maximize your earnings. Performing as movies, sports games or concerts get out is a good place to start.
29. Negotiate Bills with Truebill

© CreditDonkey
As more streaming services pop up, it's easy for monthly subscription costs to get out of hand.
That's where Truebill comes in.
Their algorithm finds recurring payments in your bank statements. Then, Truebill negotiates a lower monthly cost or lets you cancel the subscription altogether.
On average, Truebill saves 20% on their bills.
If you're wondering how Truebill makes money, they do it by taking 40% of the savings they negotiate for you. So, if they saved you $100 annually, Truebill would receive $40 of that.
30. Open a New Bank Account for Sign-up Bonuses

© CreditDonkey
At any given time, banks around the country offer bonuses to attract new customers: anywhere from $50 to $1,000+.
If you were already looking to switch banks or open up a new account, this is a perfect option. Just keep in mind that there may be requirements to receive the bonus.
The requirements are usually simple, like keeping a minimum balance. Still, the bonuses are pretty good. Check out the current Chase bonus offer when you open an account and set up direct deposit.
Be sure to research multiple banks to find the best fit for you.
Enjoy $300 as a new Chase checking customer, when you open a Chase Premier Plus Checking℠ account and set up direct deposit.
Enjoy $300, more benefits, and earn interest on your new Chase checking account.
The $25 Monthly Service Fee is waived when you keep an average beginning day balance of $15,000 or more in any combination of this account and linked qualifying Chase checking, savings and other balances.
No Chase fee on first four non-Chase ATM transactions per statement period.
Earn interest on your checking account balance.
Access to 16,000 Chase ATMs and nearly 4,900 branches
Open your account online now.
Available online nationwide except in Alaska, Hawaii and Puerto Rico. For branch locations, visit locator.chase.com.
31. Get $400 to Donate Plasma

© CreditDonkey
While it's not for the squeamish, donating plasma is completely safe and fairly quick.
Donor requirements will vary across donation centers, but most healthy adults are eligible.
Check out the CSL Plasma website to find a donation center near you.
When all is said and done, you could walk out of the donation center with up to $400 in your pocket. Not bad for sitting in a chair for 90 minutes.
32. Rent Out a Room with Airbnb

© CreditDonkey
Airbnb hosts average $924 per month. Not too shabby for space you already have!
Whether you rent out your entire house or just a room in it, it's a pretty easy way to make some money.
Keep in mind that you'll need to provide home essentials and special perks for your guests. Be sure to clean out the clutter and supply new sheets and towels.
It will take a little time to build your reputation on the platform, but once you achieve Super Host status, your investment will really start paying off.
33. Rent Your Car Out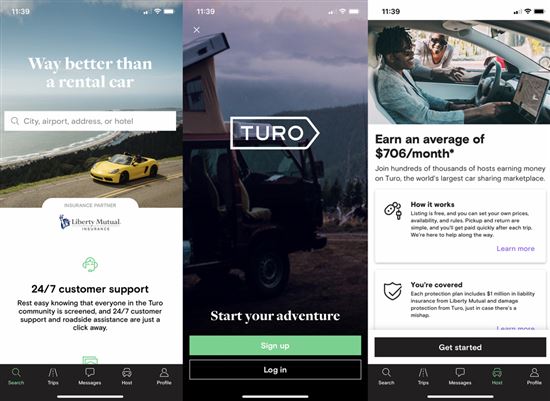 Screenshot of Turo
If you have a car and a driver's license, you have everything you need to earn extra cash.
Platforms like Turo have been called the "Airbnb" of car rental. Simply rent out your car when you're not using it.
Other sites like Getaround offer additional perks like a $50 credit for you to rent another car from the platform.

Make extra money
Set up your own schedule
Includes insurance and roadside assistance
34. Consolidate Your Debt with Tally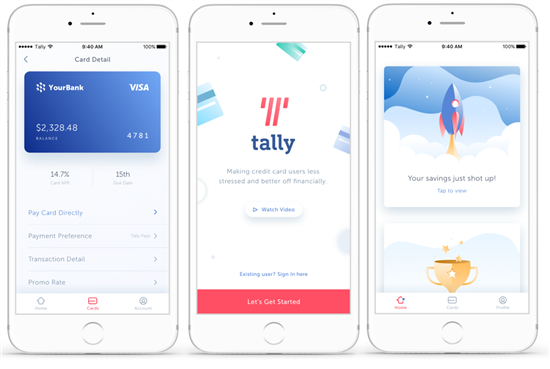 Credit: Tally
The average credit card debt is $6,028 per person. If you count yourself among that group, Tally may be for you.
Tally is app for debt consolation and tracking credit card bills. It helps you not only track and pay your cards on time, but also offers you a line of credit with them. You can then use the credit to pay down your cards while taking on a lower APR loan with Tally.
To qualify for Tally's loan program, you'll need a minimum FICO score of 660.
Money Mistakes to Avoid

© CreditDonkey
When you're desperate for cash, it's easy to make a few missteps. Here are some of the worst things you can do in this situation:
1. Payday Loans
Payday loans are advances against your paycheck. Although this sounds harmless enough, the average interest rate on them is a whopping 391%! This is why they are the face of the predatory lending industry.
Plus, payday loans are expensive.
The lowest charge on a payday loan is $15 for every $100 borrowed.
If you borrowed the average amount of $375, you'd have a fee of $56.25 for a total loan amount of $431.25.
If you can't pay on time, the new amount goes up to $495.94.
Remember: Payday loans are bad news. Avoid them at all costs.
2. Borrowing Against Retirement
You're literally taking money away from yourself. And that's just the beginning of the problems with it.
First, you're getting double-taxed on it because you've already paid taxes on the money deposited, then it's taxed again when withdraw it. Second, if you're under age 59, you can also get hit with a 10% early distribution penalty.
Finally, you have an opportunity cost missed when you've removed and lowered your retirement investment.
The only time it's safe to do this if you can guarantee you can make all payments on time. Even then, you'll still have these issues to deal with.
3. Taking Out a Second Mortgage
Just like borrowing against your retirement, second mortgages are just you borrowing from yourself. You'll have to pay any associated costs, including house appraisal, origination fees, and credit checks. Plus, closing costs can add up into the thousands of dollars.
Second mortgages are risky too. If you stop making payments, your lender could foreclose on your house even if you still have plenty of equity left in it.
Finally, you'll pay interest, which you have to tack on to any monthly payments while still paying your first mortgage.
4. Racking Up Credit Card Debt
If your credit score is high enough, you can open a credit card on your phone and start using it almost instantly. But it's very easy to rack up credit card debt quickly.
Plus, credit card debt is expensive. With an average APR of 19.02%, even carrying small balances can add up over time.
You'll also don't want to get into a cycle of revolving debt that never gives you an opportunity to build a solid financial foundation.
5. Crowdfunding
Crowdfunding isn't as risky as these other options, but it's still not a great idea. Less than one-third of campaigns reach their goals.
You might have seen a successful GoFundMe campaign that helped someone out, but chances are it was for something like paying hospital bills or disaster relief. These are severe cases. People won't be as interested in helping you pay down your credit debt or buy a house.
Finally, crowdfunding campaigns are also a lot of work, and you're better off putting all that energy elsewhere.
Start Your Emergency Fund Now
Don't wait until you desperately need money to start an emergency fund. Once you have one established, it can pay for things like:

Home repairs

Car repairs

Emergency medical or dental

Unemployment.
Experts generally say you should have 3-6 months of living expenses saved up. It may sound daunting, but you can start saving a little each month. Even having $500 put aside can get you out of many financial issues.
To get started with an emergency fund, follow these steps:

Set a monthly savings target. Set automatic transfers to your savings account each time you get paid.
Transfer remaining money from your checking account. If there's money left at the end of the month, transfer it to your savings.
Save your tax refund. As tempted as you are to go on vacation or buy a new TV, save it for a rainy day instead.
Adjust and increase contributions when possible. It's ok if your contributions fluctuate; saving any amount is a good step.
Get supplemental income. A side gig can bulk up your emergency fund in no time.
Bottom Line
Who doesn't need a little extra cash? In this guide, we covered what you need to know about finding new ways to make money, reduce expenses, and implement better financial management.
Don't feel compelled to try all of this at once. Building financial stability takes time. But through discipline and a combination of these techniques, you will be able to secure a healthy financial future.
Note: This website is made possible through financial relationships with some of the products and services mentioned on this site. We may receive compensation if you shop through links in our content. You do not have to use our links, but you help support CreditDonkey if you do.
More from CreditDonkey: