10+ Best Investment Apps for 2023
Ad Disclosure: This article contains references to products from our partners. We may receive compensation if you apply or shop through links in our content. You help support CreditDonkey by using our links.
(read more)
Not all investing apps are worth it. Learn how investment apps like Acorns and Robinhood compare to others.

© CreditDonkey
A good investment app lets you make trades and manage your portfolio on-the-go.
With just a few taps of the screen, you can trade stocks, ETFs, options, mutual funds, and even cryptocurrency. You never need to miss an important trade.
Whether you're a total beginner or an advanced trader, here are the best investment apps to fit your needs.
Best investment apps for investing in 2023
:
What are you saving money for?
Best Investing Apps
Annual Fee
Minimum Deposit
None
$0
See Offers

STASH Growth ($3/mo)
STASH+ ($9/mo)

$0
See Offers
None
$0
See Offers

$3/mo for Acorns Personal (includes personal taxable account, IRA, and checking account)
$5/mo for Acorns Personal Plus (includes everything in Personal, emergency fund, and 25% match on rewards)
$9/mo Acorns Premium (includes everything in Personal Plus, investment accounts for kids, 50% match on rewards, and custom portfolio)

$0
See Offers
None
$0
See Offers
Greenlight Core: $4.99/month
Greenlight Max: $9.98/month
Greenlight Infinity: $14.98/month
$1
See Offers
None
$100
See Offers
None
$0
See Offers
🏆 1. Robinhood: Best for Stocks and Cryptocurrency
Robinhood offers stocks, ETFs, options, and cryptocurrency trades completely 100% commission-free. There is no minimum investment.
The Robinhood mobile app has very high ratings, but it's a totally no-frills app. You won't get stock market research or guidance. It also doesn't offer any retirement account options. It's best for investors who are already comfortable trading on their own.
Top Features:
Free extended trading hours from 7:00 am to 8:00 pm ET.
Perform up to 3 day trades in a five-trading day period.
Get real-time news and updates on stocks in your watch list.
Cost:
The Robinhood app is completely free and requires no minimum balance to get started.
An optional Robinhood Gold account is available for $5 per month for investors with a $2,000 account minimum.[1] This premium account gives traders increased buying power when trading on margin, larger instant deposits, and Morningstar research.
By far the best investment app is Robinhood. First, the user interface (UI) is beautiful and intuitive. You might not think this matters with investing, but it absolutely does when you're trading at scale. Second, it's cheap. The whole point is to be able to make commission-free trades on a free app. Finally, it has the requisite legal backing. Robinhood is a member of the SIPC and so your money is safe for up to $500,000.
Dary Merckens, CTO,
Gunner Technology
Do you prefer to manage your investment with an app or a website?
2. Stash: Best Investing App for Beginners
Stash was made for beginners with no investing experience. You can invest, learn, and save all with one app.
After you answer some questions about your goals, risk tolerance, and interests, the app will give you investment recommendations. Stash will help you build a personalized, diversified portfolio based on your financial goals. This provides guidance, while offering more control than straight up robo-advisors.
There's no investing minimums in order to start investing with Stash.
Top Features:
Users can invest in individual stocks and ETFs and/or choose from themes based on your interests.
3 ways to auto-invest: scheduled transfers, invest spare change from linked bank cards, or Stash will analyze your financial patterns to automatically transfer funds for you.
Helpful educational articles and videos for beginners.
Cost:[2]
Stash has a $3 monthly fee. There are no trade fees.
$3 dollar every month (or $36 per year) might seem low but it's high compared to competitors. If the user only has $100 in the account, $36/year is 36%. But beginner investors may find the guidance worth it.
Other platforms typically charge a percentage of an account's total balance per year. For example, if a robo-advisor charges a 0.25% annual fee, you'll only pay $2.5 per year per $1,000 balance.


Sign up, add at least $5 to your account and get a $5 bonus.
Invest with fractional shares
Get portfolio recommendations
3. Coinbase: Best Crypto Trading for Beginners
Coinbase is one of the largest crypto exchanges in the world. It's available in over 100 countries and supports over 150 coins.
The trading fees are not the cheapest. But the very easy-to-use platform makes up for it. It's an ideal place for beginners to start trading crypto.
Top features:

Buy and sell with a minimum of $2.[3]
Trade between two cryptocurrencies directly.
Learning program that lets you earn pieces of cryptos when you complete mini-lessons.
Anyone can access Coinbase Pro for free, which has lower trading fees and more advanced features.
Cost:

Spread: 0.50%

Transactions: $0.99 - $2.99 (for $200 or less)

Payment with U.S. bank account: 1.49%

Purchase with Coinbase USD Wallet: 1.49%

Purchase with debit cards: 3.99%

Conversions: up to 2%
4. Webull: Best for Free Investing
On Webull, you can trade stocks, options and ETFs for free. In addition, they offer no-fee trades on cryptocurrencies, including Bitcoin, Ethereum, and Litecoin 24/7. There is no minimum.
You'll also get full extended-hours trading. This broker lets you set up an IRA account (traditional, Roth or rollover). However, you cannot trade bonds or mutual funds off of Webull.
Overall, the platform is best for investors with some trading experience. The app can be overwhelming for beginners.
Top features:
Buy fractional shares of stocks and ETFs from $5.
Free paper trading account for practice.
Extended trading hours include full pre-market (4:00 am - 9:30 am ET) and after hours (4:00 pm - 8:00 pm ET).
In-depth tools analysis.
Cost:[4]

No commission-fees for stock, ETF, options or crypto trades

$8 to $45 fees for wire transfers

Get up to 12 free Fractional Shares when you deposit any amount with Webull. Each fractional share is valued between $3-$3000
5. Acorns: Best for Investing Spare Change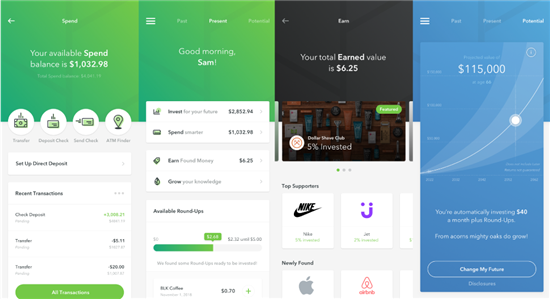 Screenshot of Acorns
Acorns is a "spare change" robo-advisor. You link your credit and debit cards and Acorns will automatically round up the change from your purchases and invest them. There is no minimum to start. The app automatically invests when your balance reaches $5.[5]
The Acorns app is an easy way for young investors to get started. It allows you to save money without thinking while investing your savings at the same time (instead of it just sitting in a bank).
Top Features:
Customize your own round up rules.
Save for later in life with an optional IRA account.
Get "stock-back" when you shop with partner retailers.
Cost:[6]

$3/mo for Acorns Personal (includes personal taxable account, IRA, and checking account)
$5/mo for Acorns Personal Plus (includes everything in Personal, emergency fund, and 25% match on rewards)
$9/mo Acorns Premium (includes everything in Personal Plus, investment accounts for kids, 50% match on rewards, and custom portfolio)
$3 dollars per month is higher than many other robo investment apps if you have a smaller balance (under $15,000). Acorns fee may be worth it if you like the convenience of automated investing.


Open an Acorns account (new users only)
Set up the Recurring Investments feature
Have your first investment be made successfully via the Recurring Investments feature
6. Public: Best for Social Investing
Public is one of the more unique modern investing apps. It makes investing interactive by combining it with a social community.
You can trade stocks, ETFs, and cryptos. There is no minimum investment to get started.
Top features:
Search for stocks you care about by theme, like Women in Charge, Green Power, Cannabiz, and tons more.
Social forum where you can follow other users, see their portfolios, join chats and ask questions.
Over 30 cryptos, including Bitcoin (BTC), Ether (ETH), Cardano (ADA), Shiba Inu (SHIB), and more.
Buy fractional shares of stocks and cryptos with any amount of money.
Cost:
No trading commissions for stocks or ETFs. 1% - 2% markup when buying or selling cryptocurrency.[7]
7. Betterment: Best Auto Investing App
Betterment is one of the first robo-advisors. It automatically invests your money into diversified portfolios of ETFs based on your financial goals and risk tolerance. You cannot choose your own stocks or ETFs.
You can set up multiple portfolios, such as for an emergency fund, large purchases, and IRA accounts. Different goals will have different investment strategies.
Betterment has no minimum to start.
Top Features:
Tax loss harvesting and automatic portfolio rebalancing.
"Smart deposit" feature automatically invests extra money from linked bank accounts.
Retirement calculators tell you if you're on track to your retirement goals.
Cost:[8]
Betterment costs 0.25% of your assets under management. For every $100 in your account, the fee is only 25 cents per year. There are no additional trade fees.
For investors with at least $100,000, you have the option to upgrade to the Premium plan at a 0.40% annual fee. This includes access to financial professionals for personal advice.
8. Crypto.com: Investing in Crypto
Crypto.com is a good all-around crypto platform that offers relatively low fees, margin trading, NFTs, prepaid crypto-back card, and more. It supports over 250 cryptocurrencies.
Top features:

Access up to 10x leverage with margin trading. Supports over 100 leveraged pairs.
Cost:

Spread: 0.25% - 0.5%

Trading: 0.04%-0.4% maker fees; 0.1%-0.4% taker fees[9]

Purchase with debit cards: 0%[10]

No crypto conversion fee
9. Greenlight: Best for Kids & Teens
Greenlight specializes in financial services for kids. The most popular product is the debit card for kids. But they also have a great investing platform that lets kids get a head start on building wealth.
The Greenlight app lets kids spend, save, and invest all from one app. There is no minimum (or maximum) age for users.
Top features:

Kids get their own investing platform. Kids can make trade requests, but parents need to approve every trade.
Parents get a separate log-in and can invest for kids as well. You can withdraw your investments and use them for anything.
Buy fractional shares of stocks and ETFs starting with just $1.
Educational videos, games, and stock research for kids.
Cost:
$9.98 per month for the Greenlight Max and $14.98 per month for Infinity. This also includes debit card, savings account, and financial tools. This cover up to 5 kids.

Flexible controls, spending notifications, in-app chore list
Age: No minimum age
Fees: Starts at $4.99/month, per family (up to 5 kids). $9.98/month for Greenlight Max. $14.98 per month for Greenlight Infinity.
Your funds will be held at Community Federal Savings Bank, an FDIC-insured institution.
10. M1 Finance: Best Hybrid Robo and DIY
A hybrid robo-advisor and DIY broker, M1 Finance bridges the gap for investors who want to choose their own investments, but don't want to manage their portfolio.
You can select your own investments and M1 Finance will take care of the trading and portfolio management for you (such as automatic portfolio rebalancing). Alternatively, you can choose one of many pre-made portfolios and make adjustments.
The minimum to start investing is $100.
Top Features:
Allows you to pick individual stocks and ETFs for fully customized portfolios (called "Pies"). Create and modify your Pies as often as you want.
Set up one-time or scheduled automated deposits. M1 will purchase stocks for you according to your Pies.
Supports fractional shares.
Investors with a balance of at least $10,000 can access a portfolio line of credit. Borrow up to 40% of your portfolio at a low interest rate, with no paperwork or credit check. You can get access to funds fast without selling off your investment portfolio or taking out other loans.

Cost:
The standard M1 Finance app is completely free after a $100 account minimum ($500 for an IRA). There are no trading fees.
M1 Plus - the premium account - costs $95 per year. This includes more investing tools plus higher yields on savings.[11]

New M1 customers get M1 Plus for free on their first 3 months, then it's just $10 a month.
M1 Plus is a paid membership that confers benefits for products and services offered by M1 Finance LLC, M1 Spend LLC and M1 Digital LLC, each a separate, affiliated, and wholly-owned operating subsidiary of M1 Holdings Inc. "M1" refers to M1 Holdings Inc., and its affiliates.
*Your free trial (a $30 value) begins the date you enroll in the M1 Plus subscription, and ends 3 month after ("Free Trial"). Upon expiry of the Free Trial, your account is automatically billed a monthly subscription fee of $10 unless you elect annual billing of $95 or cancel your subscription under your Membership details in the M1 Platform

Open a new M1 investment account. Deposit $10,000 or more into the account within 14 calendar days of account opening. Promotional credit will depend on the deposited value made into the account.
| Deposited Value | Promotional Credit |
| --- | --- |
| $10,000 - $29,999.99 | $75 |
| $30,000 - $49,999.99 | $150 |
| $50,000 - $99,999.99 | $250 |
| $100,000+ | $500 |
This offer is only for customers who have never registered for an M1 user account.
11. Fidelity: Best for Mutual Funds and Index Funds
Fidelity is one of the largest, oldest investment companies. It offers a very highly rated iPhone and Android app that allows the user to monitor your investment portfolio from anywhere.
Fidelity offers a number of no-minimum investment mutual funds. A lot even have 0% expense ratio. Besides Fidelity funds, it also offers over 10,000 funds from other companies.
Fidelity is a full-service investment firm, so it's a great choice for investors looking for a long-term brokerage to grow with them. Both beginners and more experienced investors can learn from its excellent educational resources.
Fidelity has an Apple app store rating of 4.7 stars with 1 million reviews, and Google Play store rating of 4.5 stars with over 53,000 reviews.

Top Features:
Daily customized news feeds, including portfolio, stock market, and company research information.
Retirement calculators and other tools.
Real-time quotes and charts, live Bloomberg streaming videos, and stock market research reports, such as Zack's Bull & Bear of the Day.
View your watch list in grid view or as a heat map.
Syncs with your Apple Watch and Google Assistant to get real-time market quotes and alerts on your wrist.
Cost:[12]
The Fidelity app is free and requires no minimums to open. $0 commissions for U.S. stocks, ETFs, and options (+ $0.65 per contract fee).
Fidelity also offers a free Cash Management banking account with mobile deposit, bill pay, checkwriting, and unlimited domestic ATM reimbursements.
Can stocks protect against inflation?
Nope, stocks are not a good hedge for inflation. Try TIPS (Treasury Inflation Protection Securities) instead.
Olivia S. Mitchell, Professor of Business Economics and Public Policy, Wharton School

12. SoFi Invest: Access to Financial Planners
SoFi Invest offers both DIY and robo investing. You can choose how you want to invest.
You can invest yourself and trade stocks and ETFs with no trading fees, starting from just $1. Crypto trades have a 1.25% fee and have a minimum of $10 per purchase. [13]
Or you can have SoFi automated investing service build a portfolio and manage it for you. The best part about that is that there is no management fee for this service. You only need $1 to start as well.
Top features:
Buy fractional shares from $5.
Choose DIY or automated investing.
All SoFi members get access to real human financial planners at no cost.
Access all of SoFi's products, including SoFi Bank's combined checking and savings account, Invest, and loans.
As a SoFi member, you get benefits on their other services too, like loan discount rates and career advice. You even get one-on-one access to financial professionals for free.

Cost:[14]
No trade fees for stocks and ETFs. No management fee for robo-service.
Full-Service Brokerages Apps
Here are some of the best options for those looking for a more traditional investment company.
These apps may not be as sleek as the newer apps targeted towards Millennials, but these companies have solid reputations.
Vanguard:
Vanguard is one of the most well-known mutual fund companies. It has over 130 of its own mutual funds. For most Vanguard's actively managed funds, the minimum investment is $3,000 ($1,000 for Vanguard Target Retirement Funds).[15]
Charles Schwab:
Charles Schwab offers commission-free stocks and ETF trades. You can even buy fractional shares of the S&P 500 companies for as little as $5.
Another outstanding feature is the Schwab Intelligent Portfolios robo-advisory service. It charges no management fees, but the minimum investment is $5,000.[16]
Merrill Edge:
Merrill Edge is a great choice for Bank of America users. It also offers a robo-advisory service with portfolios built and managed by their professionals.
One advantage is that your investment balance can qualify you for BofA Preferred Rewards, which reduces the advisory fee (along with other banking and loan benefits).
The apps in this article are all legitimate platforms for investing. However, it's always smart to research an investment before you put money on the line. The FTC recommends investigating the company and its history before investing.
[17]
What to Look for in Investing Apps
Consider these important points BEFORE choosing the best app for your needs.
Fees: Most investing apps are free, but some make you pay per trade. Some apps, like Acorns, charge a yearly or monthly fee.
Accessibility: Not all apps work on both iOS and Android devices, and some are best suited for desktop.
Variety of offerings: Not all investing apps offer every type of trade or account type. For example, Robinhood only has individual taxable accounts and retirement accounts. On the other hand, Fidelity offers a wide range of accounts and investments.
Research and tools: This is important if you count on research to make informed decisions. TD Ameritrade offers in-depth company research and market analysis, while apps like Stash are more bare-bones.
For passive investors, some apps will select investments and manage your portfolio for you. Look into a robo-advisor if you wish to be hands-off.
Are Investing Apps Safe?
If the investing app is registered with the
SEC
and
FINRA
, you can trust that it's a legit broker. If the brokerage goes out of business, your money is insured by the Securities Investor Protection Corporation (SIPC). The
SIPC
will cover up to $500,000 per account type. Note that the SIPC does NOT protect against the decline in the value of your assets due to market loss.
What the Experts Say
As part of our series on investments and saving, CreditDonkey asked a panel of industry experts to answer some of our readers' most pressing questions. Here's what they had to say:
Reasons to Use Investment Apps
Convenience: With an investment app, the user can buy and sell, add more funds, or withdraw funds right from their phone.
Saving money: Many investment apps have no commissions on stock trades. DIY investors can save a lot on fees.
Smaller upfront investments: Many investing apps have no account minimum. This makes investing easy for people who don't have a lot of money to start.
Bottom Line
Investment apps are meant to make life easier. Each investor has different needs, so know yours before choosing an investment app. Take the time to research fees and features and read reviews, then begin investing responsibly.
References
Jeremy Harshman is a creative assistant at CreditDonkey, a personal finance comparison and reviews website. Write to Jeremy Harshman at jeremy.harshman@creditdonkey.com. Follow us on Twitter and Facebook for our latest posts.
Note: This website is made possible through financial relationships with some of the products and services mentioned on this site. We may receive compensation if you shop through links in our content. You do not have to use our links, but you help support CreditDonkey if you do.
Paid non-client endorsement. See Apple App Store and Google Play reviews. View important disclosures. Investment advisory services offered by Stash Investments LLC, an SEC-registered investment adviser. This material has been distributed for informational and educational purposes only, and is not intended as investment, legal, accounting, or tax advice. Investing involves risk.