Best Investment Apps for 2020
This article contains references to products from our partners. We may receive compensation if you apply or shop through links in our content. You help support CreditDonkey by reading our website and using our links.
(read more)
You can trade stocks from your phone. But not all investing apps are worth it. Learn how Acorns and Robinhood compare to others.
Here are the best investment apps for investing in 2020
What are you saving money for?
What to Look for in Investing Apps
Consider these important points BEFORE choosing the best app for your needs.
Fees: Most investing apps are free, but some make you pay per trade. Some charge a yearly or monthly fee.
Accessibility: Not all apps work on both iOS and Android devices, and some are best-suited for desktop.
Variety of offerings: Not all investing apps offer every type of trade or account type. So make sure the one you choose offers the products you're looking for.
Research and tools: For DIY investors, choose an app that meets your needs. Some apps are very barebones.
For passive investors, some apps will select investments and manage your portfolio for you. Look into a robo-advisor if you wish to be hands off.
Are investing apps safe?
Brokerages offer SIPC insurance, which insures your investments up to $500,000 per account type. All apps in our list are covered by
SIPC insurance
.
Best Investing Apps
We've compiled a list of the best investment apps for every type of investor. Click the links to learn more in detailed reviews.
🏆 Stash: Best Investment App for Beginners
Stash was made for beginners with no investing experience. You can invest, learn, and save all with one app.
After you answer some questions about your goals, risk tolerance, and interests, the app will give you investment recommendations. Stash will help you build a personalized, diversified portfolio based on your financial goals. This provides guidance, while offering more control than straight up robo-advisors.
There's no investing minimums in order to start investing with Stash.
Top Features:
Users can invest in individual stocks and ETFs and/or choose from themes based on your interests.
3 ways to auto invest: scheduled transfers, invest spare change from linked bank cards, or Stash will analyze your financial patterns to automatically transfer funds for you.
Helpful educational articles and videos for beginners.
Cost:
Stash has a $1 monthly charge. A retirement account costs $2 per month. There are no trade fees.
A dollar every month (or $12 per year) might seem low but it's high compared to competitors. If the user only have $10 in the account, $1 is 10%. But beginner investors may find the guidance worth it.
Other platforms typically charge a percentage of an account's total balance per year. For example, if a robo-advisor charges 0.25% annual fee, you'll only pay $2.5 per year per $1,000 balance.

Sign up online and add at least $5 to your account.
Robinhood: Best Investment App for Free Trades
Robinhood offers stocks, ETFs, options, and cryptocurrencies trades for completely 100% commission-free. There is no minimum investment.
The Robinhood mobile app has very high ratings, but it's a totally no-frills app. You won't get stock market research or guidance. It also doesn't offer any retirement account options. It's best for investors who are already comfortable trading on their own.
Top Features:
Free extended trading hours from 9:00 am to 6:00 pm ET.
Perform up to 3 day trades in a five trading day period.
Get real-time news and updates on stocks in your watch list.
The Robinhood app is completely free and requires no minimum balance to get started.
An optional Robinhood Gold account is available for $5 per month for investors with $2,000 account minimum. This premium account gives traders increased buying power when trading on margin, larger instant deposits, and Morningstar research.
By far the best investment app is Robinhood. First, the UI is beautiful and intuitive. You might not think this matters with investing, but it absolutely does when you're trading at scale. Second, it's cheap. The whole point is to be able to make commission free trades on a free app. Finally, it has the requisite legal backing. Robinhood is a member of the SDIC and so your money is safe up to $500,000.
Dary Merckens, CTO,
Gunner Technology
TradeStation: Best App for Day Trading
Tradestation is best known for their advanced investment tools previously only available to brokers. It's best for investors with more experience.
The platform is primarily desktop-based, but also has a streamlined mobile app. You can trade stocks, ETFs, and options commission free (up to 10,000 shares).
Top Features:
Real-time streaming quotes.
Customize your own options spread strategy or see popular strategies.
Add commonly used technical studies to your charts and customize their parameters.
Cost:
Users can choose between two accounts. TradeStation Go has $0 minimum ($0.50 per contract for options). A more premium account, TradeStation Select, has $2,000 minimum ($0.60 per contract for options). It includes the TradeStation 10 Desktop and additional tools.
More advanced plans include a per share plan or unbundled plan for high-volume traders. These plans have some fees.
Some find their phone screen too small to properly read the charting on the Tradestation app. If you use tablet, you may have an easier time viewing digital charts.
M1 Finance: Best Hybrid Robo and DIY Investment App
A hybrid robo-advisor and DIY-broker, M1 Finance bridges the gap for investors who want to choose their own investments, but don't want to manage their portfolio.
You can select your own investments and M1 Finance will take care of the trading and portfolio management for you (such as automatic portfolio rebalancing). Alternatively, you can choose one of many pre-made portfolios and make adjustments.
The minimum to start investing is $100.
Top Benefits:
Allows you to pick individual stocks and ETFs for fully customized portfolios (called "Pies"). Create and modify your Pies as often as you want.
Set up one-time or scheduled automated deposits. M1 will purchase stocks for you according to your Pies.
Supports fractional shares.
Investors with at least $10,000 balance can access a portfolio line of credit. Borrow up to 35% of your portfolio at a low interest rate, with no paperwork or credit check. You can get access to funds fast without selling off your investment portfolio or taking out other loans.

The standard M1 Finance app is completely free after a $100 account minimum ($500 for an IRA). There are no trade fees.
M1 Plus - the premium account - costs $125 per year. This includes more investing options plus an interest banking account with a tungsten metal card.
Initiate your transfer of another brokerage account within 60 days of signing up for M1 to receive a bonus.

| Transfer | Bonus |
| --- | --- |
| $100,000 – $250,000 | $250 |
| $250,001 – $500,000 | $500 |
| $500,001 – $1,000,000 | $1,000 |
| $1,000,001+ | $2,500 |

Payments for eligible transfers will be paid 90 days after the account transfer is received. Offer is valid for direct broker transfers received through the Automated Customer Account Transfer Service (ACATS) only. Offer is not valid with ACH deposits, wire transfers or direct 401k rollovers.
Acorns: Best App for College Students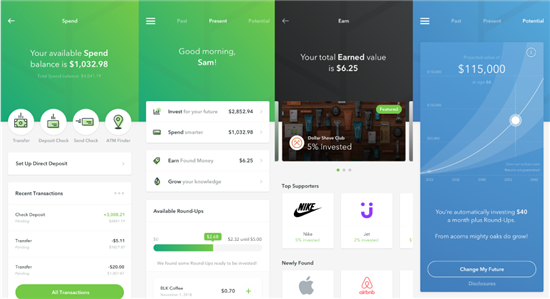 Screenshot of Acorns
Acorns is a "spare change" robo-advisor. You link your credit and debit cards and Acorns will automatically round up the change from your purchases and invest them. There is no minimum to start. App automatically invests when your balance reaches $5.
The Acorns app is an easy way for young investors to get started. It allows you to save money without thinking, while investing your savings at the same time (instead of them just sitting in a bank).
Top Benefits:
Customize your own round up rules.
Save for later in life with an optional IRA account.
Cost:
$1/mo for Acorns Lite (taxable account only)
$3/mo for Acorns Personal (includes IRA and checking account)
$5/mo for Acorns Family (includes investment accounts for kids)
A dollar per month is higher than many other robo investment apps if you have a smaller balance (under $5,000). Acorns fee may be worth it if you like the convenience of automated investing.

Betterment: Best App for Robo Investing
Betterment is one of the first robo-advisors. It automatically invests your money into diversified portfolios of ETFs based on your financial goals and risk tolerance. You cannot choose your own stocks or ETFs.
You can set up multiple portfolios, such as for emergency fund, large purchases, and IRA accounts. Different goals will have different investment strategies.
Betterment has no minimum to start.
Top Benefits:
Tax loss harvesting and automatic portfolio rebalancing.
"Smart deposit" feature automatically invests extra money from linked bank accounts.
Retirement calculators tell you if you're on track to your retirement goals.
Cost:
Betterment costs 0.25% of your assets under management. For every $100 in your account, the fee is only 25 cents per year. There are no additional trade fees.
For investors with at least $100,000, you have the option to upgrade to the Premium plan at 0.40% annual fee. This includes access to finance professionals for personal advice.
New Betterment customers only. Accounts must be funded within 45 days of signup. Terms apply.
Fidelity: Best Investment App for iPhone and Android
Fidelity is one of the largest, oldest investment companies. It offers a very highly rated iPhone and Android app that allows the user to monitor your investment portfolio from anywhere.
Fidelity is a full service investment firm, so it's a great choice for investors looking for a long-term brokerage to grow with them. Both beginners and more experienced investors can learn from its excellent educational resources.
Fidelity has an Apple app store rating of 4.7 stars with 1 million reviews, and Google Play store rating of 4.5 stars with over 53,000 reviews.

Top Benefits:
Daily customized news feeds, including portfolio, stock market, and company research information.
See real-time quotes and charts, live Bloomberg streaming videos, and stock market research reports, such as Zack's Bull & Bear of the Day.
View your watch list in grid view or as a heat map.
Syncs with your Apple Watch so you can get real-time market quotes, market movers, and alerts on your wrist.
The Fidelity app is free and requires no minimums to open. $0 commissions for U.S. stocks, ETFs, and options (+ $0.65 per contract fee).
Fidelity also offers a free Cash Management banking account with mobile deposit, bill pay, checkwriting, and unlimited domestic ATM reimbursements.
Can stocks protects against inflation?
Nope, stocks are not a good hedge for inflation. Try TIPS (Treasury Inflation Protection Securities) instead.
Olivia S. Mitchell, Professor of Business Economics and Public Policy, Wharton School

TD Ameritrade is another huge investment company. It's known for its superior platforms and customer service.
The company has 2 mobile apps: TD Ameritrade Mobile and thinkorswim (Mobile Trader) app. If you're looking for a full-service brokerage, it's a close call between this and Fidelity.
Top Thinkorswim Benefits:
Trade stocks, complex options, futures, and forex.
300+ technical charts and indicators. Overlay company and economic events to see past, present, and future performance.
See the potential profitability and risk of your investments and stress test your entire portfolio.
Virtual paperMoney account to practice your strategies before investing real money.
Chat and screen-share with a financial specialist within the app.
Both Ameritrade apps are free and require no minimums. Commission-free stocks, ETFs, and options (+ $0.65 per contract fee).
Applies to U.S. exchange-listed stocks, ETFs, and options. A $0.65 per contract fee applies for options trades, with no exercise or assignment fees.
Stockpile: Best App for Gifting Stocks
Stockpile is the only investing app that allows you to buy and give stock gift cards. It's also a brokerage where you can place trades, though it has very limited products and services.
Stockpile is a great app to give kids and teens a head start in investing. Instead of giving them toys or shopping gift cards, parents and relatives can give the gift of stocks. This is a more substantial gift that will help their futures and keep on giving.
Top Benefits:
Can gift fractional shares of 1,000+ stocks & ETFs, starting from $1.
Can open custodial account for your kids.
Can buy either e-gift or physical gift cards. Gift cards never expire.
Cost:
Stockpile charges $0.99 per trade to buy and sell. E-gift cards cost $2.99 for the first stock and 99¢ for each additional stock, plus a 3% debit or credit card fee. Physical gift cards are $4.95 to $7.95 depending on the face value.
There is no minimum balance requirement or monthly account fees.
Best app to save for college: Wealthfront
Wealthfront is another popular robo-advisor for the hands-off investor. It offers traditional investing accounts and options for specific financial goals, like 529 College Savings accounts.
The app will automatically invest and manage your portfolio of stocks & ETFs. Wealthfront does not allow users to choose their own individual investments. You can open multiple portfolios for different purposes. The minimum is $500.
Top Benefits:
Automatic portfolio rebalancing.
More diversified portfolio including real estate and natural resources.
Advanced personal finance tools for life events, such as calculators for college, retirement, homeownership, and travel.
Advanced tax strategies for portfolios with $100,000.
A portfolio line of credit available to investors with $25,000 balance. Borrow up to 30% of your portfolio's value at rates lower than typical personal loans.

Cost:
Wealthfront requires a $500 minimum balance. The app charges an annual fee of 0.25% of your assets under management.
Wealthfront also offers a free high-yield savings account. You don't need to be a Wealthfront robo-advisor user to open the savings account.
What the Experts Say
As part of our series on investments and saving, CreditDonkey asked a panel of industry experts to answer some of readers' most pressing questions:
How can parents begin to help their children understand personal finance?

Is using an auto-managed portfolio or robo-advisor a reliable way to save for retirement?

What advice do you have for a first-time investor who wants to create a retirement fund?

What should people look for in a robo-advisor?
Here's what they had to say:
Reasons to Use Investment Apps
Here are some benefits to choosing an investing app.
Convenience: With an investment app, the user can buy and sell, add more funds, or withdraw funds right from your phone.
Saving Money: Many investment apps have no commissions on stock trades. DIY investors can save a lot on fees.
Smaller upfront investments: Many investing apps have no account minimum. This makes investing easy for people who don't have a lot of money to start.
Bottom Line
Investment apps are meant to make life easier. Each investor has different needs, so know yours before choosing an investment app. Take the time to research fees and features and read reviews, then begin investing responsibly.
Note: This website is made possible through financial relationships with some of the products and services mentioned on this site. We may receive compensation if you shop through links in our content. You do not have to use our links, but you help support CreditDonkey if you do.
TD Ameritrade has not influenced the content of CreditDonkey. CreditDonkey may earn compensation for accounts opened at TD Ameritrade.
CreditDonkey is a paid Affiliate/partner of Stash. Investment advisory services offered by Stash Investments LLC, an SEC-registered investment adviser. This material has been distributed for informational and educational purposes only, and is not intended as investment, legal, accounting, or tax advice. Investing involves risk.
More from CreditDonkey: