Best Receipt Apps to Earn Money
Ad Disclosure: This article contains references to products from our partners. We may receive compensation if you apply or shop through links in our content. You help support CreditDonkey by using our links.
(read more)
Earn cash back every time you shop. Read this review to find out which receipt apps pay you the most.

Get Cash Back from 3500+ stores all in one app
Join Rakuten for free and get a $10 Welcome Bonus. To qualify for $10 Welcome Bonus, you must be a new member and make minimum qualifying purchases totaling at least $25 within 90 days of becoming a member.
At any given moment, there's probably 5 or 6 crumpled receipts in the cupholder of your car. But don't toss 'em out.
Those little pieces of paper aren't a nuisance - they're literally hidden cash.
Use receipt apps to earn cash back for in-store and online purchases. You'll get perks like gift cards, actual cash, giveaways and free samples. Some apps even provide automatic savings, so you don't need to scan the actual receipt.
To get in on the savings, compare the most popular receipt apps (like Fetch, Receipt Hog and Ibotta) below. Then stick around to learn how receipt apps work and how to maximize your earnings further down.

Capital One Shopping compensates us when you get the Capital One Shopping extension using the links provided.
1. Rakuten (Ebates) - Best Overall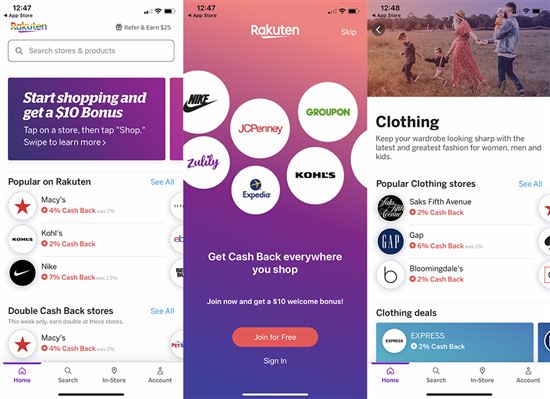 Screenshot of Rakuten
This Tokyo-based company lets you earn cash back at 2,500+ stores for electronics, clothing, games, sporting goods and more.
Rakuten gets paid a commission by major retailers for referring potential customers (that's you). In return, Rakuten shares some of their commission with you via cash back.
To start, install their chrome extension (Cash Back button) and sign up for a Rakuten account.
Then just shop on your desktop and let the Button do all the deal-hunting for you. As your cash back grows, you can choose to get paid via PayPal or check.

What you can earn: Up to 40% cash back per purchase (plus a referral bonus if you refer friends)

Payout method: PayPal or check (totaled and paid quarterly)

Get Cash Back from 3500+ stores all in one app
Join Rakuten for free and get a $10 Welcome Bonus. To qualify for $10 Welcome Bonus, you must be a new member and make minimum qualifying purchases totaling at least $25 within 90 days of becoming a member.
2. TopCashBack - for Most Money
TopCashBack members can earn an average of $345 dollars a year. That's definitely not chump change.
Ways to earn:

Up to 30% cash back on select items

Up to $125 cash back on select items

$500 cash prize giveaways

Freebie giveaways (such as an Xbox)
The app/browser extension works for online purchases only. You can save hundreds of dollars each year from over 4,400 top online retailers. More than 15 million members have already joined for free.

What you can earn: An average of $345 per year

Payout method: Bank deposit, PayPal, gift cards
3. Ibotta - for Welcome Bonus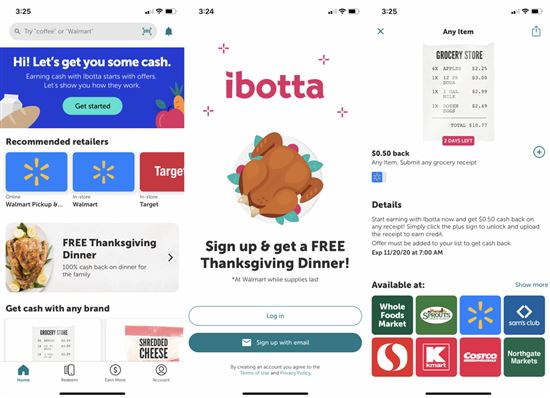 Screenshot of Ibotta
Out of all the cash-back apps available, Ibotta is offering the biggest sign-up offer.
The app rewards you for shopping in-store or online with 300+ retailers. Better yet, you don't need to count points and you can cash out once you earn $20.
Keep in mind that you will need to manually add offers into your account, so be sure to browse the app before you shop to find out which items are eligible for cash back. You can even link your loyalty cards to Ibotta for even more points.
Note: You might need to provide additional proof on your purchase to get the points. Some users reported trouble verifying their purchases due to unreadable receipts.
What you can earn: Up to 10% cash back and $30 average in monthly savings

Payout method: PayPal, Venmo, gift cards
Offers You May Like
4. Coupons.com - for Most Retailers
Coupons.com (formerly SavingStar) gets you grocery rebates - no coupon-clipping, printing or mailing required.
They partner with over 70,000 big stores (including target, CVS Pharmacy, and Kroger) so you're bound to get cash back on at least some of your purchases.
They have three rewards categories:

Healthy Offers: Save on produce

One or Many Offers: Reach a spending goal at 1+ stores

Always On Programs: Continuous, automatic savings
What you can earn: 100% of cash-back commission

Payout method: Bank deposit, directly back to card, PayPal
5. Fetch Rewards - for Grocery Stores
Are you an amateur home chef or baker? Then Fetch might be your best bet for maximizing your kitchen pantry purchases.
Not only will you earn points for each receipt you scan, but you get points on thousands of popular food brands. Then, redeem points for gift cards at hundreds of stores, like Amazon and Target.
Once your earnings reach $25, you're free to cash out.

What you can earn: $0.25 - $2 cash back

Payout method: Gift cards to major retailers, Visa or Mastercard gift cards
6. TruNow - for Gas
If you have a long commute, the price of fuel likely eats up a chunk of your budget. Download TruNow, the rebate/cash-back app that's exclusively for gas stations.
Just turn on your phone's location tracking to show nearby gas stations that offer special discounts. Then snap a photo of your receipt and upload onto the app.
If you cash out via PayPal, you can only take half the value of your earnings. So, if you've earned $10, you'll get $5 on PayPal. You'll receive the full value of your rewards if you opt for in-app purchases.

What you can earn: 2% cash back for partner gas stations, 1% for non-partner gas stations

Payout method: In-app purchases, gift cards, PayPal
Other Apps to Earn Cash Back on Gas You May Like

7. Checkout 51 - for Gas + Groceries
Do you like to fill up on gas on the way to the supermarket? Use Checkout 51 to kill two birds with one stone.
You can save at the pump with 5,000+ participating gas stations. Then head over to the store and grab what you need.
Each week, the app adds new offers for gas, groceries and daily items. To get cash back, simply take a photo of your receipt. Voila!
Shop in-store or online, even with coupons. Participating brands include Dollar General, Kellogg's, Nestle, CVS Health and more. Once your account reaches $20, you're paid with a mailed check.

What you can earn: 1% - 10% cash back

Payout method: Mailed check only
Other Apps to Earn Cash Back on Gas You May Like

8. Shopkick - for No Purchase Required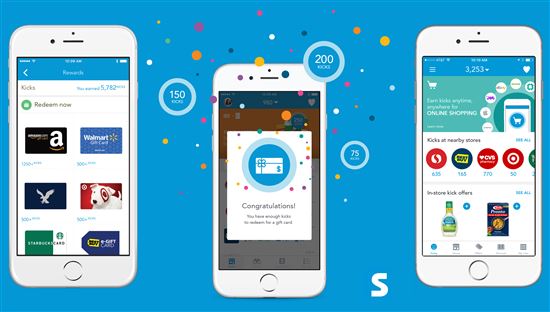 Courtesy of Shopkick
You know what they say, you need to spend money to make money. Luckily, that's not the case with Shopkick.
In addition to making money on your purchases, you can waltz into a store and scan products without buying. Either way, you'll still earn rewards.
Earn points, or "kicks," when you visit online partners, view select offers, make in-store/online purchases, or watch videos.
This app gives you a quick turnaround for your efforts as most Shopkickers can earn their first gift card in only a week. Popular gift cards include Starbucks, Best Buy, Old Navy, JC Penney and more.

What you can earn: 5-100 "kicks" (250 kicks = $1)

Payout method: Gift cards
9. Paribus - for Past Purchases
Unlike other cash-back apps, Paribus pays you for things you've already bought.
Connect your email to the app, and Paribus will monitor your inbox for receipts and recent price changes.
If the price drops for an item by at least $3, Paribus will file a claim with the retailer to refund you the difference. It's super easy and completely passive.
After the retailer confirms the price discount, you can expect the refund within 3-7 business days to the debit/credit card used for the purchase.
Keep in mind, Paribus may not work with some small retailers and refunds are not guaranteed.
What you can earn: 100% of the difference in price

Payout method: Refunds issued to the card you originally bought the item with
10. Makeena - for Fresh Produce
Tired of cash-back apps that only offer points for junk food? Join Makeena.
Instead of stocking up on corn chips and soda, you can claim rebate offers on healthier groceries and produce. Hello, kombucha and quinoa. Many of these offers are even for organic items.
Here's how it works:

Buy eco-friendly and healthy products

Use the app to scan store receipts and products

Earn cash, rewards, freebies and samples
Makeena works for Certified B Corporations so you can feel good that your purchases support environmental and ethical businesses. Plus, you can search by brand, category, or attribute (such as non-GMO or BIPOC-owned).

What you can earn: $0.25 average rebate for each item

Payout method: PayPal, Venmo
Offers You May Like
11. Drop - for No Receipt Scanning
One of the biggest hurdles of cash-back apps is having to scan points. Drop makes things easier for you.
Download the app, link your most-used debit or credit card, and select your top 5 favorite brands.
No need to scan receipts afterwards. Each purchase from your top five brands on your linked card adds points to your Drop account.
You need to earn 5,000 before cashing out for gift cards at your favorite stores, like Amazon, Netflix and Starbucks and more
Don't forget to download their browser extension to shop on desktop.

What you can earn: Usually 1% - 2% cash back

Payout method: Gift cards only
12. Dosh - for Venmo Users
Here's what sets Dosh apart from other apps: When you make a transaction with your Venmo Debit Card or Venmo account, the app checks for eligible cash-back rewards.
If they find anything, Dosh will add cash back to your Venmo account once the charge is completed. If you're not on Venmo, you can still power your account by linking Jelli or your preferred debit/credit card.
Dosh gets you automatic cash back at over 10,000 places when you shop, dine or book hotel/travel. No receipt scanning or coupons needed.
Note, you need to accumulate $25 before cashing out.

What you can earn: Up to 40% cash back (but usually 5%) or $5 for every referral

Payout method: PayPal, bank deposit, or charity donation
13. Fluz - for Referral Program
Are most of your friends interested in saving money on daily purchases? You can earn points for spreading the word of cash-back apps.
For each friend you refer, Fluz offers cash back on all their purchases, as well as your own.
Most other apps just give you a one-time bonus of $5 for each referral. But with Fluz, your earnings on each referral is potentially endless and basically passive income.
You need to link your debit/credit card to your account before earning points each time you shop.

What you can earn: Up to 35% cash back when you or your friends/referrals shop

Payout method: PayPal, bank deposit, or charity donation
14. Coinout - for Simplicity
With other cash-back apps, the rewards structure can be hard to decipher. But not Coinout's.
You might remember these guys from "Shark Tank" in 2018. Coinout streamlines the process by letting you earn cash back from virtually any retailer.
All you need to do is take a photo of your receipt after your purchase. In exchange, they'll give you randomized rewards (usually between 6 to 8 cents per receipt). You can shop online, in-store and with any payment method you'd like.
Coinout will never sell your information, but will use the purchasing data to show you curated offers and chances to earn through select online merchants, feedback forms and other activities.
What you can earn: Around $0.06-$0.08 per receipt

Payout method: PayPal, Amazon gift card or bank deposit
15. National Consumer Panel - for Product Feedback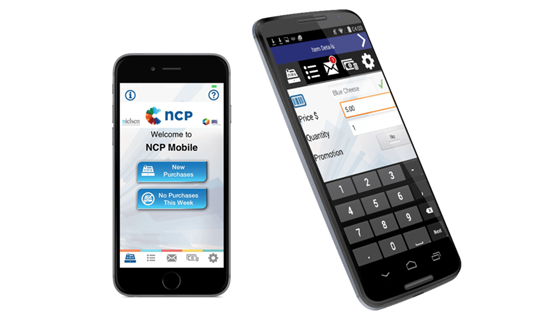 screenshot of national consumer panel
With National Consumer Panel, you can share your opinion to influence which products end up on shelves.
Here's how it works: Get the NCP mobile app. Then, scan barcodes on all the items you buy and provide other purchase details, like:

Whether you used a club/shopper card

The prices of the items you bought

Which store you went to, or if you shopped online
Once a week, you'll share the shopping data with NCP and take surveys on various topics. You can redeem points for merchandise, gift cards and more.
NCP is run by Nielsen, a highly respected market research firm.

What you can earn: Value of gift cards, physical gifts and sweepstakes vary

Payout method: Gift cards, merchandise, sweepstakes
16. Mobee - for Mystery Rewards
Mobee turns shopping trips into an actual game.
Complete "missions" during your shopping trip for gift cards to Amazon, Starbucks, Target and more.
These mystery shopper assignments might involve buying a cup of coffee or trying a new product. Upon completion, answer a few questions about your experience.
The app is a great and unique way to change up your spending routine.

What you can earn: Average 10% cash back

Payout method: PayPal, gift cards
17. Receipt Hog - for Smaller Retailers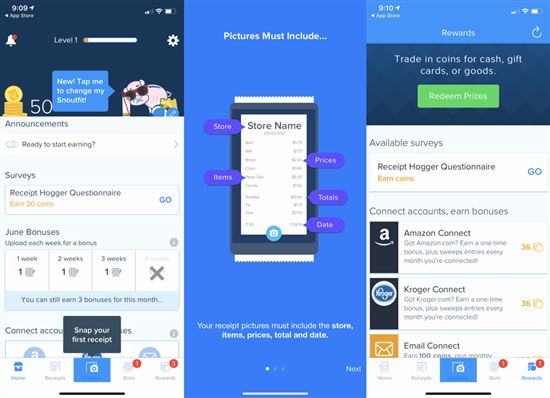 Screenshot of Receipt Hog
Do you buy everything you need at the corner mom-and-pop shop? If so, take a peek at Receipt Hog.
In addition to major supermarkets, the app can net you points at liquor/convenience stores, beauty supply shops, toy stores, bodegas and even newspaper stands. Talk about supporting local, neighborhood businesses.
Receipt Hog will pay you to scan your receipts with their iOS or Android app. Each receipt earns "coins":

1,000 coins = $5

2,900 coins = $15

4,300 coins = $25

6,500 coins = $40
Plus, the app is super simple and intuitive to use.

What you can earn: 5-20 "coins" per receipt (1,000 coins = $5)

Payout method: PayPal, Amazon credit, Visa/Mastercard gift card
How Do Receipt Apps Work?
Receipt apps work by awarding you cash back for scanning your receipts.
While each app may work a little differently, the process generally goes like this:

First, sign up with a receipt app.
Provide some information about the stores you like shopping at and the items you typically buy.
The app will then give you cash back offers for those stores and items.
Select which offers you want to use.
Buy those items in-store.
Scan your receipt to the app to claim your cash-back reward.
How do receipt apps make money?
Brands pay receipt apps a commission each time you verify your purchase by scanning the receipt. The apps then share a portion of that commission with you in the form of cash back.
Tips to Earn More with Receipt Apps
Once you sign up for a receipt app, you're ready to start saving! But for even bigger returns, keep these tips in mind while you shop.
Use multiple apps. Believe it or not, you can scan a receipt in multiple apps. It's an easy way to double - or even triple - your earnings. Be sure to check which items have offers in multiple apps before you shop.
Sign up for your grocery store loyalty card. Most supermarkets offer you special deals if you sign up for their loyalty card (note: not a credit card). If you're using receipt apps on top of that, your savings easily multiply.
Check the receipt expiration policies. Some receipt apps give you only three days to scan receipts after making the purchase. Check for these policies before you plan to shop to avoid missing out on savings!
Don't forget about gas station rewards! Cash back isn't just for grocery runs. Some apps, like Checkout 51 and TruNow, offer special deals for scanning your gas receipts, too.
Utilize browser extensions. Some apps offer savings via handy browser extensions that search for deals while you shop online. Maximize your savings by adding these extensions to your arsenal.
Bottom Line
Receipt apps can put some money back in your pocket. Simply take a picture of your receipt and upload it to the app to earn cash back. Keep in mind that some apps might be more involved than others, and they all provide different rewards and benefits.
To maximize your earnings, try using 2-3 receipt apps at once. Every app on this list is free and compatible on Android and iOS, so you can shop on the go.

Get Cash Back from 3500+ stores all in one app
Join Rakuten for free and get a $10 Welcome Bonus. To qualify for $10 Welcome Bonus, you must be a new member and make minimum qualifying purchases totaling at least $25 within 90 days of becoming a member.
Just don't buy items you don't actually need to leverage the offer. You'll end up spending more than what you're earning.
Amber Kong is a content specialist at CreditDonkey, a personal finance comparison and reviews website. Write to Amber Kong at amber.kong@creditdonkey.com. Follow us on Twitter and Facebook for our latest posts.
Note: This website is made possible through financial relationships with some of the products and services mentioned on this site. We may receive compensation if you shop through links in our content. You do not have to use our links, but you help support CreditDonkey if you do.