Ad Disclosure: This article contains references to products from our partners. We may receive compensation if you apply or shop through links in our content. You help support CreditDonkey by using our links.
(read more)
MoneyLion is a good app that offers a $500 cash advance. Not quite enough for you? Here are other similar cash advance apps to look at.
MoneyLion is a great cash advance app with all of its perks. You can borrow up to $500, plus access features for investing and building credit.
But what if you don't need all that? Or what if you actually need more than that?
Finding a trustworthy lender is hard. You're already cash-strapped as it is. It'd be awful to end up with a predatory lender.
It's a good thing there are many other cash advance apps like MoneyLion. And they come with their own perks too. Read on to find a better fit for you.
Is there any other app like MoneyLion?
Here are other cash advance apps like MoneyLion:
10 Best Apps Like MoneyLion
Just like MoneyLion, the best cash advance apps get you your money when you need it. They offer complimentary features too.
Let's start with an app that can get you a couple of bucks.
Dave

CREDIT DAVE
No late fees, interest, or credit check
Less than $5 advance
$500 advance limit

Subscription fee
Needs access to your income history and spending patterns
Advance amount: Less than $5 to $500
Processing time: 1-3 days; 1-8 hrs. for a fee
Repayment date: On your next payday or the nearest Friday
Why we like it:
You can get your advance with Dave through ExtraCash. Similar to MoneyLion, there are no credit checks or interest.
Dave also doesn't charge an ATM fee from over 37,000 MoneyPass ATMs. But they do charge a monthly fee of $1 (one of the lowest in the market).
Dave Requirements:
To qualify for ExtraCash, here's what you'll need on your account:[1]

3 or more recurring deposits

Total deposit of $1,000 or more per month

An external account with a 60-day history and possible negative balance
Other Features:
Dave offers Side Hustle which helps you make more income through job opportunities from Dave's trusted partners. You can apply through the app and start earning.
Does Dave have hidden fees?
Dave charges a $1 subscription fee.
[2]
You can pay for an optional express delivery that costs from $1.99- $5.99 depending on your advance amount.
[3]
They also accept optional tips. All these are nonrefundable. But other than that, Dave doesn't charge a late fee or interest.

No interest, credit checks, or late fees
No lengthy application process or waiting period
Sign up in minutes
If having a set repayment date is not for you, we have a few apps where you can set your own repayment date. Check out our next app, Brigit.
Brigit

CREDIT hellobrigit
Flexible repayment date
Auto-advance feature
No credit check or interest

Requires subscription
High subscription fee
Loan amount: Up to $250
Processing time: 1-3 business days; w/in 20 mins. for a fee
Repayment date: Choose your own repayment date; pay earlier or get an extension
Why we like it:
Brigit offers instant cash advances through Instant Cash for a monthly fee of $9.99.[4] Though this advance amount is not the highest on the list, it comes with flexible repayment. They also have other handy features for when you are low on funds.
Unlike most cash advance apps that set an automatic repayment on your next payday, Brigit lets you choose when you want to repay. There are also no credit checks or interest.
Brigit Requirements:
Once you've paid for a subscription, Brigit's requires:[5]

A checking account has been active for at least 60 days

More than $0 in your balance

3 recurring deposits on your account from the same source
Other Features:
When you're on the brink of an overdraft, Brigit automatically covers you with an auto-advance. While the Earn Extra feature shows you several opportunities to increase your income.

No interest, late fees, or tipping
No credit check
Just $9.99/mo. Cancel anytime
What else do you get with a Brigit Plus subscription?
For $9.99, you can enjoy identity theft protection, credit protect and secure, and credit builder.
For a higher loan amount, we have Earnin.
Earnin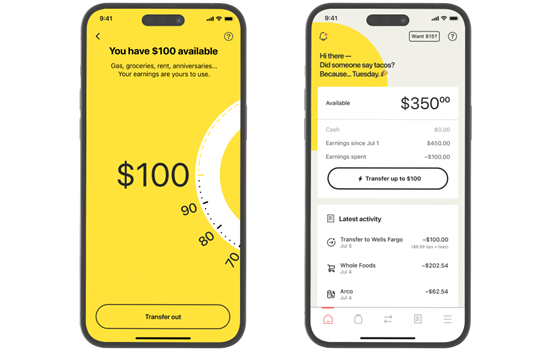 credit earnin
Up to $750 per pay period
Balance shield feature
No monthly fees

Requires your work timesheet
Needs your bank details
Loan amount: Up to $100/day; Up to $750/pay period
Processing time: 1-2 banking days; 1 to 30 mins. with Lightning Speed transfer[6]
Repayment date: Automatic deduction on or after your payday
Why we like it:
Earnin's cash advance feature is called Cash Out. And it holds one of the highest cash advance amounts at a whopping $750 per pay period. That's $250 higher than Dave!
But be warned, this maximum amount depends on your hourly wages. This makes Earnin a good idea when you want to ensure you don't borrow more than what you can pay. There are also no credit checks or interest.
Does Earnin hurt your credit?
Earnin will not affect or hurt your credit score. If you fail to pay, you will receive an email. They will not report you to a bank or debt collector.
Earnin Requirements:
To take a Cash Out, you will need:[7]

A checking account with more than 50% of your direct deposit

A regular pay schedule

A permanent work location, an electronic timekeeping system, or a PDF timesheet to track your hourly earnings
Other Features:
Earnin's Balance Shield notifies you when your balance is low and lets you borrow up to $100.[8]
Is Earnin safe?
Yes, Earnin uses advanced security technology to ensure your data is safe.
If you usually run low on your account, maybe you've heard of an overdraw and its hefty overdraft fee. Well, this next app can help with that.
Chime SpotMe

credit chime
No credit check
No monthly fees
Immediate spotting ($200)

Needs a separate Chime debit card
$200 qualifying deposit
Loan amount: Spot $20 to $200
Processing time: Immediately
Repayment date: On your next deposit or payday
Why we like it:
With no credit check, monthly fee, or minimum balance, you can get a Chime debit card and their immediate $200 cash spotting.
So when you have a low balance, you can avoid the expensive overdraft fee. Of course, you can also make debit card purchases and ATM withdrawals.
What is an overdraft fee?
An overdraft fee is charged by your bank when you exceed your account balance. It is usually around $30.
Chime Requirements:
Here's what you need to use Chime SpotMe:[9]

Have an activated Chime Visa Debit Card

Have a deposit account that is connected to Chime

Have a qualifying deposit of $200 or above 34 days before requesting an overdraft spotting

You should be at least 18 years or older
Other Features:
With a Chime Checking Account, you can access your pay 2 days before payday.
Does Chime charge a fee?
No, Chime doesn't charge a monthly fee. Withdrawals are also fee-free in more than 60,000 ATMS. But if you withdraw from ATMs not included in the 60,000, you can be charged $2.50.
[10]
Our next app is set by your employer. So you can skip checking off all the requirements needed. Here's Branch.
Branch
Up to 50% of your pay
Employer handles the eligibility requirements
Convenient digital wallet

Employer sets the maximum loan amount
Standard bank delivery takes 3 days
Loan amount: Up to 50% of your pay
Processing time: Instantly (through the Branch digital wallet); 3 business days (bank account)
Repayment date: On your next payday
Why we like it:
Like Earnin, Branch gives you a cash advance off your pay (through Earned Wage Access). But this time, you can access up to 50% of it. So if you make $2,000 per pay period, the highest amount you can borrow would be $1,000.
And Branch is employer-sponsored, so it's only available through your company. The account would be set up by your employer.
Branch is best used for when you need more than an average $250 cash advance. It can get you the most out of your pay while still making sure you're able to repay what you owe.

Other Features:
Branch's CashFlow feature helps you make better financial decisions by informing you about your spending.
If your employer doesn't use Branch, try this next one.
Klover
Get $200 cash advance 2 weeks before your payday
Free cash advance feature

Highest loan amount is lower than most apps
Only qualifies checking accounts
Loan amount: Up to $200
Processing time: 1-3 days; w/in 24 hrs. for an express fee ($2.99 to $9.99)[11]
Repayment date: On your next payday
Why we like it:
Klover's cash advance feature is called Klover Balance Boost. There are no cash advance fees, no interest, and no credit checks.
You can also advance your money 2 weeks before your payday. You'll just have to meet their requirements.
Klover Requirements:
To use Klover, here's what you need:[12]

A checking account that has received at least 3 direct deposits and has been consistent for 60 days

Checking account in good standing for 90 days or more

No gaps in pay
Other Features:
You can get Personal Financial Management Services through Klover+. This subscription feature, worth $3.99 per month, also gives you access to Klover Rewards Program and Budget Tools.[13]
If you need help setting up your Klover account or you have any questions, you can contact Klover through email at
support@joinklover.com
. Or you can contact customer support on the app. Both are available 24 hours every business day.
Now, if you're interested in more instant spotting like Chime, our next app has got that in the bag (and more).
Albert
Offers cash advance and overdraft spotting
Optional debit card
No interest or credit checks

Longer standard delivery time
Standard $250 maximum cash advance
Loan amount: Up to $250 of cash advance or spotting
Processing time: Instant (spotting); 2-3 days (cash advance)
Repayment date: On your next paycheck
Why we like it:
Albert's spotting and cash advance feature is called Albert Instant. With it, you get a 2-in-1 app that charges no interest and no late fees. There are also no credit checks.
You can take a cash advance of up to 3 times per pay period. And if you need the money instantly? You can get it faster through Albert Cash or by paying a small fee.
The app is also complete with budgeting and finance improvement tools. You can get your quick cash and develop your finances in one app.
Albert Requirements:
To qualify for Albert Instant, you need to:[14]

Have a bank account that has no negative balance and has been active for 2 months or more

Receive at least 2 months of consistent income from the same employer

Have your income deposited in your connected bank account

Have received your recent paycheck on time and be able to access it a day after your payday
Other Features:
Albert Cash is Albert's debit card feature. It gives you free instant delivery for your cash advance. And it lets you get your paycheck 2 days early.
Does Albert charge a fee for late repayments?
Albert does not charge a late fee.
Cash advance apps on the list can't get you tens of thousands. So if you need a higher loan, check out Avant and see if it's worth it.
Avant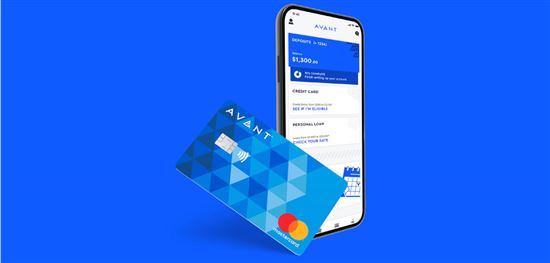 credit avant
Fixed interest rate
1-day delivery
High loan amount

Requires a credit check
Can affect your credit score
Loan amount: $2,000 to $35,000
Processing time: 1 business day (through ACH)
Repayment date: Monthly installments (1-5 years)[15]
Why we like it:
Avant offers a personal loan from $2,000 to $35,000. It's the highest loan amount on the list. But it comes with a credit check, fees, and APR of around 9.95% - 35.99%.
The amount you get also depends on your credit score, income[16], and state law. [15]
It's not a cash advance app, so it's different from apps like MoneyLion, Empower, and Earnin.
Other Features:
You can get Avant Loans for more specific needs. This includes adoption, weddings, home improvement, and emergency loans.
You can also opt for an Avant Credit Card. You don't need a security deposit for it and there are no over-limit fees.
What credit score would you need for Avant?
Most clients who take a loan from Avant have a credit score from 600-700.
[17]
Next on the list has one of the fastest processing time. Let's talk about Empower.
Empower
14-day free trial
1-day processing time
Debit card w/ cashback deals

Needs monthly subscription
Costly $8 subscription fee
Loan amount: Up to $250
Processing time: 1 business day; instantly for a fee
Repayment date: Next payday
Why we like it:
Empower Cash Advance charges a subscription fee of $8 for up to $250 cash advance.[18] What makes this fee worth it is the quick processing period. There are also no interest, late fees, or credit checks involved.
It also comes with a 14-day free trial. This way, you can test it out before you commit.
Other Features:
You can get an Empower Card which is a debit card with no overdraft fees. It comes with free instant delivery of your cash advance. You can also get up to 10% cashback deals.[19]
Last but not the least, the app you can use at Walmart.
Even
Cash pick-up at Walmart
Efficient budgeting tools
1-day processing time

Only accessible if your employer is partnered with Even
Loan amount: Up to 50% of your salary
Processing time: 1 business day (no extra charge)
Repayment date: On or after your payday
Why we like it:
Instapay is Even's cash advance feature. And it lets you access up to 50% of your pay before payday. There are no interest or taxes you need to think about.
It's also complete with a budgeting feature to help you manage the money you're taking. Plus, it's employer-sponsored, so you don't have to worry about requirements.
Not to mention, it has a quick processing time. And you can choose to claim your cash at a Walmart MoneyCenter. But you can also receive your money through your bank account.
What do I need to bring to get my cash from a Walmart MoneyCenter?
You just need to bring your valid ID.
Other Features:
Even's Budgeting feature offers tools for tracking bills and paying them on time. It certainly makes budgeting efficient.
How we came up with the list
MoneyLion is great for its features, especially cash advance. In creating this list, we searched for apps with convenient cash advance and lower fees.
The range of loan amounts you can borrow from apps is huge. In this list, there are apps that can lend you enough for a cheeseburger or build a small fast-food business. And most apps on the list have no interest and no credit check needed!
We also included different features offered by these apps. From budgeting tools to debit cards, you can find a practical addition to your cash advance.
What Is MoneyLion?
MoneyLion is a trusted finance app. It can get you a cash advance of up to $500. You can also buy crypto, invest, and build credit with it.
Unlike banks, MoneyLion doesn't charge interest. And unlike lenders, MoneyLion doesn't need a credit check. What's more, their cash advance feature doesn't require a monthly fee!
MoneyLion is definitely an all-in-one app that's tough to beat. So if you're looking to get some quick cash or a reliable app to help you improve your finances, MoneyLion's got your back.
When should you use MoneyLion?
MoneyLion works well when you need cash, fast. It can get your money delivered within minutes through Turbo delivery. Or you can receive it in your bank account within 2-5 business days with no extra fee.
Keep in mind that using it to splurge may not be a good idea. If you rely on MoneyLion for an impulse buy, you can get trapped in debt quicker than Turbo Delivery. So it's best to stay safe and manage your borrowing.
Why are Apps Like MoneyLion better than Payday Loans?
Apps like MoneyLion are known and used for their convenience and speed. They are a simple sign-up away. And most apps offer express delivery where you can receive the money quickly. Perfect for when you need instant cash!
Not only that, but most of the apps on this list don't need a credit check and have no interest. They also typically have lower fees. Talk about real convenience.
How to choose MoneyLion alternatives?
Before choosing a MoneyLion alternative, you need to check off three things:

Loan amount
Think about how much you need first. Then choose which app fits the bill.
Processing time
How badly do you need instant cash? The average processing time is around 1-3 days. But some offer express delivery.
Repayment date
Some apps, like Brigit, offer flexible repayment dates. While most apps stick to your next payday. See which repayment date options you can handle.
Breaking the loan-and-repayment cycle
Getting stuck on a loan-and-repayment cycle is a struggle. You receive your pay only to pay for loans. So you take another loan to have money to spend. It's a nightmare!
But it's not hopeless. Here are some tips you can use to break the loan-and-repayment cycle:

Find ways to make extra income
There are plenty of side hustles you can try to earn money from. And if you spend a lot of time on your phone, you can go for apps that can make you some money.
Take advantage of budgeting and spending tools
Most apps like MoneyLion offer budgeting tools that can help you spend and save better.
Take note of your due dates
After making money and budgeting, be sure to remember when your loans are due and pay on time.
Have an emergency fund
Having an emergency fund will allow you to rely on your own money more than apps. Save up some cash to avoid future loans. To start, learn about how much you need in an emergency fund.
Bottom Line
MoneyLion is a great option when you need fast cash. But if it's not your best bet, there are plenty of other apps to choose from.
It could be Brigit, which offers flexible repayment dates. Maybe try Branch or Even if you need 50% of your pay in advance.
Avant even offers personal loans of up to $35,000. With all the apps on this list, you can find what's more suitable for your needs.
References
Write to Helen Papellero at feedback@creditdonkey.com. Follow us on Twitter and Facebook for our latest posts.
Note: This website is made possible through financial relationships with some of the products and services mentioned on this site. We may receive compensation if you shop through links in our content. You do not have to use our links, but you help support CreditDonkey if you do.
Empower Personal Wealth, LLC ("EPW") compensates CREDITDONKEY INC for new leads. CREDITDONKEY INC is not an investment client of Personal Capital Advisors Corporation or Empower Advisory Group, LLC.