Best Delivery Driver App to Make Extra Money
Ad Disclosure: This article contains references to products from our partners. We may receive compensation if you apply or shop through links in our content. You help support CreditDonkey by using our links.
(read more)
Want to earn extra money? Consider working as a delivery driver. Read this review to find out which apps pay the most.

© CreditDonkey
But with so many delivery apps available, which is the right fit for you? Find out how top jobs (like DoorDash, Uber Eats, GrubHub) compare.
Here are the top apps every delivery driver should have:
Best Delivery Driver App Gig Jobs
Here are the best delivery apps to deliver with. Read on to find out how much you could make with each company.
What Delivery Service Pays Best?Select your state to find an app
A Great Side Gig: Uber Eats
You probably know Uber for its ride-sharing request app. The popular app added food delivery in 2015 with Uber Eats.
Because of Uber's large, built-in customer base, Uber Eats may be the ideal choice for delivery drivers. However, Uber Eats earnings vary depending on a variety of factors including when and where you deliver, and how often. See if you're located in the 500+ cities in the U.S. where Uber Eats is available.
Requirements:[1]

If driving: be at least 19 years old

If driving: have a 2-door or 4-door car

If driving: valid driver's license, registration, and insurance

If biking: be at least 18 years old

If biking: government-issued ID

If scootering: be at least 19 years old

If scootering: have a motorized scooter under 50cc

If scootering: have a valid driver's license in your name

In many markets, registration and proof of residency are required

All delivery drivers must provide information for a background screening
What you can earn with Uber Eats:[2]

A flat delivery fee for each trip will be clearly communicated before you choose to accept, decline, or ignore a delivery request

100% of tips

Boost feature applies a multiplier to your fare at peak times in specific areas to help you earn more

Surge Zones and Quest Goals are promotions Uber Eats provides in specific areas so you can earn more
What are the best apps for delivery drivers?
Waze for navigation

Hurdlr for mile tracking

Mint for accounting and budgeting

GasBuddy for finding gas

Weather Channel for weather

GateGuru for airport schedules

Urgently for roadside assistance
Uber Eats is in 500+ cities. That's great if you live in a small or big city.
Knowing the best apps can get you far. Being smart about driving can take you further. Stick around to the end for the 5 best hacks to make even more money.
What kind of vehicle will you use as a delivery driver?
Most Customers: DoorDash
DoorDash is a popular option for drivers interested in food-only deliveries. The app connects customers to local restaurants and pushes orders to drivers (also called Dashers) who are logged in. They've also expanded to delivering from convenience stores and drugstores in some areas.
When driving for DoorDash, like most delivery services, you're your own boss. You can manage your own hours and deliver where you want, when you want. After an order is completed, the DoorDash app encourages customers to tip generously when it's time to pay out. But great customer service can help you earn more.
Requirements:[3]

18 years or older

Own a car, scooter, or bicycle (in select cities)

Valid driver's license number (if delivering by car)

Social Security number (only in United States)

Consent to a background check
To be a Dasher, you can't have more than 3 violations over the past 3 years. But just one major violation like DUI can also get you disqualified.
What you can get paid with DoorDash:

Amount per delivery (depending on the duration, distance, and desirability of the order)

100% of tips
Actual earnings may differ and depend on factors like number of deliveries you accept and complete, time of day, location, and any costs. Hourly pay is calculated using average Dasher payouts while on a deliver (from the time you accept an order until the time you drop it off) over a 90 day period and includes compensation from tips, peak pay, and other incentives.

Pro Tip: The app shows you hotspots where you're likely to get lots of deliveries. You can also take advantage of promos like Peak Pay and Challenge Bonuses to help you earn more.

Shopping Fans: Instacart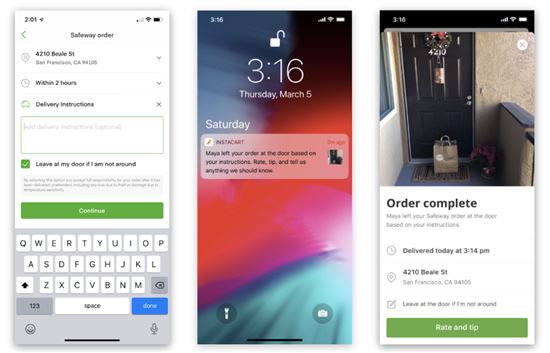 Credit: Instacart
Instacart is a delivery app geared to making grocery shopping easier. They want to become the world leader in online grocery delivery.
As a full-service shopper, you're responsible for collecting and delivering a client's order (Instacart provides the grocery list). You're paid weekly, earn tips, and have the freedom to work whenever you want. Plus, you can review the estimated earnings prior to accepting or declining a delivery opportunity.
Requirements:[4]

18+ years old

Eligible to work in the United States

Access to vehicle

Access to smartphone (iPhone 6s / Android 5.0 or newer)

Ability to lift 50 lbs with or without accommodation
What you can earn with Instacart:

Per-delivery rate (if task involves only delivery)

Per-delivery rate based on the number, weight, and type of items (if task involves personal shopping)

100% of tips
If you live in a big city, the next pick is a must-have. Find out which app is buzzing in metro areas below.
Best for Big Cities: GrubHub
Credit: Grubhub
GrubHub, one of the first food delivery services on the market, has since partnered with over 320,000 restaurants. As a driver, you'll receive all necessary information with each order: pickup location, drop-off location, and total payout plus tip.
GrubHub drivers decide when they work but are limited to a delivery zone (chosen at registration). Depending on where you're located, some zones may be smaller than others. So, if you spend a lot of time away from your local area, you'll miss out on delivery opportunities.
Requirements:[5]

19+ years old (21+ in Chicago and Las Vegas)

iPhone with iOS 11 or higher OR an Android with 5.0 or higher (must have a data plan)

Checking account with direct deposit capability

Valid driver's license (for at least 2 years)

Auto insurance (if driving)

Have a valid state ID (if riding a bicycle)
What you can earn with GrubHub:

Amount per delivery (based on time and mileage)

100% of tips

Instant Cash Out allows drivers to cash out available earnings at any time
Drivers also receive GrubHub equipment (car decals and insulated delivery bags).

Tips can make or break your delivery driving experience. See how you can maximize your earnings below.
Best Tips: Caviar
Operating in over a dozen large city areas, Caviar is a high-end food delivery service owned by DoorDash. Not only do they keep customers satisfied, their support team is also dedicated to assisting drivers throughout their drive time.
While Caviar drivers can get paid more during busier times, you won't always make that much. To maximize your earnings and receive bigger tips, try working with more expensive restaurants. If interested in driving for Caviar, check their website for areas they currently serve.

Caviar is a part of DoorDash. When you sign up, you'll join the fleet of independent couriers, called Dashers. Through DoorDash, you can receive either Caviar or DoorDash delivery opportunities.
Requirements:

18+ years old

Own a vehicle (car, truck, bike, scooter, or motorcycle)

Minimum 2 years of driving experience

Own a smartphone

Must pass a background check
What you can get paid with Caviar:

An "effort-based algorithm" calculated by distance, time, and size of the order

100% of tips

Get paid instantly after any order through Cash App
Did you know you can actually make money by shopping? Keep reading for the best app to satisfy your inner shopaholic.
Other Delivery Driver Apps to Consider
Amazon Flex
Amazon Flex drivers can deliver groceries or packages. Actual earnings will depend on factors like location, tips you receive, and how long it takes to complete deliveries.[6] You pick up packages from an Amazon delivery station or local stores and deliver them directly to customers. Depending on the order, your delivery blocks are typically 2-6 hours. Amazon allows Flex drivers to keep all customer tips. The bigger your car is, the more money you can make since you'll deliver more packages.
Shipt Shopper
If delivering groceries interests you, consider driving for Shipt. Being one of the more popular grocery delivery services, shoppers can earn more. Work part time or full time while helping people get the things they need. Available in all of the U.S. except for Alaska and West Virginia.
Seamless
Seamless is a food delivery app owned by GrubHub Inc. When customers use their app, Seamless suggests new restaurants and dishes based on previous orders, encouraging them to place an order. Like other delivery apps, drivers get paid for every order completed plus tips.
Saucey
Saucey is an alcohol-only delivery service. Drivers deliver beer, wine, spirits, mixers, and more, though you must be 21 or older to join. Currently, the service only ships wine and spirits within California, Oregon, and Washington and wine within New York.
Eaze
Eaze is an online platform for information and legal access to cannabis in California and Michigan. Local dispensaries receive orders and payments directly from consumers on Eaze. The dispensary then sends one of their own employees to deliver the order, using the Ease app to locate the drop-off location.
Favor Delivery
Favor Delivery is a service offered only in the state of Texas. Drivers for Favor Delivery think of themselves as personal assistants and claim to get anything in under an hour.
What Experts Say
Making a living isn't always glamorous. Lots of people are afraid of getting stuck in unfulfilling jobs.
In an unpredictable job market, you don't have to go it alone. As part of our series on gig work and employment, CreditDonkey asked a panel of industry experts to answer some of readers' most pressing questions:
What are the pros and cons of starting your own delivery business over using a delivery service app?

How do you find your purpose and do what you love?

Could gig work put an end to traditional employment?

How is the gig economy changing the workforce?

What does the future of food delivery look like?

What skills will always be in demand?

What will the future of work look like?
Here's what they said:
How to Make More Money as a Delivery Driver

© CreditDonkey
Here are some skills every delivery driver should have in order to be successful:
Driving

Navigation

Customer service

Time management

Problem solving
These traits are valuable when making deliveries. Here are a few additional recommendations to maximize your earnings:

Accept large orders whenever possible

Be professional and friendly with every delivery

Work during the lunch/dinner rush and on weekends for more orders

Drive near business offices where tips are given more often

Work near a college town for more orders (though tips are usually worse)
Which delivery app pays the best?
Get the highest pay with these top delivery app jobs:
DoorDashers connect restaurants to hungry customers

Caviar Couriers bring in the tips from high-end diners

Instacart Shoppers get paid to do groceries
Bottom Line
There's a lot of opportunity for you to make money as a delivery driver. With all the different money making apps available, it's important you research which option works best for your location and preference.
Remember, you don't need to limit yourself to only one delivery service. If you have an open schedule, maximize your potential earnings by working with multiple platforms.
References
Write to Matthew L at feedback@creditdonkey.com. Follow us on Twitter and Facebook for our latest posts.
Note: This website is made possible through financial relationships with some of the products and services mentioned on this site. We may receive compensation if you shop through links in our content. You do not have to use our links, but you help support CreditDonkey if you do.