Ad Disclosure: This article contains references to products from our partners. We may receive compensation if you apply or shop through links in our content. You help support CreditDonkey by using our links.
(read more)
Learn how to make money from home. See the best ways for teenagers to work at home and earn some extra cash.

© CreditDonkey
With schoolwork and family life to juggle, getting a part-time job can seem daunting.
But don't sweat it.
There have never been more opportunities for flexible work online - no experience needed.
Plus, why say no to extra cash, life skills, and a head start on saving for big expenses?
Check out this list of legit ideas for making money online as a teen (even 13-year-olds), plus expert job advice from career coaches and professors.
Be sure to get permission from a parent or guardian before starting. While these sites are legitimate and easy way to earn money part-time, parental supervision is always a good idea and safety comes first.
Popular Online Jobs for Teens 💯

© CreditDonkey
In addition to having spending money, a small side job can help you gain valuable skills in budgeting, business, and time management.
Try out one of the ideas below, but don't be afraid to move on to a new idea if something isn't a good fit. And remember, always take care of schoolwork first. 
Offer Your Services on Fiverr or Upwork
On freelance sites like Fiverr and Upwork, teens can earn money by offering their valuable skills.
You can post a wide variety of skills, including
Freelance writing

Graphic design or web design

Video editing

Social media management

UI/UX projects, and more
You pick the price point for your services. Just keep in mind that most freelancing sites take a cut of your earnings. Once a job is complete, you can get paid via PayPal.
Tip: Maintain good relationships with your clients too. Positive word-of-mouth will help in the long-run with growing your client base.
Age requirement: 13+
Fill Out Surveys on Survey Junkie

© CreditDonkey
Survey Junkie pays teenagers to share feedback on numerous topics, including food, make-up, restaurants, video games, and everything in between.
Teens 13 years and older can sign up for Survey Junkie and share their thoughts. Signing up takes less than 5 minutes, and you can start earning money right away. Money earned per survey will vary widely, but you can earn up to $35 per survey.
Age requirement: 13+
The Harris Poll is a survey company that influences decision-makers in politics and beyond. By participating, you will be able to help influence people in power and see the results of polls you participate in.
Poll-takers are paid via gift card for popular brands like Starbucks and Amazon.
Age requirement: 14+
Become an Influencer on Toluna
Toluna connects you with brands so you can express your opinions about their products. They also offer other ways to earn, such as using their own search engine.
Provide feedback for major brands like Kellogg's, Coca-Cola, and Amazon, or even participate in their daily lotteries for more rewards.
Then, redeem your earnings for gift cards, sweepstakes entries, and other rewards.[1]
Age requirement: 15+
Complete Tasks on InstaGC

© CreditDonkey
This survey company pays users to watch videos, shop, and test applications for various companies. You'll take surveys and earn points for each survey.
You will be paid in points, and each point equals one cent. Every task you complete will be worth 10 to 100 points.
Cash out your money when you've earned just $1 and redeem for cash or gift cards for retailers like Amazon or Walmart.
Age requirement: 13+
Eyeing a new pair of sneakers or headphones? Join Swagbucks before buying to earn up to 75% cash back on your purchase (you might even score a special coupon or discount).
If cash back isn't your thing, you can also earn by watching their videos, taking surveys, and even using their own browser extension. When you're ready to cash out, you'll get paid via PayPal.
And rest assured, Swagbucks' parent company Prodege has an A rating from the BBB while Swagbucks itself has a 4.3/5 rating from Trustpilot.
Age requirement: 13+
Sell Old Tech or Sporting Goods on eBay

© CreditDonkey
On eBay, you can sell almost anything: shoes, electronics, and more. When you sell with eBay, the company's platform will help you price out shipping costs, which you can include in your price or charge separately.
Once you earn money, eBay will pay you in several ways: via PayPal, PayPal credit, credit or debit card, and payment upon pickup.[2]
Age requirement: 18+ (minors with parent permission)
Get Crafty on Etsy
Consider yourself crafty? Teens can sell handmade crafts and goods on Etsy, a popular online marketplace.
If you're under 18 years old, you'll need your parent's permission to open up an Etsy account. You and your parents will both be managing the shop, under Etsy's policies.
Keep in mind: Etsy takes a percentage (3.5%) of your sale price.
Age requirement: 18+ (13 with parent's permission)
Sell Textbooks on Bookscouter
If you've got a pile of used textbooks collecting dust, consider selling them to other students. Bookscouter claims to be the world's largest textbook buyback company.
Bookscouter checks listings from over 35 book buyback vendors to get you the best price. Then, when a buyer purchases your book, just print out the prepaid postage label and mail it off.
Age requirement: 13+
Work from Home with U-Haul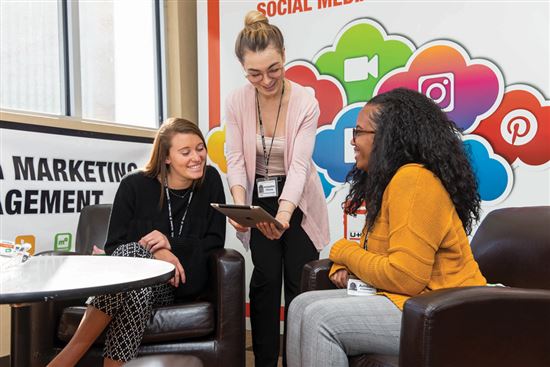 Credit: U-Haul
From time to time, U-Haul will offer work-from-home customer service jobs. Take a look at their jobs page here.
Unlike other companies, U-Haul doesn't require a customer service representative to be 18 or older: instead, some 16-year-olds can apply (with a high school diploma or GED).
If you're good with people and consider yourself a problem-solver, customer service could be a perfect fit for you. U-Haul's customer service representatives usually assist with tasks like booking a moving truck and preparing rental invoices.
All you need is a strong internet connection, a reliable headset and webcam, and completion of a training program. Base pay starts at $10/hour.
Age requirement: 16+
Complete Tasks on TeenEyes

© CreditDonkey
This online market research firm will pay you to do small tasks like surveys, focus groups, product testing, and more.
Every time you complete a task, your points add up. One point is one cent. Each task can be worth anywhere from 200 points to 2,000 points. You can cash out via check once you reach $10.
Age requirement: 13-18
Rate and Review Music on Slice the Pie
On Slice the Pie, you can rate and review music for money. It's a simple system: Listen to a clip of a song and tell Slice the Pie your rating (from 1 to 10), in addition to a brief explanation.
Record labels even consider your feedback when thinking about signing an artist.
You can earn anywhere from 7 cents to 15 cents. Slice the Pie also runs promotions where they pay more for your ratings. You can get paid every Tuesday and Friday via PayPal, but you must have at least $10 in your account to request a payout.
Age requirement: 13+
Review Calls on Humantic
Humantic pays people to listen and review customer service calls recorded for quality purposes. As a reviewer with Humantic, you'll listen to the call, answer a few questions, and submit your responses.
With Humantic, you don't have to listen to live phone calls or be a third party on any calls. You can work on your own schedule and listen to calls on your own time.
You can earn anywhere from $1 to $4.50 per hour, and Humantic pays out via PayPal.
Age requirement: 13+
Flip Garage Sale Finds
It's not a job per se, but flipping cheap items is an easy way for older teens to earn some cash.
Hit up garage sales and thrift stores in your area to find housewares, accessories, and clothing.
Before you choose something to flip, check online to confirm that you can sell it for more than what you bought it. Also, check to make sure that the selling platform you use allows sellers your own age.
Resale sites to check out:

Age requirement: 16+
Summary of Online Jobs for Teens
| Online Jobs | Earning Potential | Flexibility |
| --- | --- | --- |
| Freelancing | | |
| Take surveys | | |
| Share opinions (Harris Poll) | | |
| Toluna influencer | | |
| Complete InstaGC task | | |
| Swagbucks cashback | | |
| Sell on Ebay | | |
| Sell on Etsy | | |
| Sell books on Bookscouter | | |
| U-Haul as customer services | | |
| Online market research on Teeneyes | | |
| Rate music on Slice the Pie | | |
| Review calls (Humanatic) | | |
| Flip garage sale finds | | |
Best Survey Sites for Teens

© CreditDonkey
There's a reason these sites are so popular: They're quick and easy for almost everyone. Since there are so many to choose from, we've rounded up some popular options to consider.
InboxDollars (18+)
The app lets you earn cash for playing games, watching videos, and more. Plus, you get a $5 bonus just for signing up.
Epoll (13+)
On Epoll, teens can complete surveys for cash and rewards. You'll complete the surveys for points, and can then cash out your points.
YouGov (16+)
On YouGov, teens can share their opinions on everything from their favorite brands to what they watch on Netflix.

You can get paid in cash or swap your points for credit at popular stores like Amazon or Old Navy.

My SoapBox (13+)
On MySoapBox, teens can make money online for completing surveys on products and services they use daily. Once you earn enough points, you can redeem them for credit at your favorite stores.
Opinion Outpost (13+)
You can earn a number of points for every survey you complete, and cash them out for money, prizes, and more.
Springboard America (14+)
Teens can earn a small amount of money for completing surveys with Springboard America. Once you reach $50, you can receive a payout through check or make a charitable donation.
OneOpinion (13+ with parent permission)
Teens can earn points by completing surveys and cash out once they reach 25,000 points. You can choose to be paid via PayPal, Visa prepaid cards, or Amazon gift cards.
Panel Station (15+ with parent permission)
Panel Station has fewer surveys than other surveys, but they're generally more profitable. You can cash out once you reach 3,000 points, though some surveys reward up to 5,000 points. The site also features sweepstakes and prize drawings.
Valued Opinions (18+)
The downside to Valued Opinions is the payout methods: Teens can only pick from Amazon gift cards or a Visa prepaid card once they reach $20.
Branded Surveys (13+)
Teens can sign up with Branded Surveys and earn points for sharing their feedback. Surveys may be worth as much as 300 points and you may even earn partial credit if you don't finish the survey. Once you earn 1,000 approved points, you can cash out with PayPal.
e-Rewards (13+)
e-Rewards is an invite-only platform to share your perspective through surveys and product testing. As payment, you'll earn e-Rewards currency that you can exchange for dining points, airline miles, and other experiences.
Ipsos
This online market research company will pay you to complete surveys. Each survey will earn you 10-100 points, and you can cash out through PayPal (with 500 points minimum). You will get about 4 surveys per month, on average.
Multitask Online with Qmee (13+)
Qmee is a browser extension that pays you to watch ads and take surveys. Qmee will show you ads while you search the internet, and clicking those ads may earn you money.

Qmee pays out to PayPal immediately, no matter the amount of money in your account. Qmee is available in the US and the UK.

MyPoints (16+ with parent permission)
MyPoints pays you to complete surveys and shop online using their platform.

You can earn rewards for shopping with 1,500+ stores, or you can opt for payout through PayPal.

RealOnlineSurveys (age requirement varies by company)
With this survey aggregator (meaning they give you access to surveys from multiple survey companies), you can test products and share your opinions for gift cards, prizes, and cash.
Get Cash for Completing Tasks on FusionCash (13+)
On FusionCash, teens can make money by completing tasks, searching the web, shopping, and more.
Easy Jobs for 18+ Teens to Earn Money

© CreditDonkey
Pet lovers, aspiring designers, and proofreading geeks - there's a job on this list for just about every teen. Take a look at your options below.
Deliver Groceries on Shipt (18+)
Pick up and deliver groceries with Shipt, an online grocery delivery service. As a grocery shopper, you'll be paid per hour with added tips.

Shipt claims you can earn up to $25 an hour, but it will depend on the order count and tips.

Sell your stock photos on iStock (18+)
There's an always a demand for high-quality photos. If you got a good eye for visuals, upload your work to stock photo sites like iStock, Dreamstime, and 123rf.
Rent your car on Turo (18+)
If you're at least 16 years old and have a driver's license, you can make good money with that car sitting at home. Private car rental is an increasingly popular side hustle. Your rate depends on the model you own.
UserTesting (18+)
Provide feedback on websites and apps for companies. You may need to speak out loud as you record your screen or write a short review at the end.

Each test generally lasts about 20 minutes and you are paid $10 per test

Become a Virtual Assistant on Guru (18+)
If you've got a knack for organization and communication, chances are you'd make a great virtual assistant. Guru connects you with people who need help with basic tasks like booking accommodations, organizing invoices and receipts, and more.

Alternatively, you can reach out to family and friends who could use a hand with personal or professional tasks. Most virtual assistants make $10 - $50 an hour.

A lot of companies will post virtual assistant roles on Indeed, Flex Jobs, and Snag a Job as well.

Many professionals and businesses also hire virtual assistants to help with their social media sites. If this appeals to you, put your knowledge to good use and become a freelance social media manager.

Transcribe audio and video into written text on Rev (18+)
The work is very flexible but requires a great deal of attention to detail. Video captioning requires a bit more skill as you have to sync the text with the audio frame.

You generally start at $15 an hour.

Drive for Uber (18+)
If you have your own car and a driver's license, you can sign up to drive for Uber. The big benefit of driving for Uber is making your own schedule.

You can make at least $10 an hour, though your exact payment will depend on where, when, and how often you work.

Assemble furniture on TaskRabbit (18+)
You can get paid for completing small tasks like hanging pictures, assembling furniture, mounting TV, organizing closets, and other handy work requests.
Pet Sit on Rover (18+)
If you love animals, sign up for Rover.com and earn extra money by pet sitting. In addition to dogs, you can also pet sit cats and various other animals.

Users report getting their first pet-sitting job within just a few weeks. Once you finish the job, you can immediately withdraw your earnings.

Sell Designs on CafePress (18+, or 13+ with parental consent)
Aspiring artist or graphic designer? Think about selling your designs through online gift shop CafePress. Make an account with your email address, upload your designs (which can be printed on items like tote bags and coffee mugs), then wait for them to sell.

When a customer buys an item with your design, you'll earn a commission based on the sales value.

CafePress Alternatives

Similar to CafePress,

Redbubble

allows designers to sell their work and earn a

passive income

. To start, make an account and upload your designs.

Your work will be placed on a variety of items, from tote bags to pillows. Once a customer buys one of those items, you'll earn a commission. To start, you'll need to be at least 16 years old.


Complete Microtasks on Clickworker (18+)
Clickworker is an online crowdsourcing platform that lets "clickworkers" get paid for micro jobs. You can help with things like data entry, search engine optimization (SEO), translation, proofreading, and more.

Sign up with your email address and provide some info about your skills. Then, your first assignments are offered. Best of all, you're paid instantly after the job is complete.

Deliver groceries on Instacart (18+)
Be a "personal shopper" fulfill order at local grocery stores. You'll head to a supermarket near you, pick everything up on the list and drop off the items to customers in your own car.

You're paid $7-$10 for each batch.

Teach English with SkimaTalk (18+)
Is English your favorite subject? With SkimaTalk, you can sign up to help non-native speakers learn the language. No degree or teaching experience is necessary.

After completing three successful test-lessons, you can set your own rates (most tutors charge $10-$15 per 25-minute lesson).

Complete Quick Tasks with MTurk (18+)
Sign up for Amazon's Mechanical Turk platform and earn by completing a variety of small tasks. Companies outsource these tasks, like data entry or identifying pictures, to MTurk which passes them on to you.

If you get a good pace going, you can earn around $300 a week. Members must complete a certain number of tasks to unlock higher-paying jobs.

Sell stuff on Instagram (16+)
Once you have a sizable number of followers, leverage the app to make sponsored posts, include affiliate marketing links, or sell physical or digital products. Check out some tips to get started.
Pick up shifts on Instawork (18+)
Earn more money working hourly service shifts and work where you want, when you want. You just log in to find last minute gigs on the platform.
Babysit with SitterCity (18+)
Babysitting is a great way to earn, especially if you're good with kids or have experience with a younger sibling yourself.

It can even turn into a long-term side gig if you develop a good relationship with the parents you babysit for. Just sign up, list your special skills (like cooking or driving) and get matched with babysitting jobs near you.

Deliver Takeout on Postmates (13+, or 18 if driving)
Sign up to be part of the Postmates fleet and start making money (plus tips) delivering food to people around your city. Most Postmates drivers can earn $10+ an hour.

Best part? The gig is flexible, which means teens can deliver around their school hours or other commitments.

Babysit on Care.com (14+ with parent permission)
Care.com offers some babysitting jobs available for teenagers. First, create a profile on the website. Then, share your photo and qualifications to attract prospective clients.

Be sure to list your pay range so families have an idea of how you fit into their budget.

Earn Money for Shopping with Shopkick (14+ with parental consent)
Download the Shopkick mobile app to earn points, or "kicks," for visiting or shopping at popular stores (both online and in-store).

In return, you can redeem points for free gift cards to stores like Amazon, Best Buy, and Walmart.

Sell Used Clothes on Poshmark (16 - 18+)
Poshmark is one of the most popular online platforms to sell used clothes and accessories. You can list your items, set a price, and wait for buyers to bid on items.

The minimum age will depend on each state's minimum age of consent. In most states, that age range is 16 to 18 years old.

You can withdraw your earnings anytime and deposit them directly to your bank account, though Poshmark takes a portion. For sales under $15, the company takes a flat rate of $2.95. For anything over $15, Poshmark takes 20%.

Poshmark: $10 Sign Up Bonus

Sign up using your friend's username as referral code. New accounts created with a referral must be associated with a unique identity in order to be eligible for credits.

Poshmark Alternatives

Sell your used clothing and items through

Depop

, a trendy resale site that focuses on vintage items and streetwear. Make an account, list your items, and interested buyers will reach out to you.

Too busy to market those pile of clothes? Check out thredUP. You can send off your clothes in their free "clean out kits" by mail. The company sorts through your pieces and will offer you a price per garment. They'll do the heavy lifting of photographing and advertising every item to help them sell quickly.

Find out which selling app is ideal for your pre-loved fashion in our ultimate selling apps guide.


Post Videos on YouTube (13+)
Making and posting videos online can earn you extra money, especially if you become popular. Most lucrative YouTube channels earn from ad revenue or sponsored content. To get there, you'll need to build your follower base and view count.
Tutor Students on Enroll (15+)
Enroll connects teen tutors with students around the world, no matter the subject. If you excel in certain subjects, helping other students learn may be a good way to earn easy money.

Plus, you don't need any professional qualifications to sign up

Buy and Sell on Facebook Yard Sales
If you're looking to get rid of some clutter, consider selling your stuff at a yard sale on Facebook. Yard sale groups on Facebook enable you to reach more people and collaborate with neighbors.

There's no age limit here, but you may need a parent or guardian to drive you around if you're not yet of driving age.

Get Rewards on Boostapal (13+)
Boostapal will reward you for getting friends and family to use their online shopping portal. For each purchase, you get a percentage of the qualifying sales price, minus shipping and tax charges. You can cash out your account through PayPal once you have over $10 in the account.
Find Deals on Ibotta (18+)
Ibotta pays people to find good deals on everyday items through their app. Once you buy a product from a participating store, you can take a photo of your receipt and redeem your reward through the app. The app is free and gives you rebates through your phone right away.
Earn Cash Back on Rakuten (18+)
When you shop online through Rakuten, you'll get a cash-back reward. Your rewards will be paid out four times a year to your PayPal account, or you can opt for a check instead. If you're a teen shopping online, this is an easy way to get money back in return.

The best thing about cash back apps is that you can use multiple at a time and stack your earnings.

Find more cash back apps

that put money back in your pocket.

Post on The Forum Wheel
The Forum Wheel pays to get people to post new comments and drive engagement on forums and blogs across the internet.

You'll need to submit 10 posts to ensure you have good writing skills. Every post pays out $0.05, or one credit on the site. The more you post, the more money and rewards you earn. There is no minimum for a payout, and the site pays out through PayPal.

Where can I get a job at 13?

Eager 13-year-olds can start making extra cash in a variety of ways. Here are some opportunities that require no experience:

Perform online tasks with Swagbucks

Fill out surveys on Survey Junkie

Watch online ads at Jingit

Share product feedback on sites like Teen Eyes, Opinion Outpost, and more

Find out more about age requirements and your rights as a minor in the workforce here.
Best Direct Sales Jobs for Teens

© CreditDonkey
Some sharp teens may even be cut out for direct sales jobs. Check out these companies that pay teens to sell accessories, beauty products, and more.

Become an Ambassador for Stella & Dot (18+)
Become a jewelry sales representative with Stella & Dot and earn a little extra cash—once you've made the starting investment.

Stella & Dot is a direct-selling, multilevel marketing company that requires you to buy the products from the company and then sell them. You can earn a commission on your sales.

Not sure how to get the job? Here's are

9 essential tips

for acing your interview.

Become a Designer with Origami Owlettes (11-17)
Sell Origami Owl jewelry as part of their youth entrepreneurs program and get paid for sharing the jewelry with your friends.

To sell as a youth entrepreneur, you must be between the ages of 11 and 17. You'll earn 50% commission on everything you sell, but, like other programs, the Origami Owlettes program asks you to make an upfront investment.

Brand Affiliate on NuSkin (16-17 with parent permission)
Become a brand affiliate with NuSkin, a skincare company, and start your own business by sharing their skincare products with friends and family. You will earn by reselling the NuSkin products or through sales compensation.

According to NuSkin, you can earn at least $40 a month. Earn via direct bank deposit or request a paper check.

Distributor on Gel Moment (16+)
Sell and distribute nail products when you become a Gel Moment Distributor. To start selling, you'll need to buy an enrollment package.

Once you buy the package, you can begin selling your products to earn commission. You can only sell Gel Moment in the USA, Canada, UK, and Australia.

Become a #POSHBoss on Perfectly Posh (18+, or 13+ with special requirements)
Sell natural skincare products and make money on the side with Perfectly Posh. To start selling, you'll need to buy a starter kit as an investment. Then, you can earn affiliate commission on the full retail value. Plus, you can earn monthly bonuses to boost your bank account.

Teens 13 and older can sell Perfectly Posh products. However, if you sign up before you're 18 years old, you must contact their support number.
Watch Out for Scams
Not all sites and job opportunities are legit. If the site you're on does any of the following things, steer clear:

It asks for upfront payment.

It asks for personal info like bank accounts or your Social Security Number.

It makes claims that sound too good to be true.

It pressures you to buy something.

It doesn't have a good record with the BBB.

It doesn't offer Customer Support.

It doesn't have a Privacy Policy.
Tips for Teens Working Online
Working online can be a relatively easy and safe way for teens to make money. But there are still some best practices you should know:
Don't share personal info. Sharing your first name might be okay, but be wary of sites that ask for much more.
Get a second email address. Using a separate email just for online jobs is a good way to stay organized. Plus, your inbox won't get flooded.
Make your parents aware of what you're doing. If anything bad happens, your parents can help you get out of a sticky situation.
Get a PayPal account. Many sites pay via PayPal, so this will make getting paid much easier.
Always be skeptical. If a job opportunity sounds too good to be true, it probably is.
What Experts Say
Making a living isn't always glamorous. Lots of people are afraid of getting stuck in unfulfilling jobs.
In an unpredictable job market, you don't have to go it alone. As part of our series on gig work and employment, CreditDonkey asked a panel of industry experts to answer some of readers' most pressing questions:
What soft skills can online jobs teach teenagers?

Is gig work replacing traditional employment?

Is it a good idea to work more than one job?

What can teens and young adults do to make themselves better job candidates?

How do you find your purpose and do what you love?

How is the gig economy changing the workforce?
Here's what they said:
Bottom Line
You don't have to wait until you're older to start making money. If you have a goal in mind, from saving for college to buying a new pair of running shoes, you can start earning extra cash as a teenager (including academic scholarships).
Be sure to research each site you consider using and receive parental permission if required. When you're ready to start earning, just remember: A little hard work goes a long way, and before long, your savings will begin to add up.
Additional Resources
References
Holly Zorbas is a assistant editor at CreditDonkey, a personal finance comparison and reviews website. Write to Holly Zorbas at holly.zorbas@creditdonkey.com. Follow us on Twitter and Facebook for our latest posts.
Note: This website is made possible through financial relationships with some of the products and services mentioned on this site. We may receive compensation if you shop through links in our content. You do not have to use our links, but you help support CreditDonkey if you do.