Beginner's Guide to Online Jobs for Teens
This article contains references to products from our partners. We may receive compensation if you apply or shop through links in our content. You help support CreditDonkey by reading our website and using our links.
(read more)
---
Teenagers can earn money online. Take a look at these jobs to work from home that pay surprisingly well.

© CreditDonkey
With schoolwork & family life to juggle, getting a part-time job can seem daunting.
But don't sweat it.
For teens today, there have never been more opportunities for flexible work online - no experience needed.
Plus, why say no to extra cash, life skills, and a head-start on saving for big expenses?
Check out this list of legit ideas for making money online as a teen (even 13-year-olds), plus expert job advice from career coaches and professors.
Online Jobs for Teens That Actually Pay Well
:
Most Popular Online Jobs for Teens

© CreditDonkey
In addition to having spending money, a small side job can help you gain valuable skills in budgeting, business, and time management.
To get started, try out one of the ideas below, but don't be afraid to get creative or move on to a new idea if something isn't a good fit. And always take care of schoolwork first. 
1. Answer Questions on TutorCare
On TutorCare, you help other students around the world better understand their schoolwork.
Visit TutorCare's Ask a Question page, browse the available questions, and chime in when you see something you can help with.
The asker sees only a small portion of the answer you typed up. To get the full answer, they have to pay you for it. Best of all, you set your own price. Earn just 30 answer credits and you're able to cash out.
Age requirement: 16+
2. Offer Your Services on Fiverr or Upwork

© CreditDonkey
On freelance sites like Fiverr and Upwork, teens can earn money by offering their valuable skills.
You can post a wide variety of skills, including
Freelance writing

Graphic design or web design

Video editing

Social media management

UI/UX projects, and more.

You pick the price point for your services, just keep in mind that most freelancing sites take a cut of your earnings. Once a job is complete, you can get paid via PayPal.

Tip: Maintain good relationships with your clients, too. Positive word-of-mouth will help in the long-run with growing your client base.

Age requirement: 13+
3. Fill Out Surveys on Survey Junkie

© CreditDonkey
Survey Junkie pays teenagers to share feedback on numerous topics, including food, make-up, restaurants, video games, and everything in between.
Teens 13 years and older can sign up for Survey Junkie and share their thoughts. Signing up takes less than 5 minutes, and you can start earning money right away. Money earned per survey will vary widely, but you can earn up to $35 per survey.
Age requirement: 13+
4. Share Your Opinion on Harris Poll
The Harris Poll, is a survey company that influences decision-makers in politics and beyond. By participating, you will be able to help influence people in power and see the results of polls you participate in.
Poll-takers are paid via gift card for popular brands like Starbucks and Amazon.
Age requirement: 14+
Highest Paying Job for a 14-Year-Old
Thanks to the internet, teens today have more money-making options than ever. These are just a few of the legit sites that pay 14 year olds real money:
5. Become an Influencer on Toluna
Toluna connects you with brands so you can express your opinions about their products. They also offer other ways to earn, such as using their own search engine.
Provide feedback for major brands like Kellogg's, Coca-Cola, and Amazon, or even participate in their daily lotteries for more rewards.
Then, redeem your earnings for gift cards, sweepstakes entries, and other rewards.
Age requirement: 15+
6. Complete Tasks on InstaGC

© CreditDonkey
This survey company pays users to watch videos, shop and test applications for various companies. You'll take surveys and earn points for each survey.
You will be paid in points, and each point equals one cent. Every task you complete will be worth 10 to 100 points.
Cash out your money when you've earned just $1 and redeem for cash or gift cards for retailers like Amazon or Walmart.
Age requirement: 13+
7. Earn Cash Back on Swagbucks
Join Swagbucks and earn money when shopping online with some of your favorite stores (plus special coupons and discounts).
If that's not your thing, Swagbucks has a variety of other ways to earn money, including watching videos and using search engines.
Swagbucks pays out via PayPal. Find more cash back apps (plus apps that pay for smartphone photos, exercise, and more) in our guide to money-making apps.
Age requirement: 13+
8. Sell Old Tech or Sporting Goods on eBay

© CreditDonkey
On eBay, you can sell almost anything: shoes, electronics, and more. When you sell with eBay, the company's platform will help you price out shipping costs, which you can include in your price or charge separately.
Once you earn money, eBay will pay you in several ways: via PayPal, PayPal credit, credit or debit card, and payment upon pickup.
Age requirement: 18+ (minors with parent permission)
When setting the starting bid price for your item, keep in mind that eBay - and most sales sites - will take a small percentage of your sales. (
Learn what fees
to expect in our guide on selling apps.)
9. Get Crafty on Etsy
Consider yourself crafty? Teens can sell handmade crafts and goods on Etsy, a popular online marketplace.
If you're under 18 years old, you'll need your parents' permission to open up an Etsy account. You and your parents will both be managing the shop, under Etsy's policies.
Keep in mind: Etsy takes a percentage (3.5%) of your sale price.
Age requirement: 18+ (13 with parent's permission)
10. Sell Textbooks on Bookscouter
If you've got a pile of used textbooks collecting dust, consider selling them to other students. Bookscouter claims to be the world's largest textbook buyback company.
Bookscouter checks listings from over 35 book buyback vendors to get you the best price. Then, when a buyer purchases your book, just print out the prepaid postage label and mail it off.
Age requirement: 13+
If you're interested in getting paid for your skills, check out
Freelancer
, as well. They have a variety of jobs available, from managing social media to designing T-shirts.
When you get paid, you can withdraw your money to your bank account or your PayPal account.

11. Work from Home with U-Haul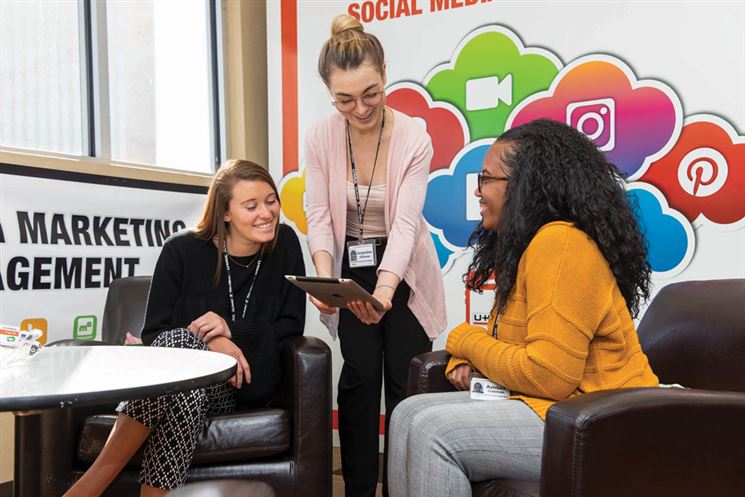 Credit: U-Haul
From time to time, U-Haul will offer work-from-home customer service jobs.
Unlike other companies, U-Haul doesn't require a customer service representative to be 18 or older: instead, some 16 year olds can apply (with a high school diploma or GED).
If you're good with people and consider yourself a problem-solver, customer service could be a perfect fit for you. U-Haul's customer service representatives usually assist with tasks like booking a moving truck and preparing rental invoices.
All you need is a strong internet connection, a reliable headset and webcam, and completion of a training program. Base pay starts at $10/hour.
Age requirement: 16+
12. Complete Tasks on TeenEyes

© CreditDonkey
This online market research firm will pay you to do small tasks like surveys, focus groups, product testing, and more.
Every time you complete a task, your points add up. One point is one cent. Each task can be worth anywhere from 200 points to 2,000 points. You can cash out via check once you reach $10.
Age requirement: 13-18
13. Rate and Review Music on Slice the Pie
On Slice the Pie, you can rate and review music for money. It's a simple system: listen to a clip of a song and tell Slice the Pie your rating (from 1 to 10), in addition to a brief explanation.
Record labels even consider your feedback when thinking about signing an artist.
You can earn anywhere from 7 cents to 15 cents. Slice the Pie also runs promotions where they pay more for your ratings. You can get paid every Tuesday and Friday via PayPal, but you must have at least $10 in your account to request a payout.
Age requirement: 13+
14. Review Calls on Humantic
Humantic pays people to listen and review customer service calls recorded for quality purposes. As a reviewer with Humantic, you'll listen to the call, answer a few questions, and submit your responses.
With Humantic, you don't have to listen to live phone calls or be a third party on any calls. You can work on your own schedule and listen to calls on your own time.
You can earn anywhere from $1 to $4.50 per hour, and Humantic pays out via PayPal.
Age requirement: 13+
How can I make money online under 18?
When you turn 18, you have a ton of money-making opportunities to choose from. Check out these options to earn extra cash.
15. Flip Garage Sale Finds
It's not a job per se, but flipping cheap items is an easy way for older teens to earn some cash.
Hit up garage sales and thrift stores in your area to find housewares, accessories, and clothing.
Before you choose something to flip, check online to confirm that you can sell it for more than what you bought it. Also, check to make sure that the selling platform you use allows sellers your own age.
Resale sites to check out:

Age requirement: 16+
Maybe you're looking for less of a job and just want a little extra cash. If that's you, these survey sites below are worth checking out.
Best Survey Sites for Teens

© CreditDonkey
There's a reason these sites are so popular: they're quick and easy for almost everyone. Since there are so many to choose from, we've rounded up some popular options to consider.
Surveys are the perfect money-making opportunity for students with little time. Find more survey sites, including what they pay and their requirements, in
our online survey guide
.
Easy Jobs for 18+ Teens to Earn Money

© CreditDonkey
Pet-lovers, aspiring designers, and proofreading geeks - there's a job on this list for just about every teen. Take a look at your options below.
Best Direct Sales Jobs for Teens

© CreditDonkey
Some sharp teens may even be cut out for direct sales jobs. Check out these companies that pay teens to sell accessories, beauty products, and more.

What Experts Say
Making a living isn't always glamorous. Lots of people are afraid of getting stuck in unfulfilling jobs.
In an unpredictable job market, you don't have to go it alone. As part of our series on gig work and employment, CreditDonkey asked a panel of industry experts to answer some of readers' most pressing questions:
Is gig work replacing traditional employment?

Is it a good idea to work more than one job?

What can teens and young adults do to make themselves better job candidates?

How do you find your purpose and do what you love?

How is the gig economy changing the workforce?
Here's what they said:
When you're trying out a new job or side hustle, don't rush it. It's ok to try it out before you commit. Remember, you can always move on to something new.
Bottom Line
You don't have to wait until you're older to start making money. If you have a goal in mind, from saving for college to buying a new pair of running shoes, you can start earning extra cash as a teenager.
Be sure to research each site you consider using and receive parental permission if required. When you're ready to start earning, just remember: a little hard work goes a long way, and before long, your savings will begin to add up.

Note: This website is made possible through financial relationships with some of the products and services mentioned on this site. We may receive compensation if you shop through links in our content. You do not have to use our links, but you help support CreditDonkey if you do.
More from CreditDonkey: