Best Apps for Cash Back and Rewards
This article contains references to products from our partners. We may receive compensation if you apply or shop through links in our content. You help support CreditDonkey by reading our website and using our links.
(read more)
---
Cashback apps are like coupons, but easier. Earn money on groceries, gas, and other stuff you're already buying. Find out which apps earn the most.

© CreditDonkey
You get automatic savings for in-store and online purchases. But with so many cash back apps available, which gives you the biggest bang for your buck?
Find out how popular apps (like Rakuten, MyPoints, Ibotta, and Honey) compare.
Best Cash Back Apps Worth Downloading
1. Rakuten: $10 Sign-up Bonus

© CreditDonkey
Rakuten (formerly Ebates) is one of the big players when it comes to cash back apps, and it's easy to see why it's so popular: you automatically earn cash back every single quarter.
Signing up only takes a few seconds, and then you can access deals at more than 2,500 online stores. You don't have to worry about points, coupons, or forms.
As long as you follow the links within Rakuten, you'll automatically earn cash back for your purchase, which comes via check or PayPal payment every quarter.

What you earn: Up to 40% cash back per purchase, totaled and paid quarterly (plus a referral bonus if you refer friends)

Cash-out: PayPal or check
Rakuten: $10 Welcome Bonus

Sign up and receive $10 Walmart Gift Card or $10 Rakuten cash bonus as a welcome gift.
2. Wikibuy: Automatic Coupons
Whether you're shopping online or in-store, Wikibuy can help you save money. They search for available coupon codes or discounts from major retailers and even notify you when an item drops in price.
Wikibuy is 100% free to use and removes the hassle of deal searching before you shop. Just for using Wikibuy, you'll automatically earn credits that you can use to shop online (that's essentially free money).

What you earn: Between 1% and 12%, depending on the store

Cash-out: Direct to debit or credit cards, gift cards
3. MyPoints: Up to 40% Cashback

© CreditDonkey
In addition to their high-earning surveys, MyPoints' cash back program is a great way to stack your earnings (up to 40% back from stores like Target, Home Depot, Old Navy, and more). We'll be honest—even high-end credit cards rarely pay that much.
With over $230M paid out to date and 10 million active members, MyPoints also offers an impressive $10 welcome bonus to get you up and running.
What you earn: Between 1% and 40% cash back

Cash-out: PayPal, gift cards
More ways to earn cash with MyPoints
Take surveys

Print coupons

Watch videos

Buy local deals from Groupon

Read emails

Play games

Refer friends
4. Ibotta: $20 Welcome Bonus
Ibotta is a true one-stop shop for rewards. You can:

Earn cash back for shopping

Get paid for scanning receipts

Save with automatic discounts

Connect your existing store loyalty cards
Best of all, you can take advantage of these perks and rewards whether you're shopping in-store or online. With more than 300 partnered retailers, you can likely save at your favorite businesses.
There are no points to track. You earn real cash for every qualified purchase and can withdraw your earnings once you earn $20.

What you earn: Up to 10% cash back and $30 average in monthly savings

Cash-out: PayPal, gift cards
5. TopCashBack: 100% Commission Cashback
TopCashBack sets themselves apart by claiming to give you 100% of the cash back commission earned for your purchase (and taking none for themselves). But how is it possible?
TopCashBack earns most their money from ads and sponsored links, so the cash back generated is all yours. Simply use their app or browser extension and earn 100% commission on purchases from over 4,000 retailers.

What you earn: 100% of the commission (plus a referral bonus if you refer friends)

Cash-out: PayPal, Amazon credit, gift cards
6. Swagbucks: $10 Sign Up Bonus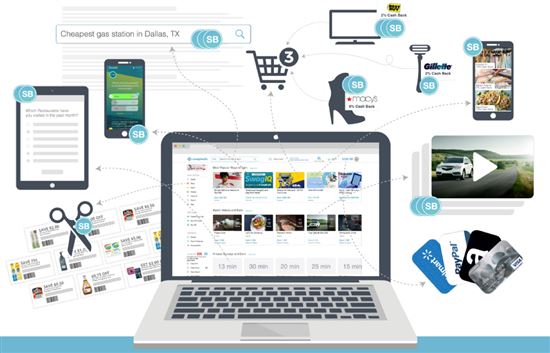 screenshot of swagbucks
Swagbucks offers rewards and money for simple tasks like surveys, watching videos or playing games, but their cash back program is especially worthwhile.
You can earn with online shopping deals or in-store exlusives on anything from food to clothing to VPN services. Plus, you'll maximize your earnings with paid referrals, and their Swagbucks Search browser extension.

What you earn: Anywhere from 1%-75% back

Cash-out: Gift cards, PayPal, cash, check
7. Coupons.com: Cashback and Coupons
With a name like "Coupons.com," you may think you have this site figured out. But they offer much more than just printable and digital coupons.
With their mobile app, you can also earn cash back rebates for shopping at your favorite stores. Get started by browsing their collection of offers and choose which ones you want to use. Another plus: there's no point minimum needed to cash out.

What you earn: 1% to 10% cash back

Cash-out: PayPal
8. Honey: Never Pay Full Price
Honey is a browser extension that automatically checks over 30,000 online stores for coupon codes (even e-commerce giants like Amazon).
Honey also offers features like a price history tool to help you avoid overspending on frequently discounted items. Best of all, it's easy to use.

What you earn: Up to 20% cash back

Cash-out: Gift cards
9. Upromise: Pay Off Student Loans

© CreditDonkey
Upromise is especially unique among the apps on this list. Get this: You can have your earnings put into a high-yield savings account, a 529 college savings account, or even toward your existing student debt balance. Why? Because Upromise is a subsidiary of student loan provider Sallie Mae.
In general, Upromise works similarly to most cash back apps. Sign up for an account, earn cash back when shopping with partnering merchants and restaurants, and choose how you'd like to receive your rewards.

What you earn: Between 1% and 5% cash back

Cash-out: Direct to card or savings account
10. Dosh: Earn Cash on Linked Cards

© CreditDonkey
Dosh pretty much revolutionized the process for cash back apps. Rather than requiring uploaded receipts, you link your debit or credit card directly to the Dosh app.
Every time you shop at a qualifying store or restaurant with your linked card, you'll automatically earn cash back. There's no effort required on your part.

What you earn: Up to 40% cash back (but usually around 5%)

Cash-out: PayPal, direct to card, or charity donation
11. SavingStar: Hassle-fee Grocery Rebates

© CreditDonkey
Unlike other grocery rebate apps, SavingStar promises stress-free grocery rebates (no clipping, printing, or mailing required). They offer rewards for shopping with over 70,000 retailers, including Target, CVS Pharmacy, and Kroger.
SavingStar organizes their offers into three categories:
Healthy Offers: Save on produce
One or Many Offers: Meet a spending goal at 1 or more stores
Always On Programs: Continuous, automatic savings
What you earn: 100% of the cash back commission

Cash-out: Direct to bank/card, PayPal
The best apps that pay for receipts

12. Shopkick: Earn for In-store Tasks
Shopkick rewards your shopping habits. Just shop in-store or online with a linked debit card or credit card and earn "kicks," or points.
Turn your "kicks" into cash rewards from major stores and restaurants, including Target, Amazon, Starbucks, and Groupon. Shopkick rewards for a variety of tasks, including shopping, walking into stores, scanning product barcodes, and watching videos.

What you earn: 5-100 "kicks" (250 kicks = $1)

Cash-out: Gift cards
13. Paribus: Retroactice Price Drops
Paribus earns you cash back in a creative way:
The app identifies your recent purchases based on order confirmation emails found in your inbox.
If something you bought dropped in price by at least $3, they file a claim with retailers to request a refund on your behalf.
Once the retailer confirms the price drop, your refund is typically issued within 3 - 7 business days to the credit or debit card used to make the purchase.

What you earn: 100% of the difference in price

Cash-out: Refunds are issued directly to the card you originally bought the item on
14. Drop: Rethink Your Loyalty Cards
Think of Drop as the replacement for all the store loyalty cards taking up space in your wallet. Start by downloading the app, linking your most-used debit or credit card, and choosing your top 5 favorite brands.
Every time you purchase something from your top brands with your linked card, points are added to your Drop account. Once you earn 5,000 points, you can cash out for gift cards at your favorite stores.

What you earn: Usually between 1% and 2% cash back

Cash-out: Gift cards only
If you usually shop on your laptop, don't forget to download
Drop's browser extension
for Google Chrome. It gives you all the same cash back deals, automatically earned every time you shop online.
15. BeFrugal - 40% back from 5,000+ stores
BeFrugal is a big player among cash back apps. Working with over 5,000 stores, they aim to get you cash back for most of your purchases.
Just how much can they get you? Up to a staggering 40%.
Their browser extension also makes it easy to start earning when shopping online. Instead of manually checking BeFrugal for offers, their browser extension automatically reminds you to apply their offer.

What you earn: As much as 40% back

Cash-out: Direct to bank/card, check, PayPal, gift card
16. ReceiptPal: Scan Receipts for Gift Cards

© CreditDonkey
ReceiptPal gives you another opportunity to cash in with your receipts. Just download the app, snap a photo of your receipts, and earn points that can be redeemed for gift cards.
Before you download ReceiptPal, just be aware that not all receipts are accepted by the app. Receipts must be for consumer goods (not services or bills) and must only be your own.

What you'll earn: Up to 100 "points" per receipt, 350 points required for a $1 Amazon gift card

Cash-out: Gift cards
17. Coin Out: Instant Cashback
Fan of the show "Shark Tank"? You may recognize this app. Coin Out impressively offers instant cashback—no minimums required. Plus, all retailers are accepted, which is almost unheard of in the world of cash back apps.
If you're shopping in-store, you can earn by snapping a photo of your receipt. If you're shopping online, you'll earn by buying through the Coin Out app, which works with major retailers like Walmart, eBay, Groupon, and more.

What you earn: $0.01 - $0.07 per receipt scanned

Cash-out: Direct to bank account, PayPal, gift cards
18. Pei: Shop & Earn Bitcoin
Pei stands out from the crowd by offering cashback in the form of Bitcoin (but you can opt for plain old cash too). Just link your debit cards to your Pei account and earn rewards for shopping with Pei's merchant partners.
With added perks like increasing rewards for loyalty, bonus earning boosts, and a generous referral program, Pei is a valuable cashback tool to have at your disposal.

What you earn: Between 1 and 20% cashback, depending on the store

Cash-out: Bitcoin, direct to card
19. Fetch: Restriction-free Rewards
Unlike other grocery saving apps, Fetch Rewards helps you earn free money without the restrictions.
It's easy: Get started by submitting a photo of your receipt and earn points for every item you bought from more than 250 brands.
You can redeem your points for gift cards with stores like Gap, Amazon, Best Buy, and so much more. Fetch Rewards also offers features that sort your spending and keep track of how much you spend at each store.

What you earn: $0.25 - $2 cashback

Cash-out: Gift cards to stores, Visa or MasterCard gift cards
Best Cash Back Apps for Groceries
20. Freebird: Earn for Rideshares
Think about it: Most cash back apps give you points or money for products you buy. But why should the cash you spend on Uber or Lyft be any different? That's where Freebird comes in.
Book your next Uber or Lyft ride through the Freebird app and earn cashback for each ride. Start earning even more by taking the ride to restaurants and businesses that partner with Freebird. That's money in your pocket, before your even get to your destination.

What you earn: $1 - $10 cashback per ride

Cash-out: Direct to card only
21. Receipt Hog: Scan Receipts for $$$
If you usually toss your receipts, here's a good reason to stop: Receipt Hog will pay you to scan receipts with their iOS or Android app. Each receipt earns a number of "coins" depending on how much the purchase was. For example, $100 would earn you 20 coins.
Once you've earned 1,000 coins, you can cash out for $5, but it's best to save up for more. If you've earned 4,500 coins, you can cash out for $30.

What you earn: 5-20 "coins"/receipt (1,000 coins = $5)

Cash-out: PayPal, Amazon credit, Visa e-gift card
22. Mobee: Mystery Shop for Money
Earn cash with Mobee by shopping at your favorite stores and restaurants. Download the app to receive "mystery shopper" assignments, which can include buying a cup of coffee, trying a new product, and more.
After you complete an assignment, answer a few questions about your experience. When your feedback is approved, Mobee adds points to your balance, which you can cash out for PayPal and retail gift cards.

What you earn: Average 10% cashback

Cash-out: PayPal, gift cards
23. Belly: Unique Rewards from Local Shops
Belly is a virtual store loyalty card that helps businesses engage and retain their loyal customers. To do this, they give customers the chance to win exclusive rewards specifically from the businesses they love (for example: a free personal training session from your local gym).
All you have to do is "check in" via the app when you visit the business. Just make sure they have a loyalty program with Belly first. Luckily, Belly partners with nearly 9,000 local businesses in 2,500 different cities.

What you earn: Custom rewards per shop (varying from free food to discounted services)

Cash-out: In-app rewards
The odd origins of Belly's name: Belly began as a loyalty program specifically for a Chicago-based comic bookstore. A potential reward of the loyalty program was the chance to punch the bookstore owner in the belly. The rest is history.
24. Checkout 51: Rewards for Grocery Shopping
Heading out to Whole Foods or Sam's Club? Checkout 51 works like a digital coupon for your grocery shopping.
Certain brands pay the platform to promote their products. If you buy those products and upload your receipt, you earn cashback (a portion of what the brand paid Checkout 51).
Once you've spent at least $20 on groceries with Checkout 51, you'll be able to cash out. Unfortunately, the only way to receive your reward is with a mailed check.

What you earn: Between 1% to 10%

Cash-out: Mailed check only
25. Cosign: Social Media Rewards
Calling all social media mavens: Cosign is the cashback app specifically for influencers. Simply tag products in your posts and earn rewards if your followers buy the product through your link.
The more people use your product links to buy, the more you'll earn. The app may not be for everyone, but it's a great option for those who have a modest Instagram business and are looking to maximize their earnings.

What you earn: 10% - 50% commission on followers' sales
Cash Back Apps: How to Spot a Scam
Before you start collecting cashback, there are a few need-to-know tips that will help you avoid sketchy apps.
Here's what you can do:

Research the app developer. App developers have their own website. Take some time to pull it up and poke around. Has the developer been around a while? Have they made any other apps?
Check the reviews. This one is probably a no-brainer, but it's always important. Check multiple sites, including the app store reviews, to see how well-received it is. Remember to look at the earliest reviews and the most recent.
Examine app screenshots. People who create scam apps are usually in a hurry to slap something together. Keep a sharp eye out for app screenshots that look Photoshopped or tampered with.
Look for a Privacy Policy. You'll probably have to visit the developer's site for this. Use CTRL+F to search phrases like "personal information" or "you hereby grant." This may reveal how much data they want from you to sell to others.
Do you understand what the app does?. This should go without saying, but do you have a clear idea of how the app works? Scammy apps will intentionally keep things vague, so if you can't pinpoint the essential info, it's probably not a good sign.
Many stores (like Target, Walmart, and Whole Foods) have their own apps that offer exclusive cash back deals and discounts for both in-store and online purchases. If you're loyal to specific stores, be sure to check if they have their own app to max out your earnings.
What Experts Say
As part of our series on consumer spending and coupons, CreditDonkey asked a panel of industry experts to answer some of readers' most pressing questions:

How do cash back apps help brands connect with customers?
Here's what they said:
Bottom Line
It may sound too good to be true, but you really can make money by using cash back apps. Pick a few to try out and determine if they work well with your spending habits. And don't be afraid to use multiple apps at the same time!
Using cash back apps may be one of the easiest ways to earn a little bit of passive income. It won't be enough to replace a regular income, but it's a great way to earn a nice chunk of change with purchases you already make.
Note: This website is made possible through financial relationships with some of the products and services mentioned on this site. We may receive compensation if you shop through links in our content. You do not have to use our links, but you help support CreditDonkey if you do.
More from CreditDonkey:
---