Ad Disclosure: This article contains references to products from our partners. We may receive compensation if you apply or shop through links in our content. You help support CreditDonkey by using our links.
(read more)
Fast cash requirement? Find the top payday advance apps including their benefits and drawbacks.
Look. Life is unpredictable. It's not your fault.
When you're strapped for cash, it's tempting to get a payday loan. But this is a BAD idea. Payday loans can bleed you with high-interest rates. They might even leave you in worse financial shape than before.
So what's the alternative? You still need money fast.
Payday advance apps are a much safer option. Find out what these apps are and how they work.
What app lets me borrow money until payday?
Here are the best apps to get money before payday:
What are payday advance apps?
Payday advance apps (also known as cash advance apps) allow you to borrow money before payday. It's an alternative to payday loans. Some apps don't charge interest while others deduct a small amount from your paycheck before you receive it.
You can find a breakdown of the pros and cons of popular payday advance apps (like Dave and Earnin) below.
Keep in mind: If you have a lot of debt to pay off, it's recommended to use a personal loan to help you save money on interest and potentially get out of debt faster. Check rates on Fiona (does not affect credit score) to see if you qualify.
Apps You Can Download on Your Own

© CreditDonkey
Some payday advance apps allow you to independently link your own bank account. Most will monitor your account's spending and earning history. And then automatically withdraw any advanced funds when you get your paycheck.
🏆 Earnin - Best Free App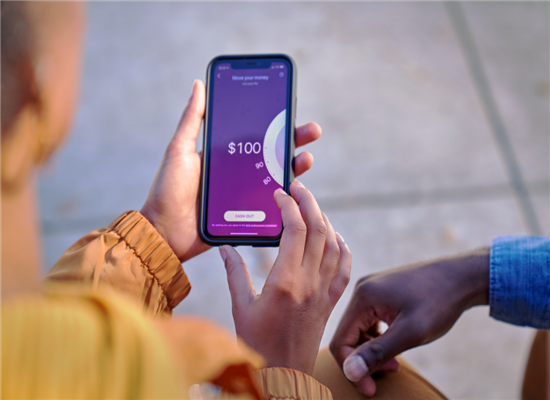 Credit: Earnin
Earnin gives workers access to their pay as they work the hours to earn it, rather than waiting for payday.
There are no mandatory fees or interest to use but does ask for optional "tips" with every withdrawal.
New users can withdraw up to $100 per pay period. But you can increase their limit to up to $750 over time.
The app also offers automatic overdraft protection deposits and alerts.
Depending on when you make a cashout request, the money could arrive in 1-2 business days. If you choose to use Lightning Speed feature, cashout requests will process instantly.

Access up to $750 per pay period of money you've already earned
No mandatory fees
No credit check

Get up to $100/day of your pay within minutes of earning it.
No mandatory fees
No credit check

Fees apply to use Lightning Speed. Lightning Speed may not be available to all Community Members. Transfers may take up to thirty minutes, actual transfer speeds will depend on your bank connection. Restrictions and/or third party fees may apply, see Cash Out User Agreement at EarnIn.com/TOS for details
Pros

No interest and no hidden fees

Get instant access to your pay

Offers automatic overdraft protection
Cons

Encourages tipping with every transaction

Not accessible for freelancers and remote workers

May require GPS location sharing
How it works
In order to use Earnin, you must meet the following requirements:[1]

At least 50% of your paycheck must be directly deposited into a checking account.

You must get paid consistently, whether weekly, bi-weekly, or monthly.

There must be a consistent measurement of time worked, possibly by tracking your location to your workplace via GPS.
That makes Earnin essentially unusable by freelancers and anyone who doesn't receive regular payments.
A payday advance is not the same as an emergency fund. If you're worried about how you're going to make ends meet in the case of an emergency, focus on saving enough to cover 1 to 3 months' worth of expenses. Instead of relying on short-term quick cash.
Brigit - Best app for iPhone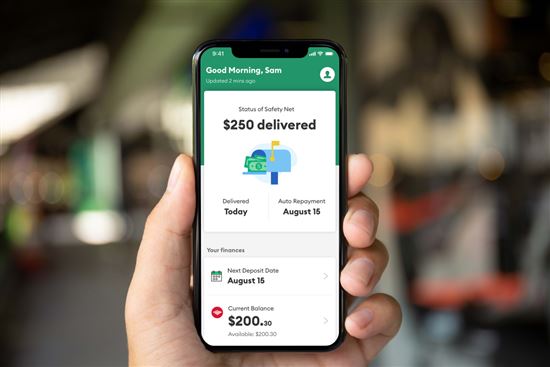 credit: brigit
Brigit's payday advance services cost $9.99 per month for Plus plan.[2] The app offers advances between $80 and $250, depending on an individual's needs and ability to repay.
Brigit also monitors linked bank accounts. If the app's algorithm detects that an account is nearing an overdraft, it will automatically lend up to $250 to avoid it.
Cash arrives before the end of the day if it is requested by 11 a.m. EST on a business day. Any requests made later than that are processed the following business day.
Pros

No interest or late fees

Funds arrive quickly

Offers automatic overdraft protection
Cons

Costs $9.99 per month to upgrade plan if you'd like to access more features.

Only allows one advance at a time

Requires minimum Brigit score to get advances
Express Pay some members may have the option of Express Pay. It provides funds in just 20 minutes at no charge. This service isn't available to every member yet, but Brigit is slowly rolling it out to more members.

How it works[3]

You must have a regular W-2 income and a bank account.

The bank account must be at least 60 days old. And have a minimum of three consistent deposits from the same employer.

You must also have a positive bank account balance on the day of your direct deposit and the day after.
This is how Brigit knows you will have enough to pay the advance back without overdrafting.
Brigit also calculates a "Brigit score," which ranges between 40 and 100.[4] You need a minimum score of 70 in order to receive cash advances. Brigit calculates this score by looking at:

Your bank account's historical balance and activity

Your spending habits

Your earning history

No interest, late fees, or tipping
No credit check
Just $9.99/mo. Cancel anytime
Dave - Best app for small amount advances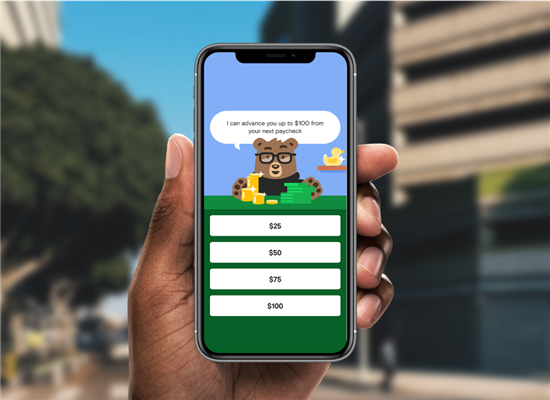 Credit: Dave
Dave operates as a membership service. For a $1 monthly fee, Dave offers payday advances of up to $500 and alerts users of possible upcoming overdrafts.[5] This also includes other services such as access to account monitoring, notification services, and maintaining a connection to your external bank account.
If Dave's algorithm predicts that you have an upcoming overdraft, it will automatically deposit cash into your account.
All of Dave's advances have a 0% interest rate. They can take up to three business days to transfer into your bank account via ACH but will transfer immediately for a fee.
On the pre-set payback date, Dave will automatically try to pull the advanced amount from your account. If you can't pay back an advance, you get banned from the app.
Pros

No interest fees

Option to set up automatic paybacks

Sends overdraft warning alerts
Cons

Charges monthly membership fee

Encourages additional tipping

Charges fee for immediate transfers
How it works
After you connect your checking account (they don't link to savings accounts), Dave monitors your balances and upcoming expenses. There aren't any fees, but Dave doesn't recommend "tipping" them for the advance.
In order to qualify for higher advance, you must:

Have a U.S.-based checking account linked to Dave

Have proof of consistent direct deposits from your employer

Have proof that you have enough funds after you get paid to pay Dave back

No interest, credit checks, or late fees
No lengthy application process or waiting period
Sign up in minutes
MoneyLion - Best app with no credit check
MoneyLion is a mobile and financial membership platform. By linking your active checking account to the free MoneyLion app, you can request cash advances up to $500 without any added interest fees.
Pros

No monthly fee[6]

No interest

No credit check

Extra financial tools
Cons

Instant funding costs extra

Requires a MoneyLion checking account
How it works
Instacash is an optional service offered by MoneyLion that allows for interest-free cash advances. There's no interest and no monthly fee. But you can pay turbo fees to receive funding faster.
You can unlock up to $700 advances by becoming a Credit Builder Plus member and up to $1,000 by setting up direct deposits into a RoarMoney account.
[7]
If you do take a cash advance, the money will be immediately transferred into your MoneyLion account. The owed amount will be automatically deducted from the same account approximately two weeks later.
Apps Your Employer Has To Use

© CreditDonkey
Most employer-sponsored payday advance apps work similarly to self-sign-up apps. Relying on your job's chosen app has benefits and disadvantages. Often, the withdrawal limits are higher than individual apps, but employers have more control over what employees can and can't do.
DailyPay - Best app with fast delivery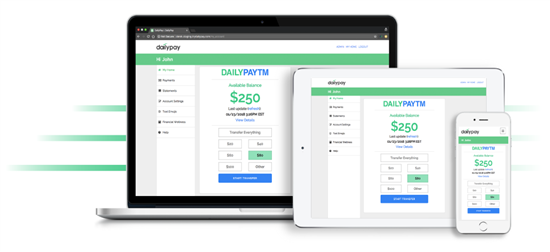 Credit: Dailypay
If an employer decides to sign up for DailyPay, employees will be able to access funds based on how many hours they work. Employees can transfer as much money as they want from their accumulated balance.
Each transfer costs either $1.99 for next-day delivery or $2.99 for same-day delivery into a linked bank account or prepaid debit card. Your paycheck amount is then reduced by any early transfers you've taken.[8]
Pros

Money transfers quickly

Automatically links to your paycheck
Cons

Charges a fee to transfer money

Only available through an employer
How it works
DailyPay has very few eligibility requirements aside from the need for an employer to sign up for the program. The requirements include:

You must have a bank account or prepaid debit card linked for DailyPay to send your payments.

You may need to provide some personal identifying information if your employer doesn't provide it.
Even - Best app with cash pickup
Credit: Even
If an employer signs up for Even, all employees can access its benefits, including early access to up to 50% of their earnings as they work hours. Even also offers planning for spending, saving, and empowering employees financially.
All of Even's payday advances are interest-free, but the service itself charges an $8 monthly fee. Employers have the option to subsidize those fees.
Withdrawn money is automatically taken out of your next paycheck.
Pros

No interest fees

Offers budgeting/saving tools

Friendly customer support
Cons

Charges $8 per month

Only available through employers
How it works
You can have the money from Even transferred to your linked bank account in one business day. You can also pick up your funds at a Walmart MoneyCenter on the same day.
Even also helps you save automatically.
It sets aside a percentage of your paycheck each pay period and helps you budget appropriately. It spreads out your pay over the month. Rather than living with the paycheck-to-paycheck mentality.
PayActiv - Best app that gives the most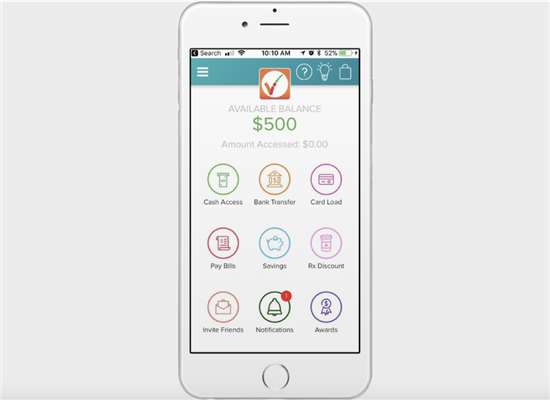 Credit: Payactiv
PayActiv is another employer-sponsored cash advance program that gives you access up to $500 of your earned money at once. The program is free for employers to set up and offer as a benefit to its employees.
In addition to cash advances, you can also conduct other banking transactions. These include:

Paying bills

Setting up a budget

Creating a savings plan
Pros

Advances up to $500

Automatic deductions from paychecks

No interest fees

Free bill pay feature
Cons

Only available through employers

Charges per debit/payroll card/cash pickup transfer
How it works
If your employer signs up for PayActiv, you can then download the app and sign up for an account. If you need to access your earned wages before payday, you withdraw the funds via PayActiv.
They allow you to withdraw 50% of your earned wages with a $500 maximum at one time. The money you borrow is automatically deducted from your next paycheck and paid back.
The funds aren't a loan, but there is a processing fee of $1.99 to $2.99 per transaction if you use a service such as instant deposit or Walmart cash pickup.[9] Your employer may or may not cover it for you.
PayActiv also offers a pre-paid debit card on which PayActiv can deposit your daily earned wages. There's no processing fee for instant transfers to Payactiv Visa card with direct deposit of $200 or more per pay period.
[9]
FlexWage - Best app with separate card
FlexWage is another employer-sponsored cash advance program. Employees who choose to use the service receive a FlexWage debit card for cash advances. They can use them even if they don't have their own individual checking account.
Employers who use FlexWage determine the:

Fees to get a cash advance

Minimum and maximum amount allowed for a cash advance

Maximum number of available withdrawals per pay period, month, or year
Cash advances have a 0% interest rate and will automatically be taken out of an employee's next paycheck. Requested funds transfer instantly to the FlexWage card.
Pros

Money transfers instantly to FlexWage card

No required checking account

No interest fees
Cons

Only available through employers

Requires FlexWage debit card

Employers set limits on the amount of advances
How it works
After your employer offers the FlexWage benefit, they will share an enrollment link with you. After enrolling, you'll receive a FlexWage Visa card to which you can transfer your earned wages when necessary.
Flex Pay also offers a special program for restaurants and other companies that work on tips, commissions, or bonuses. The program gives you early access to your earnings as designated by your employer.
Branch - Best app with budgeting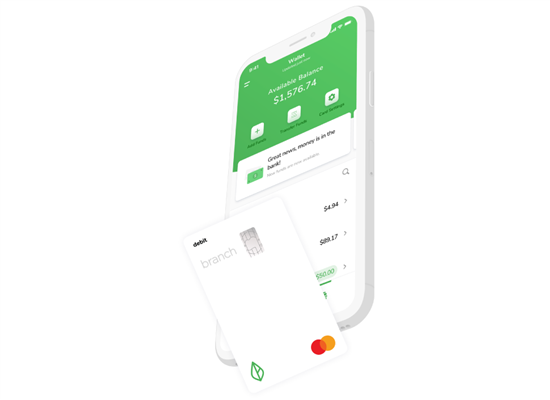 Credit: Branch
Branch is another employer-sponsored cash advance app. Users can only access it if they belong to an organization that uses Instant Pay.
A 3-business-day transfer to an external account or debit card is free, while an instant transfer costs $2.99 - $4.99 depending on the amount you transfer.[10]
You can also sign up for the "Branch Wallet," a regular checking account that comes with the Branch debit card. Users can get free instant transfers and free ATM access at over 40,000 locations.
You can also add their direct deposit on there to unlock more benefits like:

A two-day early paycheck

Instant gas hold refunds
With either option, all advances are interest-free.
Pros

Free transfer option available

Fee-free checking account and debit card available

No overdraft fees

No interest or subscription fees
Cons

Only available through an employer

Instant transfers without Branch debit card cost $2.99 - $4.99
How it works
To use Branch, your workplace must have an official relationship with Branch. To be eligible for an advance, you must be verified on your employer's roster. You will be able to request an advance if you meet all other qualifications.[11]
Your advance payback is automatically deducted from the connected bank. It will not be removed from your paycheck. You can also still use the application's budgeting tools and alerts.
When your employer offers Branch as a benefit, you receive access to the Branch Wallet. Or you can connect your banking information. You can then advance up to 50% of your earnings.
Branch automatically deducts the amount borrowed from your next paycheck.
Branch also offers other financial and work-related benefits, including:

Schedule management

Overdraft warnings

An earnings tracker

Opportunities to pick up shifts

A budgeting tool
What Experts Say
As a part of the series on credit and personal loans, CreditDonkey asked a panel of industry experts to answer some of readers' most pressing questions:

What's your biggest piece of advice for people who use payday loans or apps?

What should people look for in a payday advance app?

What are alternatives to payday advance apps?
Here's what they said:
Bottom Line
Payday advance apps may help you in a pinch. Like when you need a little money to get through to your next payday. But they won't fund large expenses, like those that come up during emergencies.
It's important to find a way to save an emergency fund. And have access to other liquid funds should you find yourself in a financial bind.
References
Write to Kim P at feedback@creditdonkey.com. Follow us on Twitter and Facebook for our latest posts.
Note: This website is made possible through financial relationships with some of the products and services mentioned on this site. We may receive compensation if you shop through links in our content. You do not have to use our links, but you help support CreditDonkey if you do.