Earn Money and Get Paid to Play Games
Ad Disclosure: This article contains references to products from our partners. We may receive compensation if you apply or shop through links in our content. You help support CreditDonkey by using our links.
(read more)
Want to play games AND make real money? Here are 10 apps that pay you to play games online.

© CreditDonkey
Sometimes you just want to play. But your wallet and your friends are telling you that you've got to hustle.
It can start feel like life is all about money.
Good news is, fun time doesn't have to be wasted time.
While there are scams out there, and some games that pay so little as to not be worth your time, we've found the ones that will give you the most bang for your buck. Here's a list of the best online games that pay you to play.
Best Games that Pay Real Money
What online game pays the most?
Some Swagbucks users who play a few hours a day report earning between $50-$200 a month. Earn money playing their 3 free titles, or use tokens to play popular games from the App Store.

1. Swagbucks - Best Online Games
Earn Swagbucks for things you already do: shopping, watching videos, answering surveys—and, of course, games.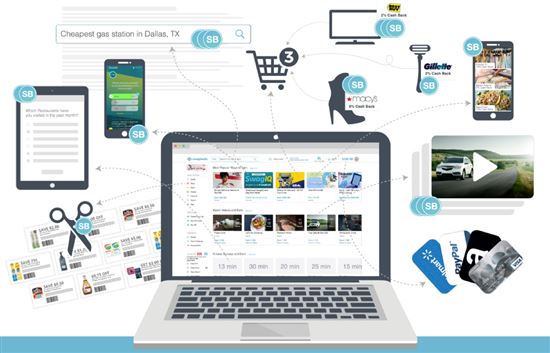 screenshot of swagbucks
You can buy tokens to play lots of well-known titles like Angry Birds, Bejeweled, and Scrabble Cubes.
Redeem your earnings in gift cards to well-known retailers or cash. Games aren't the highest paying activity on Swagbucks, but if you were going to play anyway, you might as well get paid for it.
Swagbucks is free to play, and open to anyone age 13 and up, which makes it a great option for teens to make money online. Plus, there's a good chance that you can play even if you live outside of North America. Earn an easy bonus Swagbuck each day by answering their daily poll.
What You Can Earn

Earnings average out around $1 per hour.

Payout: Paypal, Gift Cards, and e-Gift Cards
2. Inboxdollars - Earn with Paypal
Want your earnings deposited directly into your checking or savings? Check out Inboxdollars. They've got over 30 free arcade games, like solitaire and sudoku, which you were already doing when your boss's back was turned.

Screenshot of InboxDollars
They're connected to the GSN (Game Show Network) as well, which means you can play in tournaments and get cash back through your Inboxdollars account.
You must be at least 18 years old and have a valid email address to use Inboxdollars. While it does have a relatively high minimum to request payment at $30, the company has an A Rating from the Better Business Bureau, so you can be confident that your money and your time are in good hands.
What You Can Earn

Earn $10 a day to start, or between 25 cents and $5 per activity.

Payouts: Paypal or Check
Learn More: Review of Inboxdollars
3. Mistplay - On Android Only
Play games and chat with friends on your Android with Mistplay. They have super popular titles like Rise of Kingdoms and Coin Master.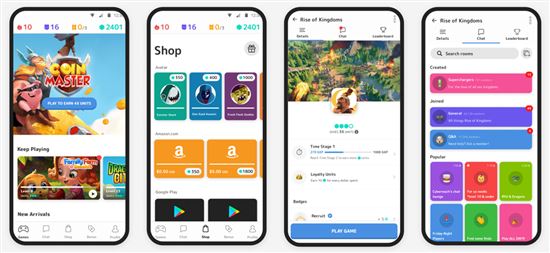 Credit: Mistplay
Get paid in gift cards for Amazon, Visa, or the Google Play Store, among others, and enter to win larger prizes like legit game consoles.
Sadly, Mistplay isn't available in the iOS App Store just yet, but you can sign the waitlist on their website.
Anyone over 18 years old can use Mistplay, but if they find out you're younger and have lied about your age, your rewards will be rescinded.
What's the best app for Android users?
Mistplay is exclusive to Android and offers lots of great titles, like Coin Master, Family Farm, Rise of Kingdoms, and more. The app features chat, leaderboards, and even a helpful Q&A. Choose from cool avatars like the Sinister Shark, the One-Eyed Assassin, or the Fresh Flesh Zombie.

What You Can Earn

Between $10-$20 per week

Payouts: Gift Cards, Google Play Store Credit, iTunes Credit
4. Long Game - iOS Games
This innovative app is designed to reward you for saving money. As it says on their site: "Save more to play more."
Connect your bank account to the app, deposit funds into your savings, and earn tokens to play games like Spin to Win, Lucky Slots, and Scratchers, where you can earn real money.
Earn coins by meeting savings goals and use them to enter for prizes in cash, crypto, and free game play. What's more, your Long Game savings earn interest at 0.1% APY.
Like a real savings account, Long Game funds are FDIC insured, so you can feel safe about using the app. Due to the direct deposits, you'll need an active bank account to sign up.
What You Can Earn

The 0.1% return on savings that the App offers is better than many traditional savings accounts

Payouts: Bank Deposits
5. Lucktastic - Play Free
Used all your quarters for laundry, but still want to scratch-and-win? Lucktastic has you covered. Win gift cards, cash, and other prizes, up to $1 Million. Lucktastic is free to play, with no in-app purchases.
Like the name suggests, Lucktastic is all about luck. Your chances of winning depend on how many other people are playing or entering contests. But since it costs nothing, there's no harm in trying your luck.
Lucktastic is mobile only, which means you'll need an Apple or Android device to play. Users must be US citizens of at least 13 years of age, with GPS location services enabled on their phone or tablet.
What You Can Earn

$5 - $10 a month

Payouts: Cash, Gift Card, or Check
Learn More: Review of Lucktastic
7. Bingo Mania - Play on PC
Bingo Mania is one of the first real money Bingo sites on the net.
They've got slots, video poker, table games, lottery games too. The site, available on desktop and mobile, offers card prices from $.01 to $5, with reported winnings as high as $27,000.
Their games aren't free to play, but as of writing they offer a $100 sign up bonus.
Remember: this is gambling, so you must be over 18, and you should never risk more than you can afford.
What You Can Earn

Payouts start at a minimum of $100 and go up to $2500 a week, but your actual winnings are up to chance

Payouts: Check
8. Swagbucks LIVE - Mobile Play
Formerly known as Swag IQ, Swagbucks LIVE is another gameshow-style app. Take advantage of your knowledge of trivia to earn real money rewards. You have 10 seconds each to answer 10 multiple choice questions.
Compete for prizes of (typically) $500-$1,000, but sometimes more, and earn Swagbucks in the process. It's worth noting that even if you win, the prize is split between all of the other winners, too.
What You Can Earn

Earn around 5 Swagbucks per game, in addition to your cut of the prize money if you win.

Payouts: Gift Cards and Paypal Cash
9. Brain Battle - Google Play and iTunes Store Games
Lots of free-to-play games make their money in advertising. Play Brain Battle and you have a chance to take a cut. (You don't even have to win.)
All you have to do is play any of their free games to earn tickets, which you can enter into drawings for cash prizes.
Just download their app on the Google Play Store or the iOS App Store, play, and enter to win.
What You Can Earn

10k are worth 10 cents, as well as entering for cash prizes, which can go as high as $10,000

Payouts: Paypal
10. Bananatic - For STEAM Gamers
Get access to new games before anyone else with Bananatic. Play, and provide helpful feedback to developers who then use your insights to make their games better.
Earn "Bananas" as you play and exchange them for game keys on STEAM, game hardware, gift cards, and more.
The range of games available is quite impressive, with dozens, if not hundreds of titles to choose from, many of which you've heard of.
What You Can Earn

Most activities will earn you 100 bananas. A $5 Amazon gift card costs 2500

Payouts: Paypal, Gift Cards, STEAM Wallet
11. GSN Cash Games - Play On Your Phone
With GSN Cash Games, play games against other players to win real money.
Now, these games aren't free to play, but when you make a deposit you can earn Bonus Bucks (not redeemable for cash), which can be used to enter into cash tournaments.
Thanks to their "matchmaking" algorithm, you're matched against players of comparable skill, so you always have a chance of winning. Choose from games like Solitaire Rush, Bejeweled 2, and Wheel of Fortune, to name a few.
What You Can Earn

Don't expect any sort of consistent income from GSN Cash Games. There's always the chance you'll win a large prize, but as with all gambling, you'll probably lose more often than you win.

Payouts: Bank Deposit
Other Gaming Apps to Consider
If even this extensive list wasn't enough to quench your thirst for games that pay to play, here are some other fun options to try.
Twitch
Become a Twitch affiliate to live stream your gameplay with fans and subscribers. Once you build a successful channel with a reliable audience, you can turn this hobby into ad revenue.
Pogo
Earn pre-paid credit cards and merchandise prizes while playing over 50 casual games like Solitaire and Monopoly. Pogo used to offer Jackpot prizes, but the practice was discontinued.
Gamesville
Play a variety of Bingo, card games, and more on Gamesville, one of the longest running gaming sites online. Earn gift cards or cash prizes ranging from $5 - $100.
Paid Game Player
Paid Game Player offers puzzles, arcade, word & trivia, and casino-style games. It's unlikely you'll make a lot of money playing here, but you can earn for taking surveys, completing offers, or clicking on ads.
Second Life
Second Life is more of an online sandbox than a game. There is no specific goal, other than to have fun. It's not the first place you should look if you want to make money playing games, but it is possible to turn your creativity into real money.
Big Time Cash
Play from over 600 games and earn tickets to enter drawings for cash prizes. The more tickets you get, the more chances you have to win.
Clip2Play
Take part in daily tournaments where the winners earn prizes at the end of the day. You can also earn points by referring friends. Get enough and you can exchange them for cash.
What apps should you avoid?
Not all promises that you can earn money playing games are legitimate, and some apps and games are actual scams that you ought to avoid. Here's a list of apps and games that you might want to give a wide berth.
Givling
While Givling, another rapid-fire trivia game, appears to be a legitimate place to win money on first glance, the path to success may be more costly than the developers would have you believe.
Winning with Givling requires being at the top of their queue every two weeks when the jackpot is awarded, and while there are free ways to move up--like playing games and watching ads--it seems that much of your chances depend on spending money on the app or with Givling's sponsors, sometimes to the tune of thousands of dollars, and even that's no guarantee.
Any app that incentivizes you to pay to win is gambling at best, and should not be considered a viable way to earn money.
Lucky Day
While Lucky Day appears popular when you search online, the app appears to be employing suspicious practices in order to prevent users from reaching the $10 minimum required to cash out.
Some users have reported getting stuck at the $9.90 mark with no way to advance, and even asked to spend money in order to increase their chances of earning. Further, according to reviews, users who do manage to achieve the $10 minimum may suddenly find all of the gift cards out of stock in the online store.
When in doubt, follow the reviews of other users. If they are overly rosy, but seem like they weren't written by real people, or all five-star, but full of criticism, it is likely because the apps are attempting to cheat the system. And remember, any game that asks you to pay to win is either a casino in disguise, or an outright scam.
Frequently Asked Questions
Your questions answered about earning money playing games online. Not all games are the same, and not all are transparent about their policies, but based on some common metrics and best practices, you should be able to judge for yourself whether a game is worth your valuable time.
How long does it take to get paid?
Swagbucks - 10 Days

Inboxdollars - 10 Days

Mistplay - 48 Hours

Long Game - 3-5 Business Days

Lucktastic - 2-4 Weeks

Bingo Mania - Payouts are processed every Monday
How do I know if a game is legit?
If you're wondering whether a game or site is legit, there are a number of clues to look for.
Do reviews sound like they were written by real people?
Positive reviews on the App Store, the Google Play Store, or the product website are obviously a good sign, but make sure they sound like they were written by actual users—and be sure to check the text. Some sites will incentivize their users to give 5-star ratings, but the reviews themselves may be negative.
How many downloads are there?
If the number of downloads is very low, there's a good chance that the game isn't legit. When in doubt, trust your peers. If other people are staying away from a site, you should too.
Are there complaints about payment?
Some sites seem legit, but make it difficult to receive the money you've earned. For example, if the payout minimum is $10, but you hit a mysterious run of bad luck once you've earned $9.90, there's a good chance the game is a scam.
Are there high payout minimums?
If the most you can earn in a day is a couple of dollars, but the minimum payout requirement is excessively high, there is a good chance the site is trying to get your time for free. Their hope may be that you play long enough to earn twenty or thirty dollars, but not enough to cash out—which would mean they get your time and effort at no cost.
Are there hidden subscription costs?
Some apps are free to start, with frequent or expensive subscription fees that you are intended not to notice on download. Pay attention to your monthly bills from Apple and Google for unexpected charges, and look carefully at the pricing, even when an app purports to be free.
Are paid games worth it?
That entirely depends on what your goals are. The truth is, if you're just looking to supplement your income or get a little spending money in your free time, paid games are a fun way to do it. But if when it comes to replacing a proper job, the chances that you are going to be able to earn even close to a livable income are exceedingly small.
Bottom Line
Who doesn't want to earn money while doing something fun? Regardless of what games you're into, there's bound to be something on this list that will help you feel a little better about that downtime everybody says you're wasting.
Whether you want to earn bit by bit with Swagbucks or Inboxdollars, or try to go big with Lucktastic or Bingo Mania, there's something for everyone. Give the games a try, and then use the money to treat yourself.
After all, you've earned it.
Jeremy Harshman is a protector of art and writing at CreditDonkey, a personal finance comparison and reviews website. Write to Jeremy Harshman at jeremy.harshman@creditdonkey.com. Follow us on Twitter and Facebook for our latest posts.
Note: This website is made possible through financial relationships with some of the products and services mentioned on this site. We may receive compensation if you shop through links in our content. You do not have to use our links, but you help support CreditDonkey if you do.
Read Next: