Get Paid to Test Products: Beginner's Guide
---
Companies value your opinion as a customer. You can cash in on it by getting paid to test products from home.
How to Become a Legitimate Paid Product Tester:

You won't make enough to quit your day job, but it can be a fun and easy way to pocket a little extra cash.
How Does Product Testing Work?
Before a company launches a product, they need to collect opinions on it to make sure it's something people want to buy.
That's where you come in. By working with product testing sites, you can give feedback and help companies improve their products. You'll get paid for sharing your opinion on anything from beauty samples to mobile apps.
Signing up to become a product tester is easy. Most programs require a simple online form, and you can sign up for multiple programs to stack your earnings.
Are product testing sites legit?
Yes, you can earn cash, gift cards, and merchandise from many online product testing and survey companies. But be wary of scam sites that promise huge payouts per test. If it sounds too good to be true, it probably is.

10 Best Ways to Get Paid to Test Products

© CreditDonkey
Ready to make a little money without leaving your house? Read on for our list of the best product testing sites.
Vindale Research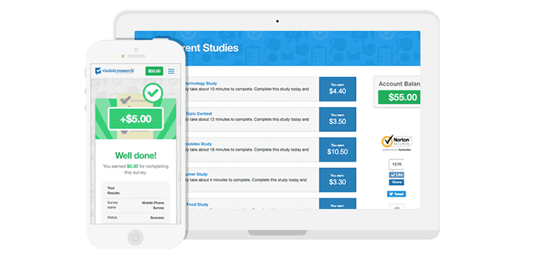 screenshot of Vindale Research
Vindale stands out from most of the list because it pays in cash instead of points or gift cards. You can earn money by taking surveys, watching videos, and testing products.
Their studies and panels span a wide range of topics, from baby food to sports. Vindale offers some of the highest pay rates. You can earn up to $75 for longer studies. But keep in mind that you need to earn a minimum of $50 to cash out your money.
Special Features

Cash payments through PayPal

Get $5 when you refer your friends
What You Can Earn
You can earn between $0.25 and $75, depending on the complexity of the survey.
Eligibility
You must be 18 years old and live in the U.S., U.K., or Australia to join.
Pinecone Research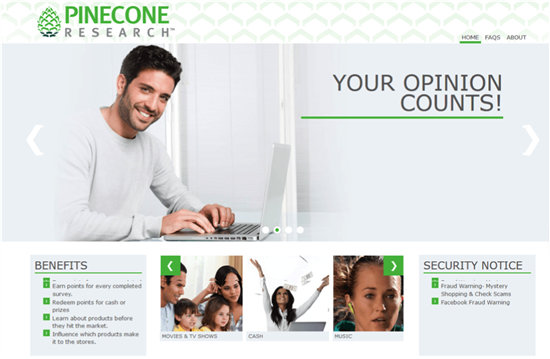 screenshot of pinecone research
If you like to stay ahead of trends, consider taking surveys and testing products with Pinecone Research. They focus on unreleased products and pay in cash, gift cards, and merchandise.
They only accept new members a few times a year, so keep an eye out for their enrollment periods. Once you're in, you receive only the surveys you qualify for. That means you won't waste time answering screening questions only to find you don't meet the requirements for a survey.
Special Features

Short 10-15 minute surveys

$500 biweekly drawing and $4,500 quarterly drawing
What You Can Earn
Pinecone Research pays a flat rate of $3 per survey.
Eligibility
Pinecone Research accepts applications from users over 18 in the U.S., Canada, U.K., and Germany.
Get Paid to Test Products at Home
The best product testing sites let you work entirely from home. Sites like
Swagbucks
,
UserTesting
, and
Valued Opinions
let you complete tests and surveys anywhere you have internet access.
National Consumer Panel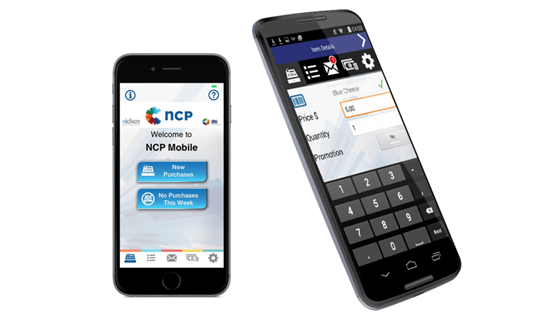 screenshot of national consumer panel
The National Consumer Panel rewards you for products you already buy. Once you become a member, you use their app to scan barcodes on your purchases and answer surveys about your shopping experience.
You can earn points weekly by scanning barcodes, taking surveys, and participating in specialty panels. The points add up quickly, and you can start redeeming them for gift cards and merchandise once you hit 8,000.
Special Features

$200 monthly sweepstakes and up to $5,000 quarterly sweepstakes

Bonus points on birthdays and site anniversaries
What You Can Earn
Earn 150 points per week when you first start out, plus extra points if you do additional tasks. Points accumulate faster the longer you've been a member.
Eligibility
Anyone can sign up. Their requirements depend on their need for certain demographics at the time.
Swagbucks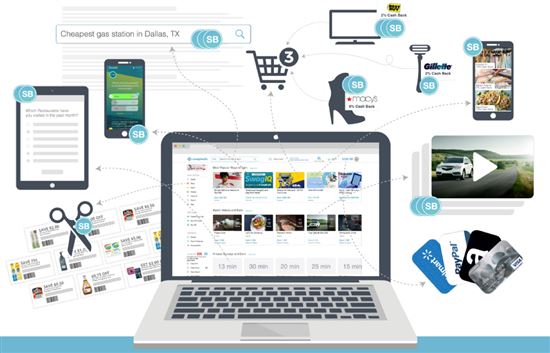 screenshot of swagbucks
If you don't like the idea of just doing surveys, Swagbucks lets you earn points for playing games, watching videos, and even using their search engine. You can redeem your points for gift cards or cash.
Since there's so much to do on Swagbucks, it's a little harder to navigate their site. But they also give you more opportunities to rack up your points. You can cash out 300 points for gift cards or redeem 2,500 points for PayPal cash.
Special Features

Earn 100 points per referral, plus 10% of your referral's earnings

$5 signup bonus
What You Can Earn
One point equals $0.01. Rewards range from 1 to 2,000 points depending on how complicated the task is.
Eligibility
Swagbucks accepts anyone over 13 years old from the U.S., Australia, Canada, France, Germany, India, Ireland, New Zealand, Portugal, Spain, and U.K.
American Consumer Opinion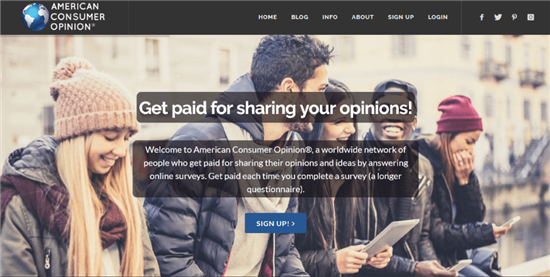 screenshot of national consumer opinion
American Consumer Opinion rewards your feedback on products, advertisements, and surveys with points that are redeemable for PayPal cash. Once you become a member, you'll need to answer monthly screener questions so they know which products you qualify for.
They only send survey invitations a few times a year, so sign up for additional sites if you want to participate often.
You can cash out your points through PayPal or Hyperwallet once you've earned at least 1,000.
Special Features

Option to donate to charity instead of cashing out your points

Get an entry to their monthly 5,000-point sweepstakes for every referral you make
What You Can Earn
Each reward point is worth $0.01. Short surveys pay 5 to 50 points. Longer surveys pay up to 5,000 points.
Eligibility
American Consumer Opinion accepts members worldwide, ages 14 and up.
UserTesting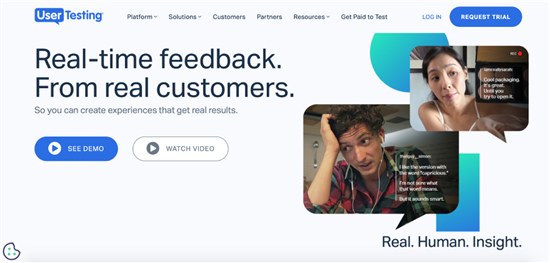 screenshot of usertesting
If you're interested in tech, UserTesting pays you to explore apps and websites while speaking your opinions—literally. You'll need a microphone to record your live feedback, which developers will use to improve the site. They also require you to download their screen recording software so companies can see any issues you run into.
Talking aloud might feel weird at first, but you'll be paid well after you get over the initial awkwardness.
Special Features

Receive a PayPal cash payment exactly 7 days after completing a test

Higher pay rates than other sites
What You Can Earn
Earn $10 per 20-minute test. You can earn up to $60 if you complete a Live Conversation. This involves getting on a video conference call with a customer.
Eligibility
English speakers ages 18 and up can apply. UserTesting accepts users from the U.S., Canada, and other countries. Visit their website for a full list of countries.
MySoapBox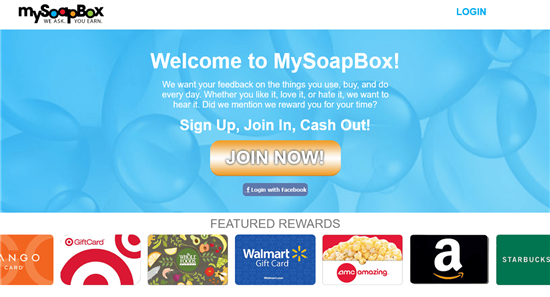 screenshot of mysoapbox
MySoapBox gives you points mainly for surveys, but they'll sometimes offer product testing. Every survey you receive will have screening questions at the beginning. Even if you don't qualify for the survey, you'll still get a consolation prize of 10 points.
This isn't much (10 points only equals $0.01), but it's better than other sites that don't give you anything when you're disqualified.
MySoapBox has a minimum cashout balance of 25,000 points, or $25.
Special Features

$2 sign-up bonus

Get $0.25 for every friend you refer
What You Can Earn
1,000 points equal $1. Most surveys are worth 600 to 1,000 points, but some can get you up to 50,000 points.
Eligibility
Anyone over age 13 with a valid mailing and email address can join.
Valued Opinions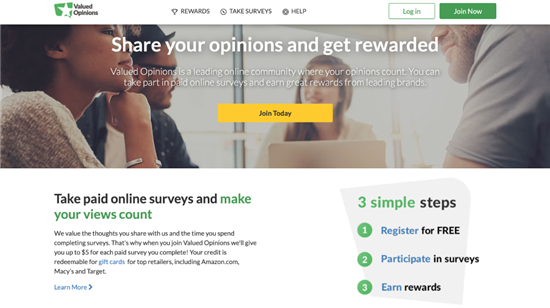 screenshot of valued opinions
Valued Opinions lets you take surveys, test products and packaging, and review ads to earn credit for gift cards. To start, they'll send you unpaid screener surveys to get a feel for what you like. Then, they'll send paid surveys that reflect your interests.
Most surveys take 15 to 20 minutes to complete. Like other sites, the more complicated the task, the more it will pay. Once you earn at least $10, you can redeem your balance for gift cards.
Special Features

Receive gift card codes within 24 hours of redeeming points

Frequent opportunities available
What You Can Earn
Most product tests and surveys pay $1 to $5.
Eligibility
Valued Opinions is available to U.S. residents over the age of 13.
Johnson & Johnson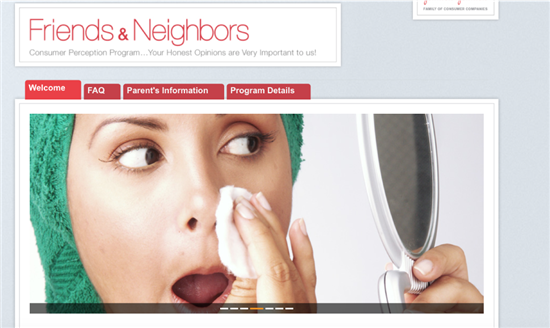 screenshot of johnson & johnson
You probably have heard of Johnson & Johnson from the wide range of home products they have on the market. Their Friends & Neighbors program conducts studies that involve product testing, surveys, online discussion groups, and more.
Free sample products are the main draw of this program, but they'll occasionally reward you with a Visa gift card at the end of a study.
Special Features

Test products from reputable household brands

Opportunities to participate in in-person focus groups or panels
What You Can Earn
You get to keep the products you test, which can include mascara, baby shampoo, or dental floss. They reward you with Visa gift cards at the end of some studies.
Eligibility
U.S. residents ages 18 and up can join the program.
Many brands, like
L'Oréal
and
Mead
, offer product testing. You'll get to keep the products you try in exchange for your feedback. Some brands, like Nike, let you try their gear for a couple weeks, but you'll have to send them back after testing.
If you care more about having new products than getting paid in gift cards, give these a try.
McCormick Consumer Testing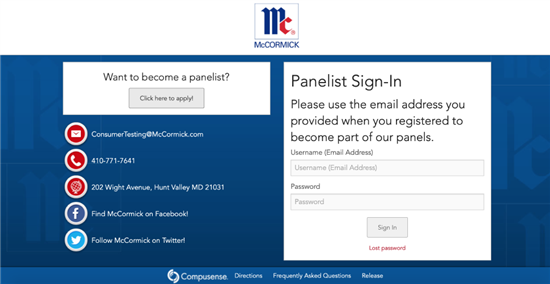 screenshot of mccormick consumer testing
If you want to spice up your product testing options, try McCormick's food and drink tasting sessions. McCormick caps its users at one test every three months. Test sessions run between 30 minutes and 2 hours.
You'll earn the most if you're able to test products at their facilities in Maryland, Louisiana, or the U.K., but you can still participate from home. Folks who can test on-site get paid by check, while home testers are paid in Amazon gift cards.
Special Features

Complete surveys for additional Amazon gift card drawings

Generous payouts, especially for on-site testers
What You Can Earn
Earn $30 to $100 per on-site test, or $10 to $15 for home tests.
Eligibility
Users ages 18 and up in the U.S., Canada, and U.K. can apply. Minors can also participate by enrolling under a parent's profile.
Bottom Line
Product testing is a fun way to make your opinions heard (and make a few bucks). Without leaving your home, you can impact products and services that hit the market. Check out different product testing sites to find ones that cater to your interests.

Note: This website is made possible through financial relationships with some of the products and services mentioned on this site. We may receive compensation if you shop through links in our content. You do not have to use our links, but you help support CreditDonkey if you do.
More from CreditDonkey: