This article contains references to products from our partners. We may receive compensation if you apply or shop through links in our content. You help support CreditDonkey by reading our website and using our links.
(read more)
---
Need extra cash? Discover how apps and websites (and even the government) can put free money in your pocket right now.

© CreditDonkey
Think there's no such thing as free money?
You might be surprised.
In this guide, you'll learn how to earn extra money with little to no effort. It could be from cutting fees, cashing in on hobbies, or getting free money from your employer.
How easy is that?
Don't miss this list of ideas for finding free money, including some unexpected hacks, sign-up bonuses, and more.
Here are the easiest ways to get free money quick
:
1. Find UNCLAIMED MONEY

© CreditDonkey
You may be thinking, "Unclaimed money? How is that possible?" As it turns out, state treasuries across the U.S. have millions of dollars in unclaimed funds, made up of insurance money, tax refunds and more.
Several websites let you check for unclaimed money, and it's as easy as typing in a few personal details and hitting enter.
Try searching the National Association of Unclaimed Property Administrators or MissingMoney.com, two legitimate websites. When searching, be careful of similar-looking scam sites.
Less than a minute may find you some easy, free money online in your name.
Name didn't pop up in a search? You can still get cash by spending smart with your credit card.
2. Cash In with CREDIT CARD REWARDS
Signing up for cash-back credit cards is one of the easiest ways to earn money. Banks and credit card companies offer sign-up bonuses and cash-back offers for various cards.
One of the easiest ways to get started is by signing up for a cash back credit card. As long as you spend responsibly and pay off what you purchase, the card will reap benefits.
In addition to rewards
, credit cards often offer
bonuses
for new customers. As long as you can hit the spending minimum, it's a smart way to earn a nice chunk of extra cash or bank some
airline miles
.
Banks and credit card companies will reward you for being a loyal customer. Find out how being a loyal employee can get you free money too.
3. Take Advantage of 401K Matching
If you have a retirement account from your employer, you may be missing out on opportunities for truly free money. Many companies match your 401(k) contributions, usually around 6% of your total contributions.
If your employer offers this option, it's a no-brainer. That money can add up quickly in your bank account - and it really is free.
Talk to your company's human resources rep and be sure to check the vested policy. If your contribution is "vested" at 3 years, it means your money will be 100% yours after 3 years at the company.
There are lots of ways to invest. Some apps make investing easy and even throw in some freebies.
4. Get a Free Stock (and then some)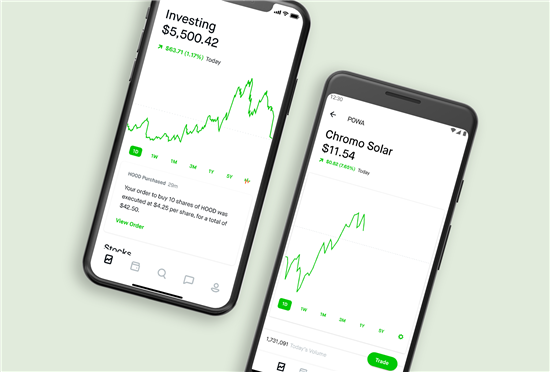 Image Courtesy of Robinhood
Stocks can turn a small upfront investment into a decent chunk of change. With investing apps like Robinhood, you'll even get a free stock just for signing up.
The free stock is chosen for you randomly, but like any stock, it has the potential to grow. Plus, if you decide to keep investing with Robinhood, trading is 100% commission-free.
If you're looking to invest with an app, consider some of our favorites:
Acorns: This app automatically rounds up your purchases and invests the spare change into a diversified portfolio that you choose.
Stash: Offers a great way for beginner investors to invest in stocks, ETFs, fractional shares, and more. Plus, it's only $1 to get started.
Sign up online and add at least $5 to your account.
If you haven't built up an emergency fund yet, it's a good time to start. Check out the next tip to make the most of your savings.
5. Open a High Yield Savings Account
You already know savings accounts earn interest. But by using a high-yield savings account, you can take advantage of interest rates much higher than what traditional banks offer.
Multiple online banks will offer competitive interest rates with low fees. When choosing a bank, be sure to check for any requirements for minimum balance or opening deposit.
Shortcut: If you're eager to start earning high yields, don't miss our guide on the best high-yield savings accounts available.
It can be hard to save when you're in debt. Find out how you can get around high interest rates below.
6. Save Thousands by Refinancing Student Loans
Your student loan payments are a lot more flexible than you think. When you refinance, a lender pays off your existing loans and creates a single new loan for you to repay, often with a lower interest rate.
In addition to offering a lower rate, some refinancing companies pay a cash bonus to refinance your loans with them.
When should you refinance? The best time to refinance your loans is when the interest rate has fallen a full percentage point below your current interest rate.
Ever feel like you're bleeding money? You're not alone. See which apps can help get your finances back on track.
7. Get Paid to Budget
Adding a budgeting app to your arsenal of financial tools can be a great way to get the most from your money. Some even offer free sign up bonuses. Budgeting apps can:

Help you get control of your finances

Put cash back in your pocket that might have been spent elsewhere

Give you better awareness of your spending habits
Consider the following two apps to get your finances on track:
Digit: Struggle to save? Digit automatically analyzes your daily and monthly spending and saves the perfect amount for you.
Cleo: This app creates a budget based on your spending, helps your stick to it, and even lets you earn free money by playing games and taking quizzes.
Getting money can be easy as taking an online quiz. The next sites reward you for spending your free time online.
8. Earn Cash in Your Free Time with Surveys
Survey sites and apps can be a fun way to earn free rewards for things you already do online, like searching the web, playing games, and watching videos.
These are some of the best-paying survey sites online:
Swagbucks: This is a well-known site that lets users earn up to $35 per survey. They give you a $10 bonus just for signing up.
InboxDollars: This company has paid out more than $50 million to its members. You'll get $10 just for signing up.
Survey Junkie: You can earn up to $50 a survey. Cash out your Survey Junkie rewards through PayPal or get gift cards.
Opinion Outpost: Fill out surveys on Opinion Outpost and cash out your rewards through PayPal. Every survey you fill out will be counted as an entry toward a $10,000 quarterly drawing.
Other sites that pay for surveys, market research and more
:
Don't miss: Our guide to online survey sites breaks down the pros, cons, and little-known hacks for maximizing your earnings.
9. Crush Debt with a 0% APR Balance Transfer Card
Paying off credit card debt may seem like an uphill battle, but a balance transfer credit card could help you eliminate it faster.
Sound too good to be true? There's no catch. Banks give you the opportunity pay off debt at 0% APR for up to 2 years because they ultimately want your business.
And because Federal Law prohibits card issuers from using offers like this to "bait and switch" customers, they stick to the generous 0% period as advertised. Find our best balance transfer card offers here.
10. Cut Hidden Fees and Pocket the Cash
Have you ever signed up for a free trial or subscription service? You could be paying more in fees than you have to.
Luckily, some apps will spot hidden fees that you may be charged for. These apps are two great options for doing just that:
Personal Capital: See all your finances (investments, debt, and more) in one place. Identify any hidden, sneaky fees and cancel services to get that money back.
Truebill: Cancel those long-lost subscriptions, get refunded on bank fees and even negotiate down your bills.
Hidden fees are hard to spot. But finding hidden cash is as easy as doing groceries. Find out which apps let you shop to earn.
11. Score with CASH-BACK APPS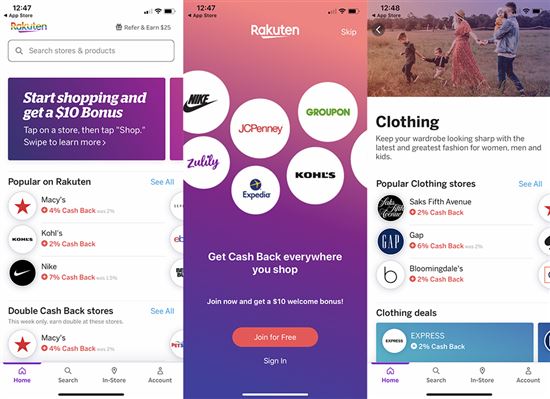 Screenshot of Rakuten
Heading out to the grocery store? Don't shop before downloading a cash-back app. It's one of the easiest (and most passive) ways to earn free money.
Here are a few of our favorites:
Ibotta: Earn money by grocery shopping and uploading a pic of your receipt.
Shopkick: Shop in-store or online and turn 'kicks' (points) into cash.
Rakuten: Formerly known as Ebates, Rakuten pays roughly 5% cash back for shopping online, booking travel and more.
Drop: Earn around 1% cash back every time you make a purchase at your favorite stores.
Paribus: Have Paribusscan your recent online purchases and get you refunds from retroactive price drops.
Dosh: Rather than requiring receipts, Dosh lets you link your debit or credit card directly to the app.
Even more cash back apps that pay you to shop
:
BeFrugal: Earn cash back at 5,000+ stores.

RebateKey: Get up to 100% cash back & rebates.

Fetch Rewards: Get money back from purchases you already made.
So, you take care of your financial health. But what about your physical health? See which apps are great for your body and your wallet.
12. GET PAID TO GET IN SHAPE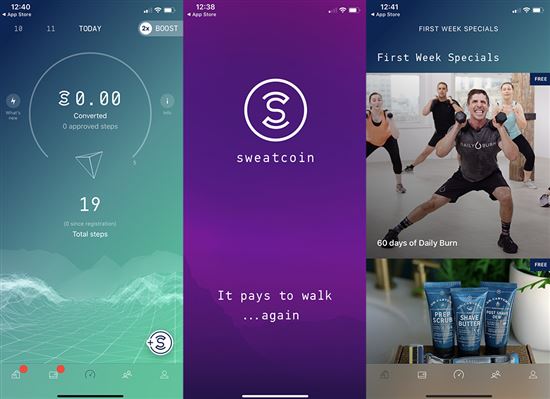 Screenshot of Sweatcoin
If you're looking to get in shape, or if you're working on it, you can get paid to lose weight and shape up. Using some of these apps can be a simple way to get free money.
Sweatcoin: Take walks and get paid in 'sweatcoins', which you can redeem for gift cards and other rewards.
HealthyWage: Bet money on your own weight loss goals, and win it back when you achieve them. You can even win up to $10,000.
Achievement: Track your steps, sleep and more to earn money. Your health data also contributes to valuable medical research.
The Achievement app can also sync to popular health tracking apps like Fitbit, MyFitnessPal, and Garmin.
13. Participate in CLINICAL TRIALS
Don't be put off by the name: many clinical trials can be easy money that comes at little to no cost. Use websites like ClinicalTrials.gov and CenterWatch.com to find paid clinical trials in your city and state.
Before applying, make sure to check the requirements for each clinical trial. Some are more lenient and others more restrictive. Money per clinical trial will vary from a couple hundred dollars to thousands of dollars.
If you don't like the idea of going to a lab, here's something you can do in a short walk to the mailbox.
14. Get MONEY FOR YOUR JUNK MAIL
Did you know you can get money for your junk mail? It's a strange concept, but it's true. The Small Business Knowledge Center will pay you to send them your junk mail.
The catch: You have to physically mail in the junk mail. However, the company will provide paid postage.
You can earn an extra $20 every few months in gift cards from sending in your mail. Not bad for something you would usually throw away.
Ads can be annoying when they clutter your mailbox. But they can make you some good money on the outside of your car. Find out more below.
15. Make Money with Your Car (Without Ridesharing)

© CreditDonkey
One of the best ways to earn money with your car is to get paid to wrap it up in an advertisement. If you don't care what your car looks like, this could be an easy way to make free money.
The amount you earn will depend on how far you drive in your car and the area you drive in.
Earn more than $100 a week if you're a big commuter in a busy town.
16. DECLUTTER YOUR HOUSE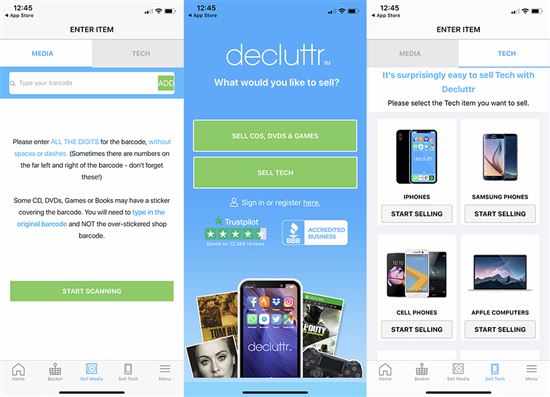 Screenshot of decluttr
There are a number of ways to turn your clutter into ways to earn free money. Of course, these options don't come free, exactly: You have to get rid of your stuff. Take a look at some of the best options.
Bookscouter: Sell your used books to Bookscouter to make some extra cash. Even better, you can ship your books for free.
Gazelle: Sell your old smartphones and other used electronics for cash. Plus, earn a $20 bonus when you refer a friend.
Decluttr: This app helps you declutter your home by selling your items for you and giving you a piece of the profit.
With this app, you scan the items you want to sell and ship them all in one box to the company. Decluttr will also pay for shipping. In return for the convenience, you may lose some of the profit from selling your own goods.
Everyone has an opinion. Find out how you can get paid to share yours below.
17. REVIEW PRODUCTS
Your opinion can be worth free money. Here's how:
SlicethePie: This is the largest paid review site on the internet. Review clothing, music and more before they are released to the public.
WhatUsersDo: Sign up to become a tester and get paid to review websites and products. Get paid $5 per test every 25th of the month.
UserTesting: UserTesting pays you for using your phone to test websites and apps. Most testing will get you $10 per 20-minute video completed.
18. Book Reservations with Seated

© CreditDonkey
The Seated app gives you rewards for dining out.
Just simply make a walk-in or reservation with the app's partner restaurants, and then upload a photo of your receipt after you have dined there. You can get up to 30% back.
You can use your rewards points for gift cards for Amazon, Uber, Airbnb, Delta, Nordstrom, and more.
If you like to take photos of more than just receipts, turn your hobby into cash. You could get up to $25,000.
19. Get Paid to Take Photos
Phone cameras are better than ever, so why not use yours to make some easy cash? These apps and websites will pay for quality photos that otherwise sit idly in your camera roll. Not bad, right?
Foap: This app accepts photos and videos and pays you when a brand, agency or any person decides to buys it. (Keep in mind that you'll split the profit 50/50 with Foap.)
Agora Images: Offers weekly photo contests that you can enter to win for prize money. It's a decent amount, too: anywhere from $1,000 to $25,000.
Shuttershock: Get paid each time someone downloads your photo or video or for referring new customers. Sign up to be a Shuttershock contributor here.
20. SELL YOUR DATA
If privacy is not an issue to you, selling your data is an easy way to make money. In fact, many companies already pay money for it. Many people give away their data for free.
National Consumer Panel (NCP): Sell your purchase history to National Consumer Panel with one of their special handheld scanners. Earn prizes, gift cards and more.
Nielsen Computer and Mobile Panel: Nielsen will reward you for sharing the way you use the internet. In order to qualify, you'll need to download their app to all your devices because they track your usage.
SavvyConnect: Their VIP program will collect your data as you use the internet. You'll get paid $5 per device, per month.
21. GET A ROBOT TO FIND YOU FREE MONEY
Are you paying for a streaming service that you've used only a few times? You're definitely not alone.
That's where Trim comes in.
Trim connects with your bank accounts, looks for subscription services in your statements, and lets you cancel them with a simple swipe of a finger.
Chances are you're paying more for subscriptions than you realize. Video streaming, music streaming, and magazines add up fast. "Trim" the fat and you could end up with $100+ in your pocket next month.
Another bill-cutting option
: Billshark. Much like Trim, Billshark can also
lower your recurring bills
and negotiate money off your payments. Unlike Trim, however, Billshark negotiates with humans instead of robots.
THE BOTTOM LINE
Are you leaving money on the table?
Maybe you're saving up for a big purchase, or you just want more money. (Who doesn't?) No matter your situation, try these tactics to get free cash. Whether it's credit rewards or decluttering, it feels good to bulk up your wallet.
There are dozens of easy ways to boost your bank account. And having a little extra cash never hurts.
Note: This website is made possible through financial relationships with some of the products and services mentioned on this site. We may receive compensation if you shop through links in our content. You do not have to use our links, but you help support CreditDonkey if you do.
More from CreditDonkey: