Best Place to Sell Used DVDs
Ad Disclosure: This article contains references to products from our partners. We may receive compensation if you apply or shop through links in our content. You help support CreditDonkey by using our links.
(read more)
Those old DVDs lying around your house are worth a lot more than you think. Here's how to free up space and make some extra cash without breaking a sweat.

© CreditDonkey
When you bought that copy of "Rush Hour 2," you thought it was forever. You even sprung for one of those fancy wall-mounted media racks in your living room. Just like Blockbuster's.
But with Netflix and Hulu around, DVDs feel about as useful as a fax machine.
It's hard to let go. It hurts.
Here's the good news: There are collectors out there who'll pay money for that old plastic, and you could use the space.
Now, figuring out the right places to sell on can be tricky.
To help you out, here are 10 solid ways to turn your old DVDs into quick cash.
When was the last time you used a DVD?
How much are used DVDs worth?
Most used DVDs sell from $2 to $20, and on average for $5. But box sets and collections will be more expensive. Resale sites offer $0.50 - $2.00 per DVD on average.

1. Decluttr - Best Overall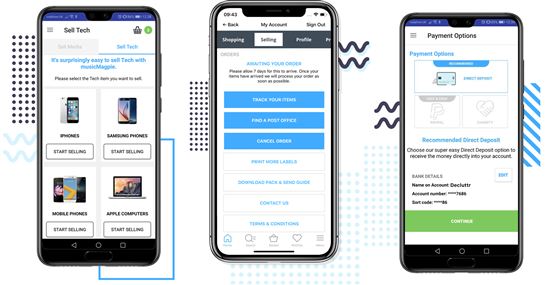 Credit: Decluttr
Decluttr is a popular choice to sell DVDs, Blu-rays, cell phones, tablets, video games and other tech items online.
Decluttr offers higher prices than other resale sites - but lower than reselling the unwanted item yourself. They offer fast payments and a convenient way to unload your old media. Some users reported mix-ups in warehouse reception and long response time with customer support.
If you want to get rid of more than just your old DVDs, take a look at this comprehensive list of the best apps for selling just about anything.
How to sell on Decluttr:

On their site, enter the barcode on the back of the DVD case

Or download their free mobile app to use the barcode scanner

Get an instant quote - this valuation is locked in for 28 days

Accept the price

They'll email you a pre-paid shipping label to mail your item

After receiving your DVD, you're paid the next day via PayPal, paper check or direct deposit

To sell, your total order value needs to be over $5
Best Places to Sell or Trade-In Video Games & Consoles
Swappa

Gamestop

Amazon

Facebook Marketplace

Craigslist

eBay

OfferUp

Letgo

GameFlip

PlayerUp

Trade4Cash

eStarland
2. sellbackyourbook.com - for Instant Quotes
sellbackyourbook.com buys back CDs, DVDs and game consoles online. The site does not have an app with a barcode scanner so you need to enter each UPC code into the search field individually. They cover shipping costs and all payments are processing within 3 days of your order being received.
DVDs need to be in good playing condition to be accepted. They must have their original packaging and artwork, and be free of any scratches. Because their requirements are strict, there's a higher likelihood your item being rejected.
How to sell on sellbackyourbook.com:

Enter UPC on the site to get an instant Price Quote

Print out pre-paid shipping label

Get paid via check or PayPal
Did you know: David Gregg invented the optical "VideoDisk" in 1958? It was later developed into the "LaserDisc" (released for sale in 1978 with limited popularity). These formats are predecessors to the DVDs we're all familiar with (officially invented in 1995).
How much could you earn from that box of old DVDs?Click your state to find a trustworthy buyer and get paid for your used items.
3. eBay - for Collectibles
eBay is good for valuable DVDs because buyers can compete for them.
You have two selling options. Buy It Now lets you set a non-negotiable price but auctions allow buyers to place bids. Sparking a bidding war could get your old DVDs and Blu-rays sold for a lot more.
On eBay, you can sell your whole DVD collection individually or in a bundle. Selling in bulk is less hassle but you probably won't get as much. You can even sell off old VHS tapes.
Sellers get 50 free listings a month. Just be sure to take clear pictures so buyers can look at the item's quality. And if you're selling a bundle, include every DVD in your collection. Check shipping fees before selling (if you plan on offering free shipping), or else, postage costs will eat up your profits.
How to sell on eBay:

Set up an eBay account

Create a listing with images

Pack your item snugly

Print the shipping label from your eBay seller account

Drop off package at USPS or any shipping center

Payment options: PayPal, credit or debit card, payment upon pickup or PayPal credit
Top 10 Most In-Demand DVDs or Blu-rays of 2020
Game of Thrones: Complete Series - $44.95 used

Yellowstone: Seasons 1 & 2 - $39.99 new

Harry Potter: Complete Film Collection - $17.50 used

The Big Bang Theory: Complete Series - $47.98 used

Gamera: Complete Collection - $343.98 new

Gone with the Wind - $4.80 used

Black Panther - $15.99 used

Get On Up - $12.87 used

42: The Jackie Robinson Story - $14.50 used

Tales from the Crypt: Complete Series - $38.98 used
4. Facebook - for Local Sales
Facebook lets you sell on the Marketplace and in formal buying and selling groups. Facebook Marketplace is an open exchange for new and secondhand items. Listing on both is free and you get paid once you meet the buyer. No need to deal with shipping.
To find local buy and sell groups, search by your location. You'll also be able to get rid of DVDs quicker by selling in bundles. Make sure to read the group's guidelines to confirm you can sell all of your items.
How to sell on Facebook Marketplace:

From your News Feed, click Marketplace

Click +Create New Listing, then click Item for Sale

Add photos and a description

Once you provide enough information, you can hit Next and Publish
How to sell on Facebook Buy and Sell groups:

From your News Feed, click Groups and choose the group you'd like to sell in

Click Sell Something

Enter product details and hit Next

Choose your audience and click Publish
On Facebook, there's less support for buyers compared to dedicated platforms like eBay. Beware of scams, shipping issues and no-shows.
5. Craigslist - for Selling Anything
Need to get rid of your old toaster oven, sofa and DVDs? You can list practically anything on this old-school marketplace. Craigslist is good for local sales and selling things in bulk. There's no fee to list so you get to keep everything you earn.
You don't need to worry about seller fees or shipping but you do need to arrange meet-ups to give them the goods. And that means dealing with possible no-shows.
If you don't like the idea of meeting strangers or potentially getting ghosted, host a yard sale. Potential customers will come to you. Plus, you get to interact with your neighbors and you don't need to worry about back-and-forth texts or emails.
How to sell on Craigslist:

Go to Craigslist.org and choose the state and region you're in

Choose Post to Classifieds

Choose For Sale by Owner

Enter your contact information

Include product details and images in Posting Title and Posting Body

Check your inbox for a verification email from Craigslist

Click the link and hit publish - your listing is now live
Safety Tips:
When you meet your customer, make sure to inform someone you trust and go to a public place, like malls, as a precaution.

Bring a friend to the meet-up for security if you are selling expensive items.

If you are suspicious of your potential buyer, it is better to move on to the next customer instead of risking your safety.
6. EagleSaver - for Bulk Checkouts
Got a quality movie set or TV series on your hands? EagleSaver allows you to sell multiple copies of the same item with their instant checkout process.
All you have to do is update the quantity for the title you want to sell and voila, an instant bulk price. And if your titles don't meet their conditions standards, they'll cover the return shipping.
How to sell on EagleSaver:

To get an instant quote, select your item type on their website

Enter the UPC code and quantity

Send in your stuff and once received, Eagle Saver pays you by paper check or PayPal
7. Bonavendi - for Biggest Payout
Where can you get the most money for your DVDs? Try Bonavendi, a price comparison app.
Their selling process is a little different and works more like a search engine. You can't sell to this site directly. Instead, use the barcode scanner to show the best prices from more than 20 vendors who want to buy that title. So you'll always get the best offer for your item online. After getting price quotes, choose a vendor to sell to and maximize your profits.
How to sell on Bonavendi:

Enter the barcode number, EAN or title on their website

You see an instant quote from the highest resale site

If you accept the price, choose Sell Now

You'll be forwarded to the partner site to complete the transaction
Other Places to Sell Used DVDs You May Like

8. Amazon - for Poor Condition Discs
If your DVDs don't meet the quality guidelines for buyback vendors, consider Amazon.
You can do a trade-in or third-party listing. With trade-ins, Amazon pays you as soon as they receive your DVDs and Blu-rays. Trade-in values are usually lower.
You could potentially make more money listing your items as a third-party seller. But it's a lot of work to set up a business account as an Amazon reseller. You essentially assume the role of an online store.
You get paid after your movie is purchased and mailed to the buyer. Amazon does take a cut of your earnings and you can earn cash or Amazon credits. For most people, it's more convenient and makes more sense to trade in your item or use a buyback service.
How to sell on Amazon as a trade-in:

Go to the Trade-In Store or app and search for eligible items

Select the items to add to your trade-in order

Enter the condition

Enter an address to ship your items from

Follow the remaining on-screen instruction to confirm the trade-in

Ship your items by the proper date (indicated during trade-in process)
9. Pawnshops - for Physical Cash
Visiting your local pawn shop is probably the quickest but least lucrative option. You don't have to worry about taking pictures or organizing your items. Just let the staff review your stuff and they'll offer you a lump sum price in cash.
How to sell at a pawnshop:

Research reviews online to find the right pawnshop

Decide if you want to pawn or sell

Be prepared to negotiate and show your product in the best light

You can also use PawnGuru to get multiple offers from pawnshops near you.
DVDs are typically the same size as CDs (12 cm or 4.7 inches in diameter). They're also generally used to store films or video files, games, software and other media files.
10. Used Bookstores - for Avid Readers
Book lovers should consider unloading old DVDs to their neighborhood bookstore. However, it's not the quickest option. Each shop accepts certain titles, if at all. And if your DVD collection sells, you'll usually get cash back or store credit. Store credit is usually a better rate than physical cash.
How to sell at a used bookstore:

Research reviews online to find the right bookstore

Decide if you want store credit or cash

Be prepared to negotiate and show your product in the best light
Other Ways to Sell DVDs
It's time to get rid of your TV series and movie collection. If the options above don't suit your needs, check out a few other ways to unload old DVDs.
Have a yard sale or garage sale are great if you want to get rid of a bunch of household items in one shot. Plus, you get instant cash payment. Go ahead and bundle your "X-Files: Collector's Edition" with your blender. Just take the time and effort to advertise the sale, organize your knick-knacks and wear plenty of sunscreen.

You can also set up a storefront at your local flea market if you want guaranteed foot traffic.

FYE (formerly Secondspin) is probably the biggest retailer for used DVDs and Blu-rays. Whether you have a single movie, TV show season or film franchise, FYE is a good place to sell to. They're not accepting any used items on their site so you'll have to visit one of their store locations.
Consignment stores are not known for selling DVDs but some do. Still, it doesn't hurt to check with a neighborhood shop on the way to the grocery store.
OfferUp is a marketplace app that lets you buy and sell household items. It's geared towards local sales, but there is a shipping option for distant buyers. The listings are free.
These were the first feature films released on DVD in America:
A Time to Kill

Blade Runner

Eraser

Goodfellas

Interview with the Vampire

The Road Warrior

Se7en

The Birdcage

The Bridges of Madison County

The Fugitive

The Mask

The Wizard of Oz

Twister

Unforgiven

Woodstock
Which method of selling DVDs do you prefer?
Figuring Out Your DVD's Value
There are a few factors to consider when determining your item's worth:

Condition - eBay has a helpful guideline for movies, music and video games.
Demand and popularity - The title determines its worthiness and speed of sale. It can also raise the price from the usual benchmark value. Check out this Reddit thread to see which movie titles are popular right now.
Rarity - Out-of-print titles can boost the price due to low supply of the original physical print. The same goes for the limited editions with promotional packaging and bonuses such as additional scenes, new arts, and music.
You can use online tools to gauge the value of your DVDs such as getdvdprices.com, Decluttr's barcode scanner, or check eBay's recently sold items as a baseline.
What the Experts Say
As part of our series on media and technology, CreditDonkey asked a panel of industry experts to answer some of readers' most pressing questions:
DVDs and Blu-rays used to be hugely popular. What might be the next outdated media?

Vinyl records made a big comeback in the last decade. Do you think DVDs, Blu-rays and other forms of physical media will become popular again?

Why did the Golden Age of Hollywood end?
Here's what they had to say:
How to Successfully Sell DVDs Online and Offline
You're almost ready to empty your cramped living room and shelves of dusty jewel cases. Before you jump in, here are a few pro tips for turning your old discs into dollars.
Get a price comparison - Compare quotes from a few different resellers for the biggest payday possible. Resellers don't always have the same rates. Price comparison apps like Bonavendi will also help you determine the correct price if you try to sell your collection yourself.
Never pay for shipping - Most big-name resellers and buy-back sites cover shipping costs.
Write a catchy headline for listings - This is very important if you're selling on Amazon, eBay, Craigslist etc. Just make sure your titles are accurate when you try to sell.
Be transparent about the quality and condition - Make sure you provide accurate information for your DVD collection. If you give false information, your item might be rejected. You want to receive positive customer feedback to build your seller reputation.
Keep discs in their original cases and artwork - Selling DVDs in the wrong packaging will probably get them rejected.
Be assertive and patient with customers - You may deal with rude people or low-ball offers. Don't take it personally. Just be patient and set realistic prices. If you don't like customer service, stick with buy-back services instead of selling them yourself on online marketplaces or in-person with yard sales.
Bottom Line
Just think of all the unlimited streaming you could do with the money you'll get. Selling DVDs is quick and easy, as long as you know where to go.
Do you prefer to look the person in the eye when you close a sale? Host a yard sale or visit flea markets.

Don't like dealing with customers? Try online buy-back services.

Got an entrepreneurial spirit? Open a listing on Amazon or eBay.
Plus, it's a great way to get rid of the clutter lying around at your house. Even if you don't make much, it's still better than letting them collect dust and earning zero dollars.
Amber Kong is a content specialist at CreditDonkey, a personal finance comparison and reviews website. Write to Amber Kong at amber.kong@creditdonkey.com. Follow us on Twitter and Facebook for our latest posts.
Note: This website is made possible through financial relationships with some of the products and services mentioned on this site. We may receive compensation if you shop through links in our content. You do not have to use our links, but you help support CreditDonkey if you do.