This article contains references to products from our partners. We may receive compensation if you apply or shop through links in our content. You help support CreditDonkey by reading our website and using our links.
(read more)
---
To make money, you need to start investing. Here are smart ways beginners can get started.

© CreditDonkey
What are your financial goals?

Leave the 9 to 5 life behind

Put your student debt to bed

Maybe just…nicer stuff?
Here's the thing: Your savings will only get you so far. And with any emergency expense, it's your savings that take the hit.
Luckily, there's no better time to start investing than right now.
You don't need to be an expert (or have a lot of money).
All you need is a starting point. We break down how to take the first steps into investing, how to budget for it, and which investments to never make.
Where to invest money to make money
:
Why You Should Invest Now

© CreditDonkey
Investing as early as possible is your best option.
Why start ASAP? Simple: the power of compounding interest.
Compound interest will boost your investment because it grows at a faster rate as time goes on.
First, interest is earned on your original investment amount. Then, the interest amount you earn the next time around is based on your original investment amount plus the interest you've already earned.
This makes each interest amount higher than the previous interest amount. From there, it keeps growing and growing.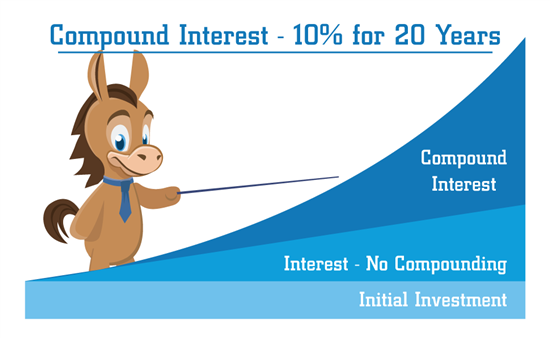 © CreditDonkey
As you can see, compounding can have a very powerful "snowball" effect. If you start investing as soon as possible, you have the best chances of a comfortable retirement.
Before You Invest Money
Once you know how investing early can work in your favor, you may be tempted to dive right in. However, financial professionals would suggest you are on solid financial footing before you invest.
There are three key components that are critical to a healthy financial plan:
An Emergency Fund
It's important to have funds set aside to cover emergency expenses like car repairs or medical bills. In the event that you lose your source of income, you'll want enough to pay for mortgage or rent, food, utilities, and other necessities.

Many advisors recommend you have liquid savings to cover three to six months of living expenses.

A Healthy Debt Situation
Some debt, namely revolving debt, can be very harmful to your finances. If you have credit card debt, especially debt with a high APR, it's important to prioritize paying that off before you focus on how to invest money.

Other fixed-term debt, like mortgages or car loans, are usually less of a concern because they have lower interest rates and a fixed timeline for payment. With revolving debt, your payments may have no end in sight.

A Clear Retirement Plan
No matter your age, it's important to know how you will save for retirement and to get started soon. You should be taking advantage of all the tax-advantaged retirement accounts that you can.

As of 2020, you can contribute up to $5,500 to an IRA, or $6,500 if you are over 50. And if your employer offers a 401(k) plan, be sure to contribute up to at least the matching amount. Otherwise, you're leaving free money on the table.
Understanding Risk
Before you invest, it's important to understand how much risk you can afford to take on. Many investment choices carry a fair amount of risk, but they could also offer higher rewards. Other choices may not be risky at all, but yield only a modest return.
Each investor has their own level of risk tolerance, and it's important that you understand yours.
Younger investors may want to take on more risk because they have more time to recoup losses and ride the ups and downs of the market. Older investors nearing retirement tend to be more cautious because they don't want to risk losing their nest egg.
How to Invest for Less Risk
One of the best ways you can minimize risk is by diversifying your portfolio.
You can do this in many different ways, such as buying stocks from several different industries or investing in a combination of commodities, bonds, and real estate.
You can also invest in assets that are already diversified, like mutual funds or exchange-traded funds.
What's the best investment under $100, $1000, $10,000?
:
How to Invest Money

© CreditDonkey
After getting your finances in shape, you can start to think about how you'll invest your money. Each investor is unique, so you need to find out how to invest in a way that fits your needs and goals.
Stocks
A stock is a direct investment in a company. Also called an equity, this type of investment usually requires more time and effort to research. Many factors can affect the value of the stock, including company performance, political turmoil, and broader economic conditions.
When you're ready to begin investing, you'll need a brokerage to set up and hold your investment account. Think of it like using a bank to hold your bank account.
Some brokerages specialize in certain types of investment accounts. But most of them offer a variety of accounts.
Here are some examples:

Online brokers. If you want to manage your investments yourself, online brokerages give you nearly full control.
Full-service brokerage. If you need guidance, a full-service brokerage will offer personalized service for a fee. Make sure you know how much that fee is and if it's charged hourly or as a percentage of your assets.
Robo-advisors. If you want to be completely hands-off, robo-advisors use computer algorithms that select and manage your investments based on your specific preferences and needs. The fees are generally low for robo-advisors (for more on the best robo-advisors, see our comparison list).
Keep in mind that you don't need a large amount of money to start investing with a brokerage. In fact, some brokers, such as Ally Invest and Ameritrade, have a $0 minimum deposit requirement.
Finding the right broker takes some research, but it will be worth the time you invest. If you want a personal recommendation, consider asking friends and family for referrals. Finally, be sure to research a broker's fees and minimum balance requirements.
Bonds
A bond is a type of debt issued by a company or government. Companies and cities need money to invest in new projects, so, much like you might do with your mortgage, they borrow money and agree to pay a particular interest rate on it for a period of time.
When you buy a bond, you're buying an agreement that the company will repay you with interest. As a general rule, bonds are considered less risky than stocks (see "Difference Between Stocks and Bonds" for more detail).
Overall, bonds tend to be more predictable than stocks. There are three main types:
Corporate bonds, which are offered by corporations looking to raise capital

Municipal bonds, which are issued by towns, cities, and states to fund public projects

Treasury, or T-bonds, which can be purchased directly from the U.S. government
Mutual Funds & ETFs
Mutual funds are collections of assets like stocks or bonds. They are professionally managed and generally not sold on the public exchanges. There are limitations on how and when they can be traded.
Exchange-traded funds (ETFs) are similar to mutual funds, but they are available on exchange platforms and sold just like stocks throughout the day.
Index funds are also a collection of stocks or bonds, but they follow specific indices that follow pieces of the market. For example, you can buy into an S&P Index fund so your investment mimics the rise and fall of the S&P 500.
Best Short-Term Investments
:
High-Yield Savings Account: This is a great option if you know you'll need quick access to your money. Here are some of our top picks for online savings accounts with high interest rates.

CDs (Certificate of Deposit): A CD is a secure way to store your money for a fixed amount of time. Interest rates for CDs are often higher than what most traditional savings accounts offer. Keep in mind that you will not be able to withdraw your money without incurring a penalty fee.
High-Yield Savings Accounts
Investing in a savings account may seem strange, but we're not talking about any ordinary savings account at the local bank.
Online, high-interest savings accounts offer interest rates as much as 20x more than traditional big banks (for example, you could earn 0.09% from a big bank, and as much as 1.85% from an online high-interest bank).
When choosing who to bank with, consider the following factors:

Security. It's important that the bank is FDIC insured (and most well-known online banks are). This means that if the bank defaults, the government will pay you back everything you had in the account (up to $250,000).
Accessibility. Some banks have restrictions on the number of withdrawals and transfers you can do. Make sure you'll have access to your money when you need it.
Yield Rate. Look for the highest APY you can get, but be aware that you may have to maintain a minimum balance to keep that rate.
Minimum Balance. Some high-yield savings accounts require a minimum balance. If you can't keep that balance, the bank may charge you a fee or reduce your interest rate.
Review our round-up of the best high-yield savings accounts to find the best bank for you.
Money Market Accounts
Money market accounts are a combination of savings and checking accounts. They're also considered "high yield" because they typically offer higher interest rates like many online savings accounts. They're similar to checking accounts in that there are no maturity dates or early withdrawal penalties. Here we
break down the best money market rates
available right now.
More Options for Investing

© CreditDonkey
Aside from stocks and bonds, there are many other ways to put your money to work. Remember, adding diversity to your portfolio reduces risk.
Here are several other ways to invest money, each with varying degrees of risk and reward.
Consider whether one of these strategies may be right for you:
Real Estate
Investing in real estate can take several forms. For example, you can buy one property for rental income if you think its value will increase. You can also invest in real estate investment trusts (REITs). These funds pool investor money to buy several properties at once. You can buy into many REITs on public exchanges, while others are only open to accredited investors.
Commodities
Commodities are physical resources like gold, silver, gas, oil, and livestock. Investors typically try to make money by estimating the future prices through contracts. Many people also invest in commodities as a protection against difficult financial times when paper money and more traditional investments are often less valuable.
Peer-to-Peer Lending
Another method to consider is funding loans. This allows you to earn a reliable income on the interest that the loans generate. With this strategy, you'll need to join a peer-to-peer (P2P) platform, which can connect you with borrowers all over the world. You can even diversify your risk by lending money to multiple borrowers at once.
What Experts Say
CreditDonkey assembled a panel of industry experts to answer readers' most pressing questions:
Is using an auto-managed portfolio or robo-advisor a reliable way to save for retirement?

What advice do you have for a first-time investor who wants to create a retirement fund?
Here's what they said:
How to Monitor Your Investments
Once you start investing, it's smart to keep going to maximize your earnings. Just because you have made an investment doesn't mean your responsibilities with your money are over.
You will need to take regular inventory of your portfolio. Consider how it's performing and whether you need to make any changes to your investment strategy. Do you need to sell certain assets, or is it time to buy others? Stock-heavy portfolios may need to be "rebalanced" as some stocks outperform others.
As you watch your portfolio, consider your own long-term financial plan. As your life changes, your investment goals are likely to change as well. Take time each year (at the minimum) to review whether your investments match your financial situation, your goals, and your risk tolerance.
Steer Clear of Scams and Frauds
Keep in mind that many scammers try to prey on people using the bait of a "good investment opportunity." However, their "investments" aren't really investments at all. In fact, you could easily lose your money if you buy into a risky scheme.
Here are some examples of what investments to avoid:
Penny Stocks
Stocks that you can buy for less than $5 may seem like a great deal. After all, you could probably buy a lot of these shares at once. However, they're typically not profitable at all. Companies that offer penny stocks are usually very small companies that don't need to disclose they're financials. They may be trying to raise capital to grow, but they're not always successful in the long run.
Pyramid Schemes
You may have heard of businesses that promise to make you rich if you can recruit others to join them. If you're asked to pay to join a business with that type of model, beware that it may be a pyramid scheme. Schemes like this usually never deliver on what they promise.
Gambling
Yes, you could possibly win big with gambling, but people rarely do. Statistically, you are much more likely to lose your money when you gamble. That's true whether you are playing in a casino or buying a lottery ticket. The odds are not in your favor, so, while gambling may be entertaining, it's a poor investment choice.
Bottom Line
When you learn how to invest money, you'll have the opportunity to make your money work for you.
Consider working with a professional financial advisor to weigh the pros and cons of each method above to find the best one for you.
Remember to review your finances to make sure you know your goals and investing needs first. And be careful of risky investments like penny stocks and pyramid schemes that may not be what they seem.
The bottom line is this: The sooner you can start investing your funds, the more you can benefit from your investment.
Note: This website is made possible through financial relationships with some of the products and services mentioned on this site. We may receive compensation if you shop through links in our content. You do not have to use our links, but you help support CreditDonkey if you do.
TD Ameritrade has not influenced the content of CreditDonkey. CreditDonkey may earn compensation for accounts opened at TD Ameritrade.
More from CreditDonkey: