Empower Review
Ad Disclosure: This article contains references to products from our partners. We may receive compensation if you apply or shop through links in our content. You help support CreditDonkey by using our links.
(read more)
Empower offers wealth management services and free financial tools. But is it legit? Find out if this robo advisory service is right for you.
With a 0.89% annual management fee, Empower is more expensive than other robo-advisory services.
But it claims to offer a more personalized investing strategy that can lead to a better financial outcome. So is it worth the higher fee?
If you're not sure about using their investment service, you can always use their free financial tools and get a free portfolio consultation. You'll still receive custom advice you can implement yourself.
Read on to learn how Empower works, and how it can help you reach your goals.
What is Empower?
Empower is an all-in-one financial toolkit. It offers 2 main services:
1. Advanced financial tools (free)
Empower's robust money management tools are some of the best out there. They have a strong focus on investment and retirement tracking. You can:
Track your net worth

See your entire financial life

Track your portfolios and get advice

2. Wealth management (paid)
Empower offers robo-investing coupled with human financial advisors. This gives you a personalized investment strategy at less cost. The annual fee is 0.89% and requires a $100,000 minimum investment.[1]
Empower currently has over 17 million customers and manages over $1.2 trillion of assets.
In this Empower review, you'll learn:
How Empower Works
Anyone can open an Empower account for free. Start by linking all your accounts to see your entire financial life in one place. You don't have to log in to each account separately.
If you have at least $100,000 in investment assets, you can sign up for Empower's wealth management services. You will first get a free consultation. A financial advisor will go over your current state and goals.
They'll then come up with a custom investment strategy. If you like it, you can open an investment account. If you decide it's not right for you, don't feel pressured to use their wealth management service.
Who Empower is Best For
DIY investment trackers
Empower offers some of the best free investment tracking tools available. It even gives you personalized advice. You can track all your portfolios and get insights on how you're doing.
High net worth investors
The wealth management service is open to those with $100,000 or more to invest. Use Empower's unique combination of robo-advising and professional financial advisors to maximize your investment returns.
Retirement planners
Empower's retirement tools can project how different scenarios will impact your retirement nest egg. And if you are an investment client, the financial advisors will help you develop a retirement plan.
Empower Pros & Cons
PROS:
Free and easy to setup

Wealth management plan offers more custom strategy than other robo advisors

Advanced money management tools

See all your financial accounts in one place

Retirement planner

Free personalized investment advice

Cryptocurrency tracking
CONS:
Limited budgeting tool

Cannot import from Quicken

Cannot manually enter transactions

Higher fees for wealth management service

$100,000 minimum for wealth management service
Keep reading for the full Empower review.
Empower Fees
Empower's financial planning tools are offered at no cost. Everyone can use the app for free without signing up for the investment services.
If you do decide to use their wealth management service, the fees start at 0.89% of assets under management. The more you have to invest, the lower the fees.
The annual structure for the fee-based service is:[2]
These are all-inclusive management fees. There are no additional trade commissions or any other hidden charges.
The wealth management fees are higher than purely robo-advisors like Betterment, but less than traditional human wealth managers.
Is Empower Worth It?
If you want to track your own investments and retirement outlook, then Empower's free tools are 100% worth it. They go beyond the standard budgeting tools and usual calculators.
It even gives you free custom advice on how to adjust your portfolio to reach your goals. You could just follow their free advice and continue to manage your portfolios for yourself.
For their wealth management services, the annual advisory fee is on the high end compared to other robo-advisors. But the difference is that you get real financial advisors to help design your portfolio. They help you make the best choices based on your goals.
Whether it's worth it depends on what you value. If you're a hands-off investor who wants a more personal relationship with an advisor, then many say it's worth it. The advisor can guide you if you have life changes or simply have money questions.
With this in mind, let's go over all of Empower's features.
Empower Free Tools
Here's a detailed breakdown of Empower's tools.
Empower Personal Dashboard
The visual charts and graphs make it highly readable, something we appreciate. After linking your accounts, you'll see a dashboard like this: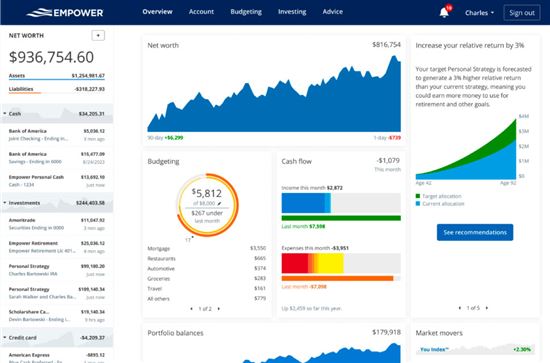 credit empower
Use it to review summaries of:
Your total net worth (including assets and liabilities)

A balance of all your accounts (checking, savings, investment accounts, credit cards, and loans)

Your monthly cash flow

How you're doing on budget this month

Your overall portfolio balance

Your retirement savings progress for the year

Your emergency fund balance
Try It Out: Empower Personal DashboardTM
Portfolio Overview
If you have multiple investment accounts, Empower will combine everything to show you the overall performance of your portfolios.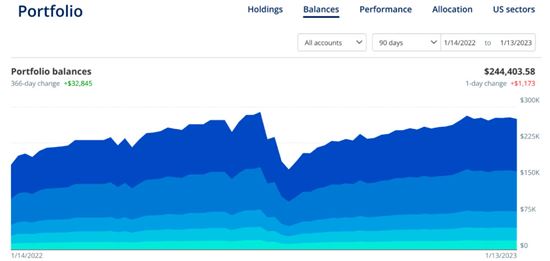 credit empower
The You Index feature measures the performance of all of your stock, cash, ETF, and mutual fund holdings extrapolated backward. You can compare your portfolio's performance to the S&P 500, DOW, etc.
Investment Checkup
This tool helps you analyze your accounts, which may include:

Stocks, bonds and ETFs

Mutual funds

Other types of assets

Cash
Based on your goals and risk profile, Empower may suggest you change your asset allocation (like more bonds and fewer stocks) much like a personal financial planner would.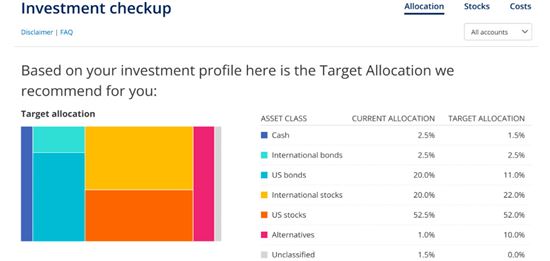 credit empower
In the above screenshot, you can see the current and suggested target allocation. You'll also get very specific recommendations on how to reach the target asset allocation.
Fee Analyzer
This is the area where most folks lose money without even realizing it. Why? Many people don't know the hidden fees within their accounts. Empower's tool tells you just how much of your funds you may be losing to fees.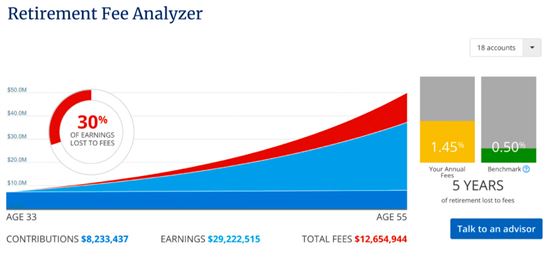 credit empower
In this example, 21% of the earnings are being lost to fees. The number at the bottom projects costs based on current contributions and savings goals. Almost $543k will be spent on fees by the time the user reaches retirement age.
Empower also shares the expense ratio for each fund and how much it costs in fees a year. For example:

credit empower
This will help you see which funds have the highest expense ratios and you can consider switching them out.
Cryptocurrency Tracking
Empower's newest feature is the Cryptocurrency BETA. You can track all your coins and their current values.
To add a crypto, you must manually add an account like what you'd do for home, car, or jewelry. This is good because you don't need to enter your password or link your personal wallet.
Then select your exchange and enter your coins and quantity. You can track thousands of coins across hundreds of exchanges. Empower pulls from public data to track their value.
Retirement Planner
Empower's retirement planner is one of the most advanced on the market—and it's free. Using your linked retirement accounts, the platform will calculate projected income, investments, and Social Security distributions.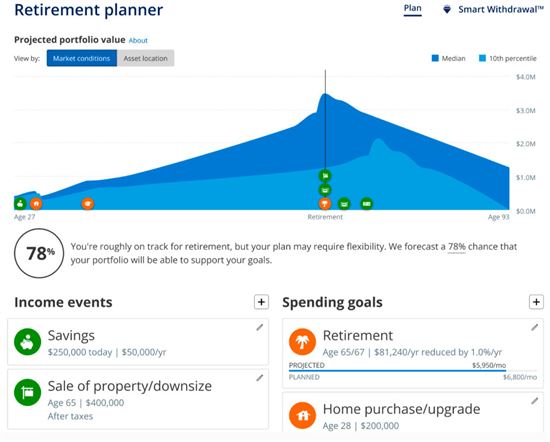 credit empower
One of the best tools is the scenario simulator. You can manually add different life scenarios (like buying a house, paying for a wedding, traveling). The program will let you know how these will impact your retirement.
Empower Wealth Management Services
Empower's wealth management services are for clients with $100,000 to invest. It combines robo-investing with human financial advisors.
A financial planner will take the time to understand your personal financial situation and long-term needs to design a custom strategy. The robo-advisor's automated software then handles the investing and maintenance of your portfolio.
You get unlimited advice and retirement planning help from Empower's financial advisory team.
3 Levels of Service
The level of investment management you get depends on your balance. Here are the 3 tiers:[3]
Investment Service
($100k - $200k balance)
Wealth Management
($200k - $1M balance)
Private Client
(Over $1M balance)
Unlimited help from financial advisors
2 dedicated financial advisors
2 dedicated financial advisors
Portfolio of ETFs
Customized portfolio with individual stocks
Customized portfolio with individual stocks and bonds
Reviews upon request
Regular reviews
Regular reviews
Tax optimization
Tax optimization
Financial decisions support
Financial decisions support, plus in-depth support for retirement and wealth planning
Access to specialists
Priority access to specialists and Investment Committee
Private equity investment options (for accounts $5M+)
Empower's Investment Strategy
Empower's goal is to yield the highest returns with the least risk. Here's how their portfolio works:
Personalized strategy
Empower uses your entire financial picture to build a personalized portfolio tailored to you. A financial advisor works with you to identify the best strategy for your goals. As life changes, your portfolio strategy will evolve too.
Diversified portfolio
Like most robo-advisors, your investment portfolio is made up of ETFs, which tend to be cheaper. Your portfolio allocation will consist of 6 different asset classes:

U.S. stocks

U.S. bonds

International stocks

International bonds

Alternative assets, such as real estate investment trusts, precious metals, and energy

Cash

Tactical weighting
This strategy weighs your investments equally between different styles and sectors (for example, so you're not so heavily weighted towards large-cap companies or technology stocks). This provides better diversification with less risk.
Tax optimization
Empower uses these strategies to reduce your tax burdens:


Asset location: Diverting high-yield assets into tax-protected accounts like IRAs.

Tax loss harvesting: Selling some investments at a loss to offset capital gains.

Tax efficiency: Investing in tax-efficient stocks and ETFs over mutual funds.

Socially responsible investing
Empower offers a personalized socially responsible investment strategy, so you can invest in companies that align with your values.
Financial Roadmap
Financial Roadmap is the newest feature for wealth management clients. It's designed to help you prioritize your financial planning.
There are 19 different financial planning topics. The tool first creates a priority list for you based on its analysis of your accounts. You can customize the list according to your needs. As your data changes, Empower will introduce new priority topics.
This list is meant to let you know areas you should work on first. It will give you personalized recommendations and track your progress toward each goal.
It also gives your personal advisor a real-time view of your finances. You can work together with your advisor to discuss your financial goals and how to achieve them.
Empower Private Client
Private Clients are those with over $1 million invested with Empower you get a higher level of personalization. Your portfolio is separately managed and completely personalized to your needs.
You get two dedicated financial advisors. They can help with any money topics from estate planning to college savings to 401k review.
Private Clients also get access to private banking services. And if you have at least $5 million in investment assets, you get access to private equity funds, which may have the potential to outperform public markets.
Empower Personal CashTM
Empower now offers a high-yield Cash Management account through its platform. You can open this account even if you don't use the Wealth Management service.
Similar to an online savings account, Empower Personal CashTM offers high interest rates on your cash (even higher if you are paying for the advisory service). There are no monthly account fees or minimums.
Empower Personal CashTM account offers a few specific advantages, including:
Unlimited withdrawals with no fees (unlike the 6 withdrawals/month limit for a bank savings account).
FDIC insured up to an aggregate of $2,000,000 (instead of $250,000) at their program banks.[4]
Transfer between your Cash account and Empower investment account.
Is Empower Safe?
Empower takes many steps to ensure that your financial data is secure, including:
AES-256 encryption with multi-layer key management

Strict internal access controls so no one at Empower has access to your credentials

2-step authentication process to verify each new device you log in from

Extra log-in protection in the app via Touch ID (on iPhone) or PINS (on iOS and Android).

Bank and brokerage credentials stored at Yodlee (not in Empower's database)

Year-round third-party security audits.
Empower aggregates your financial information on a read-only platform. Even if someone manages to get into your account, they can only read the information. No one can access your accounts and move your funds through Empower. Not even you.
It's actually safer to view your accounts from Empower. That's because you risk exposure every time you log into your bank account. But with Empower, you don't enter your bank credentials each time, so they're not transmitted.
Does Empower Sell Your Information
Empower never sells your personal information to advertisers and companies.
However, Empower does use third-party service providers (such as Yodlee) to provide their services. Your personal information is provided to those third-party service providers, on a need to know basis. These providers are required to safeguard your information and only use your data to provide their services.
For the cash account users, as Empower Personal Cash Program is partnered with UMB Bank, your account information will be shared with UMB.
For the advisory clients, they will share some of your info with third-party identity verification providers. This is required by regulations in order to verify you.
Empower's custodial brokerage partner is Pershing, your account information will be shared with Pershing. You will be able to have direct access and interaction with Pershing while you're a client.
Customer Service
For general customer support, you can reach Empower at (855) 855-8005, 24 hours a day, 7 days a week.
All users can also contact technical support at any time from the web or mobile app.
From the webpage, just click on the "Help" button at the bottom right corner to leave a message. From the mobile app, you can submit a help ticket in the "Support Center." You can also directly submit a request here.
Advisory service clients can contact their advisors through the online dashboard when logged in. You can schedule a call or send your advisor an email.
How To Open an Account
We think it's worth checking out. And remember, you don't need to use the wealth management services. Sign-up is free and pretty simple.
Sign up and link accounts
Register for an Empower account and link all your external financial accounts, such as your banks, CDs, investments, etc.

You'll immediately gain access to all the various tools and calculators. They're all free to use and you can stop here if you want.

Free consultation
If you decide to use the wealth management service, you need to have $100,000 in investable assets. Then you can schedule a free phone consultation with an Empower financial advisor.

The advisor will review your current financial state, goals, risk tolerance, and any big financial plans for the future. In a second follow-up consultation, they'll present you with a personalized investment strategy.

The initial phone call will cover topics like:

Ways to build a tax-efficient portfolio

Insights on budgeting and cash flow

401k advice and diversification

Open investment account
If you choose to go ahead with it, you'll open an investment account and fund it. If you decide not to use Empower's investment service, no problem. You got a free consultation and hopefully some good advice.
Mobile App
The Empower Personal DashboardTM app is a mobile version of the desktop dashboard. You can view:
A summary of all your accounts and your current total assets

Your cash flow, income, and expenses

Detailed lists of your recent transactions

How you're doing on budget and a breakdown of spending

Overview of your investments

Chart of your portfolio performance

Investment checkup advice

Your projected portfolio value for retirement (including estimates based on changes)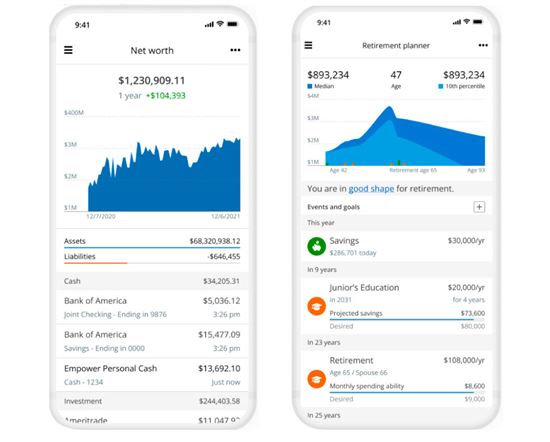 credit empower
The app doesn't have all the platform's features, including tools like bill reminders and fee analyzer. But it's a convenient way to view your financial information from anywhere.
How It Compares
There are many digital budgeting apps on the market today. So how does Empower stack up against the rest?
Empower vs Betterment
Betterment: Better for new investors with less capital
Empower: Better for high wealthier investors
Betterment is one of the most popular robo-advisors. Plus, there is no account minimum balance. You can use it even if you have just $5 to invest.
The annual fee for the basic service is just 0.25% for balances of $20,000 or more, or if you set up recurring monthly deposits totaling $250 or more. Those with less than $20,000 will be charged a $4 monthly fee so beginners may feel more comfortable with that.[5]
However, because of the low fee, Betterment is truly just a robo-advisor. The software invests for you based on your age, financial goals, and risk tolerance. You don't get any kind of real human financial advisor. So you are completely trusting a computer to design your investment portfolio.
If you have $100,000 or more, you have the option to upgrade to the Premium service. You get unlimited access to certified financial planners. They can provide financial guidance on your other investments outside of Betterment and on big life events.
Betterment does not have such advanced tools. We do like its SmartDeposit feature though, which automatically sends money to Betterment when your bank account exceeds a certain balance. This is an easy way to make sure you're investing your extra cash.
But remember, you can still use Empower's tools for free. So if you're a newbie investor, you can certainly use Betterment's cheaper service plus Empower's tools.
Benefits and Features

Savings

Annual Fee
0.89% for first $1 million, 0.79% for first $3 million, next $2 million 0.69%, next $5 million, 0.59%, and 0.49% over $10 million

Digital: 0.25% annual fee for accounts with $20,000 or more or with monthly recurring deposits of $250 or more, $4/month for accounts with less than $20,000
Premium: 0.40% for accounts $100,000 or more

Minimum Deposit

$100,000

$0

Checking

No-Fee Checking

Phone Support

Yes

Yes

Live Chat Support

No

No

Email Support

Yes

Yes

Human Advisors

Yes

Yes ($100k minimum)

Robo Advisor

Assets Under Management

$1.2 trillion

$40+ Billion

Tax Loss Harvesting

Yes

Yes

Goal Tracker

Yes

Yes

Automatic Deposits

Yes

Yes

Online Platform

Yes

Yes

iPhone App

Yes

Yes

Android App

Yes

Yes

Mobile App

Yes

Yes

Investment Tracking

Single Stock Diversification

Yes

No

Fractional Shares

No

Yes

Taxable Accounts

Yes

Yes

401k Plans

Yes

Yes

IRA Accounts

Yes

Yes

Roth IRA Accounts

Yes

Yes

SEP IRA Accounts

Yes

Yes

Trust Accounts

Yes

Yes

529 Plans

Yes

No

Human Advisors
Robo Advisor
Price
Goal Tracker
Customer Service
Budgeting
Ease of Use
Investment Tracking
Retirement Planning
Annual Fee
Minimum Deposit

Blank fields may indicate the information is not available, not applicable, or not known to CreditDonkey. Please visit the product website for details.

Empower: Pricing information from published website as of 04/30/2020

Betterment: Pricing information from published website as of 04/04/2018
Empower vs Mint
Mint: Better for budgeting
Empower: Better for investment tracking and retirement planning
Mint is another popular free money management software. The platform is aimed at the regular person, rather than investors with significant capital.
Mint focuses on everyday spending and budgeting more than future income. It might be a better choice for those who just want to see their financial life all in one place.
For budgeting, Mint does the job better. Empower only allows you to set a monthly spending target. But with Mint, you can break it down by category and assign a budget to each.
But Empower has proven to be more dependable when it comes to interfacing with your accounts, syncing them, and calculating the data quicker.
Both platforms are strong, so it depends on what you want out of it. For budgeting, Mint is the winner. But for investment management and retirement, Empower is the one for the job.
Empower vs Quicken
Quicken: Better for business managers
Empower: Better for everyone else
Quicken is one of the first-ever money management software (it came out in the 1980s). It provides a very comprehensive set of personal finance tools.
However, almost nothing from Quicken is free. You must pay an annual subscription to use it. Read our detailed comparison of Quicken vs Empower for more information.
Quicken's Starter program offers barebones budgeting and expense tracking. The Deluxe program lets you set up savings goals, customize your budget, and start working to reduce debt. The premier program has services like:
Bill pay

Investment tracking

Market comparisons

Small business manager

Property manager
For the average investor without business managing needs, Empower Personal Dashboard app is more than enough.
Empower vs Robinhood
Robinhood: Better for DIY investors
Empower: Better for hands-off investors
Robinhood is not a robo-advisor—it's a trading app. The platform offers commission-free trades for stocks, options, and ETFs with zero commissions. But unlike with Empower's hands-off approach, you'll be responsible for selecting investments and trading yourself.
Robinhood is a basic online brokerage that offers individual taxable accounts and retirement accounts. There's no account minimum, compared to Empower's which has a $100,000 minimum to invest.
Its basic platform lacks research and tools, so you need to be comfortable researching yourself. If you aren't, you may be better paying a small fee to use a robo-advisor like Empower.
Hear from an Expert
CreditDonkey asked Andrew MacDonald from the University of San Diego for his expert advice on what the average person should look for in a budgeting app.
Here's what he had to say:
FAQ
Is Empower safe to link accounts?
It is safe to link your financial accounts to Empower. It uses military-grade 256-bit AES encryption to hide your data. Plus, your credentials are not stored in Empower's own database.
Read more in detail about how Empower's security works and what happens if your account gets hacked.
What's Empower age requirement?
To use Empower, you must be of legal age where you're located. This is typically 18 years old or older, depending on your jurisdiction.
Is Empower a fiduciary?
Yes, Empower is a fiduciary. They are a Registered Investment Advisor (RIA) regulated by the Securities and Exchange Commission. This means Empower is legally obligated to act in your best interest.
Can I import Quicken data into Empower?
No, Empower does not allow you to import Quicken data. Instead, you link all your bank and investment accounts and Empower will collect all the information for you automatically.
How does Empower make money?
Empower makes money from their wealth management service, which has a tiered annual fee starting at 0.89% of assets under management. This service is available to clients with at least $100,000 to invest.
Bottom Line
Empower offers good financial planning services. If you are serious about planning for retirement, you should check it out.
You can use Empower's money management tools at no cost. These are some of the most advanced tools on the market. It doesn't hurt to sign up for a free account to get a handle on your financial life.
The wealth management service is aimed for individuals with at least $100,000. The fees are much higher than other robo-advisors, but you do get personal service from financial advisors. If you have a lot to invest (as in millions), the fees get lower and it is a good value for the level of service.
References
Charles Tran is the founder of CreditDonkey, a personal finance comparison and reviews website. Write to Charles Tran at charles@creditdonkey.com. Follow us on Twitter and Facebook for our latest posts.
Note: This website is made possible through financial relationships with some of the products and services mentioned on this site. We may receive compensation if you shop through links in our content. You do not have to use our links, but you help support CreditDonkey if you do.
Empower Personal Wealth, LLC ("EPW") compensates CREDITDONKEY INC for new leads. CREDITDONKEY INC is not an investment client of Personal Capital Advisors Corporation or Empower Advisory Group, LLC.
Compare:
---