5 Best Robinhood Alternatives to Use Instead
Ad Disclosure: This article contains references to products from our partners. We may receive compensation if you apply or shop through links in our content. You help support CreditDonkey by using our links.
(read more)
Looking for apps like Robinhood but with a twist? Find the best alternatives with superior features. Do better in online trading with these apps.
What should I use instead of Robinhood?
Here are the top 5 alternatives to Robinhood:
Most retail investors will know the name Robinhood. Before they launched, it was common to pay $5 to $10 for a trade. And account minimums started at $500.
But Robinhood changed all that. They got rid of most fees and minimums, which started an industry-wide trend.
Then, the Gamestop snafu happened. Lately, they've faced lawsuits, SEC scrutiny [1], and were fined by FINRA.[2]
So are there better investment apps? And which app is best for crypto, fractional shares, and trading tools?
Read on for the top 5 alternatives to Robinhood. These are best for newbies and young investors. Further, see which apps made our list of honorable mentions.
How frequently do you use your online trading app?
What is Robinhood?
Robinhood is a 100% commission-free investing app. There are no account or trade minimums, so you can start investing with as little as $1.
Robinhood lets US investors trade stocks listed on the Nasdaq and New York Stock Exchange. Or you can trade a range of popular stocks from international exchanges. You can also invest in ETFs, options, and cryptocurrencies.
For $5 a month, you can sign up for Robinhood Gold. This premium margin trading account lets you borrow at a 8% interest rate. It gives you instant access to larger deposits (from $5,000 to $50,000). You can see ~1,700 stock reports from Morningstar and access Level II Market Data.
Many new investors will love Robinhood's simple and easy-to-use interface. But they're no longer the only fee-free investing app. Most apps now offer this. So depending on your priorities, you may find a better alternative.
Why is Robinhood bad?
Among other downsides, early 2021 was a time of extremely bad press for Robinhood. During the short squeezes of stocks like GameStop (GME), AMC, and Nokia, they appeared to freeze trading during a period of extremely high demand. They only allowed traders to close their positions but not open new ones.
According to their CEO, this was due to insufficient capital to process all the trades being ordered. Since then, they have been subject to investigation by the SEC, a lawsuit filed in the Southern District of New York, potential investigations by the New York and Texas attorneys general, and at least one class-action lawsuit.
Have you tried using Robinhood?
Why Robinhood May Not Be for You
While Robinhood has some things going for it, several factors make it a poor choice for some investors. Here's why Robinhood may not be right for you.

Limited research and tools: While Robinhood lets you create watchlists and view real-market data, that's really about it. Many online brokerages offer a wealth of research, data, and advanced investing tools to help investors succeed.
Candlestick charting options: Robinhood's candlestick charting options are limited at best. You cannot adjust the candle period to minutes or hours. On mobile, the design is difficult to view with the white background. Without this essential trading feature, you could be at a disadvantage.
Limited educational resources: Newcomers and young investors are Robinhood's target audience, yet it lacks the vast educational resources you'd find at other online brokerages. Robinhood Learn offers articles covering basic topics like, "What Is a Portfolio?" But Webull has step-by-step courses to walk you through financial concepts like IPO Basics.
No mutual funds or bonds: Mutual funds offer diversification, while bonds offer low-risk, predictable returns. If you're hoping to invest in either of those, you'll have to look at other online trading platforms.
Poor customer service: If you want speedy customer service, Robinhood won't be a good fit. The app is known for long customer wait times and has struggled with lawsuits and regulatory inquiries.
Is Robinhood a rip off? Robinhood may not be for everyone, but it's not a scam. While some investors question their leadership and transparency, Robinhood is generally upfront about how they operate and make money. Overall, they're not much different from similar investing apps.
On a scale of 1-5, how would you rate your experience with Robinhood?
What to Look for in a Robinhood Alternative
There are plenty of excellent alternatives to Robinhood, but they're not all the same. Below, check out the important factors to look for when choosing your next platform.

Fees: Luckily, many trading apps are free. But some make you pay per trade, or charge a yearly or monthly fee. Review the fees to see if an app makes sense for your trading behaviors and portfolio.
Variety of offerings: Not all investing apps offer every type of trade or account type. Make sure the app supports what you're looking for, be it mutual funds, IRAs, bonds, or others. For instance, an app like Webull lets you invest in Rollover, Roth, and Traditional IRAs.
Accessibility: Some apps work on both iOS and Android devices, and others are best suited for desktop. Be sure to look for compatibility with your preferred device before downloading an app.
Research and tools: This is important if you count on research to make informed decisions. Many online brokerage accounts offer in-depth company research and market analysis, while Robinhood is more bare-bones.
Automated investing: Apps with robo-advisors offer investment guidance at lower fees than those with human advisors. Investors who are saving for a financial milestone, like a new home, can use this feature to optimize their returns with a minimal time investment.
Which among these features of a trading platform do you deem as the most essential?
Investment websites are some of the best sources for research and data. Check out our picks for the
best investment websites
to learn more.
Top 5 Robinhood Alternatives
Choosing your trading platform depends on whether you want to trade stocks, or crypto, or a combination of both. Also, ask yourself how much you want to invest. And do you value privacy more than security, or vice versa?
Coinbase: Best for Crypto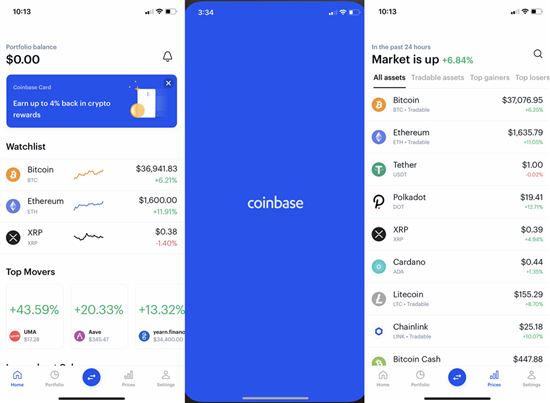 Screenshot of Coinbase
If you're interested in trading crypto rather than stocks, you might want to look at Coinbase. While Robinhood does offer a limited range of cryptocurrencies (11, at time of writing), crypto is what Coinbase is known for. They offer over 150 coins to buy sell and trade, with more added regularly.
New investors will find Coinbase just as easy to use as Robinhood, and in fact, their interfaces are quite similar. Coinbase is known for being one of the easiest places to start trading crypto.
In addition to their crypto exchange, Coinbase has a variety of other features. If you own a large amount of Bitcoin, you can use it as collateral for a crypto-backed loan.
Coinbase has partnered with Visa to offer a crypto rewards card that will get users up to 4% cash back on purchases.
The Coinbase Wallet offers users a safe place to store their crypto as well.
It is important to keep in mind that Coinbase does have relatively high fees.
Pros and Cons of Coinbase

Beginner-friendly
Helpful educational tools
Strong security measures

High fees
Customer support lacking
Key Features:

Trade over 150 cryptocurrencies

Earn crypto while you learn with Coinbase rewards

Buy via credit, debit, bank, or wire transfer

Cash holdings FDIC insured

Security: Most crypto held in cold storage
Those with some experience looking to save may consider Coinbase Pro, Coinbase's expert-oriented app with lower fees.
Looking to buy crypto but not sold on Coinbase? Consider these popular
Coinbase alternatives
for your cryptocurrency trading.
Acorns: Best for Young Investors

Screenshot of Acorns
Acorns is an app that aims to make it easy for average people to level up their finances. They got started offering people an easy way to save by rounding up the spare change on their purchases and putting it away to save or invest.
They offer quick setup on investment accounts for the whole family, as well as retirement and checking accounts that users can add to in increments.
Users can take advantage of portfolios designed by experts that automatically adjust to keep their investments on track.
Their accounts do require a monthly fee of $3 to $9 a month.[3]
Pros and Cons of Acorns

No minimum to open account
Invest with spare change
Cash back program

Fees high for small balances
Limited investment options
No tax benefits
Key Features:

Round up spare change

Investment, retirement, and checking accounts

Prebuilt portfolios of stocks, ETFs, and bonds

Investor risk assessment

Investing for kids

Open an Acorns account (new users only)
Set up the Recurring Investments feature
Have your first investment be made successfully via the Recurring Investments feature
Public: Best for Fractional Shares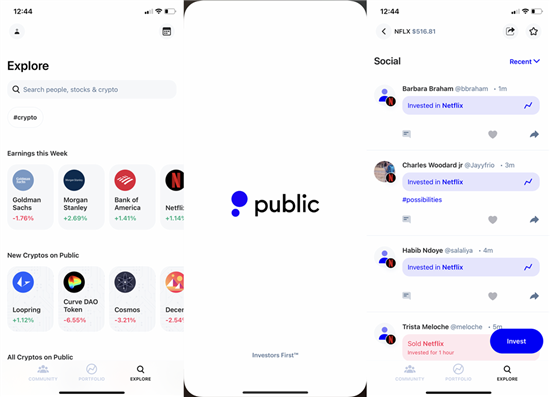 Screenshot of Public
New York-based Public is an investing social network. Their goal is to make investing accessible by promoting financial literacy and offering fractional shares of expensive stocks. Like Robinhood, they focus on the trading of stocks and ETFs.
Public is free to download and commission-free as well. Where it stands out from Robinhood is the ability to see what others are trading.
Users can also follow curated themes. These are groups of stocks that support a central cause. Examples include: The Crypto Revolution, For the Win! (gaming and eSports), Women in Charge, and Growing Diversity.
Pros and Cons of Public

Commission-free trading
Offers fractional shares
Social aspect helpful for beginners

Limited investment options
No access to financial advisors
Key Features:

Over 9,000 stocks and ETFs

Curated theme-based portfolios

Collaborative community

Commission-free trading

Fractional shares

Fund account with debit card

SIPC insured
Webull: Best Analytical Tools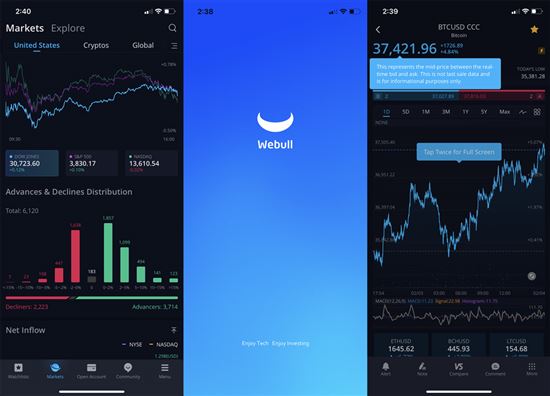 Screenshot of Webull
Webull is considered a major competitor to Robinhood with millennials. They offer a wide range of investment options, including stocks, ETFs, options, and cryptocurrencies—all commission-free.
A feature that sets Webull apart is its extensive research and analytical tools, something that many retail investor-oriented apps aren't known for.
Webull also offers a free paper trading account that allows you to play around with $1M fake dollars. Users get 3 trades per 5-day period, a restriction lifted for accounts over $25,000. Short selling and options trading are also available.
Pros and Cons of Webull

No trade fees
Advanced research tools
Extended trading hours
Offers fractional shares
Key Features:

Commission-free trades

No account minimums

Free extended trading accounts

Free margin account with $2,000 minimum

Trading Simulator

Advanced research tools and charting

Stocks and crypto

No fractional shares

Transfer fees of up to $100 will be reimbursed when you make an initial transfer of $2,000 or more.
Stash: Best for Investment Guidance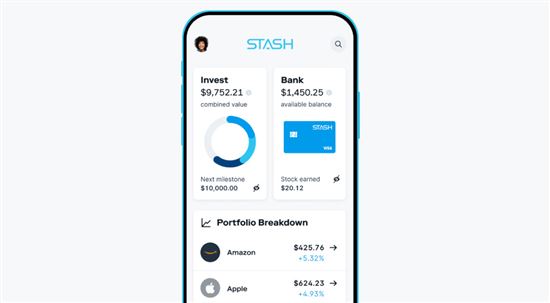 COURTESY OF STASH
Stash is a micro-investing app geared toward beginners to the world of investing. While they aren't a robo-advisor, they do offer a lot of guidance to those who are still finding their feet when it comes to choosing what to invest in.
They offer more than 400 stocks and ETFs, which they've organized by risk to help you pick the investments that suit your goals and personality, whether you're a conservative or ambitious trader.
They offer traditional and Roth IRA accounts for those interested in saving for retirement as well.
Their accounts come with monthly fees. If you're only investing small amounts, be careful not to let the fees eat up all your earnings.
Pros and Cons of Stash

Beginner-friendly guidance
Automatically invest extra funds

Fees high for small balances
High ETF expense ratio
Limited research
Key Features:

Guidance for beginners

400+ stocks and ETFs

Invest in themes

Risk assessment

Retirement accounts

Fractional shares

Sign up, add at least $5 to your account and get a $5 bonus.
Invest with fractional shares
Get portfolio recommendations
More Robinhood Alternatives to Try Out
TD Ameritrade
A familiar name among online brokerages, TD Ameritrade is now also offering commission-free trading on stocks, ETFs, and options. If you're looking for an extensive range of analytical tools, this platform may be for you.
They offer heat maps and earnings calendars, as well as the ability to do backtesting, a research technique involving testing investment strategies against historical market data. Best of all, there are no account minimums required to access the top-tier features.
Fidelity
Fidelity is another well-known broker that has something to offer for beginners and experts alike. With in-depth research tools as well as articles and videos to get you started, every trader will find something that works for them.
Traders can invest in stocks, mutual funds, ETFs, bonds, and CDs, and open IRA accounts, 529 college savings accounts, or cash management accounts. Normal trades are commission-free.
E*Trade
E*Trade is a popular online brokerage that caters to low-frequency traders and beginners, offering helpful guidance and even access to investing professionals for advice. They offer a wide range of investments like stocks, bonds, ETFs, and mutual funds.
Traders can also open checking accounts and IRAs, or apply for a mortgage through E*Trade. Keep in mind, there is a $500 minimum required to open an account.
Binance
For those looking to trade a wide range of cryptocurrencies at low fees, Binance has a lot to offer. Consistently one of the biggest cryptocurrency exchanges by volume, Binance is available all over the world, with Binance.US for residents of the United States.
They offer over 100 currencies in the U.S., and more than 600 worldwide.
Kraken
Kraken is a cryptocurrency exchange that offers good rates on an extensive number of trading pairs. They use an advanced market interface that may not be ideal for beginners to the crypto space.
The difficulty to fund an account may have some investors looking for other avenues, but those who use Kraken will find competitive pricing compared to many other popular exchanges.
Find more investing platforms to choose from in our roundup of the
best investment apps
, including top picks for day trading, mutual and index funds, and gifting stocks.
Bottom Line
If you think that Robinhood isn't the place you want to be trading, don't worry. There are plenty of platforms offering comparable services for retail investors.
It doesn't matter if you want to buy stocks and bonds, crypto or ETFs, invest in a mutual fund, or save for retirement with an IRA.
Whether you want an easy app or desktop access, helpful guides or friendly advice, analytical tools or just to take your hands off the wheel and let someone else decide, there's an investment platform that's right for you.
And in most cases, sign-up takes just a couple of minutes. Why wait?

References
Jeremy Harshman is a creative assistant at CreditDonkey, a personal finance comparison and reviews website. Write to Jeremy Harshman at jeremy.harshman@creditdonkey.com. Follow us on Twitter and Facebook for our latest posts.
Note: This website is made possible through financial relationships with some of the products and services mentioned on this site. We may receive compensation if you shop through links in our content. You do not have to use our links, but you help support CreditDonkey if you do.
Paid non-client endorsement. See Apple App Store and Google Play reviews. View important disclosures. Investment advisory services offered by Stash Investments LLC, an SEC-registered investment adviser. This material has been distributed for informational and educational purposes only, and is not intended as investment, legal, accounting, or tax advice. Investing involves risk.
Compare: