Best Cryptocurrency Exchange
Ad Disclosure: This article contains references to products from our partners. We may receive compensation if you apply or shop through links in our content. You help support CreditDonkey by using our links.
(read more)
Want to invest in crypto? The right platform can help you start trading. Here are the best exchanges to safely buy bitcoin and other cryptos.
The world of cryptocurrency is constantly changing.
This can be an exciting—but risky—investment. Choosing a cryptocurrency exchange is the first challenge you'll have to overcome.
What's the best way to get into crypto? And which exchanges are actually worth the fees?
Check out the top 10 trustworthy crypto exchanges to start investing safely and securely. Plus, compare the coins supported on each platform.
Top-Rated Crypto Exchanges for 2022
Coinbase: Most Popular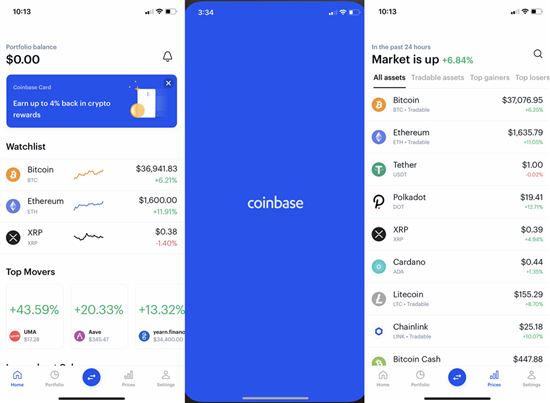 Screenshot of Coinbase
Coinbase is one of the largest crypto exchanges with over 98 million users. It offers a beginner-friendly interface that allows users to buy and sell crypto, track the market, and manage their portfolios.
But Coinbase's ease-of-use comes at a price. Their trading fees are higher than many other exchanges. Review the fees below to decide if the cost is a fair trade-off for you.
Fees[1]

Spread: 0.50%

Transactions: $0.99 - $2.99 (for $200 or less)

Minimum Deposit: $2

Payment with U.S. bank account: 1.49%

Purchase with Coinbase USD Wallet: 1.49%

Purchase with debit cards: 3.99%

Conversions: up to 2%
Supported Coins
Coinbase supports over 150 different types of cryptocurrencies.[2] The minimum trading amount is $2.[3]
Why choose Coinbase?
The simple user interface won't overwhelm newbies. It also has a learning program that lets you earn pieces of cryptos as you complete mini-lessons. You can earn up to $167 worth of crypto.
Coinbase Pros & Cons
Beginner-friendly
Wide range of coins
Widely available
High-level security

High fees
No private keys
No phone support
eToro: Social Trading / Copy Top Investors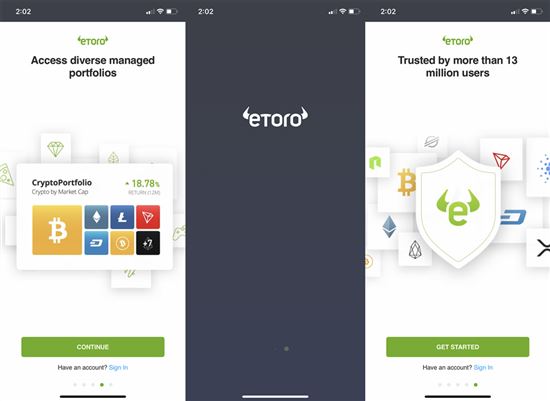 Screenshot of Etoro
eToro is popular exchange best known for their focus on "social trading." On eToro's platform, you can view other users' portfolios, collaborate, and discuss strategy.
Their standout feature is the CopyTrader tool, which allows you to copy the actions of top-performing traders. If you like their performance metrics, you can choose to automatically copy their exact trades.
Fees

Trade fee: 1% fee for buying or selling crypto[4]

Transactions: None

Minimum Deposit: $10 ($200 to start copy trading)

Purchases: None

Conversions: 0.10%
Supported Coins
eToro supports roughly 24 of the most popular coins.[5]

Why choose eToro?
Like Coinbase, eToro is great for beginners and is fairly user-friendly. But eToro stands out for offering more opportunities to learn about trading strategy with their CopyTrading feature.
You can also get a $100,000 fake portfolio to practice your strategy before committing real money.
eToro Pros & Cons
Copy actions of top traders
Virtual practice account
BlockFi: Earn Bonus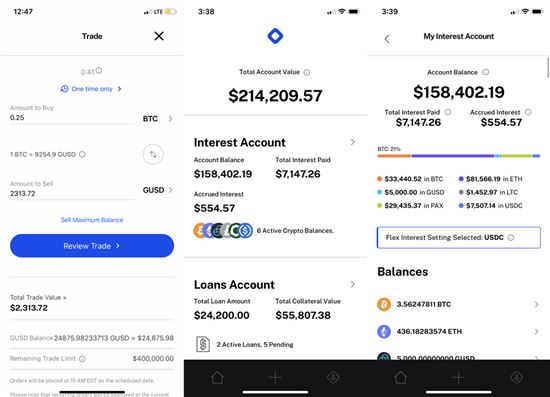 Screenshot of Blockfi
BlockFi is not just a cryptocurrency exchange, they also offer crypto interest accounts, crypto-backed loans, and a Rewards Visa card.
Fees[6]

Spread: 0.7% - 1.5%

Transactions: None

Minimum Deposit: $0

Purchase with debit card: None

Purchase with bank account: None

Conversions: None

Withdrawals: Vary by coin (0.00075 BTC, 0.015 ETH, 0.001 LTC)
Supported Coins
BlockFi currently supports BTC, ETH, LTC, USDC, USDT, GUSD, BUSD, PAX, PAXG, BAT, DAI, and UNI.
Why choose BlockFi?
BlockFi earns major points for having reasonable fees and an impressive variety of offerings, like interest accounts and Visa cards. If you're looking for a platform that emphasizes the "currency" aspect of cryptocurrency, BlockFi is a solid choice.
BlockFi Pros & Cons
Withdrawal restrictions
Slow withdrawal times (up to 7 days)
Limited coins available
U.S. customers can't access interest-earning account
Gemini: All-in-One Exchange and Wallet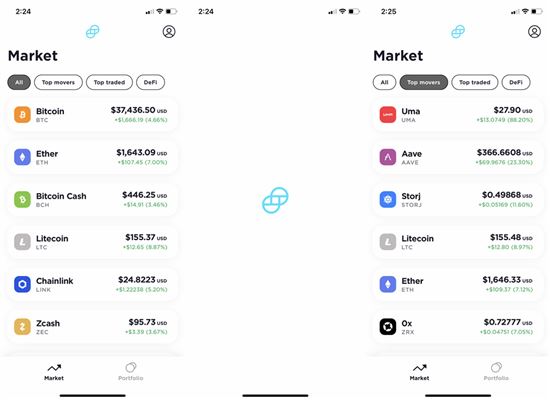 Screenshot of Gemini
Gemini's #1 priority is security. Self-described as the "safest crypto exchange", they offer an all-in-one platform to buy and sell, manage your portfolio, store, and pay with your digital coins.
Gemini offers a basic platform for beginners, as well as an ActiveTrader platform for advanced investors.
Besides buying and selling crypto on the exchange, you can also negotiate trades off the exchange with other Gemini accounts. Gemini helps broker the exchange to mitigate risk.
Fees[7]

Spread: 0.50%

Transactions: $0.99 - 1.49%

Minimum Deposit: $0

Purchase by debit card: 3.49%[8]

Conversions: ($0.99 - 1.49%)

Withdrawals: Cryptocurrency withdrawals are free for up to 10 coins / month; further withdrawals vary by currency[9]
Supported Coins
Gemini supports over 120 cryptocurrencies and stablecoins, including the most popular coins.[10]
Why choose Gemini?
If security is your #1 concern, there are few (if any) choices better than Gemini. You'll pay slightly higher fees but, for some, that may be worth it. U.S. traders can also take advantage of more of Gemini's features than international traders.
Gemini Pros & Cons
Beginner-friendly
Security-focused
Competitive fees

Moderate selection of coins
No margin trading
Eager to spend your coins? Gemini allows you to pay with your crypto at more than 30,000 popular retailers across the U.S. via their mobile app.
Robinhood: Stock and Crypto Investing App with No Trading Fees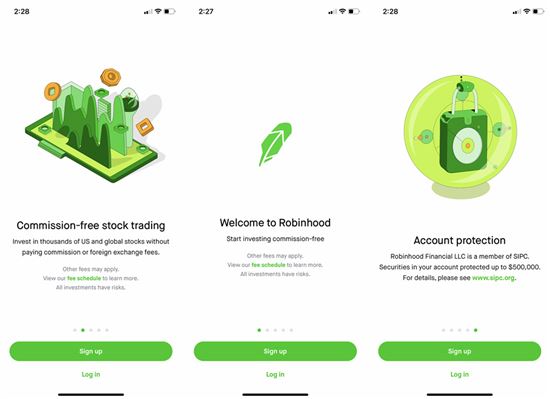 Screenshot of Robinhood
Robinhood, the popular micro-investment app, also allows you to trade crypto with no trading fees. This is a big pro since crypto exchanges usually charge a fee.
One important downside: Currently, Robinhood does not support coin withdrawals. You can buy and sell your coins, but you don't actually get access to your wallet. According to Robinhood, this feature is in the works.
Fees[11]

Spread: Undisclosed

Transactions: None

Minimum Deposit: $0

Purchases: None

Conversions: None

Withdrawals: Not supported for crypto
Supported Coins
There are 11 cryptocurrencies available for trading on Robinhood: Bitcoin, Bitcoin Cash, Bitcoin SV, Dogecoin, Ethereum, Ethereum Classic, Litecoin, Compound, Polygon, Solana,and Shiba Inu.
Why choose Robinhood?
If you already have an account with Robinhood and are still unsure about crypto, this may be a decent option. It's simple app makes it good for beginners.
Robinhood Pros & Cons
Commission-free
Trade stocks, ETFs, and options

U.S. only
Small selection of coins
Can't withdraw crypto
Webull: No Trading Fees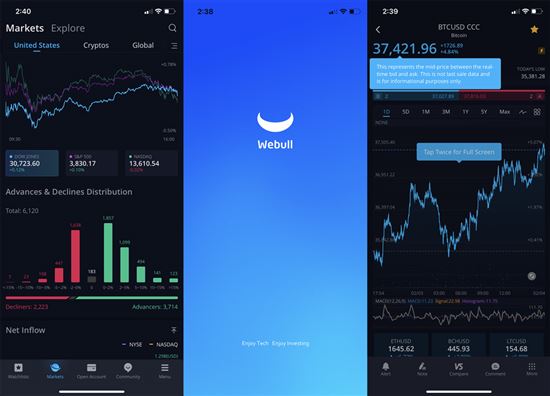 Screenshot of Webull
Webull is another brokerage that added cryptocurrencies later (as of November 2020).
On Webull, you can trade stocks, ETFs, options, and crypto with no trading fees. You can buy and sell crypto starting from $1.
Your trades are instantly settled, and you can trade 24/7. Just like Robinhood, you're not able to withdraw coins.
Fees[12]

Spread: Undisclosed

Transactions: None

Minimum Deposit: $0

Purchases: None

Conversions: None

Withdrawals: Not supported for crypto
Supported Coins
Webull supports over 41 different cryptocurrencies including Bitcoin, Bitcoin Cash, Ethereum, and Litecoin.[13]
Why choose Webull?
Similar to Robinhood, it's best to choose this option if you already have a Webull account and just want to try crypto out.
Webull Pros & Cons
No trade fees
Advanced research tools
Extended trading hours
Offers fractional shares
Kraken: Strong Security / Leveraged Crypto Trading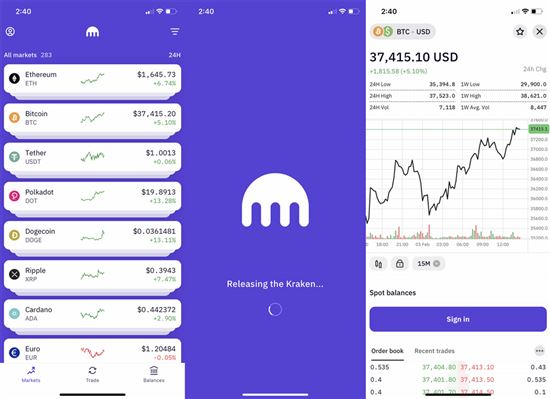 Screenshot of Kraken
The Kraken is a cryptocurrency exchange with a reputation for reasonable fees and high security. It's also intuitive enough to get started trading pretty quickly.
But where Kraken really shines is the leveraged trading options for advanced traders. They offer up to 5x margin trading and futures investing up to 50x leverage. [14]You can even short cryptos. Just beware that these are riskier strategies, but have higher reward potential.
Fees[15]

Transactions: 0.00% - 0.26%

Minimum Deposit: $10

Purchase by debit card: 3.75% + €0.25

Purchase by bank account: 0.5% + $0.10

Conversions: 1.5% or 0.9% for stablecoins

Withdrawals: Varies by coin
Supported Coins
Kraken supports over 160 different cryptocurrencies.[16]
Why choose Kraken?
Kraken is probably best for investors who aren't completely new to crypto. There may be too much of a learning curve for true newbies. If you're ready to dive deep into crypto and want a good selection of coins, Kraken's a good choice.
Kraken Pros & Cons
Competitive fees
Advance market trading
Many trading pairs

Not as beginner-friendly
Difficult to fund account
Binance: Most Number of Coins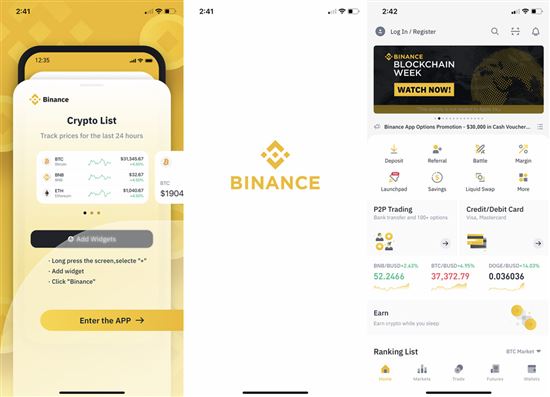 Screenshot of Binance
Binance.US supports over 100 different cryptos. It's especially good if you want to trade altcoins and cryptocurrency pairs.
It offers basic and advanced platforms based on your experience. But newbies may find that even the basic platform is not as beginner-friendly.
Fees[17]

Spread: 0.01 - 0.92%, depending on the coin

Transactions: 0.10% - 0.50%

Minimum Deposit: $0 ($10 Trade Minimum)

Purchase by debit card: 3.5% or $10 - 4.5%

Conversions: Free for USDC to BUSD

Withdrawals: Vary by coin
Supported Coins
Binance.US (the American arm of Binance) has fewer coins than regular Binance, but they still offer over 100 coins to choose from.
Why choose Binance?
Binance fees are much lower than some other crypto exchanges, making it a good option for those trading often. However, it's best to look at other options if you're very new to crypto as this platform is geared towards traders with more experience.
Binance Pros & Cons
Wide range of coins
Lower fees
Secure Asset Fund for users

Not as beginner-friendly
Not available in all states
Slow customer service
iTrustCapital: Invest in Cryptos in an IRA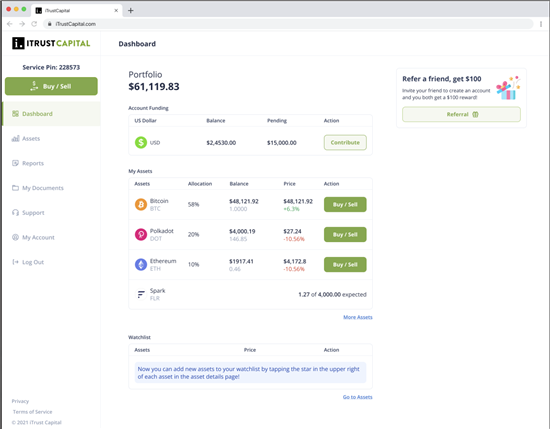 Screenshot of iTrustCapital
iTrustCapital lets you trade and invest in cryptos for your retirement in an IRA account. This lets your gains grow tax-deferred or tax-free (depending on which type of IRA you choose).
The minimum opening deposit is $1,000.
Fees[19]

Spread: None

Transactions: 1% per trade

Minimum Deposit: $1,000

Purchases: None

Conversions: None

Withdrawals: Standard IRA withdrawal fees apply
Supported Coins
iTrustCapital offers just over 20 of the most popular cryptocurrencies.[20]
Why choose iTrustCapital?
If you are considering adding cryptocurrency to your retirement portfolio, iTrustCapital is a good place to do it, compared with similar self-directed IRA providers. Just be aware of the risks involved in doing this. iTrustCapital is also best for those interested in investing in popular coins long-term.
iTrustCapital Pros & Cons
Tax-free or tax-deferred trading
Low trading fees
Can also trade precious metals

Limited coins
Limited research tools
Coinmama: Many Payment Options
Coinmama is aimed toward beginner crypto investors. The buying process is made simple. And there's a support team to help at any time.
The biggest pro about Coinmama is the many payment options. You can buy coins with bank transfer, credit card, debit card, or Apple pay.
However, the fees are expensive. Review the fees below to see if it's worth it for you.
Fees[21]

Spread: 2%

Transactions: 2.93% - 3.90%

Minimum Deposit: $100 to Buy or Sell

Purchase by debit card: 5% added express fee

Purchase by bank account: Free
Supported Coins
Coinmama only supports over 10 cryptocurrencies:[22] Bitcoin, Ethereum, Litecoin, Bitcoin Cash, Cardano, Ethereum Classic, Tezos, and Eos.
Why choose Coinmama?
Coinmama is easy to use, easy to sign up for, and widely available internationally. They are a non-custodial exchange, meaning you don't have to worry about them running off with your money.
However, their fees are high and their features are few. Weigh your priorities to decide if Coinmama is right for you.
Coinmama Pros & Cons
Beginner-friendly
Non-custodial exchange
Many buying options

High fees
Limited range of coins
No research tools
What is a cryptocurrency exchange?
A cryptocurrency exchange is a digital platform where people buy, sell and trade cryptocurrencies.
Crypto exchanges are like online brokerages: both let you fund your account with fiat currency and use it to buy assets. You can also trade one cryptocurrency for another.
Exchanges make money by charging you fees when you make a deposit or withdrawal. Many also charge commissions on your trades, but some are known for being commission-free.
You can usually "store" your crypto with the exchange, which gives the exchange full custody of your assets. This comes with some security concerns and makes the withdrawal process longer. For that reason, many people transfer their crypto off the exchange and onto a wallet.
How Do Cryptocurrency Exchanges Work
A cryptocurrency exchange is a platform where users can buy, sell, and trade cryptocurrencies. Users can deposit fiat currencies (USD, EUR, CNY, etc.) from their banks, and use them to buy crypto.
They can also trade cryptocurrencies between one another, like from Bitcoin to Ethereum. Users can sell their cryptocurrencies and be paid in fiat, or withdraw them into crypto wallets.
Exchanges typically earn money by taking the difference between the bid and the asking price, a cost which is not normally visible to the user, and from fees, which vary widely from one exchange to another.
Types of Cryptocurrency Exchanges
Not all cryptocurrency exchanges work the same way. Here are the different types.
Centralized exchanges
Centralized exchanges are regulated by a middleman that conducts the transactions. The exchange holds your coins and keep them safe (just like how a bank holds your money). These sites will require identity verification.

This is the most common way to trade cryptos. These exchanges have high activity and liquidity.

Examples of centralized exchanges include Coinbase, Gemini, and Kraken.

Decentralized exchange
These exchanges are not regulated by any official authority, thus often called a "trustless environment." Users get full control of their coins. Users can directly trade coins with each other without a middleman. They focus more on anonymity.

We don't have any of these exchanges on our list, as they're better suited for more experienced traders.

Brokerages
You can now even trade crypto coins with some online stock brokerages (like Robinhood and Webull). This is a great option if you want to have your stock trading and crypto trading under one broker.

But the downside is that they're not digital wallets and you usually cannot withdraw coins to use.
What to Look for in a Crypto Exchange
Cryptocurrencies Supported
Transaction Fee
67 (24 in the US)
1% fee for buying or selling crypto. 0% commission for buying or selling stocks and ETFs.
Bitcoin, Ethereum, Litecoin, Chainlink, PAX Gold, USDC, Binance USD, PAX, GUSD, BAT, DAI, UNI
No
120+
$0.99 - 1.49%
ETC, ETH, BSV, BCH, BTC, DOGE, LTC, COMP, MATIC, SOL, SHIB
No
Bitcoin, Bitcoin Cash, Ethereum, Litecoin, Dogecoin, Zcash, Stellar Lumens, Ethereum Classic, Cardano, Dash
No
120+
0.10% spot trading fee or 0.50% instant buy/sell fee
Cardano, Basic Attention, Enjin, Algorand, Cosmos, Tezos, Curve DAO, Solana, Aave, Polygon, yearn.finance, Sushi, Compound, Uniswap, Stellar, EOS, Bitcoin Cash, Dogecoin, Litecoin, Polkadot, Chainlink, Ethereum, Bitcoin, Avalanche, Maker, Shiba Inu, Decentraland, Axie Infinity

Cryptocurrency: 1% per trade
Gold: $50 over spot (market price)
Silver: $2.50 over spot

10+
2.93% - 3.90%
Security
Make sure the site has strong security features to keep your money and information safe. See how your coins are stored. Cold storage means your coins are stored offline, which prevents hackers from being able to get to them.
Types of coins
Do you already know what coins you want to trade/invest in? Make sure the platform you choose supports that currency. Popular crypto like Bitcoin, Ethereum, and Litecoin are available on just about all sites. But the smaller coins won't be available everywhere.
Fees
Most crypto exchanges charge a fee per trade. If you plan to actively trade, you may want to pick a site with lower fees. If you're just buying and holding, it won't matter as much.
Ability to withdraw
This is important if you want to be able to withdraw your coins and actually use them. If so, look for an exchange combined with crypto wallet. If you're investing through a broker (like Robinhood or Webull), you won't be able to withdraw into a coin wallet.
Ease of use
Beginners will want to look for a platform with a simple user interface. More experienced investors will want a more advanced platform and extra features.
How to Invest in Bitcoin
Investing in Bitcoin for the first time may seem daunting, but the process is actually very simple.
The first step is to choose a cryptocurrency exchange. Beginners may want to go with an easy to use option like Coinbase, even if it's a little more expensive. Gemini and eToro are also good options for new investors.
Once you've signed up and verified your identity, a process that varies slightly between exchanges, you'll be able to fund your account with fiat currency. Then all that's left is to buy Bitcoin, which can usually be done via a simple 'buy' or 'order' button.
The Bitcoin will be transferred to your account, and you'll be a successful Bitcoin investor.
How to Deposit USD to Buy Bitcoin
When it comes to funding your account for Bitcoin purchases, you have a number of options. Not all of them are available on every exchange, and the fees they charge may vary.
ACH Transfer: Before you can transfer funds, you'll need to verify your bank account, which can be done through exchange apps or desktop websites. Once your account is connected, you can deposit USD to purchase Bitcoin. It may take 3-5 business days for your funds to become available.
Wire Transfer: The process for wire transfers is nearly the same as ACH transfers. You connect a bank account to your exchange, then select wire transfer to initiate a deposit. Funds wired before 1:00pm PT will be available the same day; funds wired afterwards will become available the next business day.
Debit or Credit Card: Some exchanges will allow you to deposit via debit or credit card. Those that do will request your card and personal information to initiate a deposit. It's worth noting that some banks may charge additional fees for credit card deposits.
Cryptocurrency Exchanges vs Cryptocurrency Wallets
If you've been learning about investing in crypto, chances are you've come across the terms 'cryptocurrency exchange' and 'cryptocurrency wallet,' and you may have wondered how they differ.
Exchanges are platforms to buy, sell, and trade cryptocurrency. They may offer a storage service to users who trade on them, but storage isn't their main function.
Wallets, on the other hand, typically offer storage only. Their whole purpose is to keep your crypto safe. And since there is no such thing as a crypto bank account, your only real choices are putting it in a wallet or leaving it on the exchange.

While some exchanges are insured, unless you're using an interest account or staking, best practices dictate that users keep their crypto in a wallet they personally control, because exchanges are very appealing targets for hackers and thieves.
There are two main kinds of wallets: 'hot,' or digital wallets, and 'cold,' physical wallets.
Hot wallets are widely available online, and are connected to the internet. They generally accept more cryptocurrencies, but are less secure.
Cold wallets, which typically resemble USBs, are not connected to the internet, are more secure, but typically support fewer currencies.
Cryptocurrency Survey: What Americans Want
Americans are more likely to own crypto than stocks, according to a May 2021 survey of over 1,000 Americans by CreditDonkey. 72.5% of respondents reported owning some form of cryptocurrency, but only 63.89% owned stocks.
Stocks were the most popular traditional investment by a fair margin. 42.87% of people reported owning bonds, while 40% had investments in real estate.
Easy, Safe, and on the Exchange
There's even more good news for cryptocurrency exchanges. Despite the common wisdom in the crypto sphere of personally holding your coins, respondents said they'd prefer to keep them on the exchange more than anywhere else:
32.96% of respondents wanted to keep their crypto on the exchange

22.69% of respondents had no preference

17.59% of respondents wanted to keep it in a traditional bank

17.59% of respondents wanted to keep it in a digital wallet

9.17% of respondents wanted to keep it in a hardware wallet
There's an opportunity for banks as well as exchanges. People are used to trusting banks with their money. If banks gave them the same convenience and security for their crypto as they did with their cash, more than a few would be interested in keeping their coins there.
The news may be less good for makers of popular hardware wallets like Ledger and Trezor. Fewer than 1 in 10 respondents favored using hardware wallets.
The message seems clear. Americans are interested in crypto, but without the hassle or the stress of transferring it to a cold wallet, managing private keys, and potentially losing it all forever.
Americans Anticipate Financial Revolution
The majority of Americans (73.24%) believed that crypto would replace the U.S. dollar, and 20.93% expected it to happen in the next 10 years.
A further 23.43% believed it would happen in the relatively near term, between 10 - 50 years from now, while 28.89% expected it to happen in the distant future, more than 50 years out.
And it's not just crypto itself that Americans are in favor of. Nearly half (46.57%) supported the idea of decentralized finance (DeFi), while only 5.37% strongly opposed it.
The widespread adoption of blockchain technology could have big implications for banks, brokerages, exchanges, and other central financial intermediaries, who may find themselves increasingly left out of the equation.
That isn't to say that people are interested in going back to the Wild West. The majority of respondents (52.59%) were interested in stronger cryptocurrency regulation, while fewer than 1 in 5 (17.31%) opposed it.
Overall, the results indicate that Americans are very interested in crypto and the freedoms and opportunities it represents, as long as it's tempered with the safety that government oversight can provide.
CreditDonkey conducted the online survey of 1,080 Americans, age 18 and over, on May 24, 2021.
What Experts Say
CreditDonkey asked industry experts to answer readers' most pressing questions on the future of cryptocurrency.
Here's what they said:
Bottom Line
Investing in cryptocurrency may be all the rage right now, but make sure it's the right investment for you. Cryptos tend to be extremely volatile, so understand the risks.
To have a happy investment experience, pick the right platform for your needs. Don't only consider the fee. Pick a platform with features you want and an interface you're comfortable with.
References
Jeremy Harshman is a creative assistant at CreditDonkey, a crypto comparison and reviews website. Write to Jeremy Harshman at jeremy.harshman@creditdonkey.com. Follow us on Twitter and Facebook for our latest posts.
Note: This website is made possible through financial relationships with some of the products and services mentioned on this site. We may receive compensation if you shop through links in our content. You do not have to use our links, but you help support CreditDonkey if you do.
eToro USA LLC; Virtual currencies are highly volatile. Your capital is at risk.
Uphold Disclaimer: Assets available on Uphold are different per region. All investments and trading are risky and may result in the loss of capital. Cryptoassets are largely unregulated and are therefore not subject to protection
Read Next: