Best Investment Tracking Software
Ad Disclosure: This article contains references to products from our partners. We may receive compensation if you apply or shop through links in our content. You help support CreditDonkey by using our links.
(read more)
Explore the top picks for investment tracking software and apps to help you stay in control of your portfolio. See which suits you most.

© CreditDonkey
Keeping an eye on investments used to be hard work.
But now, there's no need to struggle with spreadsheets like Excel. Many easy-to-use tools and apps can track investments for you.
These helpful tools gather info from all your accounts. They show details about stocks, ETFs, funds, options, digital currencies, and more. This gives a clear picture of all investments in one spot, updated as things change.
Here are the best investment tracking software for every kind of investor
:
Empower: Best Overall
Empower is perhaps the best all-in-one free money management tool. You link up all your financial accounts to see an overall view of your finances.
It really shines in investment tracking. The app will analyze your strategy and provide personalized recommendations. It gives you suggestions on how you can adjust your portfolio to reduce risk and reach your goals.
Top features include:

Compares your overall portfolio to market indexes

Finds hidden fees and how they'll impact you in the long run

Tells you the expense ratio within each fund

Suggests a target allocation and how to rebalance your portfolio

Finds extra cash that could be invested

Provides retirement planning projections
Empower offers a full suite of other personal finance tools. You can track your net worth, income and expenses, and debts. It also helps you plan for retirement and higher education.
Empower also offers a wealth management service for those with $100,000 to invest. You don't need to use this service to use the free personal finance tools.
[1]
Morningstar Portfolio Manager: Best for Serious Investors
Morningstar is the most recognized name in investment research. It offers a Portfolio Manager to help track your investments. You can get this with a free membership (though paid Premium members can access more features).
This tool provides an insane level of detail, but it has a learning curve. Serious investors will be able to appreciate it, especially when combined with other Morningstar research tools.
Free features include:
Create watch lists and transaction portfolios

Import or manually input your holdings

Detailed information about your stocks and funds, and their Morningstar ratings

See the weighted average expense ratio of your funds

Instant X-Ray evaluates your asset allocation and sector weightings

Compare your portfolio to market indexes
Premium Morningstar members get more advanced features like screeners and analyst reports. They also receive a monthly Portfolio Manager Report. This gives you an in-depth look into your portfolio, including top gainers and losers, stock statistics, projections, and more.
In addition, Windows users can also use Morningstar's X-Ray tool. This evaluates your portfolio's holdings and recommends a target allocation.
SigFig: Best for Casual Investors
SigFig is mostly known as a robo-advisor. But it also offers a free Portfolio Tracker that anyone can use, even if you don't use the robo service.
You can add all your investment accounts from over 80 brokerages. Then you can see an overall picture of your investments in one dashboard.
SigFig analyzes your portfolio and provides personalized guidance on how you can improve. Features include:

Weekly email report of your portfolio's performance

Compares to market indexes and your peers

Real-time market quotes

Analyzes your investment strategy against your risk tolerance

Finds hidden fees and expensive funds

Analyzes how diversified your portfolio is

Finds extra cash that could be invested
The platform is simple and user-friendly. It's good enough for casual investors to keep an eye on things and get some advice. But it may not be enough for more serious investors.
SigFig's robo-advisor service is a good choice for small balances. You get the first $10,000 managed for free. After that, the annual fee is 0.25%.
[2]
Quicken: Best Comprehensive Software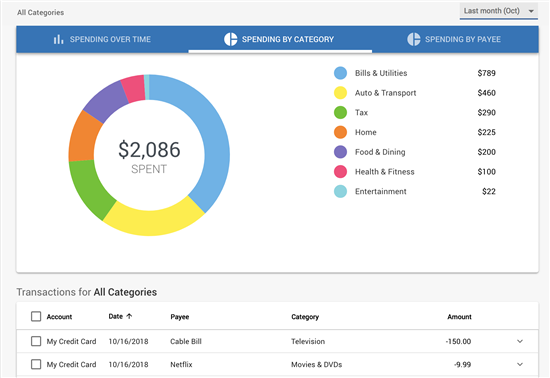 Credit: Quicken
Quicken is still one of the best personal finance software. It offers comprehensive tools, including budgeting, bill pay, investment tracker, retirement planner, and property and business accounting tools.
Quicken only offers investment tracking in the Premier and Home & Business plans. This starts at $83.88 per year.[3] This isn't cheap, but if you have a more complicated financial life, then it's a good deal to get everything in one place.
Features include:

See all your investment fees and your true market returns

Set up stock watchlists

Run IRR and ROI reports

Compare your portfolio to market benchmarks

See realized and unrealized gains for tax planning

Use "what if" scenarios to see tax implications of selling

See market comparisons to help with buy/sell decisions
Mint: Best Investment Tracking with Budgeting
Mint is best known as a free budgeting app. It's good for users who are mainly looking for day-to-day money management.
Investment tracking is not Mint's main purpose, so it's more basic. Unlike Empower, Mint does not offer any advice on how to improve your investment strategy.
Features include:

See your current overall market value

Compare to market benchmarks

See your best and worst performers

See your allocation breakdown
If you're mostly looking for budgeting and keeping track of your finances, then Mint does the job well. Other features include goal setting, debt payoff planning, bill reminders, and free credit score.
Sharesight: Best for Financial Professionals
Sharesight is an investment tracker combined with reporting tools. It's designed to allow sharing with financial professionals. It's a good option if you have a tax accountant (or if you are one).
To create your investment portfolio, you can either manually input your trades or import your Excel file. You don't link your brokerage accounts.
Features include:

Daily price and currency updates

Automatically track dividends and stock splits

Run a variety of reports (diversity, asset allocation, and contribution analysis)

Easily share your portfolio with your tax accountant

Grant staff different levels of access

Comprehensive tax reporting
Sharesight allows you to track up to 10 holdings for free. Additional holdings will require a subscription starting at $132/year.[4]
Stock Rover: Best for Advanced Reporting
Stock Rover has a comprehensive suite of tools to compare investments. It's best for experienced investors, who want to dig into the data.
You can easily link your brokerage accounts and use their Portfolio Management tool to make charts and tables. Stock Rover has a database with more than 650 metrics, some with 10+ years of historical data.
Features include:

Extensive database of historical data

Pre-built stock screeners help you find and track stocks

Build your own custom stock screeners

Free account option

Rebalancing tool helps you maintain portfolio allocation

Companies are scored for growth and quality

Easy to link brokerage accounts
Stock Rover lets you track up to 60 portfolios, and you can sign up for free. Plans start at $7.99 monthly, with higher-tiered plans offering more data and reporting features.[5]
How to Choose the Right Tool for You
To pick the right investment tracking software for you, consider these features:
Sync or Manual Input
Some apps let you link your accounts and automatically sync the info. This is good if you want to combine all your accounts.
Other programs require that you manually input your trades. This could be good if you want to track specific investments. Or if you don't want all your data stored on the web/cloud.
Amount of Information
How much information do you really need? Do you need up-to-the-minute stock pricing changes? Active investors may need that feature, but that may be overload for buy-and-hold type of investors. Beginners may also find too much info to be overwhelming.
Other Features
Do you want an all-in-one financial management app? If so, apps like Empower and Mint can also track budgets, income, and expenses, loans, etc.
If you want to focus solely on tracking your investments, then a dedicated tool like Morningstar will give you more advanced investment tracking features.
Bottom Line
It's important for investors to keep track of their portfolio's performance. The best tracker for you depends on your needs. For more casual investors, a tracker that combines all your accounts would probably be enough. More serious investors may need more features, like custom watchlists and price alerts.
References
Write to Anna G at feedback@creditdonkey.com. Follow us on Twitter and Facebook for our latest posts.
Note: This website is made possible through financial relationships with some of the products and services mentioned on this site. We may receive compensation if you shop through links in our content. You do not have to use our links, but you help support CreditDonkey if you do.
Empower Personal Wealth, LLC ("EPW") compensates CREDITDONKEY INC for new leads. CREDITDONKEY INC is not an investment client of Personal Capital Advisors Corporation or Empower Advisory Group, LLC.