Top 10 Best Online Budgeting Tools
This article contains references to products from our partners. We may receive compensation if you apply or shop through links in our content. You help support CreditDonkey by reading our website and using our links.
(read more)
---
Looking for the best (and free) online budgeting tool? See how apps like Mint, YNAB, Personal Capital and more compare.
Having a solid budget is the first step to a healthy financial life. It can help you keep spending in check, save more, and reach your goals faster.
Luckily, you don't have to mess around with spreadsheets. There are many budgeting tools and apps to help you create a budget - and stick to it. And most of them are even free.
If you're ready to take control of your financial future, check out these budgeting apps.
Here are the 10 best online budget tools to help you manage your money
:
Why Use Budget Tools?
Budgeting tools help you stay on top of your finances and save money. Some features could include:
Track spending on your debit and credit cards

See how and where you are spending your money

Create savings goals and track progress

Alerts for low balance on bank accounts

Track investments
Budgeting tools can help you crush your money goals. Plus, many tools even help monitor your credit score as well.
Best Online Budgeting Tools and Apps

© CreditDonkey
Take a look at some of the best budgeting apps available for nailing down your personal finance situation.
1. Mint: Best Free Budgeting App
Mint is one of the most popular online budgeting tools. It was the first app to automatically sync your financial accounts all in one place for a well-rounded picture of your finances.
You start by linking all your bank accounts and credit cards to the app. Mint then tracks all your transactions and automatically categorizes them.
You can make your own budget and assign a monthly limit to each category. Mint will track your spending in real time. You can see how much you've spent in each category.
One common complaint is that some transactions may be put into wrong categories. You can change it if it's incorrect. Mint is smart and will learn how you place transactions into categories for the future.

Other features include:
Set goals and track your savings progress

Debt payoff planner

Bill reminders

Investment tracking

Free credit score and monitoring from TransUnion

Custom alerts on your accounts
Overall, Mint is an good budgeting app for day to day money management. It keeps track of your spending, but it doesn't teach you how to budget.
Cost: Completely free
2. YNAB: Best for Planning a Monthly Budget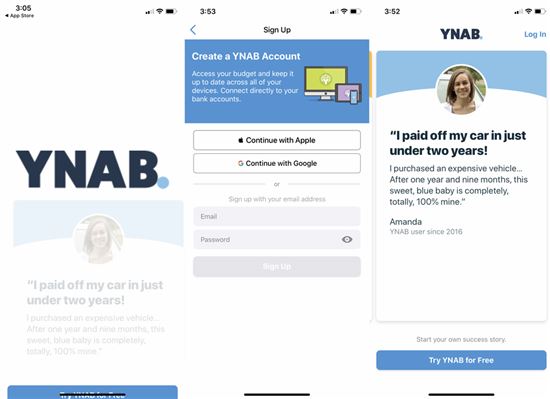 Screenshot of You Need A Budget
You Need a Budget (YNAB) focuses on the "forward looking" approach to budgeting. Unlike Mint, it doesn't just give you a report card of your expenses. It forces you to plan for your entire month's of expenses ahead of time.
It helps you gain control of your money with these four rules:
Give every dollar a job: Decide how to divide up your paycheck before you spend it. Create a budget for each category and stick to it.
Plan for big expenses: Create goals to fund large one-time expenses throughout the year. This way, when it comes, you already saved for it and it won't break the bank.
Adjust as needed: If you accidentally overspend, no biggie. Just move over some money from another category.
Live on old money: Eventually, you will live on money you already have, as opposed to budgeting based on future income. This is the ultimate goal.
YNAB members also get access to 100+ free, live online workshops every week. They range in topics from creating a debt payoff plan to how to save on groceries. You get to ask questions and interact with the expert teacher.
Cost:
$6.99 per month (after 34-day free trial). It's best for more committed budgeters looking to stop living from paycheck-to-paycheck.
3. Personal Capital: Best for Long Term Wealth Tracking
Personal Capital offers some of the best free money management tools. You link all your accounts to see your overall net worth, cash flow, investment portfolios, and more.
Though Personal Capital does offer budgeting, it's more basic. You can set an overall budget for the month and it'll track how much you've spent so far. Unlike Mint, you can't assign a budget to each spending category.
Personal Capital is better for long term financial planning. Their main focus is on investment tracking and retirement planning. It'll analyze your investment strategy and give personalized advice on how you can adjust to better reach your goals.
Other features include:
Tells you how much uninvested cash you have sitting around

Analyzes hidden fees within your investments

Advanced retirement calculator

Education planner
Cost: Free for financial tools.
Personal Capital also offers wealth management services starting at 0.89% of assets under management. The service combines
robo-investing
with professional human management. The minimum investment is $100k.
4. Clarity Money: Create Better Money Habits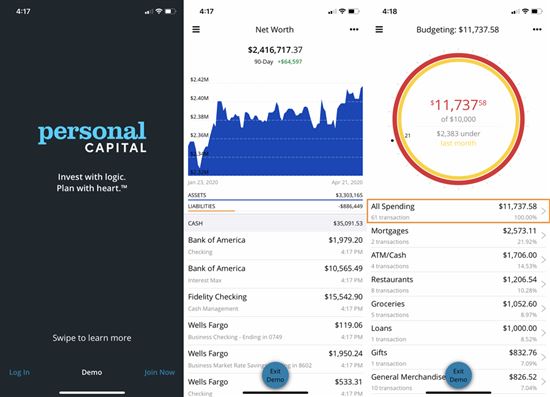 Screenshot of Personal Capital
Clarity Money is a completely free budget manager from Marcus by Goldman Sachs.
Do you know where your money goes each month? Clarity Money helps you understand your spending habits, so you can make smarter financial decisions.
It does that through these features:
See how much money you have left to spend each month

Track how much you spend at your favorite restaurants and retailers

Get notifications of budget updates

Identify subscriptions you may have forgotten about

Organize your monthly bills
You can link accounts from hundreds of financial institutions to automatically track your expenses. Clarity Money will calculate your average weekly spending to help you create a budget goal.
As a bonus, it also offers credit score monitoring with free monthly updates.
Cost: Completely free
5. EveryDollar: Dave Ramsey's 7 Baby Steps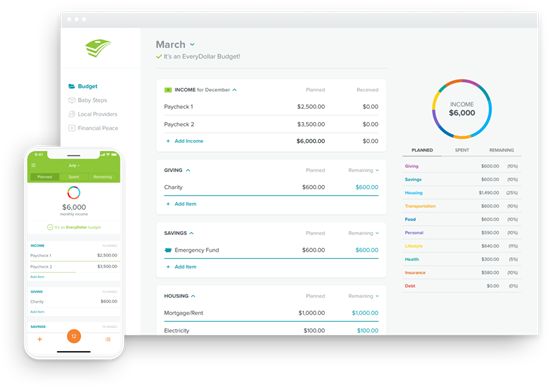 Credit: Everydollar
EveryDollar is the budgeting app created by celebrity money expert Dave Ramsey. It follows the guidelines of his signature "7 Baby Steps" to financial success.
This budgeting app is based on the zero-sum budgeting system. Similar to YNAB, you're required to assign every dollar a "job," whether that's for expenses, savings, or debt payoff.
What makes EveryDollar unique is that it incorporates the Baby Steps program. The app helps you figure out where you are in the steps. If you have leftover money, it guides you to apply it towards the next step.
Once one step is completed, you move on to the next. The steps are:
Save $1,000 for an emergency fund

Use the debt snowball method to pay off debt

Save up to six months of expenses in an emergency fund

Invest 15% of your income for retirement

Save for your child's college fund

Pay off your mortgage

Build wealth and give to charity
If you're not really sure where to start your financial journey, Ramsey's Baby Steps may just be the direction you need.
Cost:
EveryDollar is free, but the free version is more limited. You have to enter transactions manually.
There is also a paid version for $129.99/year that offers automatic account syncing. It also includes the Debt Snowball Tool and complimentary access to Financial Peace University, a 9-lesson class on how to build wealth.
The premium plan, EveryDollar Plus, offers a 14 day free trial.

6. PocketGuard: Know Your Leftover Pocket Money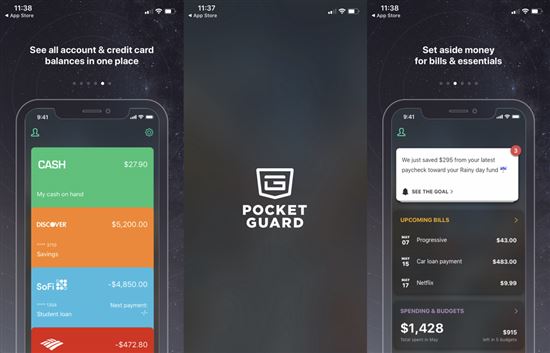 screenshot of pocketguard
PocketGuard helps you manage your budget better by telling you how much you actually have to spend. Link up all your accounts and it calculates how much disposable money you have left after your budgets, bills, and savings goals.
This way, you know how much you have left "in your pocket" and can avoid overspending.
Another cool feature is that it helps you save more by negotiating better rates on your cable, cell phone, and other bills
Cost:
The basic version is free. PocketGuard Plus costs $3.99 a month and allows you to create your own categories, set up multiple goals, and manually add cash spending/earnings.
7. Mvelopes: Envelopes Based Budgeting
Mvelopes is the modern, digital approach to the traditional envelopes style of budgeting. It also uses the "give every dollar a job" concept.
Once you have linked your bank and credit card accounts, here's how it works:
Add income: Mvelopes can either scan your accounts to determine your income, or you can manually input it.
Create your envelopes: Create spending categories and set aside cash in "envelopes". For example, you can have envelopes for bills, groceries, eating out, student loans, etc. You can get as specific as you want.
Track spending: Mvelopes will automatically assign transactions to each envelope. Once you have used all the money in that envelope for the month, your money for that category is spent.
The envelope budgeting system is a proven method that works. While Mvelopes isn't the most user-friendly app, it's a solid tool to help keep your spending in check.
Cost:
The basic plan costs $6 per month (free for the first 30 days). The more advanced plans offer other features such as debt payoff plan, access to the Learning Center, and even a personal finance trainer.
All plans have a free 60-day trial with a money-back guarantee.

8. Buxfer: Best for Forecasting Budgets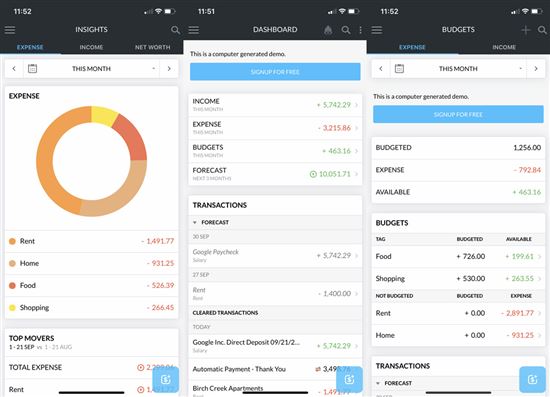 Screenshot of Buxfer
Buxfer's main focus is helping you plan by giving you previews into your future.
You can set weekly, monthly and yearly budget limits on spending categories. This helps you not only plan month-to-month, but to plan ahead as well.
One really cool feature is that it forecasts your future net worth and cash flow, based on your earnings and past spending. This is useful to help you plan near-future expenses.
Buxfer also alerts you for future situations ahead of time. For example, it can predict that your checking account will go negative next week after a bill payment. This allows you to transfer over funds to avoid overdrafts.
Other features include:
Bill reminders

Investment tracking

Retirement and education planning

Track shared expenses with other people

Track accounts in other currencies
Cost:
Free for the basic account, which only supports manual inputs. For automatic syncing, plans range from $1.99 - $9.99 per month.
9. MoneyStrands: Calendar Based Budgeting
MoneyStrands is a free easy-to-use budgeting app. Like other apps, you link your financial accounts to see everything in one place.
The app has several facets:
Budgeting: Create a custom budget and track your spending in each category.
Calendar: See your upcoming income and expenses in a calendar view. This is helpful for planning ahead for future expenses.
Savings Goals: Create savings goals and track your progress for each goal.
Community: Interact with other Moneystrands users and compare budgets and habits.
MoneyStrands even predicts your budget and forecasts any potential low spots of cash in the future. It can measure your cash flow for the future and predict how much money you can spend both now and in the coming months.
Cost: Completely free
10. BudgetSimple: Eliminate Debt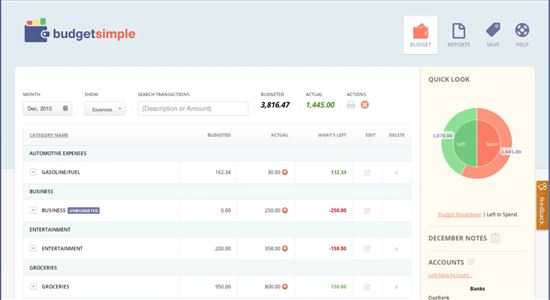 Screenshot of Budgetsimple
BudgetSimple is a more basic web-based budgeting software. Its main goal is to help you get you out of debt and build savings.
You link up your bank accounts and the app will analyze your finances. It'll help you create a budget plan that makes sense for you, so you can actually stick to it. It'll also give suggestions on where you can cut down spending or save more.
You can track your expenses, get bill reminders, and see your spending with charts and graphs.
Cost: Completely free
Other Budgeting Apps
Here are some other budgeting apps to check out:
GoodBudget
GoodBudget allows for multiple users, so it's good if you share a budget with a partner. The free basic version only allows one account. The premium version is $7 per month and allows for unlimited synced accounts.
MoneyDance
MoneyDance is one of the only budgeting programs that stores data on your computer instead of on the cloud. It offers advanced financial tracking, including bill pay through the platform. It costs $49.99 once for lifetime access.
CountAbout
CountAbout is a web-based software that allows you to import from Quicken or Mint. It's often thought of as a cloud-based alternative to Quicken, so it's better for using on-the-go. The basic plan is $9.99 per year.
MySpendingPlan
My Spending Plan is a comprehensive desktop budgeting software. It doesn't require you to input bank or credit card information. It uses the envelopes budgeting system. Price is 49€ a month.
What Makes a Great Budgeting App?
There are so many budget apps available online, both free and paid. To find the best option for you, think about what features you need. Consider:
Budgeting Creation:
What kind of budgeting does the app offer? Some apps only give you a report of your spending, while others force you to assign every dollar a job.
Auto sync or manual
Apps that allow you to link bank accounts will automatically sync transactions. Some other apps are manual entry only. This depends on what you prefer.
Goal Tracker
This feature is great for keeping track of your progress towards your goals. Some apps will help you set aside money every month towards your goals.
Debt Payoff
If you have debt, look for an app that helps you create a debt payoff plan.
Bill Management
If you have trouble keeping track of bills and payments, look for an app that sends bill reminders.
Alerts
Some apps will send alerts to your phone or email when your bank account balance reaches a certain level.
Credit Score Monitoring
Some apps come with credit score monitoring. This lets you keep an eye on your credit profile and any new/suspicious activities.
Simple Rule: 50/20/30 Budget

© CreditDonkey
So how do you start making a budget? The most simple rule-of-thumb is called the 50/20/30 rule. Here's how it works.
50% for needs: These are items that you absolutely have to have to survive, like rent, utilities, car costs, health insurance and basic food.
30% for wants: This is your fun spending, like shopping, eating out, movies, Netflix subscription, etc.
20% for savings: This is for paying off debt and savings for retirement and other life goals (like buying a house).
To start, first calculate your after-tax income. This is your take-home income after automatic deductions for health insurance and retirement contributions.
Once you have that number, then you will split it up according to the 50/30/20 percentages.
This budgeting method can work for some people, but may not work for others who need stricter guidelines. For example, if you have a lot of debt, then allocate more to paying it off first.
What the Experts Say
CreditDonkey asked a panel of industry experts to answer some of readers' most pressing questions:
What is the best strategy to make sure people put aside money in savings?

Why do people find it hard to stick to a budget?

Is it safe to use budgeting apps?
Here's what they had to say:
Bottom Line
If you're having trouble staying on top of your finances, a budgeting app can definitely help. It can help you cut down on cost, reduce debt, and reach your goals.
There are many both free and paid budgeting tools. If you really need help with your finances, it may make sense to commit to a paid app that forces you to stick to a budget and savings goals.
Note: This website is made possible through financial relationships with some of the products and services mentioned on this site. We may receive compensation if you shop through links in our content. You do not have to use our links, but you help support CreditDonkey if you do.
More from CreditDonkey: