Fundrise Review: Is It Legit?
This article contains references to products from our partners. We may receive compensation if you apply or shop through links in our content. You help support CreditDonkey by reading our website and using our links.
(read more)
---
Looking to make passive income? Fundrise lets you invest in real estate for as little as $500. But is there a catch? We answer all your questions in our review.
Starter Plan

Overall Score

4.3

---

Annual Fee

4.0

Minimum Deposit

5.0

Customer Service

3.0

Ease of Use

5.0
5-point scale (the higher, the better)
---
Pros and Cons
Just $500 to start
Quarterly dividends
Passive investing
Illiquid investment
Unknown future returns
---
Bottom Line
Passive real estate investing with no income requirement
Investing in commercial real estate can be a lucrative way to expand your portfolio and increase your earnings. Over the last 30 years, real estate has performed better on average than stocks.
Most people think they don't have the money necessary for investing in real estate. But Fundrise offers a way for the "average" person (aka "non-accredited investors") to get started with $500. Is it the right choice for you?
What is Fundrise?
Fundrise is a real estate crowdfunding company that allows you to pool funds with other investors.
The investment platform is open to U.S. residents who are 18 years or older. The minimum investment is $500.
Fundrise's main products are eREITs (electronic Real Estate Investment Trusts) and eFunds.
eREIT: Fundrise's eREITs use crowdfunding to acquire, manage, and sell properties. Since eREITs aren't publically traded like stocks and bonds, they are they are less liquid than traditional REITS.
eFunds: This electronic fund, offered exclusively through Fundrise, is a professionally managed, diversified portfolio of residential real estate assets.
Debt vs Equity Real Estate Investing
Real estate crowdfunding platforms offer two kinds of investment opportunities:
Debt investing means the investor becomes one of the lenders for a property owner. As the owner pays back the mortgage on that property, your investment is paid off with interest.
Equity investing means you own a piece—or stake—of the real estate property itself. You can earn a return on your invetsment through income (like rental fees) or through the property as it appreciates in value.
How does Fundrise Work?
The money you invest gives Fundrise the capital necessary to acquire, build, and manage properties. These include apartment complexes, office buildings, industrial properties, and shopping malls.
Fundrise earns returns in a variety of ways:
Buying undervalued real estate, and then renovating the property to raise the rents or property value
Collecting rental income on stabilized properties
Holding mortgages and collecting interest
Acquiring properties that have potential to appreciate in value
The profits are then distributed to the shareholders. For more details, check out the Fundrise website.
Making Money with Fundrise
© CreditDonkey
Investors are paid in 2 ways:
Quarterly dividends
This is the rental income generated from the properties. You'll typically receive dividend distributions a few weeks after the end of each quarter. You can choose to have this directly deposited into your bank account or automatically reinvested.
Appreciation in share value
You'll receive proceeds when a property is sold. Appreciation is only paid at the end of the investment - this can take a few years.
Is commercial real estate a good investment?
While commercial real estate investments comes with risks, the average return has outperformed the stock market over the last 30 years. Historically, this type of investing has been limited to people who have enough capital to buy and manage property. But crowdfunding through platforms like Fundrise has opened up commercial real estate to the everyday investor.

Returns and Performance
Here's a look at Fundrise's performance for the past 5 years:
The average annualized returns, or profits after the fees are subtracted, are calculated below:
2014
12.25%
2015
12.42%
2016
8.76%
2017
11.44%
2018
9.11%
Can you make money with Fundrise?
Average return for Fundrise investments in 2018 was 9.11%. This assumes you reinvest dividends back into Fundrise. As always, past performance doesn't guarantee future returns. It's important never to invest what you can't afford to lose.
How is Fundrise taxed?
Your earnings with Fundrise are taxed as ordinary income. Dividends and distributions are reported on a 1099-DIV tax form each year.

Fees
Fundrise charges an all-in 1% management fee as follows:
0.85% annual asset management fee (that goes towards operating costs of the projects)
0.15% annual investment advisory fee (can be waived in certain circumstances)
Some of Fundrise's potential costs are not as transparent. Read on to learn more.
With
Fundrise
, there is no middleman. You invest in eREITs directly through the platform. That means you save on broker fees.
Hidden Fees

Origination fee: A 0-2% acquisition fee when Fundrise buys a new asset.
Early redemption (or "exit") fee: 1-3% for redeeming shares within five years of investing. (No fee in the first 90 days.)
IRA fees: An annual asset fee of $125 to Millennium Trust Company
Specific eREITs may have additional fees, including asset management, acquisition, servicing and others. For a full picture of these charges, you would need to review the few hundred-page circular that comes with each investment.
How to Withdraw Money
Fundrise is a long-term investment platform - typically 5 years. Its eREITs are not publicly traded (unlike traditional REITS) so you can't sell your shares and withdraw the funds anytime you want.
But it does have a redemption plan to sell your shares 4 times a year (at the end of every quarter). Based on how long you've held your fund, you may incur up to a 3% penalty. But this option gives you some flexibility if you want to withdraw money.
How do I get money out of Fundrise? To redeem your shares, you must submit a redemption request through the website. Go to Settings then Account Settings. You can find the Redemption Request Form at the bottom of the page.

The penalty for redeeming shares under this program is as follows:
None for the first 90 days

3% if shares are owned for less than 3 year

2% if shares are owned 3 - 4 years

1% if shares are owned 4 -5 years

None for shares held for at least 5 years
Pros & Cons
PROS:
No income or accreditation requirements

Just $500 to start

Upgrade to a Core plan for free with $1,000 investment

90-day guarantee

Portfolio of projects across the U.S.

Quarterly dividend distributions

Completely passive investing

Available as self-directed IRA

CONS:
Illiquid investment (typically 5 years)

Unknown future performance and returns

Tax liability—regular income tax on earnings
Read on to learn more.
How to Get Started

© CreditDonkey
Follow these simple steps to begin investing in real estate through Fundrise.
Visit website
View special offers and enter your email address.
Pick a plan
First, you'll choose a portfolio (Starter, Core, or Advanced). Read more about these below.
Sign up
The process takes 10 minutes and requires some personal information like your name, address, phone number and Social Security number.
Fund your account
You can link a checking account to your Fundrise account or set up a wire transfer. It may take several days for your account to fund so you can start investing.
Earn money
Investors are paid quarterly dividends and at the end of an investment when a property is sold. (More on that below.)
Is Fundrise Safe?
Fundrise uses bank-level security to keep your personal information safe. These measures include 2-factor authentication, AES bit symmetric key encryption, and Transport Layer Security (TLS).
Fundrise portfolios are made up of qualified offerings regulated by the Securities and Exchange Commission (SEC). They must follow strict reporting requirements. So you get the same sense of transparency as required for public companies.
But investing come with some risk. Fundrise has done well since its establishment, but there is no guarantee it'll continue to do so.

Types of Accounts
Fundrise supports the following accounts:
Personal investment account
Joint account
Certain entity accounts (Trusts, Limited Liability Companies, Limited Partnerships, C Corporations, and S Corporations)
Self-directed IRA through Millennium Trust Company
You Should Know
Typically, real estate investments are made through taxable accounts, which require you to pay income tax on your earnings. Fundrise's IRA provides a tax-efficient way to invest in private real estate.

Portfolio Options

© CreditDonkey
Investors have several choices when investing. Each portfolio diversifies your funds differently, based on your goals.
Starter Portfolio ($500 minimum)
You get a diversified portfolio of 5-10 real estate projects throughout the U.S.
90-day money back guarantee
If you decide you aren't comfortable with your Starter portfolio, you can request your money back within the first 90 days. Fundrise will buy the investment from you for the amount you paid.

Core Plans ($1,000 minimum)
With a $1,000 investment, you can upgrade to any one of the 3 Core plans. You'll get greater diversification across 40+ projects.

Pick the one that best fits your financial goals.

Supplemental Income: Focusing on properties that generate cash flow (collecting rent or interest). You will earn more dividends.
Balanced Investing: A balance of income and growth properties. You earn money through both dividends and appreciation.
Long-Term Growth: Focusing on properties expected to appreciate in value. You'll earn less dividends now, but the potential returns could be the highest in the long term.

Advanced Plan ($10,000 minimum)
This highest tier plan offers diversification across 80+ projects and a more sophisticated strategy for potentially higher returns.
How Does Fundrise Selects Projects?
Fundrise reviews thousands of real estate investment deals and selects only the top 2% of projects. Here's the process:
Real estate companies submit projects to Fundrise.
Fundrise conducts a basic screening to ensure it's up to company standards.
Projects go through an intense underwriting process, which includes (but not limited to):


Credit and background check

Experience and track record check

On-site visit by member of Fundrise team

In-depth schedule and budget analysis

Market analysis (supply and demand, demographics, etc.)

Sale/refinance stress tests

If the project passes, Fundrise approves and acquires it.
Fundrise App
Fundrise recently released a mobile app for iPhone. The app for Android is currently in the works.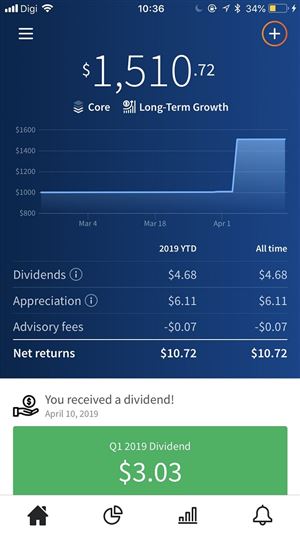 screenshot from a CreditDonkey author's account
The app is a great companion to the desktop site. You can:
Touch ID log-in (with PIN backup)

Sign up for Fundrise

View your portfolio dashboard

Add funds

See transaction history

View your active projects

See breakdown of each eREIT's performance

Get project updates and photos
How It Compares
See how Fundrise stacks up against the competition, including other real estate crowdfunding platforms.
Fundrise vs Traditional REIT (such as Vanguard REIT)
There's one major difference between Fundrise's eREIT and a standard REIT—liquidity. A traditional REIT is traded on the public market, which means you can sell any time the stock market is open. An eREIT is not publically traded and requires a long-term investment.
Fundrise vs PeerStreet
Fundrise is an investment platform for the average investor with a small amount of money to invest in private real estate deals. PeerStreet is for the high net worth investor with a lot of money to invest.
Fundrise doesn't require you to be an "accredited investor," whereas PeerStreet does. As a tradeoff, PeerStreet offers bi-monthly distributions, whereas Fundrise offers only quarterly distributions.
Fundrise vs RealtyMogul
RealtyMogul is a crowdfunding platform with opportunities for both accredited and average investors. If you're non-accredited, you can invest in their REITs with a minimum of $1,000. For the accredited investors, you can invest in Realty Mogul LLC shares, or real estate loans or debt.
Fundrise vs. Rich Uncles
Rich Uncles focuses more on collecting rent and paying monthly dividends. Fundrise also has growth properties for more long-term growth.
Rich Uncles requires a minimum $500 investment for its National REIT. You'll also need an income of $70,000 AND a net worth of $70,000. However, the platform also offers a Student Housing REIT with no income or net worth requirements.
You can start investing with just $5. While this offering may appeal to beginning investors without a lot of capital, the investments are more limited.
You Should Know
Rich Uncles only chooses commercial projects with 50% equity and recognizable big-name tenants. Fundrise offers more developing projects.

Bottom Line
Fundrise lets you invest in real estate without taking a large risk or putting a huge burden on yourself. Because it's a long-term investment, though, you should give this investment careful thought.
Can you tie up your money for the next five years? There's no guarantee you'll be able to access it any time before that.
If you're willing to tie up your money up and start small, diversifying into real estate through Fundrise might be worth the investment.
Next steps: View portfolio plans, terms and details
Disclaimer: Opinions expressed here are author's alone. Please support CreditDonkey on our mission to help you make savvy decisions. Our free online service is made possible through financial relationships with some of the products and services mentioned on this site. We may receive compensation if you shop through links in our content.
More from CreditDonkey: