Best Places to Buy Bitcoin
Ad Disclosure: This article contains references to products from our partners. We may receive compensation if you apply or shop through links in our content. You help support CreditDonkey by using our links.
(read more)
In the last decade, Bitcoin has gone from a niche digital currency to an economic powerhouse. Discover the best places to buy Bitcoin in this guide.
Best Places to Buy Bitcoin
:

eToro USA LLC; Virtual currencies are highly volatile. Your capital is at risk.
If you've been watching the crypto hype grow, you may be wondering:
What's the best place to buy Bitcoin?
To pick the right platform, there's a lot to consider, including:

Fees

Security

Privacy

Liquidity

Location
And many more factors that will influence your decision.
In this guide, discover the top platforms for buying Bitcoin in 2021. And those who want to make up their own minds can find explanations of the most important criteria to consider as well.

| Deposit | Crypto Bonus |
| --- | --- |
| $100 - $1,499 | $15 |
| $1,500 - $19,999 | $20 |
| $20,000 - $39,999 | $40 |
| $40,000 - $74,999 | $75 |
| $75,000 - $99,999 | $100 |
| $100,000+ | $250 |

You will need to stake in $1000 CRO to earn USD $10 worth of CRO. Only the first amount of CRO you stake is used to calculate the sign-up bonus.
1. Best for Beginners: Coinbase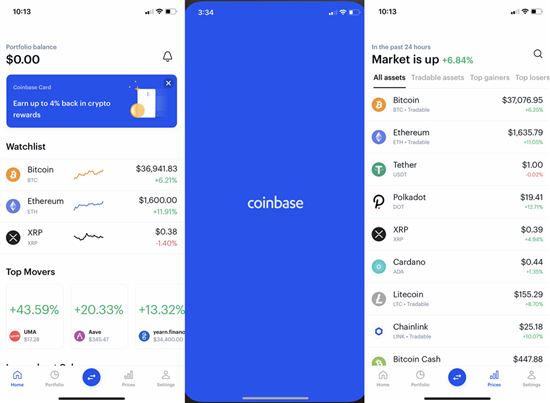 Screenshot of Coinbase
If you're just getting started trading crypto, Coinbase makes it easy. With a user-friendly interface and a range of educational offerings that will pay you to learn, there's a reason it's one of the most popular exchanges around.
Coinbase was founded in 2012 and is based in San Francisco. They started out offering the ability to buy and sell Bitcoin via bank transfers and have been growing ever since. Now they offer more than 65 cryptocurrencies to buy, sell, and trade, with more added regularly:
Full list of supported coins on Coinbase:
[1]
0x

1inch

Aave

Algorand

Amp

Ampleforth Governance Token

Ankr

Augur

Balancer

Bancor Network Token

Band Protocol

Basic Attention Token

Bitcoin

Bitcoin Cash

Cardano

Cartesi

Celo

Chainlink

Civic

Compound

Cosmos

Curve DAO Token

Dai

Dash

Decentraland

district0x

Dogecoin

Enjin Coin

Enzyme

EOS

Ethereum

Ethereum Classic

Filecoin

Gitcoin

iExec RLC

Internet Computer

Kyber Network

Litecoin

Loopring

Maker

Mirror Protocol

NKN

NuCypher

Numeraire

OMG Network

Orchid

Origin Token

Polkadot

Polygon

Ren

SKALE

Stellar Lumens

Storj

SushiSwap

Synthetix Network Token

Tellor

Tether

Tezos

The Graph

UMA

Uniswap

USD Coin

Wrapped Bitcoin

yearn.finance

Zcash
If you're interested in learning more about the world of crypto, you can earn crypto currencies like Amp, The Graph, and Stellar Lumens while you do it. Watch videos and take quizzes that usually take 1-3 minutes, and earn about a dollar a minute.
Coinbase isn't the cheapest exchange out there, but if you're looking for an easy on-ramp to crypto trading, it doesn't get much simpler.
2. Best for Earning Bonus: BlockFi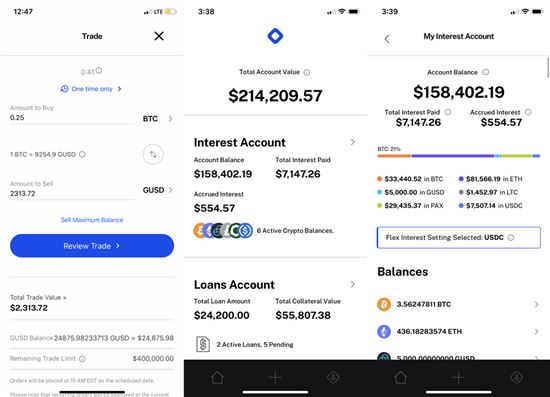 Screenshot of Blockfi
BlockFi was founded in 2017 by Zac Prince and Flori Marquez, and is based in New York.
BlockFi has a relatively limited exchange compared to the other members of this list. You can, of course, buy Bitcoin, as well as other of the most popular cryptocurrencies.
BlockFi also offer crypto-backed loans, which allow investors to take loans against the value of their crypto assets.
They offer a periodically shifting list of around 8-10 cryptocurrencies, including:[2]

Bitcoin, Ethereum, Litecoin, Chainlink, PAX Gold, USDC, Binance USD, PAX, GUSD, DAI, UNI, BAT
For Bitcoin users, BlockFi is partner with Visa to offer a rewards card, offering 1.5% back in crypto on every transaction.[3]

| Deposit | Crypto Bonus |
| --- | --- |
| $100 - $1,499 | $15 |
| $1,500 - $19,999 | $20 |
| $20,000 - $39,999 | $40 |
| $40,000 - $74,999 | $75 |
| $75,000 - $99,999 | $100 |
| $100,000+ | $250 |

Earn 1.5% back in crypto on every single purchase.
No annual fee. No foreign transaction fees
Introductory offer: Earn 3.5% crypto rewards on all purchases in the first 90 days of card ownership, up to $100 in crypto.
Know if you're approved without affecting your credit score. A soft credit pull happens before you've accepted the credit card offer. A hard credit pull occurs when you've accepted your credit card offer, which can have an impact on your credit score.
Earn 2% back in crypto on every purchase over $50,000 of annual spend. Rewards rate increases from 1.5% to 2% after $50,000 of spend has been achieved and resets on the card anniversary date every year.
On top of the rewards you get from BlockFi, your BlockFi Rewards Visa Signature card gives you instant access to once-in-a-lifetime travel, fine wine and food, sporting events, shopping and more.
Your BlockFi Rewards Visa Signature card comes with 24/7 access to your Visa Signature® Concierge* for assistance booking travel, transportation, accommodations, event tickets—even restaurant reservations and golf tee times.

New BlockFi clients who sign up with a specific partner referral code and fund their account during the promotion period (current calendar month ending at 23:59:59 UTC on the last day of the month) are eligible to receive a tiered bonus paid in BTC.
To be eligible for the promotion, this must be your first ever transfer to the BlockFi Wallet and you must maintain a $100,000+ account balance through the 14th of the month at 23:59:59 UTC two and a half months from the month of eligibility in order to remain eligible.

Eligible payouts occur on or before the second Friday of every month on a rolling basis. The bonus will be paid in BTC based on the prevailing market price at the time of payment. Payout will be based on your average daily balance (USD equivalent) maintained through 23:59:59 UTC on the 14th of the month you are eligible to be paid on. Any withdrawals made before 23:59:59 UTC on the 14th of the month you are eligible to be paid out on may affect your tier.
There is a maximum of one bonus per client. This offer is not valid in conjunction with any other current or past promotions and the promo code on the account will be used to determine promo eligibility for new accounts.
3. Best for Active Traders: Binance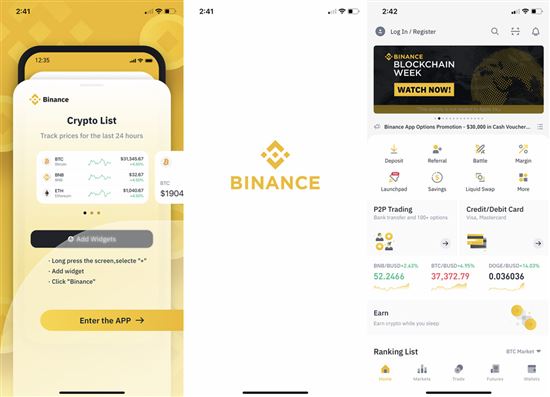 Screenshot of Binance
With some of the lowest fees in the industry and the highest liquidity of any of the spot exchanges by a fair margin, Binance is a likely choice for high-volume traders.
The variety of coins they offer is multiple times larger than most other exchanges, and they're available all over the world, so whether you're interested in Bitcoin or something a little more obscure, you can probably trade it there.
They boast an impressive list of over 250 cryptocurrencies internationally, and over 50 in the U.S.

Full list of supported coins on Binance.US:
[4]
0x

Algorand

Augur v2

Band Protocol

Basic Attention Token

Bitcoin

Bitcoin Cash

BNB

BUSD

Cardano

Chainlink

Compound

Cosmos

DAI

Dash

Decentraland

Dogecoin

Elrond

Enjin Coin

EOS

Ethereum

Ethereum Classic

Harmony

Hedera Hashgraph

Helium

Horizen

ICON

KyberNetwork

Litecoin

Maker

Matic Network

MIOTA

NANO

NEO

OMG Network

Ontology

Orchid

PAX Gold

QTUM

Ravencoin

Solana

Stellar Lumens

Storj

TetherUS

Tezos

Uniswap

USD Coin

VeChain

VeThor Token

Waves

Zcash

Zilliqa
According to CoinMarketCap, which monitors crypto trading, Binance had a 24-hour trading volume of over $79 trillion at time of writing, and a Bitcoin liquidity score around 900 / 1000, making it one of the most liquid exchanges running.
In addition to their basic trading platform, Binance also offers free peer-to-peer trading, a trading widget compatible with the privacy-focused Brave internet browser, a range of savings and staking options, and more.

Trade over 50 cryptocurrencies with low trading fees.
4. Best for Instant Purchases: Coinmama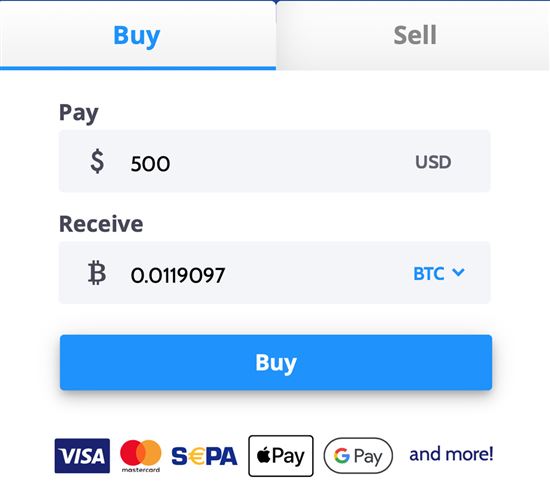 Screenshot of Coinmama
While Coinmama isn't the cheapest exchange on this list, if you're interested in making quick purchases of Bitcoin and other popular coins, it's not a bad place to look. They're a non-custodial exchange with a range of buying options, so your coins are always safe and in your own hands.
Compared to other platforms, the services that Coinmama offers are pretty bare-bones. It's desktop only, and they don't have any features other than their exchange, which currently offers 9 cryptocurrencies:[5]

Bitcoin, Bitcoin Cash, Ethereum, Dogecoin, Ethereum Classic, Cardano, Litecoin, Ripple, and Tezos
But their limited nature is part of their appeal. There's no getting lost or overwhelmed at Coinmama. You can buy Bitcoin using a credit or debit card (Visa or Mastercard), and they even accept Apple and Google Pay.
Once you've set up an account and verified your identity, it's as simple as clicking "Buy." Since they're a non-custodial exchange, your coins will be sent directly to your wallet within 10 minutes of purchase.
While the fees can be rather steep, they're available just about everywhere, and if you are looking for a no-frills experience, it's not a bad choice.
5. Best Security: Gemini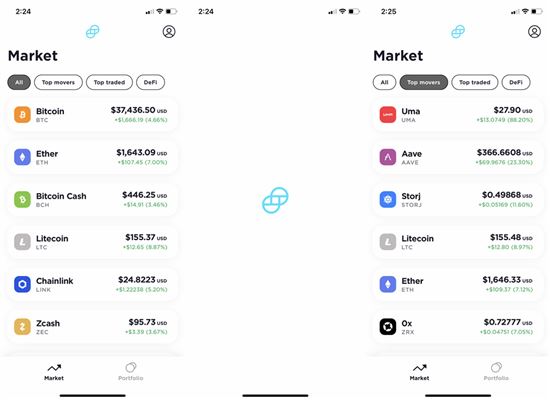 Screenshot of Gemini
Gemini is a security-minded exchange with a moderate selection that includes most of the big names you've heard of, like Bitcoin and Ethereum. If you're worried about your crypto falling into the wrong hands, you'll be hard-pressed to find an exchange that's done more to prevent it than Gemini.
Gemini keeps most of their crypto holdings in cold storage—offline in air-gapped, geographically distributed facilities. What they do keep in hot wallets is insured and protected with an FIPS 140-2 Level 3 rating or higher.[6]
They've partnered with third-party vendors to protect against DDoS attacks, keep much of their internal site off the public internet, and employ strict internal controls over the transfer of crypto.
Gemini offers the following 34 cryptocurrencies:

Full list of supported coins on Gemini:
[7]
0x

1inch

Aave

Amp

Balancer

Bancor Network

Basic Attention Token

Bitcoin

Bitcoin Cash

Chainlink

Compound

Curve

Dai

Decentraland

Enjin Coin

Ethereum

Filecoin

Gemini Dollar

Kyber Network

Litecoin

Loopring

Maker

Orchid

PAX Gold

Ren

Skale

Storj

Synthetix

The Graph

The Sandbox

Uma

Uniswap

Yearn.finance

Zcash
User accounts are protected by multifactor authentication and address allowlisting. Account operations are rate-limited to prevent brute force attacks, and personal information is encrypted. They even offer a bug bounty to deter potential hackers.
While other platforms were trying to make crypto easier, or faster, or cheaper, Gemini was working to make it safe. And it appears to be working. Unlike several other major exchanges, Gemini has never been hacked.
6. Best for Altcoins: Crypto.com
A solid all-around platform, Crypto.com supports a growing list of over 90 cryptocurrencies and stablecoins.
And that's on top their other impressive features:

NFT marketplace

Crypto-rewards Visa cards

Custodial and non-custodial wallets

Pay feature that allows you to spend your crypto at local merchants

Interest-earning accounts
Basically, there isn't much you can't do at Crypto.com.
The list of coins supported by Crypto.com is long, and it's growing.

Full list of supported coins on Crypto.com:
[8]
0x

1inch

Aave

Aavegotchi

aelf

Algorand

Amp

Ampleforth Governance Token

Ardor

Ark

Arweave

Audius

Avalanche

Axie Infinity

BakeryToken

Balancer

Bancor

Band Protocol

BigONE Token

Binance Coin

Binance USD

Bitcoin

Bitcoin Cash

Bluzelle

Cardano

Casper

Celer Network

Chainlink Solana

Chiliz

Chromia

Compound

Compound Coin

Contentos

Cosmos

Cronos

Curve DAO Token

Dai

Dash

Decentraland

DIA

DigiByte

Dogecoin

Ellipsis

Elrond

Enjin Coin

Enzyme

EOS

Epanus

Ethereum

Ethereum Classic

Everipedia

Fantom

Fetch.ai

Filecoin

Flow (Dapper Labs)

Game.com

Gas

Gemini Dollar

Gitcoin

Golden Ratio Token

Golem

Harmony

Helium

Holo

HUSD

Hydro Protocol

ICON

iExec RLC

Injective Protocol

Internet Computer

IOST

IQ.cash

IRISnet

Kava

Komodo

Kusama

Kyber Network Crystal Legacy

Lisk

Litecoin

Livepeer

Loopring

Luna Coin

Maker

Nano

NEAR Protocol

Neo

Nervos Network

NKN

NuCypher

Numeraire

Ocean Protocol

OMG Network

Ontology

Ontology Gas

Origin Protocol

Pancake Swap

PAX Gold

Paxos Standard

Polkadot

Polkastarter

Polygon

Qtum

Raiden Network Token

Rally

Rarible

Ravencoin

Ren

Reserve Rights

Ripple

Shiba Token

Siacoin

SKALE Network

SoMee.Social

Stacks

Stellar

Storj

Stox

STRAX

SushiSwap

Synthetix Network

Tellor

Terra

Tether

Tezos

The Graph

The Sandbox

THETA

Theta Fuel

THORChain

TomoChain

TrueUSD

UMA

UNICORN Token

Uniswap

Universe

USDC

VeChain

Venus

VeThor Token

Waltonchain

Waves

Wrapped Bitcoin

XSGD

yearns.finance

Zilliqa
In addition to its impressive variety of coins and features, Crypto.com charges reasonably low fees—not the lowest, but lower than many of the other popular exchanges.

You will need to stake in $1000 CRO to earn USD $10 worth of CRO. Only the first amount of CRO you stake is used to calculate the sign-up bonus.
7. Best for Social Trading: eToro
eToro is a popular exchange known best for their CopyTrading feature, which allows users to mimic the trades of other, successful investors automatically.
Public feeds and comments sections, trader ratings and risk scores, as well as a range of educational content and financial reports make eToro a viable option for those looking to learn more about crypto, or take their hands off the wheel entirely.
If investors aren't confident following a single individual, they can also take advantage of eToro's Smart Portfolios, curated sets of crypto coins from different sectors of the market. Some examples include their FuturePayments and CryptoEqual portfolios.
As for their supported coins, they offer a somewhat limited range drawn from the most popular:[9]

Bitcoin, Ethereum, Bitcoin Cash, Ripple, Dash, Litecoin, Ethereum Classic, Cardano, Iota, Stellar, EOS, NEO, Tron, ZCash, Tezos, Compound, Chainlink, Uniswap, Yearn.finance, Dogecoin, Aave, Decentraland

eToro USA LLC; Virtual currencies are highly volatile. Your capital is at risk.
How to Choose an Exchange
Transaction Fee
Minimum Deposit
Coinbase
Greater of Minimum Flat Fees or Variable Fees (1.49%+) by Location and Payment Method.
Minimum Flat Fees:


< $10: $0.99
$10.01 - $25: $1.49
$25.01 - $50: $1.99
$50.01 - $200: $2.99

$2
No
$0
0.10% spot trading fee or 0.50% instant buy/sell fee
$0 ($10 Trade Minimum)
2.93% - 3.90%
$100 to Buy or Sell
$0.99 - 1.49%
$0
Tiered Maker-Taker Fee Structure based on 30-Day Trade Volume from 0.04% to 0.4% with discounts from 10% to 100% for staking CRO
$1
1% fee for buying or selling crypto. 0% commission for buying or selling stocks and ETFs.
$10 ($200 to start copy trading)
When trying to decide which exchange to use, there are several factors you ought to keep in mind.
Features
First, there's the trading platform itself. Does it provide market data? Historical prices? Can you execute limit orders, or trade on margin? Every exchange is different, and you'll find that many of the popular exchanges actually have only the most straightforward options.
For those who wish to take their coins elsewhere, or someday even spend them, find out whether the platform allows coin withdrawals—not all do.
Some exchanges are only trading in CFDs (contracts for difference), which allow traders to profit from changes in the price of an asset without directly owning it.
Beyond that, consider what other features might appeal to you as a trader. Here are some common features to look for:

Staking and interest accounts

Educational resources

Rewards credit and debit cards

Crypto Pay (allows you to spend your coins at retailers)

Crypto-backed loans

P2P trading

NFT marketplace

Custodial and non-custodial wallets
Fees
Fees determine how much you spend or save when trading crypto. Ideally, you'd choose the platform with the lowest fees possible, but other considerations often make that untenable.
Here are some common fees you should watch out for:

Transaction fees: Added by the exchange itself to cover the cost of trading.
Spread: This fee is frequently hidden, and may not even be listed by the exchange. It is the difference between the selling and buying price, and is often used by "commission-free" exchanges as a way of profiting from a transaction without disclosing that they're doing so. Some exchanges charge it on both buy and sell transactions, and some charge it only once. Crypto forums are a good resource for investigating spread fees.
Deposit fees: There are a variety of ways to deposit money into an exchange. Some are free, some can be extremely costly. Make sure you know beforehand. Common deposit methods include ACH bank transfer and wire transfer.
Debit/credit purchase fee: Many exchanges that support the option will charge more for these purchase methods, sometimes a lot more.
Withdrawal fees: Whether you're withdrawing cryptocurrency or fiat money, many exchanges charge you to do it, often depending on the withdrawal method.
Inactivity or maintenance fees: Charge for having an account, or having but not using one, usually for a period of 12 months.
Gas fees: Fairly uncommon on exchanges. Charged to pay for the cost of executing an operation on the blockchain.
Security and Privacy
Many security features offered by crypto exchanges can sound like unintelligible jargon to average traders, but there are some things that you should keep an eye out for when choosing an exchange.

Multifactor authentication: This is the bare minimum for protecting your account. SMS is a start, but an authenticator app is better, as it's harder to defeat through a Sim Swap attack and social engineering.
Address allowlisting or whitelisting: This allows you to choose ahead of time which crypto wallet addresses you want to allow withdraws to—typically, yours. On many platforms that offer this, updating the allowed addresses will trigger a notification and a holding period of 12 or 24 hours, so you'll have time to act if someone compromises your account.
Cold storage: More cautious exchanges will keep most, or all, of their crypto stored offline, or in "cold storage," rather than online. This means that if their system is hacked, the hackers still won't have access to the crypto, which is frequently difficult to insure.
Insurance: Typically, cash holdings are FDIC insured, but that doesn't cover crypto. But there are still ways for exchanges to acquire insurance for cryptocurrency holdings. Some take out private insurance policies (like Gemini, Crypto.com and Coinbase), others set aside funds to reimburse customers in the case of loss by theft.
Bug bounty: It's difficult to find every flaw in your security, which is why many large companies pay bug bounties to would-be hackers. The hacker finds the flaw, and instead of exploiting it, they reveal it to the company's internal security team for a high payout.
Encryption: Remember that it's not just your money or your coins that these exchanges have access to—it's frequently your personal information as well. Encryption means that if their security is breached, your information is less likely to be stolen.
As for privacy, most exchanges are required to obtain personal information about their customers in order to comply with local regulations, such as KYC (know your customer). Look for exchanges that guarantee not to share your data once they have it.
Location
Trading is a highly regulated business, and laws vary by country. Not every exchange will be available everywhere. Some may be available but have practices that put you in danger of unwittingly breaking the law of your home country.
The easiest solution is to use exchanges based where you are, when possible.
Liquidity
Liquidity refers to the size of a trade an exchange can support without the market price shifting, and is affected by that exchange's trading volume. Average traders shouldn't have to worry about this too much, but those dealing in large sums will want to take it into account.
Speed
Different exchanges require different amounts of time to execute trades, deposits, and withdrawals, and many customer complaints arise from the length of time these may take. If you think you'll need to do something in a hurry, make sure the exchange you choose is capable of it.
Custodial or Non-Custodial
Simply put, where do you keep your money? This is a major question in the crypto space, where there are no banks, and lost crypto is often lost for good.
A custodial exchange will hold your coins; a non-custodial exchange requires you have your own wallet, either hot or cold, to store them on.
This is really a question of preference and trust. If you believe the exchange will be able to keep your coins safe better than you can, by all means leave them there. If you are worried about the exchange being hacked or going bankrupt, consider buying a wallet of your own.
How to Buy Bitcoin
If you're buying Bitcoin for the first time, you may be wondering how it's done. Don't worry, in most cases, it's very simple if you just follow a few steps.

Choose an exchange and set up an account: Which exchange is up to you, but rest assured, pretty much all of them carry Bitcoin.
Get verified: Every exchange is different, but most will require some sort of identity verification the first time you use them. You may need to give personal information, photograph IDs, and even photograph yourself to get started.

Some will also require that you set up two-factor authentication before you start trading. You can typically do this with a phone number or an app like Google Authenticator. Verification can take anywhere from a few minutes to several days to process, depending on the exchange.

Set up a payment method and fund your account: Most trades start with fiat currency, like USD or GBP. You'll start by connecting a bank account, making a wire transfer, or connecting a credit or debit card.
Make your purchase: Once your account is funded, it should be a matter of choosing the currency you want—or trading pair, like BTC/USD, as some exchanges operate this way—and setting the amount. You can either buy it outright, or, if the exchange supports it, set a limit order, which will allow you to buy Bitcoin at a specific price when it reaches it, assuming the market cooperates.
Should You Buy Bitcoin?
Ultimately it's up to the individual trader to decide whether they think any investment is a good one, including Bitcoin, but there are several points you can use to frame your decision.
First, crypto is very volatile. That means the price fluctuates wildly compared to other investments and certainly to fiat currencies like USD.
In 2021, Bitcoin has traded at less than $30k and more than $60k over just a few months. After you buy it, the chance of increasing in price (and losing value) are extremely high.
As far as experts go, everyone has their own opinion on the viability of Bitcoin long term. But it's undeniable that it's getting more attention recently, and plenty of people are interested.
What's harder to say is whether it's in an upswing, and the price will stabilize somewhere lower, like $10k or 20k or even less—or whether it will continue to boom and a single Bitcoin will be worth $100k at some point. You'll have to use your own judgement to decide that as well.
Another factor to consider is the environmental impact of Bitcoin mining, which some say is too high. It may be that they'll find a way to solve the problem, or another, more environmentally-friendly cryptocurrency will grow in popularity.
Or you might simply choose to support something greener by putting your money there in the first place. In the end, it's up to you.
What is the Best Cryptocurrency?
This is anyone's guess, really, and there are many ways to look at it. Bitcoin is the most valuable by a large margin—for now, but there's no guaranteeing it will stay that way.
And with new cryptocurrencies being minted all the time, any one of them could prove to be the future face of crypto.
A currency's viability will ultimately depend on its use—for not all of them were designed for the same thing—and the buzz it's able to generate. Bitcoin reigns for now because people are still buying it, but a dramatic shift in public opinion is all that's needed to change the game entirely.
Here are some other currencies to consider:

Bottom Line
Buying Bitcoin doesn't have to be hard, and plenty of popular exchanges are vying for your business. If you're ready to get started trading Bitcoin, you should now have the tools and the knowledge to do it. All that's left is to decide which exchange is right for you, and make it happen.
References
Jeremy Harshman is a protector of art and writing at CreditDonkey, a crypto comparison and reviews website. Write to Jeremy Harshman at jeremy.harshman@creditdonkey.com. Follow us on Twitter and Facebook for our latest posts.
Note: This website is made possible through financial relationships with some of the products and services mentioned on this site. We may receive compensation if you shop through links in our content. You do not have to use our links, but you help support CreditDonkey if you do.
eToro USA LLC; Virtual currencies are highly volatile. Your capital is at risk.
Read Next: