Best Money Management Apps
Ad Disclosure: This article contains references to products from our partners. We may receive compensation if you apply or shop through links in our content. You help support CreditDonkey by using our links.
(read more)
Struggling to save? Discover the best money management app to boost your finances. Explore now and start saving.

© CreditDonkey
Most of us are just plain bad at budgeting. You can't stop thinking about the money burning a hole in your pocket. And you end up spending it on… junk.
Sometimes you need a nudge to start saving.
Thankfully, there are plenty of apps to help you track your finances. But they're not all the same. Everyone has different money goals. What works for a friend may not be a match for you.
Take a look at money management apps for every type of saver.
Here are the best apps to manage your money
:

Open an Acorns account (new users only)
Set up the Recurring Investments feature
Have your first investment be made successfully via the Recurring Investments feature
Best Overall: Mint

© CreditDonkey
Mint offers just about everything budgeters need, all for free. Mint links to your bank accounts, credit cards, and bills, automatically updating and categorizing your transactions in one place. It's also easy to create budgets, and you'll get personalized suggestions to keep you on track.
Cost: Free
Highlights:

Displays all your finances, assets, and liabilities

Free access to credit score, plus tips on how to improve

Payment reminders for upcoming bills

Connects with most banks in the U.S.

Customized tips to maximize your saving
Best for Reducing Debt: You Need a Budget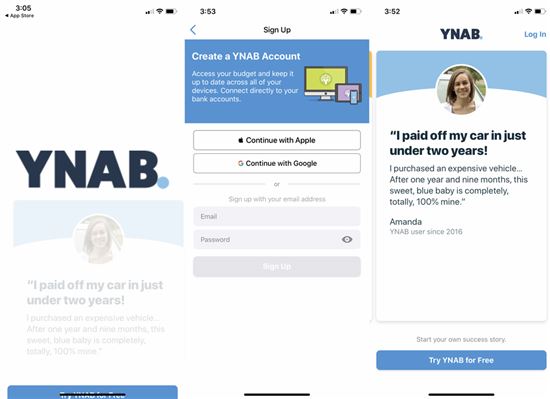 Screenshot of You Need A Budget
Instead of thinking of budgeting as a sacrifice, You Need a Budget encourages you to see it as a step toward achieving your financial goals. In YNAB, you set individual goals for the present, short-term, and long-term to receive personalized advice on how to achieve them.
Cost: Free for 34 days, then $11.99/month or $84/year (you can cancel at any time)[1]
Highlights:

Real-time access to your finances across all devices

Set multiple goals and get tips on how to achieve them

Interactive charts help you visualize your finances

Access to 100+ weekly live workshops for budgeting and saving
Best for Fast Budgeting: PocketGuard

© CreditDonkey
PocketGuard makes it easy to track your spending, create a budget, and even decrease your monthly bills. PocketGuard updates your transactions in real-time, helping you stay in the loop at all times, and automatically sets a personal budget each month so that you don't have to do the work.
Cost: Free for basic features ($4.99/month for PocketGuard Plus, which includes unlimited categories, data export, unlimited goals, track cash, and manage ATM transactions)
Highlights:

"In My Pocket" shows money available after bills and savings

Creates a budget for you

Helps you negotiate bills

Track specific categories to avoid overspending
Best for Daily Cash Management: Dollarbird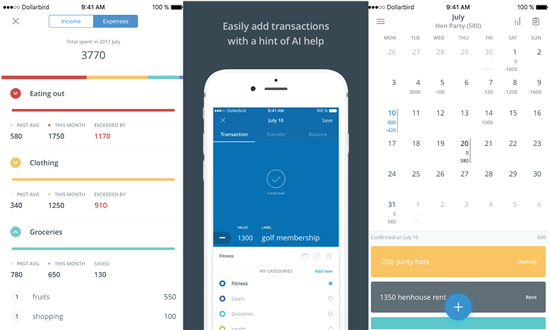 Screenshot of Dollarbird
Dollarbird provides your projected balance for every day of the month - past, present and future - so you can better stay on track of your finances. With Dollarbird, all financial info must be entered manually, instead of linking to your accounts. If you like more hands-on money management, Dollarbird could be right for you.
Cost: Free for one calendar or $39.99/year for Dollarbird Pro (up to 20 calendars with up to 3 team members on each calendar)[2]
Highlights:

Create recurring expenses (but you must confirm that they occur each month)

Projects how much you'll have at the end of the month based on your previous month's spending

Obtain projected balances for future months

Provides a visual way of looking at your finances
Best App with a Fee: Mvelopes

© CreditDonkey
Mvelopes gives every dollar a "job" so that you take control of your finances and get yourself out of debt faster. They offer a few different subscription levels, but the "Basic" level provides the fundamental tools to help you learn to manage your finances
Cost: Basic Plan $6/month ($55/year); Premier Plan $9.99/month ($99.95/year); Plus Plan $19/month ($190/year)[3]
Upgrading your Mvelopes Plan
The Basic Mvelopes plan works well for most people. You can connect unlimited accounts, get real-time budgeting, and give every dollar a "job." If you feel you need more education or you want access to a Personal Finance Trainer, you can upgrade your plans to either the Plus or Complete plan and receive either quarterly or monthly trainer sessions depending on the chosen plan.

Highlights:

Sync all bank and credit card accounts

Transactions sync automatically

Set up unlimited "envelopes"

Manage money while on-the-go with cloud storage of your data
Best for Simplicity: Wally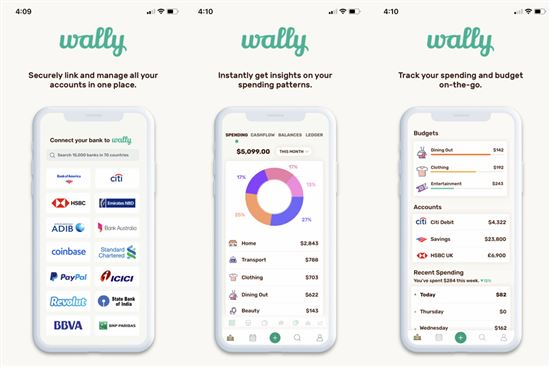 Screenshot of Wally
If you want a simple budgeting tool that doesn't overwhelm you with too many options, Wally is it. Their simple interface gives you a full look at your finances, including where your money goes, how much you've saved, and the amount you have left. Wally also has an option to track multiple currencies.
Cost: Free for the basic version. Wally Gold membership with all the features costs $24.99/year.[4]
Highlights:

Save photos of your receipts for tax purposes

Set up automatic recurring expenses

Track expenses by category (or location/store)

Group budgets, IOUs, and joint accounts

Plan your shopping and sending with lists
Best for Comprehensive Budgeting: Clarity Money
© CreditDonkey
Clarity Money uses machine learning to break down and visualize your financial habits. Link your bank accounts and credit cards to get a full view of your expenses, see where you can cut back and create a categorized budget. If you're often asking yourself, "What did I spend on Amazon this month?" this is the app for you.
Cost: Free
Highlights:

Dashboard displays all your subscriptions

Open a high-yield savings account through Marcus by Goldman Sachs

See visual representations of your bills and expenses

Get free access to your credit score

Get alerts about subscription price increases or reductions
Best for Envelope Budgeting: Goodbudget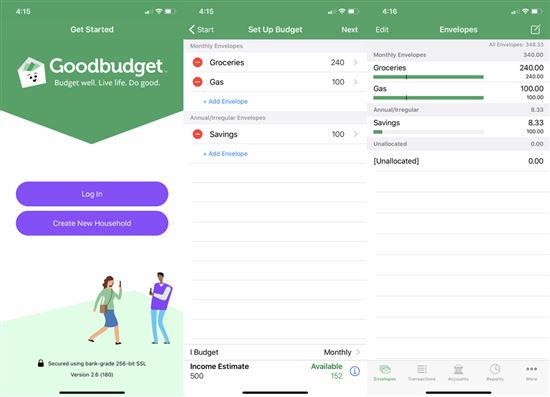 Screenshot of Goodbudget
If you love the paper envelope budgeting method, Goodbudget is for you. Just like the envelope budget, you create categories and assign a budget to each one. Once you spend your limit for that category, that's it (unless you transfer money from another envelope).
Cost: Free for the basic account or $7/month (or $60/year) for the Plus membership[5]
Highlights:

Syncs across multiple devices

Helps you actively plan your spending

Track your debt payoff progress

Set up a savings envelope for each goal

1 year of expense tracking (7 years if you buy the Plus membership)
Best for Investing: Empower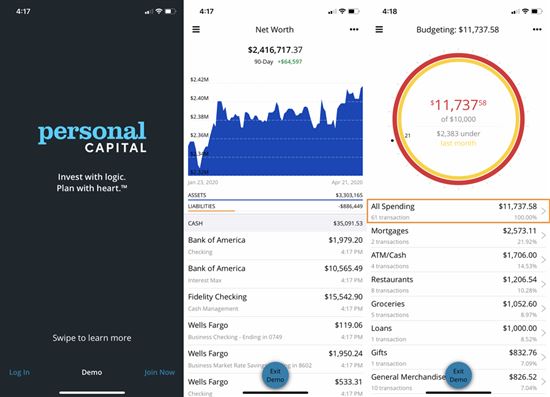 Screenshot of Personal Capital
Empower is a finance app that integrates your investments, savings, and more to give you a complete view of your financial health. Their graphs are especially handy for visualizing your investments and understanding how they contribute to your net worth.
While Empower does focus on investing, it also includes a bonus budgeting tool.
Cost: Free
Highlights:

Connect all bank accounts, including IRAs and 401(k)s

Track mortgages and other loans

Get a portfolio breakdown to see where your investments stand

Create a budget, or even a plan, for retirement

Get a free financial consultation if you link $100,000 in investable assets
Best for Saving Spare Change: Acorns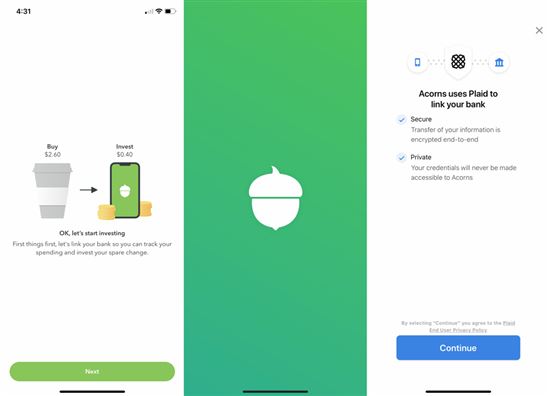 Screenshot of Acorn
While not specifically a budgeting app, Acorns does help you manage your money by automatically investing your spare change. Link your most-used credit or debit cards and for every purchase you make, Acorns rounds up to the nearest dollar and invests it. No active management required.
Cost:[6]

$3/mo for Acorns Personal (includes personal taxable account, IRA, and checking account)
$5/mo for Acorns Personal Plus (includes everything in Personal, emergency fund, and 25% match on rewards)
$9/mo Acorns Premium (includes everything in Personal Plus, investment accounts for kids, 50% match on rewards, custom portfolio, Trust & Will, $10K Life Insurance, and free GoHenry account)
Highlights:

Save and invest passively

Customize your contributions

Add extra money to your investment account by shopping at specific stores

Access to educational finance articles and tips
Bottom Line
Choosing a money management app is a personal decision. Generally, your perfect budgeting app is the one that you will actually use.
To narrow it down, consider how often you plan to check it, what features you want, and if you are comfortable linking it to your bank accounts. No matter your preferences, there's a money management app that can provide exactly what you need.
Additional Resources
References
Write to Kim P at feedback@creditdonkey.com. Follow us on Twitter and Facebook for our latest posts.
Note: This website is made possible through financial relationships with some of the products and services mentioned on this site. We may receive compensation if you shop through links in our content. You do not have to use our links, but you help support CreditDonkey if you do.
Empower Personal Wealth, LLC ("EPW") compensates CREDITDONKEY INC for new leads. CREDITDONKEY INC is not an investment client of Personal Capital Advisors Corporation or Empower Advisory Group, LLC.