Best Apps to Sell Stuff Online and Near You
Ad Disclosure: This article contains references to products from our partners. We may receive compensation if you apply or shop through links in our content. You help support CreditDonkey by using our links.
(read more)
Selling apps offer all the profits of a yard sale with none of the hassle. Find out how popular sales apps compare, plus which have zero fees.

© CreditDonkey
Have you ever hung on to something you don't use, just because it was a gift?
Or maybe an expensive collectible?
Fortunately, selling apps offer an easy way to make some extra cash and unclutter your place at the same time.
List your item within seconds so local or distant buyers (or even the apps themselves) can purchase it from you directly and quickly.
Learn the best apps for selling every kind of item, which apps have no listing fees, and how to avoid getting ripped off.
Here are the best apps to sell stuff
:
Poshmark: Cash In Your Clothes

© CreditDonkey
Are your dresser drawers too stuffed to fully close? Poshmark can help you make some room. Poshmark is one of the most popular apps made specifically for those who want to sell (and buy) clothes, accessories, shoes, jewelry, and similar items.
Simply upload photos of your items, set your sale price, and wait for interested buyers to contact you. Best of all, it takes hardly any time to get your item listed, and you can easily create an account. When your items sell, you can even get paid via direct deposit.
How to make more on Poshmark: The app hosts 4 daily virtual shopping events called Posh Parties. These parties are centered around a specific product theme (like plus-size clothing or summer accessories) and give sellers the opportunity to boost the visibility of their items.
Best for: Clothes, shoes, accessories, handbags, jewelry, and unopened cosmetics

Fees: 20% for sales above $15, flat rate of $2.95 for sales under $15
Poshmark: $10 Sign Up Bonus
Sign up using your friend's username as referral code. New accounts created with a referral must be associated with a unique identity in order to be eligible for credits.
eBay: The Ol' Standby

© CreditDonkey
eBay has been the online marketplace to buy and sell just about anything for at least two decades. With millions of visitors each month, there's a good chance that if someone is looking to buy a specific item, they'll start their search there.
List unused clothes, tech items, sporting goods, and other clutter for a fast buck. Don't forget to add a detailed description and high-quality photos to make your items stand out.

Best for: Reaching a huge audience

Fees: 8.75% for sales of $50 or less (for sales greater than that, you pay 8.75% for the initial $50 and 4% of the remaining amount)
LetGo: Sell to People Near You
Want the profit of a yard sale without all the hassle? LetGo helps you sell items to people near your zip code. No permits, posters, or petty cash required. LetGo is perfect for selling just about anything lying around your house.
Where it really shines is for big items like furniture; you can have buyers come to you to pick it up, instead of shipping it.

Best for: Selling stuff online that you don't want to ship

Fees: None!
Is LetGo safe?
LetGo itself is a secure platform that offers private messaging and protection of your personal info. When it comes to the buyers, the majority of them are legitimate and honest. However, there is always a risk when selling online. Use your gut and avoid communicating with anyone who makes you feel unsafe.
Tradesy: One-Stop Shop for Fashion
Tradesy says the average woman has $1,000 worth of resale value in her closet. Ready to start cashing in? As a competitor to Poshmark, Tradesy can help you sell your goods seamlessly.
Add details and photos to your listing, set your price, and when it comes time to ship, you can even request Tradesy's all-inclusive shipping kit—free of charge.

Best for: Shipping your fashion goods for free

Fees: 19.8%, or a flat fee of $7.50 for sales less than $50
OfferUp: Connect with Local Buyers
OfferUp claims that they're the largest mobile marketplace for local buyers and sellers, featuring a more social media-esque interface. You can sell your items locally or ship them, and even earn rewards for getting repeat buyers.
Selling on OfferUp is completely free, though you can "bump up" your listing for a small fee. This moves your listing toward the top to attract more potential buyers.

Best for: Its "bump listing" feature (perfect for items that are tough to sell)

Fees: 7.9%
On OfferUp, you can also sell damaged items for parts, making it a good option for getting rid of clutter and making a fast buck.
Mercari: Reach a Wide Audience
Mercari might not be a household name (yet), but its community of 40 million users give you the best chance of finding a buyer for your used items.
List your item for free, add photos and a description, and wait for buyers to send you an offer. Once someone purchases your item, you have 3 days to ship it out.

Best for: Selling almost anything to a wide audience

Fees: 10%
ThredUP: Not Your Typical Thrift Store
ThredUP sounds pretty enticing: just ship your unwanted clothes to the app directly and get cash as soon as they receive it. What happens to your clothes after that, you ask? ThredUP lists it on their site for buyers to browse and purchase.
ThredUP sends you their "closet cleanout kit" free of charge to make the process even easier. While you won't know exactly how much your items will sell for, ThredUP features a handy estimate calculator on their site to give you an idea. You can also opt for payment via gift card if you prefer.

Best for: Contact-free selling

Fees: 20% - 95% of the listing price (more expensive items will have lower fees)
Selling Apps with No Fees
Decluttr

Vinted

LetGo

Craigslist

VarageSale

Gumtree

Wallapop
Craigslist: Sell Just About Anything

© CreditDonkey
Craigslist has been around so long for a reason: if you take a minute to Google "weirdest stuff people sell on Craigslist," you'll understand what that reason is…
Even the strangest and most niche items can find a buyer. If people can sell their used CPR dummies and pet reptiles, you can find someone to buy your collection of board games or baby items.

Best for: Selling strange or unpopular items

Fees: None, though there are fees for cars and furniture in specific locations
Decluttr: Unload Old Tech, DVDs & CDs
Almost everyone has stuff they don't use anymore—small appliances, game consoles, video games, DVDs. Decluttr is the perfect way to unload these items and earn a decent rainy-day fund.
How much can you get for your stuff? Decluttr claims to buy your items for up to 33% more than other resale apps. Just ship your items (they provide the shipping label) and Decluttr will pay you within 24 hours of receiving them.

Best for: Selling used electronics and small appliances

Fees: None!
Vinted: Cash in Your Fashion
Vinted is a Lithuania-based app made for selling "pre-loved" fashion (available internationally, not just to Lithuanians). With over 25 million people using the Vinted app, it's a perfect way to find a new home for your gently used threads.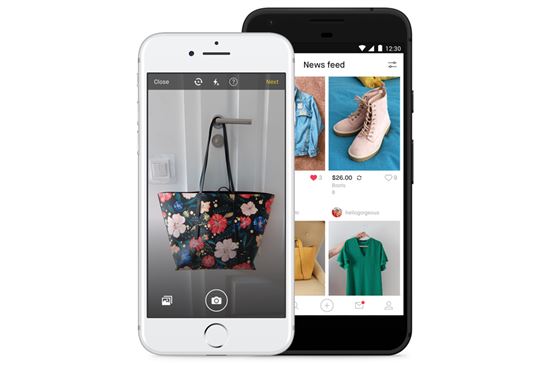 Credit: Vinted
One thing that makes Vinted stand out is the complete lack of fees. Seriously: no fees at all. (Unless you're a buyer, in which case you're charged a Buyer Protection Fee).
Otherwise, what you sell your item for is what ends up in your pocket. Even better, they provide you with a pre-paid shipping label to send your items off.

Best for: Selling used fashion with no fees

Fees: None!
Selling your old fashion is a great way to make a fast buck. But the opportunities don't stop there. Find out
which apps reward you
for adding new items to your wardrobe.
Facebook Marketplace: Sell to Your Friends & Family
It's easy to see why Facebook Marketplace is a great app for selling your items. Most people already have an account, so you're meeting potential buyers where they already are.
Even better, your existing Facebook friends will be alerted when you post an item for sale. If you happen to sell to someone you don't know, you can still check out their Facebook profile to make sure they look legit. Overall, Facebook Marketplace is easy to use and great for reaching your entire personal network.

Best for: Selling items locally or to those you already know

Fees: 5%, or a flat fee of $0.40 for sales $8 or less
Etsy: Sell Crafts & Collectibles
Most people think of Etsy as an app to buy and sell items like handmade soap and knitted scarves, but those people would be selling Etsy short. Many people use the popular app to sell items like used books, collectibles and craft supplies.
You can choose to sell internationally, nationally, or just locally, and potential buyers contact you directly. The main downside to Etsy is the fee required to list an item. You must pay 20 cents to list something, whether or not it sells.

Best for: Selling décor, craft supplies, and collectibles

Fees: 5% (additional 3% + $0.25 fee if processed through Etsy Payments)
Depop: Repurpose Your Streetwear

© CreditDonkey
Think of Depop as a trendier Poshmark—perfect for "pre-loved" designer fashion, vintage finds, and streetwear. Their global community of buyers is always on the hunt for the next best find, giving you the best chance to get a sale.
It's completely free to list your items. Post up to four photos and add a creative, detailed description. When a buyer pays for your item, you'll get the payment pretty quickly.

Best for: Selling streetwear and sneakers

Fees: 10%
The RealReal: Cash for Luxury Goods
If you have any designer goods, including clothing and accessories, your best bet for selling them is
The RealReal
. They make it easy to sell your items with shipping or a home pick-up option; sellers receive 25% - 45% of the sale price.
VarageSale: Safe, Verified Buyers

© CreditDonkey
If you couldn't already tell by the name, VarageSale is simply a virtual garage sale. Basically, you can use it to sell almost anything.
The founder of VarageSale wanted to make the transaction process as safe as possible, so all buyers and sellers must be verified to use the platform. You can do this easily by signing up through your Facebook account.

Best for: Safe transactions with verified buyers

Fees: None!
Gumtree: A No-frills Site to Sell Anything
You may not have heard of Gumtree before, but they've been around (as a website first) since 2000. Now owned by eBay, Gumtree allows you to sell and post ads for just about anything (even jobs or apartments).
Just post your ad (with details and photos) and wait for interested buyers to reach out.

Best for: Selling items and services

Fees: None!
Chairish: Cash In with Family Heirlooms
As you might have guessed, Chairish focuses on selling furniture (not just chairs, though). It's perfect for older, vintage items that you may have inherited from family or scored at an estate sale.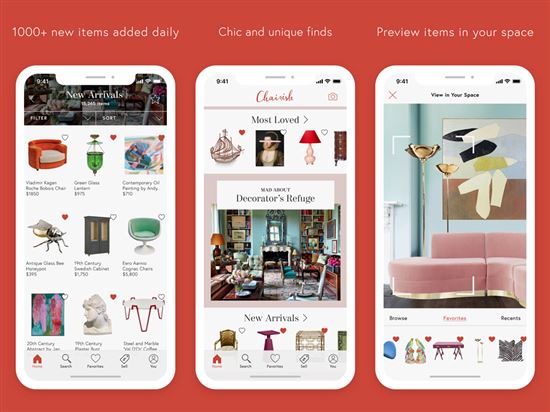 Credit: Chairish
Think of Chairish as a virtual consignment store, meaning they're a little more involved in the selling process. Even with their higher commission rate, you can still list your stuff for free, though they will assist with pricing and facilitate the shipping of your item.

Best for: Selling vintage furniture, home décor, heirlooms, and various household items

Fees: 30% for standard "consignors," 20% for professional and elite sellers
Works on: iPhone
5miles: Hassle-free Selling
5miles promises to simplify the process of selling and buying things online. Although the 5miles app doesn't offer all the bells and whistles of some other apps, it features an unfussy interface and pre-verified buyers to ensure a safe transaction.
Their Community feature gives you the ability to post about pet adoptions, yard sales, and even advertise helpful services to your neighbors.

Best for: A simple interface and pool of verified buyers

Fees: 10%
Like the idea of selling to those in your area? Consider
Nextdoor
. It's actually a neighborhood-specific social media app, but many use it to advertise items and services for sale to their neighbors.
Wallapop: Your Virtual Flea Market
Wallapop claims to be the virtual flea market (in fact, they used to be called "Fleapster"). The goal is simple: connect sellers to nearby buyers and facilitate a seamless transaction.
And it's something Wallapop does pretty well. Just list your item, specify your price, and set your location so nearby shoppers can find you.

Best for: Quick, local exchanges

Fees: None!
Even More Apps for Selling Your Stuff

© CreditDonkey
There's no shortage of selling apps on the market today. If you've exhausted the more well-known options, try out the following apps to earn extra cash.
Recycler
Similar to Craigslist, Recycler is a minimalist-style selling website that allows you to list anything from cars to furniture to real estate.
Even better, they've been around for quite a while, meaning they've gained a decent following. Just create a listing and wait for interested buyers to reach out.
Shpock
Being very photo-forward, Shpock is a great option if you're selling items that are visually appealing. Just upload a quality photo, write a description and shoppers can see your item photos on a map of your area.
Blinker
Blinker is the perfect app for selling your car. Even better, they make the process simple: just snap a photo of your car, enter the license plate and all auto details are filled in automatically, including estimated value. Plus, you sell directly to the buyer - no middle-men and no fees.
How to Not Get Scammed on Selling Apps
You can't help but get excited when you see that first notification: Someone wants to buy your item! Before long, you'll have a nice chunk of change in your pocket.
But there are some essential tips you should remember to ensure your safety and avoid scams. Here's what you can do:

Avoid accepting money orders or checks. Someone paying with a check or money order isn't necessarily sketchy, but it's always safer to go with plain cash or a secure card payment.
Never share personal information. This seems obvious, but it's crucial. Information like bank account numbers, Social Security number, your address, or full name should not be shared with anyone you don't know. For extra protection, consider using a secondary email address when contacting buyers.
Look for apps that verify their buyers. Some apps, like VarageSale, require verification of the buyer's identity before they can buy anything. Other apps, like eBay, even let sellers rate the buyers based on the quality of their transaction.
Meet in public (or bring a friend). If your sale involves meeting the buyer in person, be sure to agree to a public meeting place with lots of passersby. Even better, bring a friend you trust to accompany you to the transaction.
Opt for certified mail when shipping. A popular scam among buyers is pretending they never received the package. One way to avoid this is to ship with USPS Certified Mail, which requires a signature from the recipient to complete the delivery.
What the Experts Say
As part of our series on selling apps and resale culture, CreditDonkey asked a panel of industry experts to answer some of readers' most pressing questions:
What are the advantages and disadvantages of buying secondhand items?

Does buying clothes secondhand reduce your environmental impact?
Here's what they had to say:
Bottom Line
One of the best things about the prevalence of smartphones is how easy it is to sell anything. No matter what you're selling, you can likely find a buyer, whether it's a scratched DVD of "The Mummy" (1999), a bedazzled jean jacket, or first-edition hardcover literary classic.
Remember to take the appropriate precautions when using any selling app. Unfortunately, scams are everywhere, and apps are no exception. Accept secure online payments or cash, always meet in public, and never share personal info.
Above all, be an honest seller. Always disclose any damage and be willing to negotiate a fair price.
Additional Resources
Holly Zorbas is a assistant editor at CreditDonkey, a personal finance comparison and reviews website. Write to Holly Zorbas at holly.zorbas@creditdonkey.com. Follow us on Twitter and Facebook for our latest posts.
Note: This website is made possible through financial relationships with some of the products and services mentioned on this site. We may receive compensation if you shop through links in our content. You do not have to use our links, but you help support CreditDonkey if you do.