Ad Disclosure: This article contains references to products from our partners. We may receive compensation if you apply or shop through links in our content. You help support CreditDonkey by using our links.
(read more)
Sometimes you need a little extra cash, and you aren't always sure how to get it. Find proven ways to make money ASAP.
Whatever your situation in life, sometimes you find yourself wishing you had just a little bit more money. After all, money is freedom, security—and the pathway to fun.
And whether you're working full time, between jobs, or just busy, it can be tough to find ways to boost your income quickly.
No matter how much spare time you have, there's bound to be something on this list that'll work for you. Take a look and see how you can start making more money—today.

Borrow Between $1,000 - $100,000
Loan Terms from 24 - 84 months
1. Swagbucks: Get Paid for Surveys
If you're looking for a place to make some quick money online, Swagbucks is a good place to start.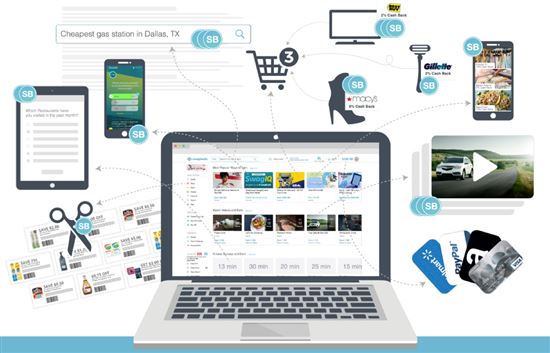 screenshot of swagbucks
Most people know them for their surveys, but there are other ways to earn, like watching videos or playing games.
Between their popular website and app, they've got plenty of ways for you to make extra cash. Just rack up your "swagbucks" and redeem them via PayPal, gift cards, and other rewards.
You can also earn cash back when you shop at major retailers like Amazon, Walmart, Macy's, and thousands more.
What you can earn
Average users can earn $10-$15 a week using the app an hour or two a day with Swagbucks.
2. Survey Junkie: Earn $20 a Week
Another popular survey site is Survey Junkie, which allows you to earn rewards and even cash just for sharing your opinions.
Screenshot of Survey Junkie
It's a great way to earn a little extra money in those spare minutes you spend standing in line at the bank or post office, and if you want to invest a little more time, they've got longer tasks too.
Keep in mind: You won't be able to complete every survey you start. If the survey reaches its participant quota before you finish, you may be cut off. To avoid this, try checking regularly for new surveys and taking the newest ones as they pop up.
What you can earn
An average user can expect to earn as much as $20 a week on Survey Junkie
3. InboxDollars: Make as much as $5 per Survey
You may be able to earn a $5 bonus just for signing up with the popular survey app InboxDollars. Earn cash for answering surveys about a variety of topics like fashion, food, and hobbies.

Screenshot of InboxDollars
What you can earn
Typically the surveys on InboxDollars pay somewhere between 50 cents and $5.
Learn More: InboxDollars Reviews
4. Uber: Drive People or Food
You've probably already heard of the popular ridesharing app, Uber, and for good reason: It's a great way to be your own boss, work flexible hours, and make some real money.
How much you earn really depends on how much time you put in, but even if you drive for only a few hours, Uber is worth considering. It's also a good option for someone trying to make ends meet while they're in between jobs.
If you aren't interested in driving people, consider becoming a delivery driver with Uber Eats.
What you can earn
Taking expenses into account, drivers tend to average about $10 per hour with Uber.
5. Lyft: Get Paid to Drive
Another option for those looking to make money driving is Lyft.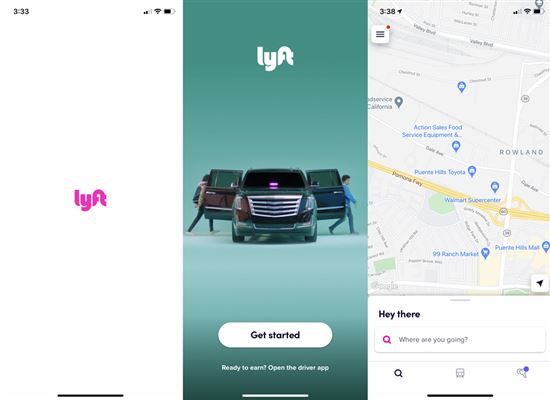 Screenshot of Lyft
Signing up is simple. Just download the app, fill out the forms, and then in 3-10 days, after the company checks your driving record, you'll be ready to start accepting passengers.
There's no reason you can't drive for multiple apps. In fact, many drivers download both Uber and Lyft to make sure they aren't missing out on fares.
What you can earn
Lyft drivers typically earn around $10 an hour, but it can be higher or lower depending on the area.
6. Postmates: Food Delivery App
With the Postmates app, you can be the pizza guy (or girl) without working for the local pizza restaurant. (Same thing with hamburgers, fish and chips, or Chinese food.) Food delivery is the name of the game, and it's a great way to earn a little cash on the side.
If you deliver close to the lunch or dinner rush, you may even be able to get a bonus of a few dollars per delivery from the app.
What you can earn
Drivers have reported making as low as $6 and as much as $26 an hour on Postmates.
7. DoorDash: Get Paid to Deliver
Another option for food delivery is DoorDash. Whether you're doing it full time, part time, or for a few hours, it's a good way to make supplemental income. And with more people than ever ordering food online, the earning opportunity gets better every day.
As with all driving-based work, remember that you won't be reimbursed for gas or wear and tear on your car, so factor that into your calculations when you're deciding to sign up.
What you can earn
DoorDash drivers on YouTube claim they average 2-3 deliveries per hour at a rate of $7-$10 per delivery.
For Illustrative purposes only, actual earnings may differ and depend on expenses. Hourly pay is calculated using average Dasher payouts while on a delivery (from the time you accept an order until the time you drop it off) and includes compensation from peak pay, tips, and other incentives.
8. Instacart: Get Paid to Shop
Help deliver groceries, household items, or alcohol to people's homes with Instacart. It's a valuable service, and you can get paid good money to do it.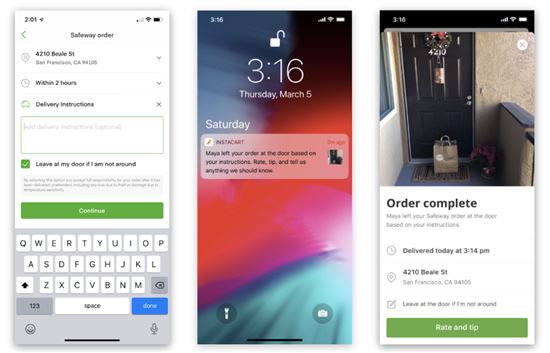 Credit: Instacart
When you receive a grocery order, you'll get a list of items to pick up and an earnings estimate. Complete the order, drop it off, and get paid. It's that easy. You can even get paid extra during busy times.
What you can earn
This depends the orders you fulfill, but Instacart guarantees you'll get $5 for every delivery job, and at least $7-$10 for shopping and delivering to customers.
9. Rover: For Dog Lovers
If you're the type of person who'll pay to spend a couple of hours in a cat cafe, then Rover is the perfect app for you.
Turn your love of pets into extra cash by offering boarding, house sitting, daycare, drop-in visits, and dog walking with this popular app.
It's currently available in over 14,000 cities, and it's a super-fun way for pet lovers everywhere to earn a little side money. Keep in mind that Rover takes a 20% cut of what you earn.
What you can earn
A 30-minute walk costs $20, while pet-sitting usually costs $35-$70 per day.
10. YouGov: Answer Important Polls
The world wants to know your opinions, and YouGov is even willing to pay for them. Earn real cash and prizes by completing surveys about topics you're passionate about like politics, music, movies, and more.
What you can earn
Answering surveys on YouGov probably won't get you more than $1-$3 an hour, but if you enjoy doing it, it can be a nice bonus.
11. Care: Babysitting & More
If you love kids, pets, or people in general, Care is a great app to consider. Make money by babysitting or helping people look after their loved ones, as well as tutoring, housekeeping, and pet care.
The Care app helps you connect with families in your community who need a little help and makes it easy to get paid.
What you can earn
According to Indeed.com, Carers on Care make on average of $11-$16 per hour.
12. TrustedHousesitters: Watch Houses for Money
With TrustedHousesitters, you actually have to pay to get started—there's an annual sitter plan, priced at over $100.
However, once you're signed up, you can get paid to sit in people's homes or watch their pets, or both. If you like to travel and you have some time saved up, this is a great option for making a little money while you do it.
What you can earn
TrustedHousesitters can make $20-$50 per night for pet sitting.
13. Ibotta: Save on Groceries
Get cash back when you shop with Ibotta.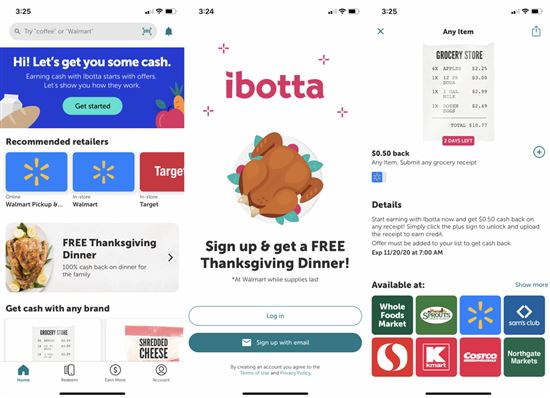 Screenshot of Ibotta
Download the app and find discounts for popular products already on your shopping list—think food, cleaning supplies, and more. Scan your receipts after you pay, and Ibotta will send cash back to your account.
Using Ibotta to help plan your shopping list will mean you save even more.
Some users have had trouble with unreadable receipts in the past. If this happens to you, try reaching out to Ibotta's support team.
What you can earn
Users can save typically up to a couple of dollars per scanned item with Ibotta.
14. Paribus: Cash Back App
Paribus is a popular cash back app offered by CapitalOne. Install it on your phone or computer and it will automatically scan for price drops for products you've bought online.
If the price dropped after you bought it, you get cash back—even after your purchase.
Plus, if you need help taking advantage of shipping promises from sites like Amazon, Paribus can help.
What you can earn
You can save as much as $200 a year using Paribus.
15. Rakuten: Popular Rebates
Shop and save up to 15% on purchases with Rakuten—which you may have previously known as Ebates.
There may be a $10 bonus just for signing up, if you time it right, and it works at over 2,500 stores worldwide.
What you can earn
Save up to 15% shopping with Rakuten.

To qualify for $10 Welcome Bonus, you must be a new member and make minimum qualifying purchases totaling at least $25 within 90 days of becoming a member.
16. Truebill: Negotiate Bills
If you think you're overpaying for subscription services, or are still being charged for ones you meant to cancel, Truebill is the app for you.
They've got a negotiating service that can help you lower the monthly rates on frequently overpriced utilities like phone and internet, and they'll help you cancel services that you aren't using anymore, without all of the usual hassle.
They're incentivized to save you money because they take a percentage of the money you save on their negotiations. Don't worry—you never end up paying more.
What you can earn
Truebill users report saving an average of 20% on phone and internet plans.
17. Foap: Sell Your Photos
If you fancy yourself an amateur photographer, you can earn a little money on the side selling your photos through the Foap app.
Get paid $5 for each photo you sell, and see your work used by big brands like Bank of America, Volvo, Nivea, and more.
In most cases, it won't make you rich, but a few users have managed to make a significant amount of money.
What you can earn
Average users typically only sell one or two photos a month, totaling $5-$10.
18. Worthy: Sell Your Jewelry
Worthy.com is a great place to sell jewelry if you need a quick cash infusion.
Most of their auctions are high-end jewelry, priced at least $1,000—think gold, diamonds, that sort of thing—so it probably isn't the best choice for everyone. But if you're looking to part with something valuable, it's a reputable option.
Worthy takes a fee between 18% and 10%.
What you can earn
Worthy appraisers will evaluate your jewelry and offer a reserve price—a minimum acceptable sale price. If you accept it, you will get that much or more at auction, or your jewelry will be returned.
19. Decluttr: Clean Up Old Tech
If you're looking for a way to tidy up your home and make a little money on the side while you're at it, look no further than Decluttr.
They'll help you get good prices for things you probably have lying around collecting dust, like CDs, DVDs, games, books, Blu-rays, and more. They also make it easy to sell your more expensive electronics, like tablets, smartphones, and consoles.
Just scan your item into the app, and you're ready to go.
What you can earn
Decluttr users often found prices comparable or better to those on other markets.
20. Turo: Rent Your Car
Maybe you're going on vacation and you want to offset the cost. Or maybe you're working from home, and your car is sitting in the driveway collecting dust.
Whatever your situation, Turo can help you turn your unused vehicle into a source of passive income.
Just sign up for the app, put your vehicle in, and wait.
What you can earn
According to reviews, users make an average of $700 a month renting out their vehicles on Turo.
21. Fiverr: Do Anything
There are plenty of ways to earn side money with Fiverr, and don't let the name fool you—you can make a lot more than five bucks with this popular gig work app.
There are over 400 digital services you can choose to provide, like graphic design, marketing, writing, translation, and more, and because it's online, you don't have to be local to take advantage.
The app even helps you track your earnings and your active gigs.
What you can earn
What you earn depends on what you can do, but if you've got a valuable skill, the sky is the limit on Fiverr.
22. Mechanical Turk: Perform Micro Tasks
Computers are getting better and better at completing automated tasks, but they can't do everything yet, and that's where Amazon's crowdsourcing platform, MTurk, comes in.
Get paid for doing things like updating business listings, answering surveys, and transcribing audio content, among many other tasks.
What you can earn
Mechanical Turk isn't going to make you rich; with a median wage of about $2 an hour, only 4% of workers earned $7.25 an hour according to a 2017 study.
23. Upwork: Get Freelance Work
Upwork is a popular freelance site that helps connect clients and freelancers to get work done.
Whether you're a software designer, an artist, a marketer, or something else, there's a good chance you'll be able to find something to do.
Sign up and apply to jobs that can take as little as a few minutes or as long as 6 months or more.
What you can earn
How much you earn on Upwork depends completely on what kind of work you do, but you should expect to get comparable rates for the same work performed elsewhere.
24. TaskRabbit: Complete Small Tasks
In the old days, we had the neighborhood handyman. Now we have TaskRabbit Taskers.
Get paid to help people with projects around the house, like furniture assembly, home repairs, moving, cleaning, and more.
Whether you're highly skilled or just competent enough, if you're willing to work, it's worth looking on TaskRabbit to see if there are people in your area in need of a helping hand.
What you can earn
According to Glassdoor, Taskers report earning between $8 and $43 an hour.
25. Airbnb: Rent Your Rooms
Turn your empty extra bedroom into rental space with the world-famous app, Airbnb. If you've got a spare room, you can rent it out.
Or, if you're going to be away from home for any length of time, you can turn it into a temporary mini "hotel." It's a great option if you're going out of town and want to recoup some of your travel expenses.
What you can earn
According to Earnest, a low-interest lender, Airbnb hosts make an average of $924 a month—depending on factors like location and quality of the property.
26. Vrbo: For Vacation Rentals
Vrbo is a vacation rental service similar to Airbnb that helps people rent out their empty condos, cabins, and beach houses to guests when they aren't in use.
The app helps you manage all of the logistics of the rental arrangements in exchange for a 5% booking fee that homeowners pay when reservations are made.
What you can earn
According to Forbes, homeowners may be able to make a profit of between $200 and $400 a month with rental properties on Vrbo.
27. Vacasa: Rent Your Empty Home
Another option for getting guests into your empty home space is Vacasa, an app which currently hosts a registry of over 25,000 vacation rentals worldwide.
They even have a team of Vacasa helpers to manage any emergencies that might come up with your guests when you're away.
What you can earn
While your earnings with Vacasa depend on the quality and location of your rental property, they will probably be comparable to other vacation rental services.
28. Gazelle: Sell Electronics
You can trade in your old electronics with Gazelle.com. The process is simple. Post your item on the site—whether it's an old iPhone, MacBook, Android or Samsung phone—and they'll give you an offer in under a minute.
If you accept, ship it to them (free for products over $1), and get paid quickly by Amazon Gift Card, PayPal, or check.
You'll get a 3% bonus if you choose Amazon Gift Cards as payment.
What you can earn
According to online reviews, Gazelle frequently reduces payouts dramatically from their original quotes once they have the item in hand—by as much as several hundred dollars.
However, if you're willing to sell unused devices for $20 or so, you will probably get that much.
29. Cardpool: Sell Gift Cards
It happens from time to time—you get a present from someone who doesn't know you all that well—a gift card for a business where you'll never shop.
Rather than let it sit in the junk drawer in your kitchen, you can exchange it for cash with Cardpool.
Just go to their site, enter the details on your card, including the current balance, and they'll provide an instant quote, which is yours to take or leave.
What you can earn
According to their website, Cardpool offers up to 88% of the balance of unwanted gift cards to sellers.
30. Reverb: Sell Old Instruments
Learning an instrument is a big commitment, and sometimes we start and never quite manage to get the hang of it.
Eventually that treasured possession ends up in the back of the closet. Enter Reverb.com. They'll help you sell old instruments, in whatever condition they're in, to buyers around the world.
There's no listing fee, and you set your own price. A competitive price determines how fast your product will sell.
What you can earn
Sale prices vary from user to user on Reverb.com, but the site takes a 5% selling fee (minimum $.50, maximum $500), a 2.7% + $.25 processing fee.
31. Etsy: Sell Crafts
If you're the crafty type, consider Etsy, where shoppers know to go to look for handmade goods.
Whether it's hand-painted greeting cards, knitted scarves, or original jewelry, Etsy is a great place to get eyes on your work.
You can post listings for a small fee, and their platform helps you communicate directly with customers. You even have the option to create sales, coupons, and other tools to market your products.
What you can earn
They sky's the limit when you sell on Etsy, which charges $.20 to list an item and 3.5% when you sell.
32. eBay: Sell Anything
Everyone knows eBay. It's where you go when you want to have a digital yard sale.
If you need money fast, take a look around the house and see if you've got anything that anyone would want. Post it on eBay and wait for the bids to flow in; it's that simple.
What you can earn
Of course, your earnings on eBay depend on what you're selling. The more you sell, the more you make.
33. Wrapify: Wrap Your Car
Getting a car wrap from Wrapify is sort of like being a Nascar driver, without the speed and with all the sponsors. Get paid to advertise with your car for up to 35 miles of your commute each day.
What you can earn
Wrapify estimates that drivers can earn between $264 and $452 a month with full wraps, and $174 to $280 with partial.
34. FreeCarMedia.com: Advertise On Your Car
You can offset your car payment with a wrap from FreeCarMedia.com, where advertisers pay you to drive. Sign up and connect with advertisers to get started.
What you can earn
According to their site, FreeCarMedia pays $50+ for a back window placement, and around $400 for a full wrap per month.
35. Sweatcoin: Get Paid to Walk
Walk a lot? You can get paid to do it with Sweatcoin. The goal of the app is to help people improve their health with a little financial motivation.
Install the app, then it counts your steps and converts them into Sweatcoins. Earn enough and you can redeem them for gift cards and cash, or donate them to worthy causes.
What you can earn
It takes a while to earn on Sweatcoin. The max you can earn is $1 a day.
36. Gigwalk: Get Paid Around Town
Get paid for simple tasks around town with the Gigwalk app, where companies pay users to go into stores, talk to store employees, and snap photos of products.
Gigs might take as little as 5 minutes or as much as a couple of hours.
What you can earn
Most Gigwalk gigs pay between $4 and $12.
37. Secretshopper.com: Evaluate Businesses
Become a secret shopper with Secretshopper.com and help companies find ways to improve their customer service.
If you're observant, reliable, and articulate, you can sign up on their site and start getting offers from companies. Then, when you're in the shop, it's a little bit like being a spy.
What you can earn
Secret shopping typically pays by the job, and shoppers report earning typically $8-$10 per assignment.
38. Respondent.io: High Paid Surveys
Not everyone is eligible to participate in surveys and studies from Respondent.io, but for those who are, it's one of the best paying survey sites around.
Typically, they look for professionals or experts to answer questions about their field, but they have more general consumer studies too.
If you're a working professional looking for side money, or out of work and hoping to make ends meet, it's definitely worth a look.
What you can earn
The average payout on the site is $140 per survey.
39. Udemy: Share Your Skills
Got a valuable skill that others want? You can turn it into money by making a course on Udemy.
This one is obviously a little more of a time investment, but if you've got a camera and an idea, it's easy to get started.
Udemy instructors get paid whenever a new student signs up.
What you can earn
According to their site, the average instructor on Udemy makes $15-$30 per month, per course.
40. Nexus Notes: Share Your Notes
If you're the kind of student who takes quality, well-written notes, you may (or may not) be surprised to find that other people want to use them.
If you have a class that lots of people take—preferably one that doesn't change much from year to year—you could get paid for sharing your notes with other students.
It certainly isn't a guaranteed paycheck, but if you're already doing the work, uploading it won't hurt.
What you can earn
Note takers get paid $17.50 per download of their notes on Nexus Notes.
Other Ways to Get Money Fast
Take Surveys
We already covered some of the most popular survey sites out there like Swagbucks, Survey Junkie, and InboxDollars, but there are dozens more.
Either online or in an app, diversifying your survey platforms is a great way to make sure you get even more earning opportunities.
Here are some of the more well-known options:

iSurvey World Review

Branded Surveys

Lifepoints

Onepoll

I-Say

Opinion Outpost

Pinecone

Surveybods

Panel Base

Valued Opinions

The Opinion Panel

PrizeRebel

Opinion Bureau

Market Agent

Pro Opinion

Vindale Research: Market research

Qmee
Garage Sale & Consignment Shops
You don't have to go online in order to sell your old stuff. There are real-world options too.
Host a yard sale or look around your city for consignment shops, which will allow you to get your things in front of customers in exchange for a cut of the profits.
Sell Your Photos
Stock photography is a booming business online, and because nobody wants to use the same photos as everybody else, there's always demand for fresh content.
If you're a good photographer, consider selling your photos to sites like Adobe Stock, Getty Images, and Shutterstock. You may not make a ton of money per photo, but it can add up over time.
Donate Plasma
This option does sound a little extreme, but it's a completely valid way to earn a little extra cash in a pinch.
Plasma donations are a vital part of the medical infrastructure, and you'll be helping save lives when you do it. You're allowed to donate once every 28 days for health and safety reasons, and you can donate more if you weigh more.
Bottom Line
Making money doesn't have to be hard. Sure, you probably won't be able to quit your day job with any of the items on this list, but when your wallet needs a boost and you've got a little time, pick an idea (or two) on this list to bring you closer to your goals.
Jeremy Harshman is a protector of art and writing at CreditDonkey, a personal finance comparison and reviews website. Write to Jeremy Harshman at jeremy.harshman@creditdonkey.com. Follow us on Twitter and Facebook for our latest posts.
Note: This website is made possible through financial relationships with some of the products and services mentioned on this site. We may receive compensation if you shop through links in our content. You do not have to use our links, but you help support CreditDonkey if you do.
Read Next: