Best Free Portfolio Management Software
Ad Disclosure: This article contains references to products from our partners. We may receive compensation if you apply or shop through links in our content. You help support CreditDonkey by using our links.
(read more)
Need to monitor your stock portfolio's performance? Read this review to find out the best investment tracking tools.
Managing your financial accounts in one place lets you quickly view daily gains and your net worth. But with so many portfolio management programs available, which is the right fit for you?
Take a look at how popular portfolio tracking apps (like Empower, SigFig, Morningstar) compare.
Best Free Portfolio Management Software to Track Your Investments
:
1. Empower: Best Overall
Empower can help with big picture stuff like net worth, spending habits, and retirement. The app syncs your banking, credit card, and investment accounts together to give a snapshot of your financial well-being.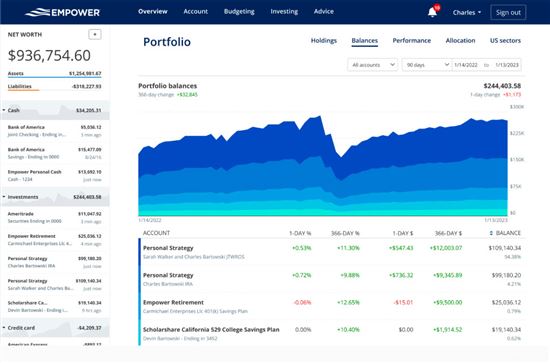 credit empower
The app also works like a personal financial planner by giving you a "second opinion" on your investments. Based on your goals and risk profile, the Investment Checkup Tool may suggest changes to your allocation (such as more bonds and fewer stocks) to give you the ideal target allocation for minimizing risk, maximizing returns, and meeting your financial goals.
Empower also offers free, detailed calculators to determine if your finances are on track and what you can do to improve your chances of a comfortable retirement. Here's what you can expect:

Retirement Calculator: Factors in your income, investments, and Social Security distributions using your linked accounts.

Scenario Simulator: Manually add different life scenarios (like buying a house or paying for a wedding) to see how these events will impact your retirement.
Empower's free financial tools are highly impressive and a great value. If you also want wealth management services, Empower offers robo-investing. The annual fee is 0.89% and requires a $100,000 minimum investment.
Features

Calculate your net worth

Analyze your spending and cashflow (income and expenses)

Plan for retirement

Monitor portfolio performance

Uncover hidden account fees

Investment checkups

Review asset allocations

256-bit encryption security

Web platform and mobile app
2. Mint: For Basic Budgeting
Mint is one of the most popular money management tools available for tracking your saving, spending, and budgeting. You can connect all your financial accounts to get a complete view of your situation.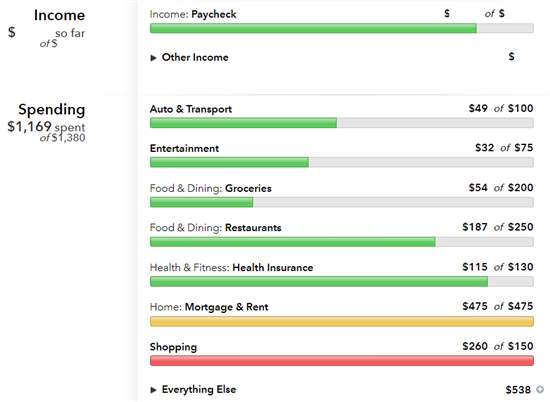 Screenshot of Mint
Mint is best known for budgeting and day-to-day money management. You can break down your monthly budget by category and assign an individual budget to each. Mint focuses on your current financial situation and can help you save and build long-term wealth.
Their investment tracking tool is fine for beginners, but there's no retirement planning feature. If you're an intermediate or advanced investor, you should look elsewhere.
Features

Track income

Expense categorization

Investment tracking

Goal setting and progress tracking

Ability to exclude accounts

Ability to add manual transactions

Free credit score

256-bit encryption security

Web platform and mobile app
3. Stock Rover Portfolio Management: For Research Tools
Take a deep dive on any stock with just one click. Stock Rover is a powerful investment research and analysis tool for finding, comparing, and tracking stocks, ETFs, and funds. The platform links to your brokerage data to analyze your portfolio against key metrics.
You even get in-depth market news to find out what's happening with individual stocks, ETFs, bonds, and commodities.
Features

Powerful screens to find and rank stocks

Evaluate competing investment options and trends

Score companies for quality and growth

Comprehensive research reports

Comprehensive information on over 8,500 North American stocks
Coverage of 4000 ETFs and 40,000 mutual funds
Portfolio management
Portfolio Brokerage integration for automated syncing of portfolios
Portfolio dashboard with detailed portfolio performance information
Activates a 14-day free trial of Stock Rover Premium Plus
4. Morningstar Portfolio Manager: For Hardcore Experts
Morningstar Portfolio Manager is a research firm that compiles and analyzes fund, stock, and general market data. The manager views all of your investments in one place, keeps track of price changes, and offers research tools.
You can track your investment portfolio, evaluate your strategy, and create watch lists for potential investment opportunities. The app even lets you import 25 different portfolios.
Features

Create watch lists and transaction portfolios

Import or manual enter your holdings

See the weighted average expense ratio of your funds

Portfolio X-Ray: Checks for hidden fees and over-allocation in a specific sector, country, or stock
The Morningstar Portfolio Manager has a learning curve that is best for serious investors with detailed knowledge of the market. You can access even more features, like screeners and analyst reports, with their Premium subscription.
5. SigFig Portfolio Tracker: For Casual Investors
SigFig is a robo-advisor with a free portfolio tracker. Anyone can use it without signing up for the robo-advisor service.
You can add over 80 different brokerages to your dashboard. It then offers advice based on your current investments and risk tolerance. SigFig is less comprehensive than Empower, but does contain a few key features.
Features

Visualize stock performance with charts

Real-time market quotes

Uncover hidden fees

Balance risk in portfolio allocation

Analyze if your portfolio is diverse enough

Assess your "cash drag": Finds extra cash that could be invested
SigFig's platform is intuitive and simple - good for semi-experienced investors who want to keep tabs on holdings. But it doesn't have research and analytics tools for hardcore investors.
Honorable Mentions
Bottom Line
The right portfolio management software depends on the features you want.
Total control and customization? Stick with Google Sheets or Excel.

Want wealth management with your investment tracking? Choose a robo-advisor like Empower.

Savvy with Wall Street lingo? There's a ton of analytics tools at your disposal.
Other factors to consider are input type (sync vs manual), software focus (all-in-one financial app vs only investment tracking), and the amount of information you need. Buy-and-hold investors don't need stock price changes like active traders do.
Investors need a way to keep track of their portfolio's performance. Just take time to figure out what's best for your investing level.
Amber Kong is a content specialist at CreditDonkey, a personal finance comparison and reviews website. Write to Amber Kong at amber.kong@creditdonkey.com. Follow us on Twitter and Facebook for our latest posts.
Note: This website is made possible through financial relationships with some of the products and services mentioned on this site. We may receive compensation if you shop through links in our content. You do not have to use our links, but you help support CreditDonkey if you do.
Empower Personal Wealth, LLC ("EPW") compensates CREDITDONKEY INC for new leads. CREDITDONKEY INC is not an investment client of Personal Capital Advisors Corporation or Empower Advisory Group, LLC.