Quicken Alternatives and Free Competitors
Best Alternatives to Quicken: 15 Free and Paid Replacements
This article contains references to products from our partners. We may receive compensation if you apply or shop through links in our content. You help support CreditDonkey by reading our website and using our links.
(read more)
Is there a good replacement for Quicken? Check out this list of best alternatives (including free options) to manage your money.

© CreditDonkey
Quicken used to be the biggest name in personal finance software. But the program launched back when VHS tapes were all the rage, and a lot has changed since. Frankly, their outdated desktop software just hasn't kept up with the times.
And since the software switched to a yearly subscription model, it's not the good deal it once was.
If you're sick of your accounts not syncing and dealing with an old-fashioned interface, it's time to consider an upgrade. Check out the best easy-to-use Quicken competitors down below.
Quicken Alternatives for Personal Finance
Quicken Alternatives for Business Accounting
Quickbooks Online for best small business accounting

FreshBooks for small business Mac users

Xero for growing businesses
Tip: Jump to our free budget calculator to visualize your monthly expenses right now.
What are the best alternatives to Quicken?
Money management should be free from glitches and lag. Find out which Quicken competitors offer a better—and more affordable—user experience.
What is your main reason for using a personal finance app?
Is there a free version of Quicken?
Quicken used to offer a free program called Quicken Online. But Intuit dropped the program after it bought Mint. Today, one of the best free alternatives to Quicken is Personal Capital which lets you monitor all your financial accounts in one place.
1. Best Overall: Personal Capital
If you want a full picture of your finances, Personal Capital is your best bet. Like Quicken, Personal Capital tracks your spending patterns and categorizes them. You can see all your finances in one place, including your net worth over time and your investments.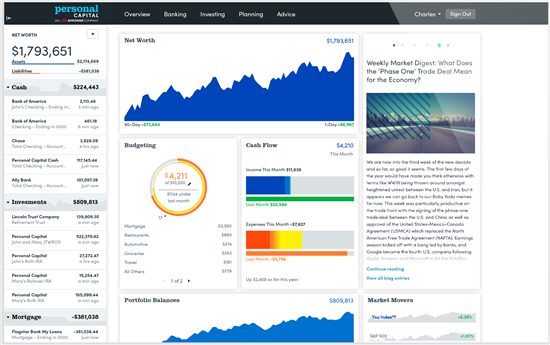 Screenshot of Personal Capital
The program excels in investment tracking. It provides deeper insights like retirement planning and investment checkups with personalized advice. Plus, it's a completely free alternative to Quicken.
On the downside, you can only set a general monthly budget. There's no option to create budgets for different spending categories. There's also no bill pay capability. Still, it still manages to pack in lots of useful money management features.
Key Features

Pricing: Free

Free Trial: N/A

Accessibility: Web, iOS, and Android
Personal Capital has 24/7 customer support via phone or email. Quicken, on the other hand, is only available by phone or chat from 5:00 a.m. to 5:00 p.m. PT.

Personal Capital is great for long-term savers and investors. For better help with your day-to-day spending, don't miss the next app.
2. Best Budgeting Tool: You Need a Budget
You Need a Budget (YNAB) focuses purely on budgeting. It uses a strategy called "zero-sum budgeting." Every cent you earn must have a plan, whether it goes toward groceries, rent, or savings.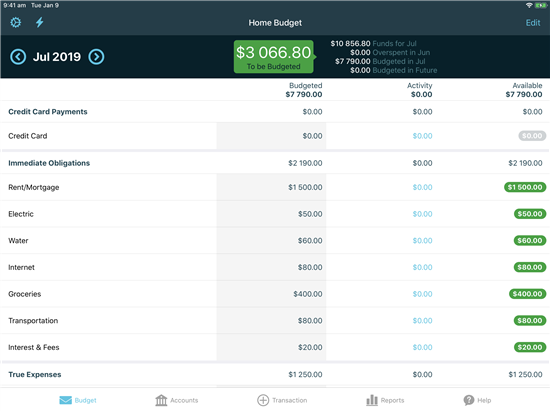 Courtesy of YNAB
YNAB also helps you plan for big expenses ahead of time so that you have enough saved when it comes. The app holds you more accountable than Quicken does. If you overspend, you'll get an alert. The app will help you adjust your budget by moving over money from another category.
It also offers financial tools, such as daily webinars, to get you comfortable handling your own money. The service is an easy introduction into the world of budgeting. It's great for beginners looking to get serious about money.
Key Features

Pricing: $11.99/mo or $84/yr[1]

Free Trial: 34 days

Accessibility: Web, iOS, Android, and Alexa devices
3. For Chromebook: Tiller Money
Tiller Money is the ultimate budgeting service if you love spreadsheets. The web-based program automatically updates your spending into spreadsheets. Everything is customizable, so you can create multiple budgets and track what's important to you.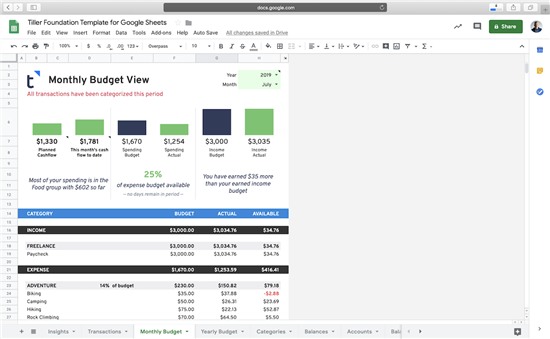 Credit: Tiller Money
Tiller's organization system is easier to use than Quicken's multiple drop-down menus. Plus, it works perfectly with Google Sheets on a Chromebook. Tiller concentrates on straightforward budgeting without the bells and whistles. They do not offer investment account tracking.
If spreadsheets are your go-to choice for organizing your life, this could be a great choice. The platform is free for the first 30 days and costs $79 per year afterward.[2]
Key Features

Pricing: $79/yr

Free Trial: 30 days

Accessibility: Add-on for Google Sheets and Microsoft Excel
Your operating system shouldn't hold you back from quality budgeting tools. Apple fans, be sure to check out the next two apps.
4. For Mac: Banktivity
Sick of missing out on Quicken features because you use a Mac? This app is for you. Banktivity is only available on MacOS and iOS, and it syncs across all your linked devices: Mac, iPhone, iPad, and Apple Watch.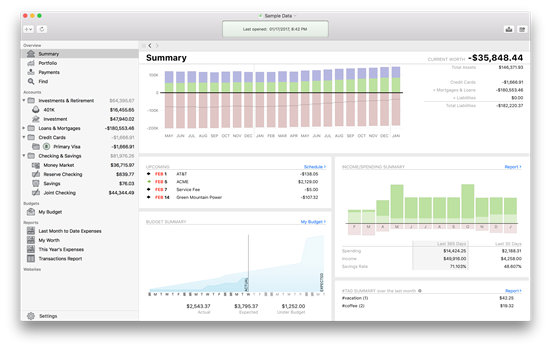 Courtesy of Banktivity
Banktivity takes a zero-sum approach to budgeting. This means you'll "spend" all your money every month on either expenses, savings, or debt payments.
Other features include setting savings goals and paying bills from the app. You can also build interactive, custom reports which give you great insight on your financial health.
Banktivity offers 3 pricing tiers. The Bronze plan only tracks your banking and credit accounts. The Silver plan includes investments, loans, and real estate tracking. The Gold plan can track accounts in different currencies.[3]
Key Features

Pricing: Bronze ($49.99/yr), Silver ($69.99/yr), Gold ($99.99/yr)

Free Trial: 30 days

Accessibility: Mac and iOS apps
5. For iPad: PocketGuard
PocketGuard is a freemium, basic budgeting app. It calculates your monthly, weekly, and daily budget based on your bills, income, and savings goals.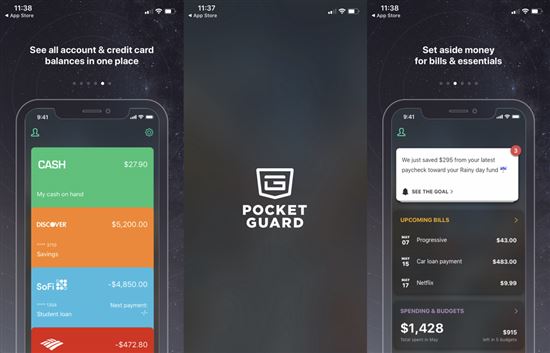 screenshot of pocketguard
The program actually tells you how much money you have left for everyday purchases. Quicken relies on you to set your own monthly limits.
PocketGuard also lets you set up notifications to stay on top of your money without opening the app. The app is fast and efficient, and it's an especially good choice to use on the iPad.
The basic account is completely free. Or, you can opt for PocketGuard Plus which lets you track cash spending and create custom spending categories.
Key Features

Pricing: Basic (free), PocketGuard Plus ($34.99/yr)

Free Trial: N/A

Accessibility: iOS, Android
Want your budgeting app to do more than just track expenses? The next pick can actually help you learn how to increase your credit score.
6. Credit Monitoring: Mint
Mint is actually owned by Intuit, the same company that used to own Quicken. It's a free tool that lets you create custom budgets for all your spending categories.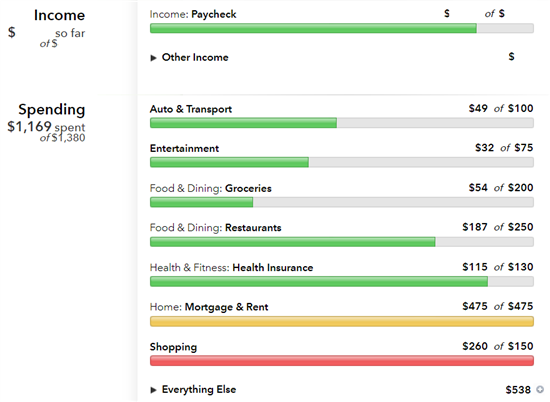 Screenshot of Mint
You can set goals and track your savings progress. All your transactions are synced and sorted into categories automatically. It also offers alerts to help you stay on track throughout the month. Plus, you can get a free credit score, credit monitoring, and tips to improve your score.
Its investment and retirement savings tools aren't very robust. If you're looking for a comprehensive personal finance tool, this might not be right for you. Also, the automatic categories aren't always accurate, so you might need to manually change them from time to time.
Key Features

Pricing: Free

Free Trial: N/A

Accessibility: Web, iOS, and Android
Is Intuit Mint really free?
Yes! Mint is 100% free to use. Mint doesn't make money by charging monthly or annual rates. Instead, they collect revenue by referring you to financial institutions and credit card promotions.

Not all free programs are limited in features. Find out which Quicken competitor punches above its class—and doesn't cost a penny.
7. Accounting Without a Subscription: Gnucash
If you're looking for an alternative to Quicken but aren't willing to give up the features that Quicken offered, Gnucash could be right for you.
Gnucash is a free, open-source accounting program. It can help you track your bank accounts as well as your investment portfolio. It can even help small business owners with bookkeeping and invoicing.
You can import QIF files from Quicken to make the switch even easier. Although it doesn't have all of the custom options of other paid programs, it's a solid free alternative to Quicken.
Key Features

Pricing: Free

Free Trial: N/A

Accessibility: Linux, Windows, Mac
8. Couples & Roommates: Goodbudget
Goodbudget uses the envelope budgeting system to help you see how much money you can spend on each expense. You allot a set amount of money to an "envelope" for your spending categories.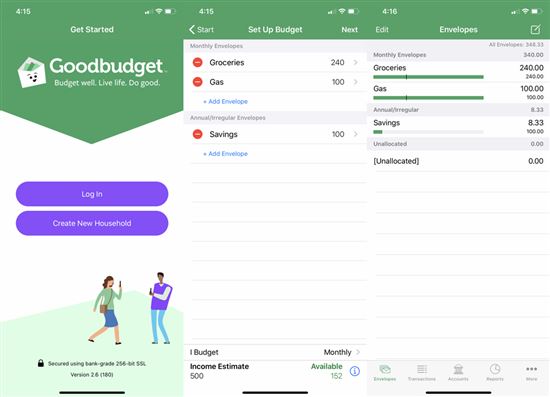 Screenshot of Goodbudget
This straightforward platform doesn't restrict you from spending if you go over your allotted amount, but it will send you a notification. Quicken, on the other hand, trusts you to create and track your own monthly allowances.
The free version only allows one linked financial account and 20 envelopes. The paid version unlocks unlimited synced accounts and envelopes.[4]
Goodbudget lets you share a budget with a roommate or spouse.

Key Features

Pricing: Free, Plus ($60/yr)

Free Trial: N/A

Accessibility: Web, iOS, Android
If you've fallen out of love with Quicken, you're not alone. Find out the top
common Quicken complaints
people have down below.
9. Budgeting Beginners: EveryDollar
EveryDollar is based on Dave Ramsey's 7 Baby Steps approach to personal finance. If you're not sure where to start your personal finance journey, this app can provide direction.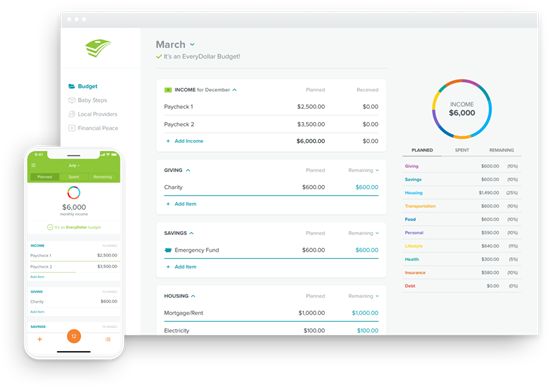 Credit: Everydollar
The steps include saving for an emergency fund and paying down your debts starting from the lowest balances. The idea is that you'll get a psychological boost with each little victory so you'll actually stick to your financial goals.
The app uses zero-sum budgeting to make you assign every dollar a category. This is purely a budgeting app, so you won't find any investing or retirement tools.
It costs $129.99 per year for the Ramsey+ account, which includes full access to EveryDollar and money lessons.[5] Unfortunately the free version of the app is very limited and requires you to manually track everything.
Key Features

Pricing: Limited free version; Ramsey+ account ($129.99/yr)

Free Trial: 14 days

Accessibility: Web, iOS, Android
Change is always hard. But some apps make it easier to switch than others. Find out how to start a completely new program without losing all the progress you've made.
10. Transfer Data From Quicken: CountAbout
CountAbout is a budgeting tool that makes leaving Quicken easy. This program seamlessly imports your data from Quicken and Mint, so you can keep budgeting right where you left off.
Just like Quicken, CountAbout automatically syncs transactions across all of your linked accounts (for Premium accounts only). But CountAbout shows even transactions that have not yet been processed.
CountAbout offers Basic and Premium accounts. The only difference between the two is the ability to automatically sync your accounts with Premium. Basic only offers manual entries. Both are paid, ad-free accounts.[6]
Key Features

Pricing: Basic ($9.99/yr), Premium ($39.99/yr)

Free Trial: 15 days

Accessibility: Web, iOS, Android
Where will you be financially in 10 years? How about 20? Take the guesswork out of your future finances with the next smart app.
11. Retirement Planning: PocketSmith
PocketSmith is a good tool to budget and track spending. But its stand-out feature is the ability to forecast your money based on current expenses, income, and spending habits. It can predict your account balances up to 30 years into the future.
Instead of simply listing your transactions, the program organizes them in a calendar. From there, you can also view your future income and expenses. If you're a visual person, this is a great way to understand where your money goes.
Another unique feature is the "what if" scenarios. You can test decisions to see how they would affect your finances. For example, you could predict how having a wedding would impact your future plans and finances.
PocketSmith has 3 plans. Basic only supports manual transaction imports. Premium gives you automatic transaction syncing, 10 linked accounts, and 10 years of budget projections. The pricy Super plan unlocks unlimited accounts and 30 years of budget projections.[7]
Key Features

Pricing: Basic (free), Premium ($90.00/yr), Super ($169.92/yr)

Free Trial: 14 days

Accessibility: Web, iOS, Android
12. Bill Pay: MoneyDance
Unlike most other budgeting programs, MoneyDance doesn't upload your data to the cloud. Your information is saved only to your hard drive—unless you download the app to your phone or sync to another computer.
The program offers advanced financial tracking and budgeting tools, such as financial graphs and reports, investment tracking, and bill reminders. It's also one of the few budgeting apps that offer bill pay.
MoneyDance costs $49.99 for lifetime access to the current version of the program.[8] If you want to upgrade to a newer version of the program at a later point, you'll need to purchase MoneyDance again. There is a 90 day money back guarantee.
Key Features

Pricing: Limited free version, Moneydance ($49.99)

Free Trial: Free account with 100 transactions

Accessibility: Windows, Mac, Linux, iOS, Android
Your precious dollars can be hard to keep track of. It gets even harder when you add euros, yen, or other currencies to the mix. Stay on top of it all with the app that works wherever you are in the world.
13. Track Crypto & Investments: MoneyWiz
MoneyWiz supports all global currencies and can sync 40,000 banks in over 50 countries, including cryptocurrencies. It's a great choice for expats and frequent travelers.
You can link your financial accounts for automatic syncing. Or you can choose to manually enter transactions and import bank statements if you prefer not to link up.
One thing it does well is the investment tracking function. You can easily track stocks, forex, and cryptocurrencies. It even supports exchange transactions for forex & cryptos. It also offers custom graphs and charts to help you visualize your money.
MoneyWiz offers a standard subscription with manual transaction entry and a premium account for automatic syncing.[9] You can test drive the platform with a 1-week free trial.
Key Features

Pricing: Standard ($19.99/yr), Premium ($49.99/yr)

Free Trial: 1 week

Accessibility: Windows, Mac, iOS, Android
It can be hard to gain insight from a laundry list of transactions. Instead, look for an app that visually organizes your money (like the one below).
14. Calendar-Based Budgeting: Dollarbird
Most apps just list your expenses by category, but that's not ideal for everyone. Dollarbird is a calendar-based app that helps you manage your cash flow on a monthly and daily basis. If you have irregular income or unpredictable expenses, Dollarbird could be perfect for you.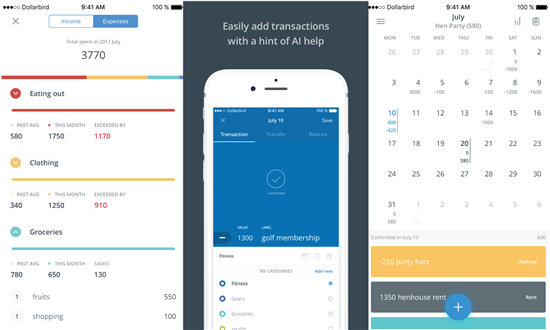 Screenshot of Dollarbird
Dollarbird organizes your expenses into categories and monitors your typical monthly spending average in each category. This lets you know if you're spending much more than normal on things like eating out, groceries, or entertainment.
Note that Dollarbird does not connect to your bank accounts or credit cards. It's up to you to manually add your info and confirm the recurring transactions that Dollarbird's AI predicts.
Dollarbird is free for one calendar. Dollarbird Pro allows up to 20 calendars with up to 3 team members on each calendar.[10]
Key Features

Pricing: Free, Pro ($39.99/yr)

Free Trial: N/A

Accessibility: Web, iOS, Android
15. Basic Budgeting App: Wally
In a crowd of flashy budgeting apps, Wally keeps it simple. It focuses strictly on budgeting and expense tracking, so it might not be the best fit if you need investment tracking.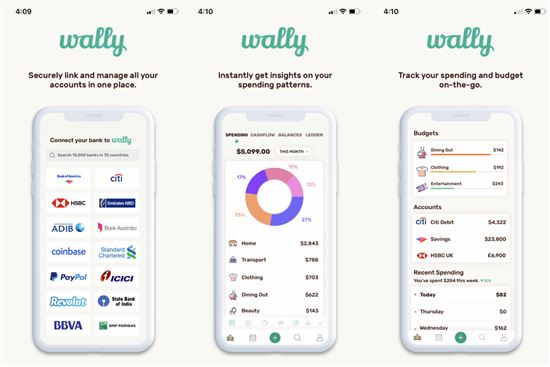 Screenshot of Wally
Wally lets you link to over 15,000 banks in 70 countries. It will auto sync and categorize your transactions for you, so you have real-time updates wherever you go. The app also has bank-level encryption for extra security.
Another cool feature is that you can create private groups to track joint finances with family or housemates. You can even upload shared documents like lease agreements and shopping lists.
The basic version of Wally is free. Premium add-on features cost $5.99-$9.99/year. Or you can get all features with a Wally Gold membership.[11]
Key Features

Pricing: Free, Add-Ons ($5.99-$9.99/yr), Wally Gold ($34.99/yr)

Free Trial: N/A

Accessibility: iOS, Android
What are the best Quicken alternatives for small business?
From invoicing to bookkeeping to inventory tracking, there's a lot that goes into your business. Find a program that does it all with these powerful Quicken replacements.
1. Best Small Business Accounting: Quickbooks Online
Quickbooks Online is an excellent accounting program for small businesses. You can link up your bank accounts and credit cards, as well as over 650 business apps (including Shopify, Square, PayPal, and much more).
The software goes beyond just business expense tracking. It's also packed with features like invoicing, tax deductions, bank reconciliation, inventory tracking, and employee time tracking.
Quickbooks offers 4 pricing tiers. Simple Start, Plus, and Advance plans are geared toward small businesses. The Self-Employed plan is designed for freelancers.[12]
Key Features

Pricing: Self-Employed ($15/mo), Simple Start ($25/mo), Plus ($70/mo), Advanced ($150/mo)

Free Trial: 30 days

Accessibility: Web, Mac, Windows, iOS, Android
2. Small Business Mac Users: FreshBooks
Freshbooks is an accounting program for freelancers and small businesses. It offers comprehensive tools like invoicing, expense tracking, and double-entry accounting.
The software integrates with more than 100 apps, so you can link your Shopify, Squarespace, Gsuite accounts, and more.
FreshBooks has an clean interface that works well on any platform. If you're a Mac user, you'll especially like how well it syncs across all your devices. With their mobile app, you can stay connected to your business no matter where you are.
FreshBooks has 4 pricing tiers. Lite, Plus, and Premium plans include billing for up to 5, 50, and 500 clients, respectively. Or, you can go for the Select plan and get custom pricing for more than 500 clients.[13]
Key Features

Pricing: Lite ($108/yr), Plus ($180/yr), Premium ($360/yr), Select (custom pricing)

Free Trial: 30 days

Accessibility: Web, Mac, Windows, iOS, Android
3. Best for Growing Business: Xero
Xero has everything you need in small-business accounting software. Like the other programs, Xero handles invoicing, expenses, inventory, and lots more. You can also link your bank accounts and apps like PayPal, Square, and Gusto.
Xero also lets you connect data from other accounting programs, so you won't lose your old transactions. It also allows unlimited users with every plan, which lets you collaborate with your team and save time.
There are 3 plans available. The Early plan limits you to just 20 invoices and 5 bills. The Growing plan gets unlimited invoices and bill management. The Established plan includes project tracking and expense claims.[14] You can cancel your subscription any time with a 30-day notice.
Key Features

Pricing: Early ($11/mo), Growing ($32/mo), Established ($62/mo)

Free Trial: 30 days

Accessibility: Web, iOS, Android
What are common complaints about Quicken?
Quicken has plenty of customer complaints, which may be the reason you're looking for an alternative. Some of the biggest concerns are:
Issues with Syncing
The popular money management software allows you to link bank accounts, including credit cards, but many complain about accounts not syncing properly.
Poor Customer Service
Many have complained about Quicken's customer service. If you want assistance from an actual human on the phone, you'll need to buy Quicken's Premier or Home & Business product.
Desktop Software Required for Mobile Access
You can only use their mobile app if you already have a regular Quicken desktop account. This is unlike other personal finance software that lets you operate exclusively from a mobile phone or tablet.
Not Sure How Long It'll Be Around
Quicken, once considered an innovative personal finance software, has been overshadowed by newer finance apps. Some versions of Quicken have even been discontinued, making the future of the program unclear.
How do I choose the right app?
Everyone's needs are a little different. The best financial app caters to you without skimping on the important stuff, like security.
Whether it's an app from this list, or a different one entirely, here's what to look for when test-driving financial software:
Security Features
As with all online financial products, check the app's security measures before you commit. A few things to look for are two-factor authentication and encrypted data.
Ease of Use
It's important that you actually enjoy the interface of your money tool. After all, a tool is only helpful if you actually use it. If an app feels clunky and confusing during the trial period, it might not be right for you.
Flexibility
Your financial situation is unique. A personal finance or small business app should be able to support your needs. Look for apps that let you customize spending categories, invoices, or whatever else is important to you.
Relevance to You
Some apps offer an impressive roster of features. But, be realistic about how many of those are actually useful to you—especially if it's a paid app. You might find that a cheaper or free app has everything you need.
Synced Accounts
Software that syncs your bank, credit cards, and other accounts will save you a lot of precious time. This features ensures that you'll have an accurate picture of your finances at your fingertips at all times.
Choosing a new budgeting tool takes time and research. Find out below how to get insight on your finances right now—without needing to download any apps.
Free budget calculator
Take control of your finances by learning exactly where your money goes. Try our free monthly budget calculator to get a visual for your spending. Plus, find out if you're saving enough according to the 50/30/20 rule.
Setting a budget is way easier when you take some time to figure out what's important to you. Got debt you want to pay off faster? Try reducing your budget in another area to see how much money you could free up.
Of course, you can still spend some money on fun stuff. But it's all about moderation and making sure you're in good financial health first.
Frequently asked questions
What is the best financial software for personal use?
It entirely depends on your needs and what kind of rates you're willing to pay. But Personal Capital and Mint are great free options to start with. You can link all your accounts, view your credit score, and get professional financial advice.
Is Quicken being discontinued?
Quicken has no current plans to permanently close its services, though they have been discontinuing some versions of their software after Intuit sold Quicken in 2016. Quicken encourages customers to use the most up-to-date software to take advantage of the latest features and tools.
Is Quicken subscription only?
Quicken recently switched to a subscription model. Subscriptions can be purchased on a 1-year or 2-year basis, but the program is still a desktop software as opposed to cloud-based.
Which Quicken alternative works with Windows?
Every platform in this article (except for Banktivity) is compatible with Windows computers. Most are web-based, meaning you can access them from your internet browser instead of having to download a separate program.
What is the best non-cloud alternative to Quicken?
If cloud-based software is a security concern, try Moneydance instead. It's local software, so all your data stays on your hard drive. The only time the program uses the cloud is when you choose to sync to another device. But your info is encrypted and they don't store it in the cloud.
What is zero-sum budgeting?
When you think of budgeting, you probably think of setting spending limits and trying to keep your money under those limits each month. You might have some money left over at the end of the month to put into savings or repay debt.
With zero-sum budgeting, you deliberately "spend" all your money until you're left with $0. Each dollar is designated for a purpose: rent, savings, debt repayment, etc. There are fewer surprises because you've financially planned out your entire month.
What experts say
CreditDonkey assembled a panel of industry experts to answer readers' most pressing questions. Here's what they said:
Bottom line
Budgeting is a crucial step toward financial freedom. If you're switching from Quicken or just need a new program to organize your money, you can't go wrong with the choices above.
For powerful financial tools without spending a lot of money, make sure to check out Personal Capital. It's a great fit to keep your current finances in order and prep you for a successful retirement later on.
A budget is only useful if it fits your lifestyle and preferences. Be sure to go with a program that's easy and enjoyable for you to use. Most of the programs on the list offer a free trial period. Take advantage to test out their service before you commit.
With just a little bit of help, you'll surely make progress with your financial goals.
References
Write to Anna Johnson at feedback@creditdonkey.com. Follow us on Twitter and Facebook for our latest posts. And remember that you can listen to CreditDonkey Radio any time.
Note: This website is made possible through financial relationships with some of the products and services mentioned on this site. We may receive compensation if you shop through links in our content. You do not have to use our links, but you help support CreditDonkey if you do.
Read Next:
---