Quicken Alternatives and Free Competitors
This article contains references to products from our partners. We may receive compensation if you apply or shop through links in our content. You help support CreditDonkey by reading our website and using our links.
(read more)
---
Is there a good replacement for Quicken? Check out this list of best alternatives (including free options) to manage your money.
Launched in 1983, Quicken is one of the oldest online budgeting programs on the market. But a slew of newer, cheaper programs now offer the same benefits and services.
Read on for the most common Quicken complaints and best alternatives.
Common Quicken Complaints
Issues with Syncing
The popular money management software allows you to link bank accounts, including credit cards, but many complain about accounts not syncing properly.
Poor Customer Service
Many have complained about Quicken's customer service. If you want assistance from an actual human on the phone, you'll need to buy Quicken's Premier or Home & Business product.
Desktop Software Required for Mobile Access
You can only use their mobile app if you already have a regular Quicken desktop account. This is unlike other personal finance software that lets you operate exclusively from a mobile phone or tablet.
Not Sure How Long It'll Be Around
Quicken, once considered an innovative personal finance software, has been overshadowed by newer finance apps. Some versions of Quicken have even been discontinued, making the future of the program unclear.
If you're searching for a Quicken alternative, you've come to the right place. Keep reading to learn about the best money management software available today.
Is there a free program like Quicken?
Personal Capital and Mint are your best options if you're looking for a free Quicken alternative. You can link and monitor all your financial accounts. Mint even provides your credit score for free.
Pocketsmith, PocketGuard, and Goodbudget also offer free versions of their personal finance software. But to get all the features, you'll have to pay. Keep reading to learn how they stack up and what rates each app charges.

Top Alternatives to Quicken
Most budgeting programs are now online-based, which means anyone can access and use them on any browser. However, some still have more functionality on certain platforms than on others.
Best Alternative for Online: Personal Capital
Pros
Base service with most features is completely free

Shows credit, bank, and investing accounts

Features retirement goal setting
Cons

High fees and account minimum for advisory service

No budget creating option
Like Quicken, the web-based Personal Capital allows you to link all of your bank accounts, including investments and credit cards.
Personal Capital rates well with people who focus more on creating a full picture of their finances rather than setting up a budget. But it will track your spending patterns and categorize them as Quicken does. It just doesn't allow you to create budgets for your spending categories.
It also offers retirement planning, investment checkups and a full view of your asset allocation. You can see your fees on your investments and Personal Capital can help you reduce them.
Once you log into your Personal Capital account online, you immediately see your investments and cash flow directly from the homepage. This overview is quicker to access than Quicken's, where you must click through drop-down menus.
Personal Capital is a good free alternative to Quicken. The money management tools are free. An advanced paid financial planning option is available to those with over $100,000 in their accounts.
Personal Capital has 24/7 customer support via phone or email compared to Quicken's limited live chat service, which is only available from 9 a.m. to 5 p.m. Monday through Friday.

Who Should Use It

Investors who want a detailed overview of their accounts

People with multiple financial accounts
Best for Mac: Banktivity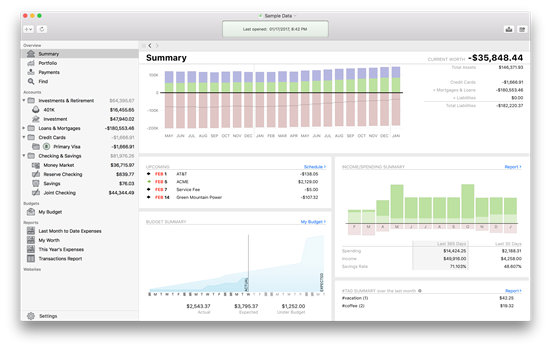 Courtesy of Banktivity
Pros

Made for and syncs with all of your Apple devices

Offers bill pay

Provides investment tracking

Supports multiple currencies

Costs only a one-time payment for base app
Cons

Requires additional yearly payment for Direct Access account syncing

Only works on newer Macs
Banktivity is only available on Apple devices running at least Sierra 10.12. It syncs across all of your linked devices and stores your data in the cloud.
The program is meant to be as comprehensive as Quicken. It offers a look at all of your investments and spending at once, though you do have to organize each charge into its own category manually.
Banktivity automatically generates suggested budgets based on how you categorize your finances. You can also pay your bills within the app. Plus, all currencies are supported.
A one-time purchase of $69.99 nets you the base program for life. But if you want your accounts to sync automatically, you'll need to pay an additional $44.99 every year.
You can get a free 30-day trial of Banktivity without entering any credit card data.
Who Should Use It

Mac users who want a fully-integrated software and don't mind paying higher rates for it

Mac users who want to pay credit cards and other bills via their budgeting app
Quicken Alternatives for Windows: Every platform (except for Banktivity) that is listed in this article is compatible with Windows computers. Most are online-based, meaning you can access them from your internet browser instead of having to download a separate program.

Best for iPad: You Need a Budget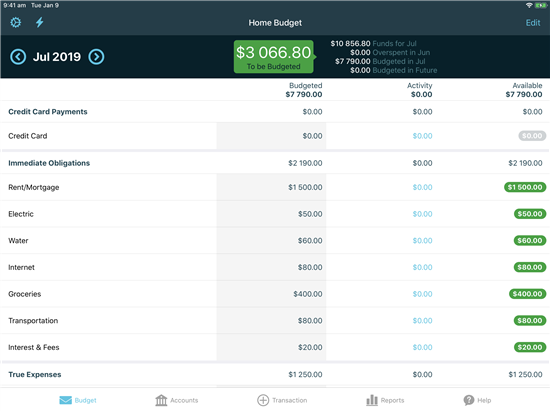 Courtesy of YNAB
Pros

Simple interface makes getting started easy

Free 34-day trial

Gives you access to wealth of resources
Cons

Costs $6.99 per month

No advanced investing tools
You Need a Budget, or YNAB, creates a budget by predicting your expenses based on recurring payments, such as rent and utilities.
The app's budgeting plan holds you more accountable than Quicken's software. If you overspend, you'll receive an alert. It uses a strategy called "zero-sum budgeting." Every cent is accounted for, whether it goes toward groceries, rent, or savings.
YNAB also offers financial tools, such as daily webinars, to get you comfortable handling your own money. The service offers an easier introduction into the world of budgeting than Quicken thanks to these features. The iPad version of the app is consistently highly rated by users on the iTunes store.
The first 34 days of YNAB are free. After that, you'll pay monthly rates of $6.99.

Who Should Use It

People seeking accountability in their spending habits

Those looking to make changes and cuts to their budget
Best for Saving: Mint
Pros

Free to use

Tracking spending and monthly payments to create a budget

Offers investment tracking
Cons

Often experiences errors keeping accounts linked

Investment tracking features are limited
Just like Quicken, Mint lets you link your financial accounts to track all individual transactions. Mint categorizes each expense and creates a suggested monthly budget based on past spending.
Unlike Quicken, Mint doesn't offer bill pay through the app itself. But Mint will help you keep track of your bills and encourage you to save. Plus, you'll receive alerts if your funds are low.
The app's basic over-time investment chart is also less comprehensive than Quicken's extensive investing tools. Mint isn't robust enough to provide portfolio analysis and performance reports.
Is Intuit Mint really free?
Yes! Mint is 100% free to use. Mint doesn't make money by charging monthly or annual rates for their service. Instead, they collect revenue by referring you to financial institutions and credit card promotions. For example, if you sign up for a credit card using a link on Mint's website or mobile app, Mint receives money from that company.

Who Should Use It

People looking to dabble in creating a budget without committing to a monthly payment
Best for Itemizing Budgets: EveryDollar
Pros

Easy to use interface

Zero-sum budgeting accounts for every dollar's use

Dave Ramsey's seven "baby steps" are built in

Free 15-day trial of paid version
Cons

Transactions must be manually input in free version

Paid version is expensive

Only available in U.S. and Canada
EveryDollar takes a "baby steps" approach to financial success using seven simple goals. Since EveryDollar is solely focused on budgeting, it offers no investment tools. The personal finance app uses zero-sum budgeting to makes you track every cent, even those in savings.
Each dollar is assigned a category. EveryDollar can feel restricting, depending on your current spending habits. But it can help you get a better handle on your spending.
The basic free version does not allow you to automatically sync your financial transaction history. You must enter each individual transaction. If you want to automatically sync your transactions, expect to pay higher rates than with other personal finance software.
EveryDollar's paid account, featuring automation and other financial tools, costs $99 per year.

Who Should Use It

People who want to curb their spending

Those looking to set itemize budget limits
What's a Quicken alternative for small businesses?
QuickBooks is a great financial management tool for small businesses. It's a cloud-based accounting software that can help with payments, income, reporting, and more. Plus, you can access your data on their mobile app.
Read our review of QuickBooks Online and get discounted rates.
Personal Capital also offers several tools for small business budgeting. Learn more about Personal Capital in our full review.

Best for Retirement Planning: PocketSmith
Pros

Advanced tools show expected net worth years into the future

Basic version is free to use

Can link to investing accounts

Creates budget calendar that syncs to personal online calendars
Cons

Mid-tier account level costs $9.95 per month, while highest costs $19.95

Most in-depth versions of tools only available at highest pay level

Free version requires manual transaction input
PocketSmith offers state-of-the-art tools for people willing to pay a monthly fee.
The app rates well among those who want to look at their budget as a projection rather than an evaluation of their past spending. PocketSmith focuses on "forecasting" based on current expenses, income, and spending habits from your linked financial accounts, including investments.
Forecasts come in the form of a downloadable calendar that can sync up to Google, Android, and Apple devices.
The basic version of PocketSmith is free and offers 6 months' worth of financial projections at a time. It does not include automatic account syncing—you have to enter each transaction manually.
Paying rates of $9.95 or $19.95 per month grants access to up to 10 or 30 years of projections, respectively.
Who Should Use It

Budgeters planning their financial future
Best for Spreadsheet Lovers: Tiller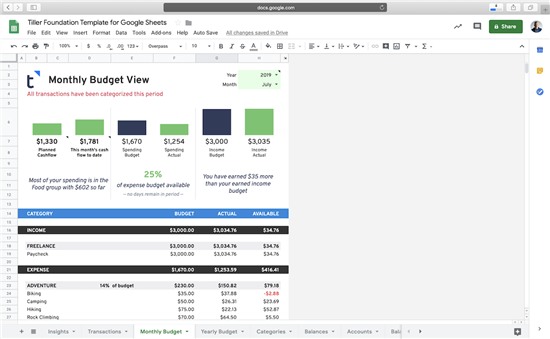 Credit: Tiller Money
Pros

Lets you import financial information into Google Sheets and Excel

Users can customize spreadsheets to fit their needs

Shows daily feed of all transactions, spending, and balances
Cons

Does not support investment accounts

Spreadsheets can be confusing to newer budgeters

Costs $59 per year
Tiller Money is the ultimate budgeting service for those who love spreadsheets. The web-based program divides your finances into one of several budgeting templates. You can also create your own templates.
Tiller is simplistic and has an easier organization system than Quicken's multiple drop-down menus. Tiller concentrates on straightforward budgeting without the extra features of some other systems. It offers no investment account tracking.
The platform is free for the first 30 days and charges annual rates of $59 afterward.
Who Should Use It

Those who love using spreadsheets
Best for Simplified Budgeting: PocketGuard
Pros

Can link to bank, credit card, loan, and investment accounts

Basic app is free to use

Available as app

Automatically builds budget suggestion based on income, goals, and bills

Allows users to set spending limits
Cons

Only available as an app

Advice may be too simple for advanced users

Cash tracking and custom categories only available in paid plan

Only available in U.S. and Canada
PocketGuard allows you to plan monthly budgets by tracking spending and allotting money to bills. This program creates an actual spending limit for every category based on your previous transactions.
Quicken does not offer this feature, instead of relying on you to set your own monthly maximums.
PocketGuard also lets you set monthly sending notifications to stay on top of your money without having to open the app.
The basic account is completely free. A PocketGuard Plus account, which offers the ability to track cash spending and create custom spending categories, is $3.99 per month or $34.99 per year.
Who Should Use It

Anyone looking to simplify their monthly budget with straightforward tools
Best for Transferring Data from Quicken: CountAbout
Pros

Can import data from Quicken and Mint

Reflects all transactions, not just those already processed by the bank

Free 15-day trial
Cons

Only offers automated transaction syncing with premium paid service

No free account option

Does not offer investment tracking

Lacks advanced budgeting features
CountAbout is a basic budgeting tool that allows you to import data from Mint or Quicken. The basic account requires you to manually enter all of your financial transactions.
Just like Quicken, the paid version automatically syncs transactions across all of your linked accounts. But CountAbout shows even transactions that have not yet been processed.
A basic CountAbout account, which includes everything but automated account syncing, costs $9.99 per year. A premium account costs $39.99 per year, though the app does offer a free 15-day premium trial.
Who Should Use It

Those transitioning from Mint or Quicken who need to keep their old data
Best Alternative with Bill Pay: MoneyDance
Pros

In-app bill pay

Provides investment tracking

One-time payment

Locally-stored data keeps your data on one device
Cons

Difficult to import data from Quicken

Dashboard can feel overwhelming with too many tools at once
Unlike most other budgeting programs, MoneyDance doesn't upload your data. Your information is saved only to your hard drive—unless you choose to download the app to your phone or to sync to another computer.
The program offers advanced financial tracking and budgeting tools, such as graphing, constantly updating international currency conversion rates, and more. It also supports linking investment accounts. It also is one of the few budgeting apps that offer bill pay.
MoneyDance costs $49.99 once for lifetime access, not including updates. If you want a newer version of the program, you'll need to purchase MoneyDance again.
Who Should Use It

People who want to avoid uploading their financial data to the cloud
What is the best financial software for personal use?
It entirely depends on your needs and what kind of rates you're willing to pay. But Mint and Personal Capital are great options to start with. You can link all your accounts, view your credit score, and get professional financial advice.

Best for Groups: Goodbudget
Pros

Uses zero-sum budgeting to account for every earned dollar

Envelope system can help you visualize your budget

Multiple users can access same budget
Cons

Free version only allows one synced financial account

No email customer support with free version
Goodbudget uses what it calls an "envelope system" to help you see how much money you spend on each expense. The system works similar to zero-sum budgeting: you allot a set amount of money to one "envelope."
The platform doesn't restrict you from spending if you go over your allotted amount, but it will send you a notification. Quicken, on the other hand, trusts you to create and track your own monthly allowances.
The basic version, which only allows one financial account, is free, while the paid version, which unlocks unlimited synced accounts and envelopes, costs $6 per month or $50 per year.
Goodbudget lets you share a budget with a roommate or spouse.

Who Should Use It

People who want to track spending in specific budget categories

Couples or roommates who split household expenses
Best Budget Only Option: Wally
Pros

100% free

No ads (this is especially uncommon for free apps)

Available for iPhone and Android

All financial data can be exported
Cons

Only offers budgeting

Transactions are not automatically synced
In a field of flashy budgeting apps, Wally keeps it simple. They offer strictly budgeting, and minimal extra features and tools.
However, that means you'll have to enter your transactions manually. If you're new to budgeting and don't have complicated finances, Wally could be a good choice.
Wally is currently 100% free, though they could roll out premium features in the future. If you want a tool to help you save and manage your income stream, consider Wally.
Who Should Use It

People who want a simple budgeting tool

People who want a free service
Is Quicken being discontinued?
Quicken has no current plans to permanently close its services, though they have been discontinuing some versions of their software after Intuit sold Quicken in 2016. Quicken encourages customers to use the most up-to-date software to make sure they can take advantage of the latest features and tools.
Best Open Source: Gnucash
Pros

Free and open-source

Offers investment tracking

Variety of financial reports

Based on professional accounting principles

Good for business finance management
Cons

If you're looking for an alternative to Quicken but aren't willing to give up the features that Quicken offered, Gnucash could be right for you.
Gnucash is a free, open-source program that uses double-entry accounting. This simply means that every transaction will affect two accounts, one that is debited and one that is credited.
In addition to budgeting, Gnucash also offers financial reporting and investment portfolio tracking. Whether you're looking to manage your personal financial goals or as a business, Gnucash has what you need.
Who Should Use It

People who want in-depth features

People who manage business finances

Linux users

Those comfortable with a steep learning curve
Best for Investment Tracking: Betterment
Pros

No account minimums

Track retirement goals, asset allocation

Low fees for smaller balances
Cons

Strictly for investing and investment tracking

Limited number of investments available

Less personalization than other robo advisors
While Betterment is not a budgeting software like Quicken, it can provide similar investment tracking tools. As a popular robo advisor, Betterment allows you to both invest and track your investment performance all in one place.
For those with less than $100,000 in their Betterment account, the fee is 0.25% of your account value. It is charged annually and includes Betterment's automated portfolio management, access to financial experts, automatic rebalancing and tax loss harvesting.
If you are hoping to focus mainly on tracking your investments, Betterment is a great option. Check out our full review on Betterment to see if it's right for you.
Who Should Use It

People who mainly want investment tracking

People with relatively low capital

People new to investing
Is Quicken subscription only?
Quicken recently switched to a subscription model. Subscriptions can be purchased on a 1-year or 2-year basis, but the program is still a desktop software as opposed to cloud-based.

Best for Daily & Monthly Budgeting: Dollarbird
Pros

Offers free version and paid plans

All finance data can be exported

Can use on mobile and desktop

Cloud-based so you can access from anywhere
Cons

All transactions must be added manually

Limited capabilities in free version

No alerts or reminders function
Dollarbird is a calendar-based personal finance app that helps you manage your cash flow on a monthly and daily basis. While most apps organize expenses exclusively by category, it's not an ideal approach for everyone. If you have more irregular income or unpredictable expenses, Dollarbird could be perfect for you.
Dollarbird still lets you organize your expenses into categories, as well as monitor the typical monthly average you spend in each category. This lets you know if you're spending much more than normal on things like eating out, groceries or entertainment.
The main difference between Dollarbird and other personal finance apps is that Dollarbird does not connect to your bank accounts or credit cards. It's up to you to manually add your info and confirm the recurring transactions that Dollarbird's AI has learned to expect.
Who Should Use it

People who don't mind more manual work

People looking for day-to-day finance tracking

People hesitant to share financial info with other budgeting apps
What Experts Say
CreditDonkey assembled a panel of industry experts to answer readers' most pressing questions:
Why do people find it hard to stick to a budget?

Are paid budgeting apps worth the cost?

What should the average person look for in a budgeting app?

Should everyone be using a budgeting app or other type of budgeting service?
Here's what they said:
Bottom Line
Budgeting is a crucial step for those seeking financial freedom. Luckily, several apps and programs can help you build a budget that fits your lifestyle and preferences.
Most of the programs on the list offer a free trial period. Take advantage to test out their service before you commit.

Note: This website is made possible through financial relationships with some of the products and services mentioned on this site. We may receive compensation if you shop through links in our content. You do not have to use our links, but you help support CreditDonkey if you do.
More from CreditDonkey:
---