How to Choose a Bank: Beginner's Guide
Editorial Note: This content is not provided by the bank. Opinions expressed here are author's alone, not those of the bank, and have not been reviewed, approved or otherwise endorsed by the bank.
Ad Disclosure: This article contains references to products from our partners. We may receive compensation if you apply or shop through links in our content. You help support CreditDonkey by using our links.
(read more)
Can't decide what bank to use? Here are tips for choosing a new bank that's right for your needs.

© CreditDonkey
When you're talking about a place to store your hard-earned money, it's important that the bank meets your needs.
Some banks provide flexibility and convenient access, while others offer great rates and customer service. Know what's important to you.
There are a few different types of banks. Each has different benefits (and drawbacks). Read on to learn more.
TYPES OF RETAIL BANKS
You have four choices when deciding where to do your personal banking:
No matter which you choose, make sure the bank is FDIC insured. This means your deposit accounts (checking, savings, money market, and CDs) are insured up to $250,000. In other words, you won't lose your money in the VERY unlikely event that your bank closes.
Here's a guide to the different types of retail banks.
National Banks
These "big banks" (including names like Chase, Citibank, Bank of America and Wells Fargo) typically have branch locations and ATMs throughout the country. No matter where you live or travel, you'll still be able to do your banking in person.
But the downside is that national banks tend to have lower interest rates and more fees. Often, you'll need to maintain a minimum balance or else you'll pay a service fee. And the interest rate is practically non-existent, so your money won't grow.
Pros
Numerous branches and ATMs nationwide

A wide range of products and services, including investment options

Convenient for travelers and students in out-of-town colleges
Cons
Very low interest rates

Monthly maintenance fees, often tied to a minimum account balance or direct deposit requirement

Some banks charge when you go over a set number of monthly ATM transactions
Here's a list of the best national banks in America.
Regional or Community Banks
This kind of retail bank is usually limited to one geographical area, whether it be several states or a single city or town. You won't have the same in-person access to your funds as a national bank when you move or travel. But regional banks usually offer more interest and fewer fees to entice customers.
Pros
Better interest rates

Lower fees and minimum account balance requirements

More personal relationship
Cons
Fewer branch locations and in-network ATMs to access your money, especially when traveling

You may need to switch banks when moving
Tip: Many regional banks, and even some smaller, community-based ones, now have convenient online options. This means you can still manage your money effectively even when you can't visit a local branch. But be careful—fees for withdrawing money from out-of-network ATMs can quickly add up.

Credit Unions
Unlike the other types, these mom-and-pop-style banks aren't trying to turn a profit. Credit unions operate by pooling the money of their members. They tend to have a limited number of locations (sometimes only one branch). But they make up for it with customer-friendly rates, few fees, and great, personalized service.
You need to become a member of a credit union in order to open an account. Most of the time, there are some requirements. For example, you have to work with a certain organization or you have to join a certain group.
Pros
Higher interest on accounts

Competitive loan rates

Great customer service
Cons
Usually very few branch locations and small, local ATM networks

Very limited online banking options

Need to qualify to join
Online Banks
This type of bank (including Ally, CIT and Synchrony) has NO physical locations. Instead, you handle all transactions through their website or mobile app. You'll use ATMs for withdrawals (often with rebates for fees).
With no physical overhead, online banks pass the money they save onto you by way of higher interest rates. Many also have no service fees and fewer balance requirements.
Pros
Best interest rates

Minimal or no fees

Often no opening deposit or balance requirements
Cons
No physical branch locations

Difficulty depositing cash

No personal banking relationships
FINDING THE BEST BANK FOR YOU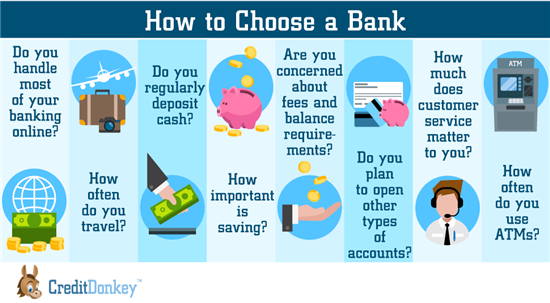 © CreditDonkey
Now that you're familiar with the basic types of retail banks, it's time to do a little homework to determine which one suits your needs. Here are some questions to consider:
Do you handle most of your banking online?
If you're computer savvy—or just antisocial—then online banks are the way to go. You can handle most transactions from a secure, encrypted website or mobile app. (However, you will need to visit an ATM to withdraw money.)

While national and many regional banks also offer these services, the strictly-online ones boast the best interest rates for your money.

If you're considering opening an online savings account, you should check out our top picks.

How often do you travel?
For frequent business travelers, vacationers, and college students, national or online banks provide the most convenient access. National banks have the largest number of branches and ATM locations, while online banks may refund fees for out-of-network ATM withdrawals.
Do you regularly deposit cash?
National, regional/community, and credit unions allow for cash deposits in person or through in-network ATMs. Since online banks don't have physical locations, you can't easily deposit cash with them.

Many banks offer bonuses for opening a new account with them, although sometimes they require that you set up direct deposit. If you work at a job where you're paid in cash and don't have direct deposit, there are bonus offers available for you too. Check out a list of the best current bank

promotions that do NOT have a direct deposit requirement

.

How important is saving?
If your goal is to see your money make money, online banks provide the best available interest rates. Regional/community banks and credit unions also offer competitive rates if you'd rather have a bank you can visit in person.
Are you concerned about fees and balance requirements?
Many online banks have no monthly service fees or account balance requirements. National banks will usually require a minimum balance in order to avoid a service fee. If you don't want some of your money tied up like that, then it's best to consider an online bank.
Do you plan to open other types of accounts?
National banks typically offer the best range of products, often including CDs, retirement accounts and other investments.
How much does customer service matter to you?
Regional/community banks and especially credit unions, which are "owned" by their members, usually provide the best personalized customer service.
How often do you use ATMs?
This one gets a bit tricky. National banks have the most ATMs, which translates to the best access. But some national banks charge when you go over a set number of monthly visits. On the other hand, regional or community bank customers will get charged for using an out-of-network ATM (if not by your bank then certainly by the one that owns the ATM).

You may want to consider online banks. Some utilize nationwide ATM networks like Allpoint, while others will credit some of your ATM fees from other banks.
What the Experts Say
As part of our series on banking and saving, CreditDonkey asked a panel of industry experts to answer readers' most pressing questions. Here's what they said:
Bottom Line
When it comes to personal banking, you have several options, ranging from small, local credit unions and regional institutions to huge national and online banks. Consider your needs and do some research to find the best one for you.
Once you've narrowed down the right type for you, take some time to research several individual banks. Fees, interest rates, account minimums, and other features vary greatly. You can look online or call the customer service number for information.
You can search for a FDIC insured bank here.
Write to Kevin L at feedback@creditdonkey.com. Follow us on Twitter and Facebook for our latest posts.
Note: This website is made possible through financial relationships with some of the products and services mentioned on this site. We may receive compensation if you shop through links in our content. You do not have to use our links, but you help support CreditDonkey if you do.
This content is not provided by Citi. Any opinions expressed are those of the author's alone, and have not been reviewed, approved or otherwise endorsed by Citi.
Subscribe to CreditDonkey
Get updates on the latest deals and keep up with the best money moves.