What You Need to Open a Bank Account
---
Opening a bank account takes just a few minutes but there are rules to watch out for. Find out what documents you need to actually apply and other requirements.

© CreditDonkey
Most banks provide three ways to open an account: in-person, over the phone, or online. The application requirements for each are usually the same.
BEFORE YOU BEGIN
Do Your Research: Rules, rates and fees differ greatly between banks. Start by finding the right bank for you. You'll also need to decide which type of bank account you want to open.
A checking account is for everyday transactions. You can make ATM withdrawals, check writing, and bill pay.
A savings or money market account is for saving money for goals. So you want to look for the highest interest rate. There are limitations on withdrawals.
A Certificate of Deposit is for putting away a certain amount of money for a specific time. You know the exact interest rate you'll get, so you want the highest possible.
If you're more tech savvy, consider an online bank.
Online banks
are able to offer much higher interest rates because they don't have physical overhead costs. You can still perform all the same basic activities, it's just that you won't be able to pop into a branch to do business. Check out some of the top banks in the nation.
Top Online Checking Accounts

ELIGIBILITY
Here are the eligibility requirements:
Age. All banks require you to be 18 years old to open an account on your own. Those under 18 will need a parent or guardian as co-owner of the account.
You must have a Social Security number. Banks require your SSN in order to check your credit and report interest to the IRS. If you don't want to provide it, some will accept a Taxpayer Identification Number.
Clean record. Some banks also do credit or background checks. They may deny applicants with a history of overdraft or unpaid fees or convictions for financial crimes.
WHAT YOU'LL NEED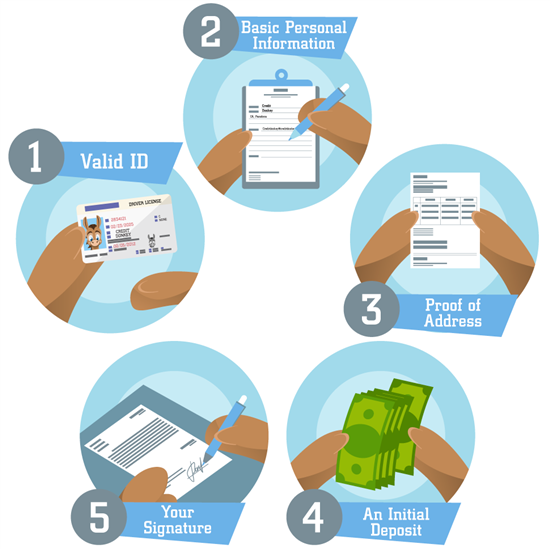 © CreditDonkey
Opening an account takes only a few minutes if you are prepared. Here's everything you'll need:
Valid ID. A driver's license, state identification card, or passport is required. You do not need to be a U.S. citizen.
Basic personal information. The application will require your date of birth, Social Security number, email, phone number, and a physical address.
Proof of address. If you're opening the account in person at a branch, you may need to provide proof of your address. This could be a utility bill, mortgage statement, or rental agreement in your name. Most banks don't allow using post office (P.O.) boxes.
An initial deposit. Some banks require a minimum deposit (often $25 or even higher) in order to open a new account. Some banks have no minimum and will let you fund it later. Make sure you know your bank's opening requirements.

You can make your deposit in cash or by check when opening the account in person. For online or phone applicants, you'll have to link up an existing account to transfer money. Have your routing and account numbers ready.

Once your account is open, be sure to keep tabs on your balance. Some banks have a minimum balance requirement. They'll charge "maintenance fees" for accounts that fall below a required minimum monthly amount.


Your signature. The bank will require you to sign to open the account. For online or phone applications, an e-signature or verbal agreement might be recorded. Some banks might simply mail you a form to sign and return.
Once you are finished, make sure to review all paperwork. Familiarize yourself with the account features and rules, then file the papers in a safe place.
For online or phone applications, the introductory packet will usually be mailed to your address within 5-10 business days of opening the account.
What the Experts Say
As part of our series on banking, CreditDonkey asked a panel of industry experts to answer readers' most pressing questions. Here's what they said:
BOTTOM LINE
Opening a bank account is a quick, convenient process if you have the necessary paperwork and information. These include a valid ID, SSN, some basic information and your initial deposit.
Make sure to ask assistance of a parent or legal guardian if you are not yet 18.
Write to Kevin L at feedback@creditdonkey.com. Follow us on Twitter and Facebook for our latest posts.
Subscribe to CreditDonkey
Get updates on the latest deals and keep up with the best money moves.