Simplifi Review
Ad Disclosure: This article contains references to products from our partners. We may receive compensation if you apply or shop through links in our content. You help support CreditDonkey by using our links.
(read more)
Want to manage your money and track financial goals in one place? Simplifi can help. Find out if it's safe to use and how it compares to Quicken.
Overall Score

4.2

---

Price

4.5

Goal Tracker

4.5

Customer Service

3.0

Budgeting

5.0

Ease of Use

5.0

Investment Tracking

4.0

Retirement Planning

3.5
5-point scale (the higher, the better)
---
Pros and Cons
View all finances in one place
Set savings goals
No ads in app
App can be buggy
Only available in U.S.
---
Bottom Line
Intuitive budgeting app for basic financial tracking
If you're in the market for a streamlined personal finance app, Simplifi might be the answer.
It stores all your financial details, tracks your goals, and could be the solution to your money management mayhem.
But with so many free personal finance apps, can Simplifi really be worth the fee? Here's what you need to know before downloading.
What is the Simplifi App?
Simplifi is a personal finance app available on both mobile and web. With Simplifi, you can take advantage of multiple financial aggregation tools on a streamlined platform to manage all your money - no matter where you keep it.
While it's a fairly new app, Simplifi still earns points for credibility because it comes from the creators of Quicken.
Since Quicken has been a well-respected name in the financial tracking space for over 30 years, Simplifi is already more promising than some other new financial management apps popping up on the market.
Before downloading, review the pros and cons of Simplifi to find out whether it's worth the monthly (or yearly) fee.
Pros and Cons of Simplifi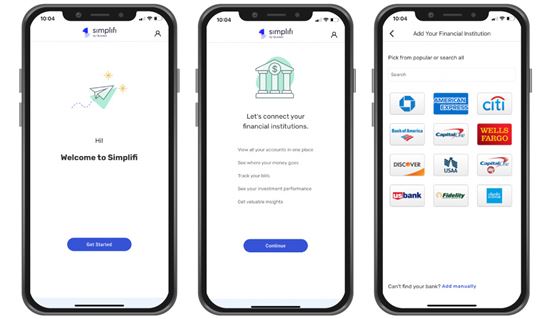 Screenshot of Simplifi
Every financial service has its advantages and disadvantages — and Simplifi is no exception. Here's what you need to know about Simplifi before signing up.
Pros
The advantages of working with Simplifi are easy to see:
No advertisements in the app: You won't have to deal with any ads within your money management experience in this paid app.
Comprehensive spending tracking: Simplifi makes it a breeze to keep tabs on your spending.
Savings goals made easy: The convenience of multiple savings goals in a single app can help you visualize your progress.
A full financial picture at your fingertips: You can bring Simplifi with you to track your money moves from anywhere.
Cons
Here are the drawbacks to be aware of when working with Simplifi:
Paid app: You'll have to pay a yearly ($47.99) or monthly subscription ($5.99), while other options are completely free.
Some bugs: As a relatively new app, it is not surprising that there are some bugs (based on customer reviews).
Limited availability: Simplifi is only available to customers within the U.S. for now.
No investment advice is available: You won't receive any recommendations on how to grow your investments.
How Much Does Simplifi Cost?
Simplifi offers a subscription for $5.99 per month or $47.99 per year (the yearly option ends up being slightly less expensive than if you were paying by the month).
However, you will be able to take advantage of a free trial before signing up for a paid subscription. Simplifi offers a free 30-day trial. But once your free trial is over, you'll be billed automatically for a subscription.
Make sure to keep an eye on the 30-day window so that you can make your decision before getting locked into a payment.
What Features Do You Get for the Price?
If you are hoping that a personal finance app will make your life easier, you've likely uncovered a wide range of options. While many personal finance apps have features that seem fairly standard, Simplifi offers a fresh take.
Here's what stands out about Simplifi.
A Comprehensive Overview of Your Money
Through Simplifi, you can connect your accounts from over 14,000 financial institutions. With that, you can likely connect every single one of your financial accounts to the app.
Once connected, you will find a consolidated snapshot of your money in one place. The overview will help you gain a better understanding of your financial picture. Plus, the automatically categorized transactions will help you figure out where your money is going.
Beyond seeing what is currently happening with your money, Simplifi helps factor in future transactions. You can quickly root out any subscriptions and recurring bills that no longer fit into your budget.
Spending Plan
A key feature of any personal finance app is the ability to track your spending. Simplifi does not disappoint in this area.
Through the app, you can monitor all your spending. The app even has safeguards in place to help you avoid missing a bill.
Watchlists
Want to make sure you're not overspending on take-out or dog toys? Simplifi allows you to set up custom watchlists to help you stay on track.
You can set up watchlists for any category, payee, or tag to monitor your spending.
Set Multiple Savings Goals
Some apps only allow you to set up a general savings goal, but Simplifi goes above and beyond by offering multiple goals.
Since most of us have more than one savings goal in mind, this feature is definitely worthwhile.
For example, let's say you have plans to buy a home, take a vacation, and build your emergency fund. You can tackle all of these at one time by setting up multiple savings goals through the app.
Beyond setting a monthly contribution plan to reach your savings goals, Simplifi displays your progress and offers guidance to ensure you hit your savings goals within your desired timeline.
Is Simplifi Safe to Use?
When exploring your personal finance app options, the question of financial security will come into play. Luckily, Simplifi offers 256-bit encryption to securely manage data transfers from your bank account into the app.
You should feel comfortable using Simplifi to handle your money information securely.
Should You Give Simplifi a Try?
Simplifi is a good option if you are searching for an app that will help you manage your money with a big picture view. Once you connect your financial accounts, you'll be able to monitor your money moves without hunting through multiple accounts.
With the right information available at your fingertips, you can quickly assess your income patterns and spending patterns. This will help you to make the right money moves to take your financial future in the right direction.
Although Simplifi offers great functionality, it is worth pointing out that there is no investment advice included. There are other personal finances apps available that can help you map out investment plans that align with your goals. But Simplifi won't be able to help you in this area.
Finally, Simplifi is a paid app that will take a bite out of your budget. Depending on your financial picture, you might not want to pay for these features when you could accomplish similar objectives with a simple spreadsheet and the discipline to maintain it.
All in all, Simplifi is a good choice if you are looking for a personal finance app to help you monitor your money from anywhere. It could be the right solution for you to manage your money effectively to accomplish your goals.
How it Compares
It is no secret that you have other options when you are in the market for a personal financial app. Here's how Simplifi stacks up against Quicken and Mint.
Quicken vs. Simplifi
Quicken offers a mobile app to complement its desktop financial management product.
With Quicken, you'll be able to monitor a very complete financial picture. However, the functionality is limited on the Quicken mobile app.
If you are looking for an incredibly robust desktop program, Quicken will deliver. But the higher cost and limited mobile features may point you back to Simplifi.
Mint vs. Simplifi
On the other end of the spectrum, Mint is a free money management app that can track your financial life.
The free app can be a useful tool if you want a relatively basic overview of your finances. But if you are looking for more intricate features to take a closer look at your finances and track your goals, then Simplifi is the way to go.
Bottom line
As a personal finance app, Simplifi offers a suite of features that can help you manage your finances. You'll need to decide if the features are worth the cost in your situation. Luckily, Simplifi offers a free 30-day trial to help you find out for yourself.

Real-time spend notifications.
Block and unblock cards easily.
Teach financial independence safely.
GoHenry card is issued by Community Federal Savings Bank, member FDIC

Capital One Shopping compensates us when you get the Capital One Shopping extension using the links provided.
Write to Sarah Sharkey at feedback@creditdonkey.com. Follow us on Twitter and Facebook for our latest posts.
Note: This website is made possible through financial relationships with some of the products and services mentioned on this site. We may receive compensation if you shop through links in our content. You do not have to use our links, but you help support CreditDonkey if you do.