Ad Disclosure: This article contains references to products from our partners. We may receive compensation if you apply or shop through links in our content. You help support CreditDonkey by using our links.
(read more)
If you may find yourself spending more than saving, these safe easy-to-use apps can help. What's the best money savings app for you? Read on to find out.
Groceries, gas, rent.
After paying bills, it's hard to squeeze anything more out of your budget.
That's where money saving apps can help you. They automatically set aside your money into a savings account for you. You can kick-start your emergency savings, vacation fund or even retirement.
Sorting through all the options gets overwhelming. Each app has different rules for budgeting.
To take control of your finances, let's unpack 5 of the best money saving apps. Check out their features, fees and who they're best for.
5 Proven Apps to Boost Your Savings:
🏆 Best Overall: Chime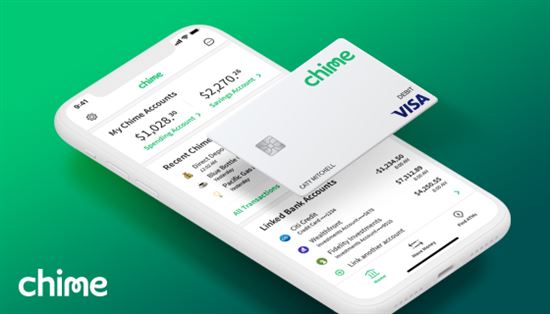 Screenshot of Chime
Chime is a mobile app with a money saving app feature. When you sign up for Chime, you get a:

Checking Account

Visa Debit Card

Savings Account (Optional)
Its Save When You Spend program rounds up your purchases to the nearest dollar and deposits the "spare change" in your savings account.
You can also designate a certain percentage to save using Direct Deposit. Chime will automatically transfer the appropriate amount to your savings account.
What's better than automatic savings? Pairing it with automatic cash back. Find out how to use
cash back apps
to optimize your purchases and put more money back in your wallet.
Cost

Free to use and maintain account

$2.50 charge for over-the-counter or non-ATM network withdrawals

No overdraft fees, monthly maintenance fees, minimum balance fees or service fees
Pros

Instant access to your saved funds via the mobile app

Virtually no fees

Unlimited roundups of each purchase throughout the month

FDIC insured using banking services provided by The Bancorp Bank or Stride Bank, N.A

Have early access to your direct deposits (up to 2 days early)
Cons

There's no option for joint account holders

You can easily access your funds, which can be tempting

You must use a MoneyPass or Visa Plus Alliance ATM to avoid ATM fees
How to Get Started
Download the Chime app

Connect your funding account

Turn on Automatic Savings to round up purchases

Enjoy your savings
Chime: Get Started
Chime is a financial technology company, not a bank. Banking services provided by, and debit card issued by, The Bancorp Bank or Stride Bank, N.A.; Members FDIC.
Free App: SmartyPig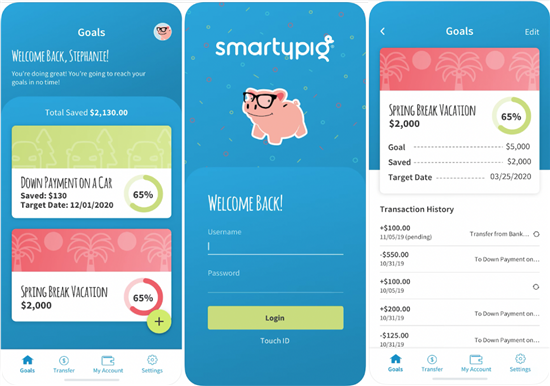 Screenshot of Smartypig
SmartyPig is an online version of the piggy bank you had as a kid. Whether you have long-term goals like saving for a home or short-term goals, such as paying for Christmas gifts, SmartyPig makes it easy to achieve them.
Cost

Pros

High-yield savings account rate tiers

No startup fees

No fees to save or withdraw funds

Savings accounts housed at Sallie Mae Bank with FDIC insurance

Earn $10 reward for each referral that successfully opens and contributes to an account
Cons

Withdrawals are easy, which can make it harder to reach your goals

You must allocate goals or the funds sit in your SmartyPig Primary account

You can only have one external funding source at a time
How to Get Started
Register for an account with your mobile phone, Social Security number, and driver's license number

Choose your savings goal or goals

Set up a recurring bi-weekly or monthly deposit from a linked bank account

Work toward your goal and enjoy the rewards
Best for Goals: Qapital
Screenshot of Qapital
Qapital believes in setting rules for your savings. These include:

IFTTT
An "If This Then That" rule triggers savings upon certain actions
Apple Health Rules
Set health goals in Apple Health that trigger savings every time you meet them.
Freelancer Rule
Every time your pay is higher than a determined amount, Qapital will move a set percentage to your Goal account.
Spend Less Rule
Set a budget for specific merchants and if you come in under budget at the end of the month, Qapital will transfer the difference to your savings account
When you sign up with Qapital, you get a Spending account with a linked Visa debit card, a Goals account for short-term planning, and an Invest account for longer-term goals.

Cost

Free 30-day trial

Basic: $3 per month—Qapital Save account only

Complete: $6 per month—Qapital Save, Spend and Invest account

Master: $12 per month—Qapital Save, Spend, Invest, and educational opportunities
Pros

FDIC insured

No account setup or overdraft fees

No limit on the number of transfers to and from your Qapital Goals account

Set up joint goals with family or friends

Qapital Invest automatically diversifies your portfolio based on your risk preference
Cons

Minimal interest rates

Pausing rules proves can be a little tricky

Deposits take a while to clear
How to Get Started
Register for the chosen account based on the type of accounts you want

Link your funding account (external checking account)

Set your savings rules

Watch your money grow
Best for Investments: Acorns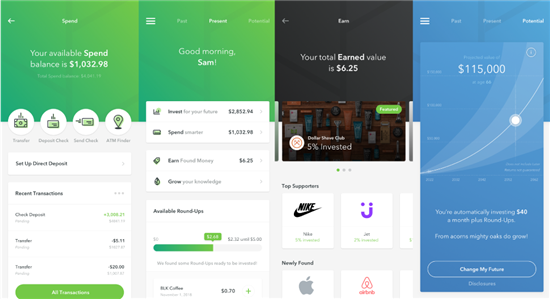 Screenshot of Acorns
Acorns rounds up your credit card purchases to the nearest dollar and saves the spare change for you. Once your balance reaches $5, the app invests the money based on your chosen portfolio.
Acorns offers three programs:

Invest: Round up your spare change and Acorns invests for you once you hit $5
Later: Set up recurring deposits and Acorns invests in an IRA according to your lifestyle and goals
Spend: The Acorns checking account with Visa debit card
You can earn "Found Money" by linking a debit or credit card to your Acorn Core account. If you shop at one of the 350+ merchants that partner with Acorns, you'll earn cash back into your Acorns account.

Cost
$3/mo for Acorns Personal (includes personal taxable account, IRA, and checking account)
$5/mo for Acorns Family (includes everything in Personal plus investment accounts for kids)
Pros

Great way to get your feet wet in investing

Set up recurring or one-time "boosts" to increase investments

Suggested portfolios based on answers to simple lifestyle questions

No minimum balance requirements or trading fees
Cons

Annual fee of 0.25% for balances over $5,000

Investment—not a savings—account so you could lose money

Withdrawals take time
How to Get Started
Register for the chosen account

Link your funding account (external checking account)

Add a credit or debit card (if you wish)

Start saving
Best for Automatic Savings: Digit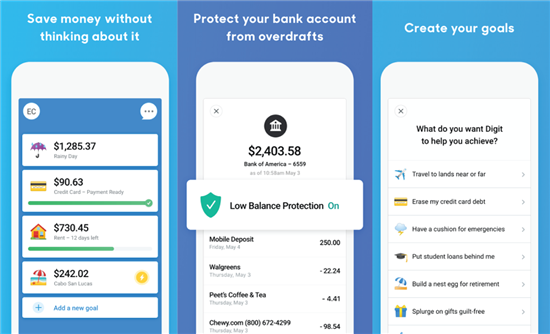 Screenshot of Digit
Digit uses artificial intelligence to evaluate your income and spending habits and determine how much you can save.The program even adjusts the amount you save daily to maximize your funds.
Cost

$5 per month with a free 30-day trial
Pros

FDIC insured

State-of-the-art security, including encrypted data

Adapts to your income and spending habits, taking the thinking out of saving

You can make as many withdrawals per month as you want

If you use Digit for three consecutive months, you get a 1% annualized bonus
Cons

Only works with banks within the United States

Risk of overdraft on your checking account—Digit only reimburses you for two overdrafts

No interest on your savings
How to Get Started
Sign up for a Digit account

Connect your checking account

Digit analyzes your account for a few days

After analyzing your account, Digit transfers the allotted money to your savings account automatically
Other Apps to Consider

© CreditDonkey
Tip Yourself
When you "tip" yourself, you transfer funds from your checking account to your "tip jar," or savings app. Tip Yourself isn't an automated savings app—you must click the button to transfer the funds.
The app helps you save money while recognizing your accomplishments. You can even share your wins on their social feed to get positive reinforcement. Tip yourself for making it to the gym, not overspending, sticking to your diet, or whatever you decide.
Cost

Pros

Available on iPhones and Android phones

You choose the amount of the tip each time

You choose when you tip yourself

You can withdraw funds whenever you want or need to

Helps you maintain positive lifestyle habits
Cons

Withdrawals take up to three days to process

It's easier to skip saving when it's not automated

Your money doesn't earn interest
Kidfund
Start your kids on the right financial path with Kidfund. Download the app and set up regular contributions to your child's account. You choose the rules and can adjust them at any time. Family members can also gift funds right into the Kidfund account after you send an invitation link.
Cost

Pros

FDIC insured

Earn 3% interest on the first $500

Receive savings reminders to keep you on track

No account minimums

Earn referral bonuses
Cons

Only available on iOS

ACH transfer is the only option for depositing funds

Funds aren't easy to withdraw
What to Look for in a Money Saving App
Platform
Make sure the app is compatible with your device. Most are mobile apps and some work exclusively on iOS or Android.
Security
You are sharing private and important information, so pay close attention. Make sure there's bank level security and all data is encrypted.
FDIC Insurance
FDIC insurance ensures that you don't lose your money even if the bank goes out of business.
Features
Consider the features carefully. Do you need automated savings? Do you want automatic round-up features or automatically calculated savings goals?
Bottom Line
If you struggle with savings, consider one of the many money saving apps available today. While most save automatically, you may find yourself paying more attention to your spending with regular use.
Write to Kim P at feedback@creditdonkey.com. Follow us on Twitter and Facebook for our latest posts.
Note: This website is made possible through financial relationships with some of the products and services mentioned on this site. We may receive compensation if you shop through links in our content. You do not have to use our links, but you help support CreditDonkey if you do.
Read Next: