Chime Banking Review: Is It Good?
This article contains references to products from our partners. We may receive compensation if you apply or shop through links in our content. You help support CreditDonkey by reading our website and using our links.
(read more)
Chime Banking offers direct deposit and is FDIC-insured. But is it good (or bad)? Find out how you can get paid two days early and fees to look out for.

© CreditDonkey
Keep reading to learn if it's right for you.
Online banks usually have lower overhead costs, which they may pass along to you in the form of higher interest rates and/or lower fees. In order to bank with Chime, you have to be comfortable banking on your smartphone as you can't visit a physical branch.
You will be able to make deposits, withdrawals, and even set up an automatic savings plan to help you reach your savings goals.
Opening an account is free and only takes about two minutes.
How Does It Work?
When you sign up for a Chime account, you automatically get a "Spending Account"(or checking account, as most people know them). This account comes with a Chime Visa Debit Card for you to use at specific ATMs.
You also have the option to open a Savings Account simultaneously. If you choose to wait, you can open the savings account down the road.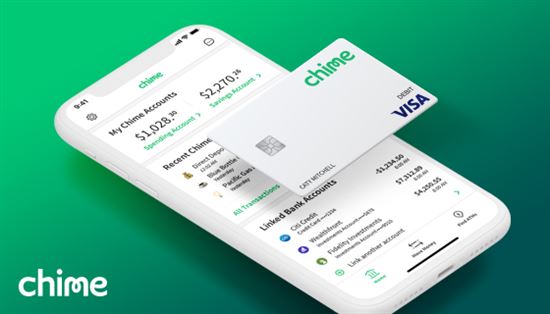 Screenshot of Chime
Signing up for a Chime bank account requires the following information:
Name

Address

Social Security number

Birth date
You can sign up for the account on your computer or the app on your smartphone. Along with deciding if you want a savings account, you'll also need to decide if you want to set up direct deposit. This method makes your funds available as soon as Chime receives them - there is no waiting period.
If you don't use Direct Deposit, you have several options to deposit money:
Bank transfer from an external bank: You can set up the transfer on the external bank's website using your Chime routing number and account number
Link an external account to your Chime account: After entering your bank's login information, you can transfer money to your Chime account. The funds may take up to 5 business days to be available for use.
Use Green Dot: More than 60,000 retailers throughout the country offer Green Dot services. All you have to do is tell the cashier you want to make a deposit to your Chime account.
Third-party transfers: You are free to use third-party transfer services, but there may be additional fees and/or restrictions from your lending institution.
Transfer Limits
: You can only transfer up to $200 per day from an external account, with a maximum of $1,000 per month.
If you use a Green Dot location, you can deposit up to $1,000 per day and $10,000 per month.

Once you sign up for a Chime account, you can manage your accounts in the app. While they do have an online version, the app is more user-friendly and offers more features.
How You Can Spend Your Money
The easiest way to access your money in your Chime account is with the Visa debit card. You can pay for purchases anywhere the Visa brand is accepted.
If you want to take cash out of your Spending Account, you can do so at any of the 38,000 MoneyPass and Visa Plus Alliance ATMs (fee free) located throughout the United States. You can find the ATM nearest you in the Chime app. You may also ask for cash back when checking out at 30,000-plus major retailers throughout the country.
While you don't receive a checkbook, you can still send a paper check when necessary using your Chime Checkbook. In the app, you tell Chime who you need to pay and the amount. They will write and send the check for you. There is no charge for the service, but it can take between 3 and 9 days for the check to be processed and sent, so make sure you plan accordingly.
Savings Account Option
Opening a Chime Savings account with your Spending Account gives you access to the Automatic Savings Program. Also known as a microsavings program, ASP automatically rounds up your purchases to the nearest dollar. Chime automatically deposits the "extra change" into your savings account. There is no limit to the number of round-ups you can have and you don't have to carry a minimum balance.
As a part of your Direct Deposit service, you can also dedicate up to 10% of each paycheck to go directly into your savings account.
Compare Savings Account Promotion
Earn up to 0.45% APY. Here's how it works: Maintain a minimum balance of $25k OR make at least a $100 minimum deposit every month. Member FDIC

No fees
No minimum opening deposit
No minimum balance required

0.61% APY on all balance tiers
No minimum balance requirements
No fees to open or maintain account
Free ATM card upon request
FDIC Insured
App
You will need the Chime app in order to get the full benefit of this program. While you can manage your finances online, the app is sleeker and more convenient. You can do the basic things, such as check your balance, pay a bill, or transfer money between Chime Spending Savings accounts. The app provides several other features as well:
Receive alerts: You can opt in to receive alerts for every transaction conducted with your Chime Visa or daily balance updates.
Pay bills or people: If you owe someone money, whether it's a business or a person, you can send it directly to them with the Chime app. If you pay a person and they don't have Chime, you can use Venmo to send the money.
Get help: You can find ATMs near you and contact customer service all from the app as well.
Stop use of your card: If your card was lost or stolen, you can automatically put a freeze on it in the app to prevent fraudulent activity on your account.
Reasons We Like Chime Banking
You don't need a minimum balance. The Spending Account and Savings Account do not require a minimum balance. You can open the account with as little or as much as you want. You also don't have to worry about keeping a specific balance in your account.
You can take the "thinking" out of saving. If you tend to spend before you even have your money, the automatic savings may be beneficial. Rounding up purchases and setting up automatic deposit can help you make savings automatic. While it may be small amounts, it can add up over time.
There are minimal fees. You won't pay monthly service fees, overdraft fees, or foreign transaction fees. There aren't any fees for using in-network ATMs, requesting a card replacement, or ACH bank transfer fees. If you use an out-of-network ATM, though, you will pay a $2.50 service fee plus the fee the ATM itself charges for using their service.
The ATM network is large. You can avoid the ATM service fee by using one of the 38,000 ATMs throughout the country. Just put your location into the app and it will tell you where the network ATMs are located.
You can earn rewards on regular purchases. You don't have to buy from specific categories or retailers to round-up your purchases. You can even round-up on your bills, helping to increase your savings with money you spend on a regular basis.
Chime offers Zero Visa liability. If you have unauthorized charges on your Chime Visa, you may be protected as long as you report the activity right away.
You are protected by FDIC insurance. If Chime goes out of business, your money is protected up to $250,000.
You can deposit paper checks with the mobile app. All you have to do is snap a picture of the check and the money is deposited into your account. Waiting periods do apply.
You can split checks or pay someone without using cash. You can split the bill just about anywhere by sending money to friends via the Chime app. Chime also works with Venmo for those friends and family who don't have a Chime account.
You can pay with your phone. Your Chime account works with Apple Pay, Google Pay, and Samsung Pay, making it easy to pay even when you forget your wallet.
How Does Chime Make Money?
It might seem like Chime doesn't make any money since they only charge a fee for non-network ATM use. They make their money every time you use your VISA card, though. VISA pays them a small percentage of your purchase every time you swipe your card.

Reasons You May Want to Look Elsewhere
You can't open a joint account. At this time, Chime doesn't offer joint accounts or secondary cards. This could make it difficult if you have a partner that you share banking with, as only one of you can have a Visa Chime Bank Card.
The interest is minimal. While you may not pay much in the way of fees, you also won't make much in interest. The Spending Account doesn't offer any interest on your balance. The Savings Account does offer interest, but it's minimal.
Chime doesn't offer overdraft protection. If you don't have adequate funds in your account, Chime will decline the purchase. There are exceptions to the rule for those merchants that force the transaction through or for tips at restaurants and salons.
How They Compare
Simple Bank: Much like Chime, Simple Bank doesn't charge monthly service fees or overdraft fees, nor does it charge for minimum balance requirements. Simple Bank offers a "Safe-to-Spend" feature that takes the math and the worry out of spending when you don't have your checkbook or budget in front of you. They also offer a "Goals" feature which helps "hide" your money for emergency savings or other designated goals. It's not a savings account, but the money will not be available in your "Safe to Spend" account.
GoBank: GoBank is another mobile bank without any physical branches. They have a large network of fee-free ATMs, and you can deposit cash at your local Walmart using your GoBank debit card. GoBank does charge an $8.95 monthly fee, which can be waived with a minimum $500 monthly direct deposit from your employer.
Ally Bank: Ally Bank has checking and savings accounts as well as money market and CDs. They don't require a minimum balance or have monthly service fees. You can bank online, on your phone, or on your tablet, and they offer 24/7 customer service.
You might also consider:
Online Savings Account - 0.50% APY

$0 minimum opening deposit. No minimum balance requirement. No fees to open or maintain account.

High Yield Savings - 0.60% APY

$0 minimum opening deposit. No minimum balance requirement. No fees to open or maintain account.

Citi Account Packages - Up to $1,500 Bonus

Open a new eligible checking account and savings account in the same account package for Citigold, Citi Priority, and Citi Account Package. Within 30 days of account opening, fund your new checking and/or savings account with the required minimum deposit. Maintain the required minimum balance in the account/s for 60 consecutive calendar days to earn corresponding cash bonus.

| Account Package | Minimum Deposit and Minimum Balance | Cash Bonus |
| --- | --- | --- |
| Citigold Package | $200,000 | $1,500 |
| Citi Priority Account Package | $50,000 | $700 |
| Citibank Account Package | $15,000 | $300 |
Bottom Line
If you are looking for a simple bank that makes managing money on the go simple and without high fees, Chime Banking offers a secure option. If bank fees eat away at your savings, this banking option may be a good solution. Make sure you shop around to see which mobile banking option suits your needs the most while giving you the best interest and lowest fees for your spending and saving habits.
Write to Kim P at feedback@creditdonkey.com. Follow us on Twitter and Facebook for our latest posts.
Note: This website is made possible through financial relationships with some of the products and services mentioned on this site. We may receive compensation if you shop through links in our content. You do not have to use our links, but you help support CreditDonkey if you do.
Read Next: