Square Review: Pros and Cons
This article contains references to products from our partners. We may receive compensation if you apply or shop through links in our content. You help support CreditDonkey by reading our website and using our links.
(read more)
Square has no monthly fees and a low flat transaction rate. But is it safe? Find out if this credit card processor is good for business.
Overall Score

4.0

---

Price

4.0

Customer Service

3.0

Equipment

5.0

Contract

5.0

Ecommerce

5.0

High Volume Business

1.0

Low Volume Business

5.0
5-point scale (the higher, the better)
---
Pros and Cons
No monthly or annual fee
Free swipe card reader
Low, predictable fixed rates
Flat-rate pricing can be expensive for larger businesses
Costly add-on services
---
Bottom Line
Good credit card processor for low-volume businesses
You've probably seen their card readers at Girl Scout cookie stands and food trucks.
Why is Square so popular?
They're known for low costs and an easy setup. No contract required. The mobile reader is free and plugs into your phone or tablet. You could start swiping in minutes.
But Square isn't for everyone.
Take a look at the fees, features and types of businesses they're best for. Plus, see if other payment processors can offer you a better deal.
Who Is Square Best For?
Square is a good company for new or mobile businesses thanks to the low 2.6% + $0.10 per-swipe fee. Square has more free tools compared to other processors. But large high volume businesses should consider a dedicated merchant account.
New companies: With no monthly fee and flat rates for all credit cards processed, Square is an affordable option for new businesses.
Companies with small transactions: Because it's a fixed rate (2.6% + $0.10), small transactions remain affordable. For example, a $10 transaction would only cost you $0.37 (versus a $1,000 transaction, which would cost $26.10).
Mobile businesses: Companies on-the-go need a simple payment processor they can use anywhere. Square's card reader can be plugged right into your phone or tablet.
Stop Overpaying on Credit Card ProcessingSelect your state for the best way for a small business to accept credit cards.
Square Pros & Cons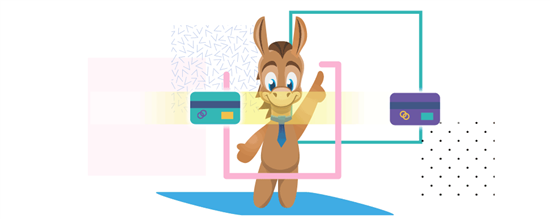 © CreditDonkey
PROS:
Low, predictable fixed-rate at 2.6% + $0.10 per swipe

No monthly or annual fee

No contract

User friendly interface

Free swipe card reader

Free POS app

Feature-rich all-in-one system

Can accept offline payments

Quick deposits within 2 business days

CONS:
Weak customer support

Costly add-on services

Flat-rate pricing can be expensive for larger businesses

High-risk businesses may not be accepted
Is Square or PayPal better?
Square provides more features for physical retailers. It has a more advanced POS with tools such as scheduling, employee, and inventory management.
PayPal takes the cake on eCommerce businesses. And one big advantage is the ability to accept PayPal payments. But it has limited functions for vendors on-the-go, making it more of a payment processor rather than a full POS.

Pricing & Other Fees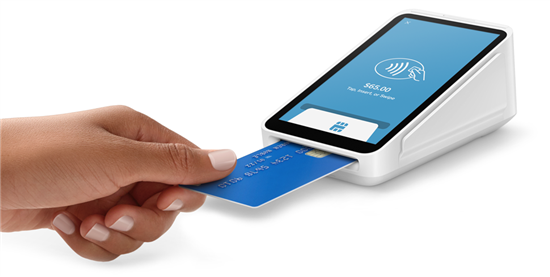 Credit: Square
TRANSACTION FEES:
Square charges a fixed flat-rate fee for all credit card transactions - regardless of whether it's Visa, MasterCard, or AMEX. The fees are as follows:
Square reader or stand transactions (including credit cards, gift cards, and prepaid cards): 2.6% + $0.10

Keyed-in or card-on-file transactions: 3.5% + $0.15

Online transactions: 2.9% + $0.30

Square Terminal and Register payments: $2.6% + $0.10

Square for Restaurants (paid plan): $2.6% + $0.10

Square for Retail (paid plan): $2.5% + $0.10

Square Appointments (paid plan): $2.5% + $0.10
ACCOUNT FEES:
Square waives many typical account fees. With Square you pay:
No monthly or annual fee

No PCI compliance fee

No startup fees

No payment gateway fee

No chargeback fees

No early termination fee

No monthly minimum requirements
HARDWARE PRICES:
Square provides your first swipe card reader free of charge. If you need other devices, the costs are as follows:
Additional magstripe reader: $10

Contactless and chip card reader: $49

Square Stand for iPad for contactless and chip: $169

Square Terminal: $299

Square Register: $799
Is the Square Card Reader Good?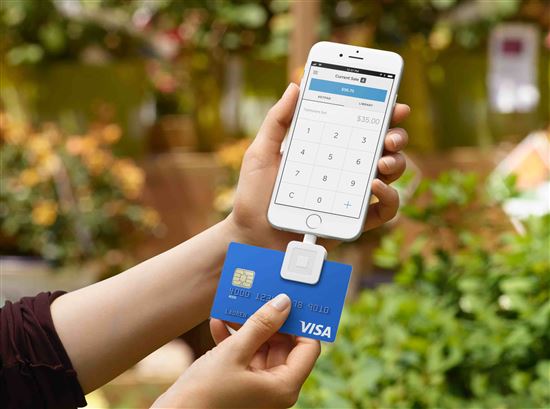 Credit: Square
The free Square card reader offers the ability to accept credit cards anywhere with your smart device. Here are some things to know about it:
You can only accept swiped credit cards. Chip and contactless payments will require the chip reader.

You can choose between the reader with a headphone jack and one with Lightning connector.

You can send receipts via text or email. If you want to print receipts, you'll need to use a tablet and attach a receipt printer.

Offline payments only work with the swipe reader. Chip and contactless payments require internet connection.

No charging necessary. Just plug into your smart device.

The card reader works with iOS 9.0 or later and Android 4.0 or later.
If don't want to wait to get the free reader shipped to you, you can buy it at a retail store. It costs $10, but Square reimburses the $10 to your designated account after activation.
Where can I buy a Square card reader? You can find the Square reader at major retail stores, including Target, Meijer, Walmart, and Walgreens. You may also find them at your local cellphone store, including AT&T, Verizon, and U.S. Cellular.

What You Get With Square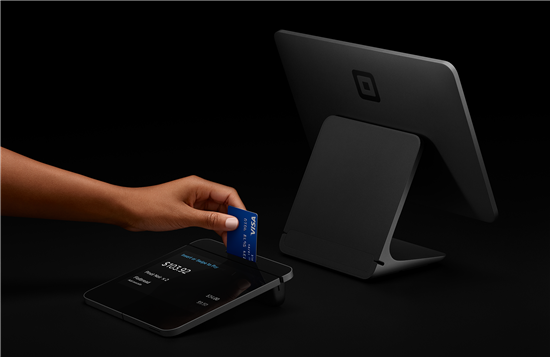 Credit: Square
When you sign up with Square, you get:
Free magstripe reader:
This allows you to accept swiped credit card payments. For chip and contactless payments (such as Apple Pay and Google Pay), you'll have to buy the chip reader.
Free Point-of-Sale app:
The free POS app is pretty powerful. Functions include emailing/texting receipts, setting discounts, issuing refunds, reviewing sales data reports, and managing inventory. See more details in section below.
Free Virtual Terminal:
Lets you enter card payments directly from your web browser for phone and card-not-present payments. You can also store credit card info so you can easily charge repeat customers.
Customizable dashboard:
On your dashboard, you can enter multiple locations, customize receipts, create custom categories, tax settings, and inventory. You can also set up a loyalty program, manage employees' hours and sales, and create custom reports.
Note: some are add-on services for an additional cost.

Free online store:
Square comes with a free online store and eCommerce tools. You can build your own website with a variety of layouts and designs. It integrates with the Square POS so everything remains synced.
Square POS App Features & Tools
The free Square POS app has a full array of services. Features and functions include:
Detailed reports and insights, such as what sells best, customer spending trends, and sales comparisons.

Track each employee's time cards, breaks, and overtime.

Grant different levels of access to employees.

Send custom invoices (payments are considered online payments and will cost 2.9% + $0.30 per transaction).

Update inventory, run reports, and receive low-stock alerts.

Quick deposits within 2 business days. Instant Deposit will cost 1% per deposit.

Sell and accept gift cards.

Installment plan for customers, but you are paid upfront.

Create and manage up to 300 locations under one master account.

Integrates with many third-party apps and software.
Currently, you can only use the app on iOS and Android devices. It is not available on Windows, Blackberry, and Amazon Fire.
Keep in mind, though, that certain features in the app are only available on a tablet, such as an iPad. Most notably:
Printing physical receipts

Printing physical kitchen tickets (for a restaurant)

Displaying kitchen orders (for a restaurant)
Additional Add-On Services
You can also add more advanced tools for an extra fee. These include:
Advanced employee management: See sales reports by team member and manage multiple wage rates. $35/month per location.
Loyalty programs: Create loyalty programs and enroll and rewards customers directly from the POS. Starts at $45/month.
Marketing: Create email and social campaigns and track results, all within your POS. Starts at $15/month.
Payroll: Import timecards and pay employees and contractors. You can even offer benefits and 401k plans. Square takes care of tax filings. Employee payrolls are $29/month + $5/person. Contractor payrolls are $5/person/month.
Advanced Square Plans
For businesses with more specific needs, Square offers advanced industry-specific plans for extra cost. These include:
Square Appointments
For service industries such as consultants, spas, personal trainers, etc, this advanced plan helps you manage scheduling. Includes:
Free booking site, or integrate with Instagram and Google
Allows online appointment bookings 24/7
Syncs with your own calendar
Send automated reminders
No-show protection by requiring pre-payment or cancellation fees
Free for individuals; Starts at $50/month for 2+ employees.
Individual (free): 2.6% + $0.10 for swipe, dip, and tap

2-5 employees ($50/mo): 2.5% + $0.10 for swipe, dip, and tap

6-10 employees ($90/mo): 2.5% + $0.10 for swipe, dip, and tap
Businesses with over 10 employees can contact Square Sales team for pricing.

Square for Restaurants
Restaurants can benefit with Square's POS system specifically built for restaurant operations. There is a Free plan available supporting unlimited locations. Larger operations can choose one of the premium plans.
Menu and table management
Add on customers items and modifiers
Auto gratuity
Manage multiple restaurants
The paid plans have more features like custom floor plans, reopen closed checks, and live sales and close of day reports.
Free: $0/mo

Plus: $60/mo per location

Premium: $299+/mo per location
All plans have the same processing rate of 2.6% + $0.10. For businesses with over $250k per year in card sales, custom pricing is available.

Square for Retail
New online or in-person businesses can start with the free plan. Expanding businesses have the option to sign up for one of the more advanced paid plans.
All plans include:
Automatic customer profiles
Unlimited inventory tracking
Unlimited employee pass codes
The paid plans include more advanced features like cross location inventory, vendor and purchase order management, multiple wage rates, and more.
Free ($0/mo): 2.6% + $0.10 in-person; 2.9% + $0.30 online

Plus ($60/mo per location): 2.5% + $0.10 in-person; 2.9% + $0.30 online

Premium ($299+/mo per location): custom processing rates available
For businesses with over $250k per year in card sales, contact Square for custom processing rates.

Square Customer Service
You have to be an existing merchant if you want phone support. You must complete an online form after signing into your dashboard. Once you complete the form, Square will provide you with a unique customer code that you use to talk to them.
Live phone support hours are from 6 AM to 6 PM. There is also email support if you don't need an immediate response.
Square also has an extensive knowledge database consisting of blogs, FAQs, videos, and community forum.
Square's customer service number is
855-700-6000
. You need to be an active customer with a customer code.
You can also email Square at help@squareup.com.

Is Square Safe?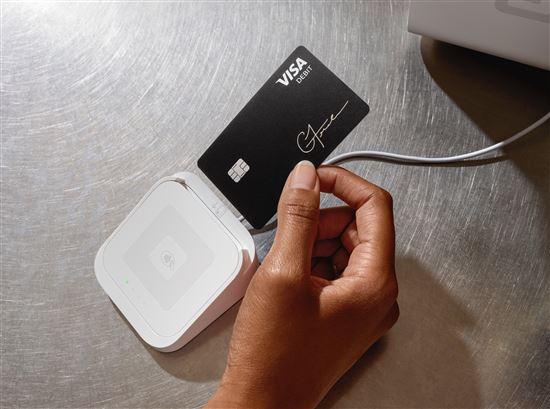 Credit: Square
Square takes these security measures to keep your payments safe:
All security is implemented and maintained in-house by engineers.

All products come out of the box with end-to-end encryption.

Prohibits storage of card numbers, mag-stripe data, and security codes on client devices.

Frequent hacker tests to identify potential vulnerabilities.

Takes on the burden of PCI compliance for you.

Requires 2-step authentication to prevent unauthorized personnel from hacking into your dashboard.
How It Compares
With Square, merchants pay a flat rate of 2.6% + $0.10 for swipe, dip, and tap transactions, 2.9% + $0.30 for online transactions, and 3.5% + $0.15 for keyed-in transactions. It offers a free mobile reader, web store, and virtual terminal. There is no contract and no monthly fee.
PayPal:
Square provides more features. It has a stronger POS with more advanced management features, such as scheduling, employee, and inventory management.
Square provides a free virtual terminal, where you can take keyed-in payments over the phone. With PayPal, you need to upgrade to PayPal Pro for $30/month for this feature.
PayPal does have an advantage if you sell online though. You can accept PayPal payments, which is popular with online shoppers. The system integrates with just about all eCommerce platforms. PayPal's mobile POS also accepts PayPal payments, which Square's does not.
Stripe:
Stripe also charges a flat rate per-transaction fee comparable to Square's. Stripe started as an online-only credit card processor (though they do now offer a terminal for in-person payments).
Stripe is known for its advanced tools which allow for complete customization of your checkout experience. However, it's best if you have a built-in developer team. So it may not be ideal for small online businesses that don't need advanced customization.
It's also worth considering for large volume businesses, as they give a volume discount after $80,000 in monthly sales.
Bottom Line
Square offers many benefits, operating as a full point-of-sale. They have the richest history in mobile payment processing and offer many additional features via third parties.
Square is a cheap, convenient way to accept credit card payments. There's no monthly fee and it offers lots of free features, making it worth it for new and small businesses. But, if you have heavy volume, could be considered "risky," or need phone support, you may want to look elsewhere.
Note: This website is made possible through financial relationships with some of the products and services mentioned on this site. We may receive compensation if you shop through links in our content. You do not have to use our links, but you help support CreditDonkey if you do.
More from CreditDonkey: