Ad Disclosure: This article contains references to products from our partners. We may receive compensation if you apply or shop through links in our content. You help support CreditDonkey by using our links.
(read more)
Credit card machines will keep your business running smoothly. But they aren't created equal. Find the best card machine for your business.
Whether you have a large retail store or small market pop-up, you need a way to take credit cards.
There are many different types of credit card machines to choose from. The right one can help you run your business more efficiently and improve customer experience.
How do you choose the best for your business? We'll go over the differences between the types of machines, cost, and the top brands.
Types of Credit Card Machines
What Is a Credit Card Machine?
A credit card machine is a device that reads swiped, dipped, and tapped credit cards. It reads the credit card data and sends it the acquiring bank to be processed.
Some different types of machines include:
Mobile card reader

Traditional countertop terminal

Wireless terminal

Smart terminal

Integrated POS terminal

Virtual terminal (not a physical machine)
The machine can be as simple as just a reader to read cards, to something with all the bells and whistles including receipt printer and POS tools. Read on to learn the differences to find the best one for you.
Ask yourself these questions to choose the best one for your business:
What type of cards will you accept?

Is there an existing POS or do you need one?

Do you need mobility or will the machine sit in one spot?

Will you hardwire the phone or internet or do you need Bluetooth/wireless capabilities?

Pay 2.6% + 10¢ Per Swipe for Visa, Mastercard, Discover, and American Express
Accept Credit Cards Anywhere
Fast Setup, No Commitments
Types of Credit Card Machines
First, we'll go over the different types of card machines, pros and cons, and cost.
Mobile Credit Card Reader
Credit: Square
A mobile card reader is a small device that attaches to your smartphone or tablet through the earphone jack. It turns your smart device into a point of sale. You just need to download your processor's mobile POS app and use it to process sales.
This is an ideal solution for small mobile businesses, pop-up shops, and those who travel to their clients. All you need is your phone and you can take payments anywhere on-the-go.
Mobile readers require an internet connection to process cards. You'll need cellular data, wifi, or hotspot. Square's free magstripe reader can process payments in offline mode (but EMV reader requires a connection).
Cost:
Mobile card readers are the cheapest. They run from $10 for a simple swipe reader to $50 - $80 for a swipe, chip, and tap reader. Many processing companies, like Square, even offer a free card reader.
Accept cards anywhere
Affordable for new businesses
Small, sleek device

Need internet connection
Phone may be more prone to glitches

Pay 2.6% + 10¢ Per Swipe for Visa, Mastercard, Discover, and American Express
Accept Credit Cards Anywhere
Fast Setup, No Commitments
Clover Go for $49
Accepts swipe, chip, tap, including Apple Pay and Google Pay
Process credit cards anywhere
Works with free Clover Go app on iOS and Android

Get approved for a new merchant account and get a free SwipeSimple mobile swiper
Countertop Terminal
Also called standard terminal, this is the most common type of machine that you see in stores. A countertop terminal sits on the counter and is physically wired to your internet or phone line. As such, you can't freely move it around the store.
They're ideal for any kind of retail stores, restaurants, and service retailers that have a payment counter/desk.
There are many different types of countertop terminals depending on your needs. Modern ones should have the availability to read swipe, chip, and contactless cards. Other options include:
PIN pad

Signature screen

Built-in receipt printer

Stand that swivel for ease of use
You can use them as standalone devices, or connect them to other equipment like POS system, cash drawer, and receipt printer.
Cost:
Standard credit card terminals usually cost between $100 - $400 depending on the model and features offered.
Can process wide range of payment methods
Not too expensive for small businesses
Good security

Can't move around the store
Need wired connection
Do credit card machines need internet?
In order to send credit card information to the processor, credit card machines do need a phone/internet connection of some kind.
You can go "old school" by choosing a dial-up machine that uses your phone line for connection. But make sure it's not interrupted by phone calls. A phone connection also causes slower speeds. A credit card machine using internet connection offers faster transaction speed.

Wireless Terminals
A wireless, or portable, terminal looks a lot like a standard terminal, but it doesn't require a physical wired connection. It uses a wireless connection (wifi, Bluetooth, cellular) to transmit data to and from the processor.
It's a great option if you want more mobility. You can take the terminal to customers to pay tableside or on the shop floor. They don't need to line up to pay. It's also good if your work is often on the move.
Cost:
Wireless terminals cost about the same as standard countertop terminals. You can expect to pay around $100 - $400 depending on the model.
Not tied down to a counter
Can process wide range of payment methods
Good security

Need strong wifi signal
Could be bulky to bring around
What's the difference between a wireless terminal and a mobile card reader?
Both let you process payments on-the-go. The difference is that a mobile card reader plugs into your smartphone, and you process the payment on your phone with the POS app. A wireless terminal is a standalone credit card machine. You don't need your phone. It also offers more functions.


Tap & Pay
Chip & PIN
PIN Debit
Email receipts
Inventory and customer tracking
Analytics & reporting
Batch history
Card on file
Clover Flex Handheld Terminal
Accepts swipe, chip, tap, including Apple Pay and Google Pay
Full-fledged POS in a handheld device
Built-in receipt printer
View sales transactions and business reports
Smart Terminal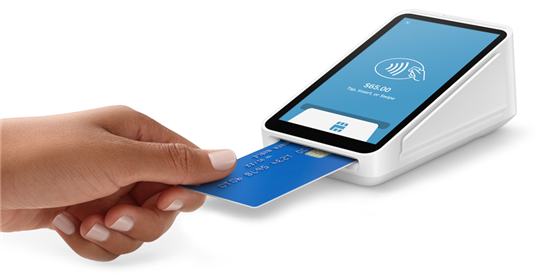 Credit: Square
A smart terminal is a modern type of credit card machine. Instead of a number pad with a small screen, you typically get a large touchscreen. It's like a smartphone vs. an old cellphone.
They usually come integrated with POS software, so it does more than just processing (whereas a standard terminal is only basic card reading). You can set discounts, issue refunds/exchanges, manage inventory, and more right on the machine.
Some may even have other hardware features, like a receipt printer or scanner, all built into one sleek package. They're also often wireless so you can bring it around the store.
Cost:
Smart terminals cost more than standard terminals. They typically range between $300 to $600.
Card processing + POS tools
Can be wireless
Sleek and stylish

Could be pricey for new businesses

2.6% + 10¢ per tap, dip, or swipe
Fully integrated POS system with built-in receipt printer
5.5" display
Clover Mini
Accepts swipe, chip, tap, including Apple Pay and Google Pay
Full POS system in a sleek 7" display
Built-in receipt printer, camera, and barcode scanner
Integrate with barcode scanners, weight scales, and other accessories
Integrated POS System
These are credit card machines integrated with a POS system. This is a comprehensive credit card payment system that includes the processing equipment and software for running your business. Everything is seamlessly connected.
These systems usually come with everything you need, such as a large screen display, cash drawer, and receipt printer.
POS features usually include:
Inventory management

Employee management

Customer database

Integrates with third party apps

Reports and analytics
Cost:
Full integrated POS systems can cost several hundred to $2,000 or even more.
Bundled hardware and software
New systems have sleek and modern design
Help you run your business more smoothly

Expensive for new businesses
May not have as many options

2.6% + 10¢ per tap, dip, swipe, or scan
Fully integrated POS system
Dual screen for seller and customer
Clover Station Solo
Accepts swipe, chip, tap, including Apple Pay and Google Pay
Fully integrated POS system
14" touchscreen that swivels to face customers
Includes cash drawer, receipt printer, built-in camera and barcode scanner
Virtual Terminal
A virtual terminal is a web-based platform that lets manually enter credit card payments straight from your computer or smart device. You don't need physical equipment. You only need a device and an internet connection.
Usually, this is used to take orders over the phone. But virtual terminals are also good for businesses that don't have physical card machines or online payment options. Some examples could be freelance professionals and local services (lawyers, accountants, etc.).
But the downside is that transactions through the virtual terminal have much higher processing rates. Because they're "card not present" transactions, there's a greater risk of fraud.
Cost:
Just about all processing providers offer a virtual terminal. Some may include it for free, while some may charge an extra monthly fee for this feature. If so, it's usually $10 - $30 a month, and includes other online tools as well.
No equipment required
Process cards from anywhere
Good backup option if your machine isn't working

Higher processing rates
Greater risk of chargebacks
How to Get a Credit Card Machine
To get a credit card machine, you typically have these choices:
Purchase from provider. For new businesses, your best option is to buy equipment from your processing provider. It'll already come equipped to work with their software. But you'll be limited to what the provider offers.
Reprogram existing equipment. Depending on what kind of machine you already have, your new provider may be able to reprogram it to work with their software. We'll go over it more later.
Lease a machine. We DO NOT recommend this option. Equipment leases usually have a long unbreakable contract. And over a 2-4 year lease, you would be paying thousands of dollars for a machine that you don't even get to keep.
Rent a machine. Instead of leasing, some modern providers are offering the option to rent a machine. This option could be a good way to get equipment for a low monthly cost. Just make sure it's true month-to-month rental with no contract.
But instead of stressing over which machine brand and model you want, it's better to choose the right provider instead.
Just about all providers will offer a range of machines, from basic card readers to terminals to full POS systems. Machines more or less have the same functions. But the right processing provider can cut down processing fees, offer the right features for your business, and provide the support you need.
Of course, if you narrowed down to 2 or 3 providers, you can look at their machine choices. Perhaps that will help you decide.
Choosing the Best Credit Card Machine
Here are some factors to consider to choose the best machine for your business.
Payment acceptance types
At the very least, you want your card machine to take swipe, chip, and tap cards. With digital wallets becoming more and more popular, do you also want to be able to accept those? If so, look for a NFC-enabled credit card machine to accept Apple Pay, Google Pay, etc.
How your business operates
Do you travel to clients or attend pop-up shows and markets? Or do you have a busy shop and would like the option for customers to pay on the shop floor? If so, you'll want a portable machine that you can take with you. If you're a stationary business, then a wired countertop terminal would be fine.
Cost and budget
Of course, you need to consider your budget. New micro businesses may not have the capital for a smart terminal or full POS system that costs several hundred dollars.
Never lease equipment if you don't have the capital. A better idea would be open a new
business credit card
with an intro APR period to finance the equipment purchase. You'd get some time to pay it off interest-free.
PCI compliance
Your processing equipment need to adhere to PCI standards, such as end-to-end encryption and no storing of credit card data. Make sure the merchant account provider you choose is PCI compliant.
Can You Reuse Credit Card Machines
When you invest in credit card processing equipment, you probably want to use it for a long time. Is it possible to keep on using the same machine even if you switch providers?
To answer that, we need to understand the different types of credit card machine brands. They are:
Universal credit card machine companies:
These companies make equipment that can work with a variety of different processors. An advantage of one of these brands is that the machines can be reprogramed if you decide to switch providers. So you can reuse the same machine for years.
You've very likely seen these brands before in many different stores. They include:
Ingenico

Verifone

Dejavoo

Ponyt

PAX
Though these machines can be programmed, not all providers will do so. Check with your new provider to make sure.
Limited credit card machine providers:
These machines are made by a large company but they only work with the processing provider that you purchased from. These have lots of resellers, so you still have choices. A couple of popular brands are:
Clover (from First Data)

Vital (from TSYS)
But, they can't be reprogrammed if you switch. So make sure you really love that provider and plan to stay with them for many years before purchasing.
For example, if you
love
Clover machines, you would need find a provider that carries the products (like
Payment Depot
and
Dharma
).
Proprietary credit card machines:
Proprietary machines can only be used with the specific processing company that makes it. Some popular examples are Square, PayPal, and Shopify, who have their own branded equipment.
The advantage is that the machines are designed to work seamlessly with the provider's software. But the con is that if you switch providers, you can't reuse the machine.
The opposite is true too. For example, if you switch to Square from another company, you can't continue to use your own equipment, and must purchase Square's.
How Credit Card Machines Work

© CreditDonkey
Credit card machines require a connection via internet line or phone line to transmit card data. Here's how credit card processing works:
A customer swipes, dips, or taps the credit card.
The transaction transmits to the acquiring merchant bank.
Merchant bank sends request to the card association (Visa, Mastercard, etc.) for authorization.
Card association sends the request to the issuing bank for approval.
Issuing bank checks for adequate funds and approves or denies the transaction.
Issuing bank sends approval to the card issuer and merchant bank to complete the transaction.
All of this happens behind the scenes within a matter of seconds. But the exact time depends on the type of connection.
Bottom Line
Accepting credit cards is imperative to your business' success. Explore your options to find a credit card machine that is affordable and provides the features you need.
But your search should first start with the right merchant account provider. It's much more important to have a good provider, than to have the perfect equipment.
Write to Kim P at feedback@creditdonkey.com. Follow us on Twitter and Facebook for our latest posts.
Note: This website is made possible through financial relationships with some of the products and services mentioned on this site. We may receive compensation if you shop through links in our content. You do not have to use our links, but you help support CreditDonkey if you do.
---
Not sure what is right for your business?
Answer a few short questions in our credit card processing quiz to receive tailored recommendations to help you keep more profits.
Take Credit Card Processing Quiz
Read Next: