Ad Disclosure: This article contains references to products from our partners. We may receive compensation if you apply or shop through links in our content. You help support CreditDonkey by using our links.
(read more)
Albert is best known for their $250 spotting and cash advance. But is it the best app there is? Read on to find a better fit.
Emergencies are unpredictable. And sometimes, they come with a hefty price tag.
So when faced with an urgent crisis, it's good to have an app that's got your back.
And although Albert is a good app that can spot you $250, sometimes, that's not how much you need.
These 12 other cash advance apps can give you more options.
12 Best Apps like Albert
Albert's not for everyone. Sometimes, it's because of the loan amount available. Other times, it's the processing period. Whatever the reason, here are other apps to check out.
Earnin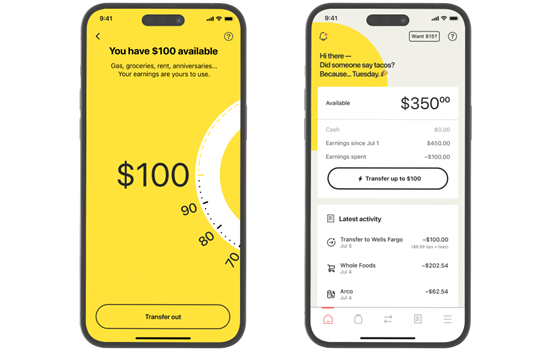 credit earnin
Up to $750 per pay period
No monthly fees
No interest

Work timesheet required
Needs your bank details
Only for employed people
Loan amount: Up to $100/day; Up to $750/pay period

Processing time: 1-2 banking days; 1-30 mins. with Lightning Speed transfer

Repayment date: Automatic deduction on or after your payday
You can get access of up to $750 of your salary with Earnin Cash Out. This is one of the highest amounts in all cash advance apps, and there's no interest.
You can access up to $100 per pay, for up to $750 per pay period. In comparison, Albert lets you borrow up to $250 for up to 3 times per pay period (if you've repaid your previous advance).
This ends up being the same total amount, so it's just a matter of how much you need to access at once.
Earnin' is a good choice for employed users. Since they base the maximum amount you can access on your pay, you can make sure to pay back what you owe without burying yourself in deep debt.
Earnin Requirements:
Before you can use Cash Out, Earnin has to ensure you are employed. Here's what they need:[1]

A checking account with more than 50% of your direct deposit

A regular pay schedule

A permanent work location, an electronic timekeeping system, or a PDF timesheet to track your hourly earnings
Other Earnin Services:
Earnin also offers Balance Shield, which can automatically transfer $100 of your earnings when your balance is low.
Dave

CREDIT DAVE
Allows $25 advance
$500 advance limit
No late fees, interest, or credit check

Needs access to your income history and spending patterns
Advance amount: $25 to $500
Processing time: 1-3 days for ACH transfers; you can pay for express delivery and get your advance within seconds to your Dave Spending account and within an hour to external accounts.
Repayment date: On your next payday or the nearest Friday
For a $1 monthly fee,[2] you can try out Dave ExtraCash. It's a handy app for small to large advance needs. Included in the monthly fee are various services such as access to account monitoring, notification services, and maintaining a connection to your external bank account.
Might not be able to pay on your due date? No worries! Dave doesn't charge late fees. It also doesn't charge an ATM fee to access your money at over 37,000 MoneyPass ATMS.
Dave's maximum advance amount is twice the amount of what Albert can offer. But Albert's requirements may be easier to meet.
Dave ExtraCash Eligibility Contributing Factors:
Here's what you'll need to get higher advance:[3]

3 or more recurring deposits

Total deposit of $1,000 or more per month

An external account with a 60-day history
Brigit

CREDIT hellobrigit
Flexible repayment date
No credit check or interest
Credit builder feature

Requires subscription
High subscription fee
Loan amount: Up to $250
Processing time: 1-3 business days; within 20 mins. for a fee
Repayment date: Flexible repayment date
Instant Cash is Brigit's cash advance feature that can get you up to $250. There are no credit checks and no interest.
And compared to Albert that sets an automatic repayment schedule, Brigit gives you a say on when you pay. You can even pay early or get an extension. This can help you be more in control of your budget or cash flow.
Unfortunately, it comes with a price. Subscription costs $9.99/mo. It's quite expensive, but it does unlock many features.
Brigit Requirements:
Here's what you need to access the cash advance feature:[4]

A checking account that's been active for at least 60 days

More than $0 in your balance

3 recurring deposits on your account from the same source
Other Brigit Services:
You can get auto-advances with Brigit that automatically covers you when you're at risk for an overdraft. Their Earn Extra feature also shows you several opportunities to increase your income.
Cleo
No interest or credit checks
Free salary advance service
Unique attitude in saving

Only $250 for spotting
Standard delivery can take up to 4 days
Loan amount: Up to $250; first advance is from $20 to $70
Processing time: 4 business days; $3.99 express fee[6]
Repayment date: On your payday; 14-day extension[7][8]
Cleo Salary Advance can get you up to $250 of your salary with no credit check or interest charged. It offers the same loan amount as Albert. But Albert can get you your cash advance in less time (in just 2-3 days).
On the plus side, Cleo provides an extension if you can't pay your dues on your payday. In contrast, Albert will suspend your account if you're overdue by 15 days.[9]
You also won't need to worry about your debt getting out of hand. Cleo is known for their attitude in helping you save money. They have sassy notifications that can make you think twice before making a purchase.
Other Cleo Services:
If you opt for Cleo Plus ($5.99/mo), you can earn rewards, use their personal financial management services, and receive overdraft protection.
Cleo Personal Financial Management Services will give you information and insight into your spending. This overview can help you save and see where your money is going.
And if you're concerned about your credit, you can also subscribe to Cleo Credit Builder ($14.99/mo). You'll get credit score coaching and unlock your credit builder card. You can also earn cashback rewards and cash advances, and receive VIP Support.[10]
Spending a lot on overdraft fees? You can go for this next option.
Chime SpotMe

credit chime
No credit check
No monthly fees
Immediate spotting ($200)

Needs a separate Chime debit card
$200 qualifying deposit
Loan amount: Spot $20 to $200
Processing time: Immediately
Repayment date: On your next deposit or payday
Chime SpotMe can spot you up to $200 for free without the credit check, minimum balance, or monthly fees. If you frequently get overdraft fees from your bank, it can be a big help.
Chime works a little differently. You have to open a Chime account and use their debit card (whereas with Albert, you only need to connect your current banking account).
But the benefit is that you don't have to wait 2-3 days to get the loan. You can use your debit card right away, which makes it great for emergencies. You can also use it for ATM withdrawals to get cash fast.
Chime Requirements:
Here's what you need to set up Chime SpotMe:[11]

An activated Chime Visa Debit Card

Deposit account that is connected to Chime

Qualifying deposit of $200 or above 34 days before requesting an overdraft spotting

You should be at least 18 years old or older
Other Chime Services:
With a Chime Checking Account, you can get access to your pay 2 days before payday. It has no overdraft with zero monthly fees.
Need a cash advance with faster processing time? This next app won't disappoint.
Empower
14-day free trial
1-day processing time
Debit card w/ cashback deals

Needs monthly subscription
Costly $8 subscription fee
Loan amount: Up to $250
Processing time: 1 business day; instantly for a fee
Repayment date: Next payday
Empower Cash Advance has one of the quickest cash advances in the market. Sometimes, it only takes a minute to get your money. And there are no credit checks needed.
It's a better option than Albert since it offers the same loan amount in less time. You can choose this app if you need money right away.
Although, like Brigit, Empower charges a fee of $8/mo.[13] But you can try it out for free with their 14-day free trial.
Other Empower Services:
Empower Card is a debit card feature with no overdraft fees. Its perks include free instant delivery of your cash advance and up to 10% cashback deals.[14]
MoneyLion
Free cash advance feature
Multiple features
No credit check or interest

Needs bank account access
Regular delivery to an external account takes a long time
Loan amount: Up to $500
Processing time: 2-5 business days; within minutes through Turbo delivery (for a fee)
Repayment date: On your next payday
MoneyLion offers cash advances for free through Instacash. There are also no interest and credit checks needed. If you need short-term loans to solve your money problems, it's got you covered.
With numerous features, you can explore more financial tools and services that can improve your money management skills. It could greatly benefit those who want to get out of a debt cycle.
It also offers twice the maximum loan amount from Albert. It's a good option if you need more cash for emergencies.
MoneyLion Requirements:
If MoneyLion Instacash sounds good to you, then you'll need:[15]

An account that has been active for two or more months

History of recurring income deposits in the account

Positive balance on the account
Other MoneyLion Services:
You can get Financial Heartbeat which is a free feature that tracks your spending, savings, and credit health. It can help you make better financial decisions.
On the other hand, Managed Investing is a handy investing feature for beginners. MoneyLion will assess what investments fit you. If you want to take the leap, they will manage your portfolio.
There are also Crypto Auto-Invest and Credit Builder Plus ($19.99) features that can take your finances to a higher level.[16]
Looking for other financial tools? Maybe this next app can help you out.
Klover
Cash advance 2 weeks before payday
Free cash advance feature
Fast processing time

Highest loan amount is lower than most apps
Only qualifies checking accounts
Loan amount: Up to $200
Processing time: 1-3 days; 24 hrs. for a fee ($2.99 to $9.99)[17]
Repayment date: On your next payday
Klover Balance Boost gives you access to up to $200 even if your payday is 2 weeks away. There are also no interest or credit checks needed on your account.
You can even get your money more quickly compared to Albert. But if you need the cash instantly, delivery fees can be expensive.
Klover Requirements:
To borrow from Klover, these are their qualifications:[18]

A checking account that has received at least 3 direct deposits and has been consistent for 60 days

Checking account must be in good standing for 90 days or more

Must have no gaps in pay
Other Klover Services:
Klover+ features Personal Financial Management Services. This subscription feature, worth $3.99 per month,[19] also gives you access to Klover Rewards Program and Budget Tools.
But what if you don't need all this? If the apps so far seem excessive, FloatMe might be what you're looking for.
FloatMe
Choose your repayment date
No credit checks or interest
7-day free trial

Not for larger loans
$1.99 monthly fee
Loan amount: Up to $50
Processing time: 1-3 business days; 8 hrs. for a fee[20]
Repayment date: Set your own repayment date[21]
For $1.99 per month, FloatMe can lend you up to $50 to get you through your next payday. This app is a good choice for those who want to borrow a lower loan amount. And you can try it for free for 7 days.
There are no interest and credit checks. And they provide spending insights that you can use to improve your spending habits. It's an excellent app for those who want to borrow less and save better.
You can get your money in 1-3 business days for free through ACH transfers. But you can pay $4 if you need it in 8 hours. The money will be delivered to your debit card.
FloatMe Requirements:
To be eligible for a Float, you must:[22]

Have a FloatMe User Account

Have received a qualifying direct recurring deposit of at least $200 three times in your linked account
Other FloatMe Services:
You can get a Personal Financial Management Service (PFMS) which can help you keep your finances in check and make better spending habits. You can also access FloatMe's partners and find a side hustle.[23]
This next app comes with a monthly membership fee. But you can get instant advances without express fees.
B9
Up to $500 cash advance with B9 Premium
Get your cash advance 15 days before payday
No fee instant delivery

Costs $9.99 to get up to $100 cash advance
Costs $19.99 to get up to $500 cash advance
Loan amount: Up to $100 for a B9 Basic Plan; Up to $500 for a B9 Premium Plan[24]
Processing time: Instantly (no fee)
Repayment date: On your next deposit or paycheck
B9 is a cash advance app where you can advance your money instantly and 15 days before payday. This comes with no interest and no credit checks. But it does come with a cost.
B9 Basic Plan is priced at $9.99/mo. You can take up to $100 of your salary instantly. And with their B9 Visa Debit card, you can enjoy up to 5% cashback and zero fee transfers.
Taking the cake for the highest cash advance, however, is the B9 Premium Plan. For $19.99/mo, you can get $500 of your pay in advance and instantly. You can also get the benefits of a credit report, credit bureau score, and credit score simulator.
B9 Basic Plan Requirements:
All you need to get a cash advance from B9 are:[26]

A B9 account in good standing

Direct payroll deposits to your B9 account from your employer

Account balance equal to or greater than $0

All previous cash advances paid
If you're worried about not being able to get a cash advance because of bad credit, this next app is for you.
Possible
Pay in 4 installments
Loan even with poor credit
29-day grace period

Needs access to your income history and income deposit
Loan amount: Up to $500; Up to $250 (in California)
Processing time: About an hour for debit card transfers; 1-2 business days for ACH transactions (5 days maximum)
Repayment date: 4 equal payments within 2 months (8 weeks)[28]
Possible Loan is an online payday loan app where you can borrow up to $500 (even with bad credit). They can also process your loan in minutes. But what makes Possible stand out from the list is their repayment method.
You can pay in 4 equal installments for up to 2 months. And it comes with a 29-day grace period. There are also no late fees or interest charged.
You get 2 more wins compared to Albert. You can get twice the maximum loan amount and more leeway in terms of repayment. If that sounds enticing, you can get on with the requirements.
Possible Requirements:
To get a Possible loan, you need:[29]

Valid state-issued ID or driver's license

Social Security number

A checking or savings account with 3 months transaction history, income deposits of $750 per month or more, and positive account balance
This next app is a little tricky with its fees. But you can get a loan amount for free.
Varo
Choose your repayment date
Instant cash advance
No interest

Fixed fee for cash advance above $20
Requires a Varo account
Loan amount: Up to $250
Processing time: Instantly
Repayment date: Custom repayment from 15 to 30 days
With Varo Advance, you can take a cash advance of up to $250 without interest. But compared to other apps on the list, Varo charges a fee for cash advances above $20. Among all the apps on the list, it's on the pricier side.
Here's how much it can cost you:
| Loan Amount | Varo Fee |
| --- | --- |
| $20 | Free |
| $50 | $4 |
| $75 | $5 |
| $100 | $6 |
| $150 | $9 |
| $200 | $12 |
| $250 | $15 |
There are pros and cons when comparing this to Albert. Although you can get the same loan amount ($250), the fee means you're really only getting $235. But while Albert has a 2-3 day processing time, you don't have to wait long for your cash with Varo.
Varo Requirements:
Here's what you need to use Varo:[30]

Varo Bank debit card that has been active for at least 30 days with a positive balance

At least $1,000 in qualifying direct deposits to your Varo Bank Account
Other Varo Services:
Varo Bank Account provides a trustworthy banking service with no monthly maintenance and overdraft fees.
Now that you've seen your other options, here's a refresher on what Albert is and what you can get with it.
What Is Albert?
Albert is a cash advance and spotting app. You can get up to $250 in cash advance with no subscription fees.
But what makes it stand out from banks and lenders is that they don't charge interest, and there are no credit checks.
Yep, you read that right. Albert doesn't need to check your credit score before you can borrow money. That's one less requirement you need to worry about.
When should you use Albert?
You can use Albert for your urgent needs. You can get your money in only 2-3 days. Use it for your groceries or for a quick oil change for your car.
On the flip side, Albert may not be for you if you have trouble controlling your spending. Because Albert is convenient, it's easy to get trapped in a debt cycle.
But it can be an option if you're a bit strapped for cash and you can repay what you owe.
Why are Apps Like Albert better than Payday Loans?
Apps on this list were designed to give you access to money with just a tap on your screen. You can use it for emergencies. Compared to Payday Loans, these are more convenient.
On top of that, most apps on this list don't require a credit check, have no interest, and charge lower fees. They also have requirements that are easier to meet than those asked by banks and lenders.
How to pay cash advances faster and break the loan-and-repayment cycle?
Repaying a huge loan from cash advance apps could be challenging. Part of your salary is already going to be used for repayment. And the bills just keep on coming.
It can be hard to ensure you still have money to spend. Here are some tips to help you break the loan-and-repayment cycle:

Remember your due dates
Plot your due dates on your calendar. This can help you adjust your budget while still paying off your loan.
Use budgeting and spending tools
Budgeting and spending tools can help you monitor your spending and learn how to budget correctly. It can kick-start your journey to understanding your spending habits.
Earn extra income
You can pay your loans faster by getting a side hustle. Or go for apps that can help you make some extra cash.
Have an emergency fund
Emergency funds can help you get by when urgent situations arise. Find out how much you need in one to help avoid bank loans and payday lenders.
How we came up with the list
Albert is a cash advance app known for its short processing time. So when making this list, we searched for apps where you can borrow money quickly with less hassle.
We looked into their features and the loan amounts you can borrow. We also took note of the repayment dates, so you'll have options on when you want to repay.
Bottom Line
We get it. Albert is a useful and trusted app. But there are plenty of apps like it in the market. With a few of them on this list, you can potentially see a better fit for your needs.
The extra services may even help you get your finances in better shape. But whether you need a small or large amount of cash, there's an option you can choose.
References
Write to Helen Papellero at feedback@creditdonkey.com. Follow us on Twitter and Facebook for our latest posts.
Note: This website is made possible through financial relationships with some of the products and services mentioned on this site. We may receive compensation if you shop through links in our content. You do not have to use our links, but you help support CreditDonkey if you do.
Empower Personal Wealth, LLC ("EPW") compensates CREDITDONKEY INC for new leads. CREDITDONKEY INC is not an investment client of Personal Capital Advisors Corporation or Empower Advisory Group, LLC.
Subscribe to CreditDonkey
Get updates on the latest deals and keep up with the best money moves.