Ad Disclosure: This article contains references to products from our partners. We may receive compensation if you apply or shop through links in our content. You help support CreditDonkey by using our links.
(read more)
Better sleep is a new mattress away. But which type is best? And how much should it cost? Find out with this mattress buying guide.

© CreditDonkey
How well did you sleep last night?
If the answer is "not great," you're not alone: 35% of adults in the U.S. don't get the 7+ hours of sleep they need.[1]
Back pain, allergies, and sleeping hot can all get in the way of your rest. But the right mattress will support you, keep you cool, and stay comfortable all night.
No, you're not dreaming. Good sleep really is within your reach. Find out how to get your perfect mattress and get the rest you deserve.
Is It Really Time for a New Mattress?
Do you have to replace your mattress every 8 years, or is it just a marketing ploy? Most mattresses actually last about 8 to 10 years. Your mattress lifespan depends on your weight and how you take care of your bed.
But if you've been struggling with sleep, you shouldn't wait for the 8-year mark. Sleep is crucial for both your physical and mental health.[2]
Here are some signs that you should replace your mattress, no matter how old it is:

Your mattress has dents or lumps.

Your mattress sags under your weight.

Your body has changed.

You wake up feeling tired and sore.

You toss and turn at night.

You've started sleeping with a partner.
A lot can happen in a decade. It's important that your mattress supports you through all the changes.
Mattress Features You Don't Want to Miss

© CreditDonkey
Don't get lost in unnecessary features. Here's everything you need to find the perfect mattress.
Comfort and Support: Keys to a Great Mattress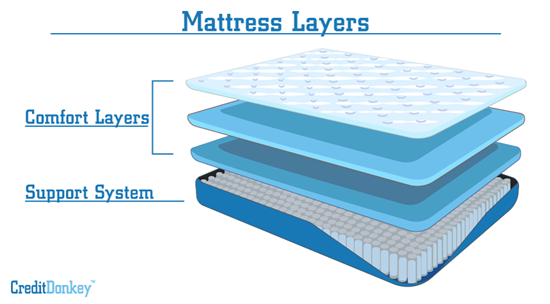 © CreditDonkey
Comfort and support are the two most important factors in a mattress. A good balance of both will get you a good night's sleep and prevent aches and pain.
Comfort
Comfort layers cushion your pressure points so you don't wake up sore.
Here's how you can test if a mattress has the right comfort for you:

Lie down in your usual sleeping position. Stay in that position for at least 10 minutes.

Feel where your body sinks into the mattress.

Take note of any discomfort, pain, or limbs falling asleep.
If you feel any of those problems, the mattress is too hard for you. You don't want to sleep on a bed that's cutting off circulation. A softer bed will reduce pressure and let you sleep more soundly.
But your mattress shouldn't feel like a structureless marshmallow. Comfort needs to be balanced with good support.
Support
Support layers hold you up and keep your body aligned. Proper alignment prevents strain on your spine.
To test if your mattress gives you proper support, follow these steps:

Lie down in your usual sleeping position.

Notice where your body sinks into the mattress.

Feel if your spine curves out of place.
A mattress that's too firm will cause your spine to arch away from the bed. A mattress that's too soft will make your spine sag into the bed. Both extremes are unnatural and bad for your back.
And that's the basic gist of mattress shopping! Once you nail down support and comfort, you'll have a good bed to sleep on.
But if you want a bed that's fine-tuned to your liking, consider these next factors too.
Other Factors That Affect Your Sleep

© CreditDonkey
Mattress Temperature
Mattress temperature can ruin your sleep. If your mattress makes you sweaty, find a mattress with cooling, breathable materials.
Innerspring mattresses are usually the coolest option because the coils let a lot of air through. If you're a fan of foam, go for one infused with gel, graphite, or copper for a cooler sleeping surface.
Motion Transfer
When you move around in bed, some mattresses absorb the motion and keep it from spreading. Others bounce and carry the motion throughout the bed.
Keep this in mind if you sleep with a partner. Your partner should be able to shift in bed without disturbing your sleep. If you wake up at different times, you don't want to get jolted awake when they get up.
Edge Support
Have you ever sat on the side of a mattress and almost fallen off? A mattress with good edge support doesn't give out when you put weight on it.
This lets you sit or sleep near the mattress edge without slipping. If you sleep with a partner, it lets you both use the full surface of bed.
Smell/Off-Gassing
Most mattresses off-gas to some degree. This means they release tiny amounts of chemicals that sometimes make your new mattress smell. But don't let that scare you off. The amount that's released isn't harmful, and the smell quickly goes away.
If you want to avoid off-gassing, look for organic mattresses certified by the Global Organic Textile Standard (GOTS) or Global Organic Latex Standard (GOLS). GOTS and GOLS are endorsed by the USDA's National Organic Program.
Rule of Thumb: Mattress Types
Innerspring: Good for cooling and bounce

Foam: Good for back pain and side sleepers

Latex: Good for allergies and stomach sleepers

Hybrid: Good for back sleepers
Find out the pros and cons of each type down below.
What's the Best Mattress Type?

© CreditDonkey
The truth is, there isn't a single best mattress type—you'd probably sleep well on a lot of different beds.
Learn about the types of mattresses to find one for your sleep style.
Foam Mattresses: Body-Hugging Comfort

© CreditDonkey
Pros

Great pressure relief

Many affordable options

Doesn't transfer motion
Cons

Sleeps hot

Not enough support for heavy people

Hard to move around on
The two main types of foam are memory foam and polyfoam. The materials are similar, but memory foam is better at hugging the body. When you lie on a memory foam mattress, you'll sink into the bed. Once you get up, the foam returns to its original position.
This makes it great at absorbing motion. It's good for couples who shift around a lot at night. You won't be disturbed by your partner's movements. But it can also suck you in and make you feel stuck in the bed.
Since foam mattresses hug your body and don't have a lot of airflow, they sleep hot. But many modern foam mattresses use materials that feel a bit cooler. (More on cooling foam below.)
Try
Nectar mattress
for an affordable bed with pressure relief and cooling gel foam.
You Should Know…

Foam Density
The denser the foam, the firmer and more durable it is. Firm foams are better at supporting your body. But softer, low-density foams can feel more comfortable. Low-density foams are also cheaper, but they break down more quickly.

Foam density is measured in lbs/ft. Look for high- and medium-density memory foams above 4 lbs/ft for a good, long-lasting bed. High-density polyfoams are 1.8 lbs/ft and above.

Cooling Foam
Foam is notorious for sleeping hot. Mattress companies have caught on and come up with new materials that wick away heat. Look for gel foam, copper-infused foam, graphite-infused foam, and open-cell foam.

These materials disperse heat from your body and the mattress surface. Open-cell foam has tiny holes in it to improve airflow.
CertiPUR-US Foam
Look for mattresses with foams certified by
CertiPUR-US
. This will ensure that your mattress is made without ozone depleters and other dangerous chemicals.
Innerspring Mattresses: Bounce and Strong Support

© CreditDonkey
Pros

Sleeps cool

Strong support

Bouncy and easy to move on
Cons

Transfers motion

Can be noisy

Doesn't contour to your body
These traditional beds have come a long way from your grandma's creaky, old innerspring mattress. Innerspring mattresses are breathable and sleep cool. Steel springs have great support throughout the bed, including the edges.
The downside is innerspring mattresses don't relieve pressure as well as foam beds. You can improve this with a pillow top or Euro top mattress. These mattresses have an extra layer of cushion on top.
Innerspring beds are extra bouncy. You've probably jumped on one as a kid. This bounciness means that it transfers motion. If you sleep with a partner, you'll feel them moving around in bed. Find out how coil type can reduce motion transfer.
Try
Saatva Classic
for a comfortable Euro top mattress available in three firmness options.
You Should Know…
Coil Types
There are four types of coils:

Bonnell coils are the oldest type. They can be noisy, especially on cheaper models. This is the least durable coil type.

Continuous coils are made of a single piece of wire twisted into rows of coils. These offer stability and better durability.

Offset coils are joined together by wires. These act like a hinge and let the coils conform to your body better.

Pocket coils are individually wrapped in fabric. This cuts down on noise and motion, and it also conforms to the body better.
Coil Count and Gauge
A queen mattress should have at least 450 coils. A bed with a lot less won't distribute your weight as well. But coil gauge, or thickness, is also important.
Most coils will range between 12 and 15 gauge. Lower numbers are thicker and more durable. Heavy people should look for an innerspring mattress with thick wires for proper support.
Don't be fooled by a mattress with a high coil count. Make sure that the coil gauge is thick enough too. A mattress with lots of thin coils won't last long.
Hybrid Mattresses: Balanced Mix of Materials

© CreditDonkey
Pros

Good pressure relief

Breathable

Easy to move on
Cons

Confusing to shop for

Tend to be expensive

Unique feel isn't for everyone
A hybrid is any mattress that uses two or more support materials. Most hybrid mattresses are a combination of memory foam and innerspring. The idea is that you'll get a bed with the best of both worlds.
You get good pressure relief from memory foam. Innerspring support prevents you from sinking in. That being said, you won't get the full benefits of each mattress type. Hybrids don't contour the body as well as memory foam beds. They also aren't as bouncy as innersprings.
When shopping for a hybrid, the term can get confusing. Most innerspring mattresses have foam on top. But true hybrids have thicker layers of foam.
Try the Layla Hybrid for a flippable foam and coil bed designed to keep you cool.
You Should Know…

True Hybrid Mattresses
The term "hybrid" gets thrown around a lot by mattress companies. Not everything that's marketed as a hybrid will have a true hybrid feel. The only way to be sure is to feel the bed yourself. If you're shopping online, read the product details to see if it uses thick layers of foam.
Latex Mattresses: Foam With Good Support

© CreditDonkey
Pros

Hypoallergenic

Good bounce and support

Very durable
Cons

Can be too firm

Most expensive mattress type

Heavy material is hard to move
Latex mattresses are a unique type of foam mattress. Latex foam is naturally hypoallergenic and dust-mite resistant. It offers more bounce and support than other foams. It also sleeps cooler.
When you lie on a latex bed, you won't feel like you're sinking in. It has enough support to keep you on top of the mattress. Since many latex beds are on the firmer side, they're usually not the best choice for petite side sleepers. (Learn more about sleeping positions later on.)
Latex beds are also extremely durable. A latex mattress can last up to 20 years. But you'll pay more for the quality. Latex is the most expensive mattress type.
Try the WinkBeds EcoCloud with 4" of natural Talalay latex on top of supportive pocketed springs.

You Should Know…

Production Methods
There are two types of latex, which are made using different processes. Dunlop latex is denser and more durable. But it can be slightly uneven. Talalay latex is softer, bouncier, and more uniform. It also costs more, so go for Dunlop if you're trying to save.
Natural vs Synthetic
Dunlop and Talalay latex can be natural or synthetic. Natural latex has better bounce, durability, and cooling properties. Synthetic latex costs less. Some mattresses use a mix of both. For an organic latex mattress, look for one that's certified by the Global Organic Latex Standard (GOLS).
Fun Fact: Latex products are made from the sap of the rubber tree.
Do I Need a Bigger Bed?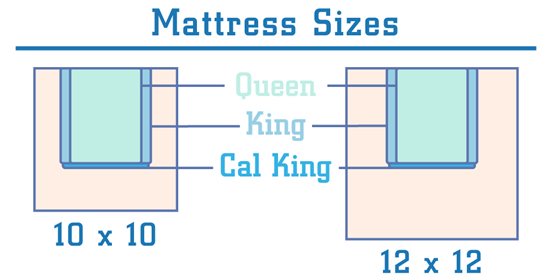 © CreditDonkey
A lot has probably changed since you first got your mattress. Maybe your body has changed, or you now sleep with a partner or pet. Your mattress should fit everyone comfortably.
These are the most common mattress sizes:
| Mattress Size | Dimensions (inches) | Best For |
| --- | --- | --- |
| Twin | 38 in x 75 in | Children, single adults |
| Twin XL | 38 in x 80 in | Tall single sleepers |
| Full | 54 in x 75 in | Single adults |
| Queen | 60 in x 80 in | Single adults who need lots of space, couples |
| King | 76 in x 80 in | Couples, people with children or pets |
| Split King | (2) 38 in x 80 in | Couples with different sleep preferences |
| California King | 72 in x 84 in | Tall couples, tall people with children or pets |
Remember to take your room size into consideration. You should still have enough space to walk around your bed.
If your lifestyle might change in the next 8 to 10 years, consider a size that will grow with you. For example, you could get a queen as a single sleeper if you think you might share your bed later on.
Mattress Thickness
Most mattresses are 8 to 12 inches tall. For many people, mattress height isn't a deal breaker. But if you're especially tall, short, or heavy, mattress height affects how easy it is to get in and out of bed.
Many higher-end mattresses will be thicker because they have more layers. Simpler and cheaper mattresses are often on the thinner side.
Whichever mattress height you choose, make sure your sheets fit. You might need deep-fitted sheets if you have an extra-tall mattress or mattress topper.
How Firm Should My Mattress Be?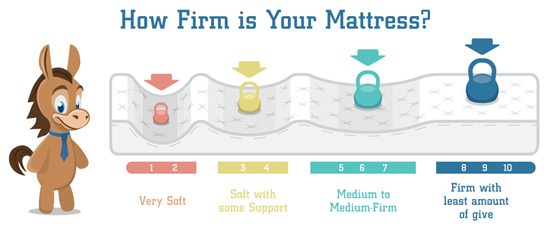 © CreditDonkey
The right firmness depends on your sleeping position and your weight. Use this guide to point you in the right direction.
Mattress firmness is rated on a scale from 1 to 10:

1-2: Very soft, a lot of sinkage, too little support for most sleepers

3-4: Soft with some support, good for petite side sleepers

5-7: Medium to medium-firm, balanced sinkage and support, works for most sleepers

8-10: Firm to very firm, not much sinkage, good for larger sleepers
Side sleepers usually prefer medium-soft to medium beds. Back sleepers do well on medium-firm mattresses. Stomach sleepers need a medium-firm to firm mattress. When in doubt, a medium-firm bed will work for most sleepers.
In general, heavy people need firmer mattresses. Consider going up a firmness level to get your preferred feel. Petite people need softer mattresses, so try going down a firmness level.
| Sleep Position | Body Type | Best Mattress Firmness |
| --- | --- | --- |
| Side | Petite (<135 lbs) | Medium-soft |
| | Average (135-200 lbs) | Medium |
| | Heavy (>200 lbs) | Medium-firm |
| Back | Petite (<135 lbs) | Medium |
| | Average (135-200 lbs) | Medium-firm |
| | Heavy (>200 lbs) | Firm |
| Stomach | Petite (<135 lbs) | Medium-firm |
| | Average (135-200 lbs) | Firm |
| | Heavy (>200 lbs) | Firm to extra firm |
Mattresses aren't one-size-fits-all. Learn why your specific sleep preferences matter below.
What Kind of Sleeper Are You?

© CreditDonkey
You want to be sure that your mattress suits your personal needs. After all, this is an investment you're going to use for the next decade.
See how your preferences will affect your nightly comfort.
Best Mattresses for Every Sleep Position
Pick a bed that works with your sleeping position. You spend about 8 hours in this position every night, so you want to be comfortable.
Side Sleeping
If you sleep on your side, your hips and shoulders dig into the mattress. To take pressure off those areas, you need a mattress that's soft enough to cradle your body.
Back Sleeping
Back sleepers need a bed that curves to the lower back. This takes pressure off the upper back and hips. A medium-firm mattress will keep you comfortably supported and cushioned.
Stomach Sleeping
Support is key for stomach sleepers. The front of your body should lie flat, so you need strong support to prevent sagging. Firm mattresses will keep your hips up to avoid back strain.
Combination Sleeping
If you change positions, you need a balanced mattress that supports you in each position. You also want to be able to move around easily in bed.
Traditional memory foam beds can leave you feeling stuck in the mattress. A hybrid makes it easier to change positions.
How Body Type Affects Your Mattress
The same mattress can feel different to different people. Your weight affects how much support you need and how firm a mattress feels.
Petite Sleepers (<135 lbs)
If you're a lightweight sleeper, a softer mattress can give you enough support. Mattresses are supposed to compress a little under your body. If you go for a bed that's too firm, your body won't press in deep enough for good support.
Average Sleepers (135–200 lbs)
Mattress companies use an "average" weight to calculate firmness. Luckily for you, this means a bed advertised as medium-firm will feel like a true medium-firm.
Heavy Sleepers (>200 lbs)
More support is better for heavy sleepers. Most mattresses probably feel softer to you on average. This is because your body sinks deep into the mattress. A sturdy, firm bed will keep your body aligned.
Are These Concerns Ruining Your Sleep?

© CreditDonkey
Back Pain
Despite what you might have heard, a firmer mattress isn't always better for back pain. Instead of getting the firmest mattress, try medium-firm. Focus on finding a mattress with a good mix of support and comfort.
Your spine should rest in a neutral position, without any uncomfortable bending or twisting. Memory foam can also help with pain, especially if you feel a lot of pressure when you lie down.
Sleeping Hot
No one likes waking up sweaty. Sleeping hot is a common issue, especially for heavier people. If you have issues with feeling too hot on your mattress, look for one with cooling materials.
Innerspring beds keep you cool because the coils let a lot of air in. If you prefer foam, try gel foam, copper- or graphite-infused foam, or latex.
Couples
Sharing a bed should be pleasant for both parties. If you accidentally kick and shove each other at night, it's time for a size upgrade.
Mattress type matters too. If you toss and turn, or wake up at different times, you don't want to feel the other person move. Memory foam doesn't transfer motion. You won't have to worry about disturbing your partner.
Good edge support lets you and your partner use the whole surface of the bed without slipping off. Innerspring and hybrid beds have the strongest edge support.
Allergies
Your mattress could have a lot to do with your constant sneezing. If you suffer from allergies, avoid mattresses with coils and pillow tops. These types are both a breeding ground for dust mites.
Try latex or foam mattresses instead. These materials are naturally dust mite resistant and hypoallergenic. You can also look for anti-microbial mattresses to prevent mold and mildew.
Sex
Sleeping isn't the only thing you do in bed. The best mattresses for sex don't make noise and are easy to move around on. Bouncy beds make it easier for couples to move freely. The lack of noise lets you be discrete.
Hybrids with memory foam and innerspring support are a great choice for sex.
Knowing what you want in a mattress is more than half the battle. The last step is to score the best deal.
How to Get the Best Mattress Deals

© CreditDonkey
Some mattress stores are way overpriced. Use these smart shopping tips to avoid mattress pricing tricks.
How Much Should I Spend on a Mattress?

© CreditDonkey
A mattress is an investment, but you don't want to overpay either. Expensive doesn't always mean better quality.
Here are the average queen prices for each mattress type:

Innerspring: $950-$1,000

Memory foam: $900

Hybrid: $1,659

Latex: $2,000
Set your mattress budget around $1,000 for a good-quality queen mattress. If you're like most sleepers, a $5,000 mattress comes with features you don't even need.
You can still find good mattresses for less, but they most likely will be less durable than pricier beds. Amazon has a huge selection of affordable mattresses like the Linenspa 10 Inch Hybrid. Make sure you read reviews before you commit.
Remember that these prices are for a queen-size mattress. The bigger the mattress, the more expensive it will be.
Budget in the cost of a foundation, too. Not every mattress needs a box spring, but you'll need some kind of sturdy support. Check the mattress' warranty in case it needs a specific type of base.
It's important to know the average prices for each type. But how you shop has just as big an impact on mattress price.
See how you can get the best deals wherever you shop.
Buying a Mattress in Store

© CreditDonkey
Pros

Try before you buy

Knowledgeable sales staff

High chance of getting the right mattress
Cons

Higher prices

Salesperson can be pushy

Hard to comparison shop
Being able to see a mattress before you buy is a huge advantage. But keep in mind that you'll have to haggle for the best price.
Here are some tips for in-store shopping:

Take your time
Get in your usual sleeping position and spend at least 10 minutes lying down. You won't know for sure how the bed will feel at home. But, you'll get a more accurate feel the longer you lie there.
Negotiate the price
Most mattress stores have some wiggle room in their prices. It's always worth a shot to haggle the price. The easiest way to do this is to get prices from different stores and see if you can get a price match.

Even if they can't beat the price, some stores will throw in freebies like pillows or a mattress cover.

Be ready to walk away
Don't feel pressure to make a decision right away. If you don't think you're getting a good price, look somewhere else. Or, you can shop online to save even more.
Watch out for "sales" that are actually just the regular price. Some in-store and online sellers will mark up prices to make it seem like you're getting a deal.
Check how much similar mattresses usually cost. You'll get a better idea if you're actually getting your money's worth.
Buying a Mattress Online

© CreditDonkey
Pros

Lower prices

Easy comparison shopping

Avoid aggressive sales teams
Cons

Can't try mattress beforehand

No room to negotiate price

Longer delivery times
You can save a lot of money by buying your mattress online. Online sellers don't have to keep physical stores open. So, they're able to charge less for their products.
Here are some tips to make the best online purchase:

Comparison shop
Online shopping gives you access to lots of different mattresses. Take note of the features you like and their prices.
Read reviews
Since you can't see the mattress in person, look for reviews that show you how a mattress feels. Remember to look at both negative and positive reviews.

In addition to learning about the mattress, you'll find out if people have issues with delivery and customer service.

Contact customer service—and haggle
Don't ignore your concerns just because there's no salesperson to walk up to. If you have any questions about a product, contact customer support.

You can even try to haggle with them for cheaper prices or free delivery. In fact, Consumer Reports found that 59% of those who haggled with an online retailer got a better deal.[3]
What Experts Say
CreditDonkey assembled a panel of industry experts to answer readers' most pressing questions:
Why do customers associate price with quality? Do brands really matter?

What is the safest way to buy online?

What can people do to make more informed purchase decisions?

Is there a future in retail?

Should you buy a mattress online or in store?

How do you know when to replace your mattress?
Here's what they said:
Smart Shopping Tip: Read the Fine Print
Trial Period and Returns
Even if you try a mattress in store, you won't really know how it'll feel at home. This is where the sleep trial comes in. Make sure you take full advantage of your trial period.
Most sellers give an average of 100 days for you to try the mattress in your home. The length of a sleep trial can range from a few weeks to 365 days. Take this time to test for comfort and support. See if you consistently wake up feeling refreshed.
If it doesn't work out, you can usually return the mattress for a full refund. Keep in mind that some companies make you try the mattress for at least 30 days before you return it.
Some mattress sellers charge shipping or restocking fees for returns. Make sure you ask about their policy before you buy.
Delivery
Most mattress stores charge a delivery fee. Many online mattress sellers offer free shipping within the U.S., except for Hawaii and Alaska. If you live in those states, you can still get your mattress shipped to you at an additional cost.
Mattresses are heavy and hard to handle. Luckily, many sellers offer white glove delivery. This means someone will carry the mattress into your room and set it up for you. You usually have to pay extra for this service.
Warranty
Always make sure you read the warranty. Not all lifetime warranties are actually useful. Some warranties come with limits that make it hard to get your claim approved.
In addition to checking the warranty length, pay attention to:

Mattress base requirements (box spring, wooden slats, etc.)

What type of damage is covered

Additional shipping or repair fees
Some mattress companies will void your warranty if you use the wrong mattress base. Make sure you double-check with the seller to see what their terms are.
Bottom Line
A new mattress can be your ticket to better sleep. Focus on finding the right balance of comfort and support.
From there, you can consider other factors like:

Edge support

Sleep temperature

Motion transfer
Remember, everyone's body is different. Listen to yours when you try out your mattress. Take advantage of the sleep trial and don't settle for a mattress that doesn't feel great. You owe it to your health to get good sleep every night.
References
Donna Tang is a content associate at CreditDonkey, a mattress comparison and reviews website. Write to Donna Tang at donna.tang@creditdonkey.com. Follow us on Twitter and Facebook for our latest posts.
Note: This website is made possible through financial relationships with some of the products and services mentioned on this site. We may receive compensation if you shop through links in our content. You do not have to use our links, but you help support CreditDonkey if you do.
Not sure what mattress is right for you?
Answer a few short questions in our mattress quiz to receive tailored recommendations.
Take Mattress Quiz