---
How do you choose a good mattress? And how much should you spend? Don't get ripped off. We'll show you how to find a quality mattress for the best price.

© CreditDonkey
Many mattresses claim to last 8 to 10 years. But, it may be time to shop for a new one if:

Your mattress has a dent or sagging area.

You don't feel fully rested when waking up.

You wake up with aches and pains.
There are lots of options out there, so picking the right mattress can be overwhelming. If you don't know where to start, check out this short quiz first.
Once you nail down your perfect mattress type, the whole shopping process gets way easier. Up next, learn about the most important factors to choose a mattress for you. Plus, stay to the end to learn how to outsmart the mattress stores.
Shortcut: How to Pick the Best Mattress for You
Choose innerspring if you like bounce or sleep hot.

Choose memory foam if you're a side sleeper or have back pain.

Choose latex if you suffer from allergies.

Choose hybrid if you're a heavy person.
In this article:

Which Type of Mattress is Best?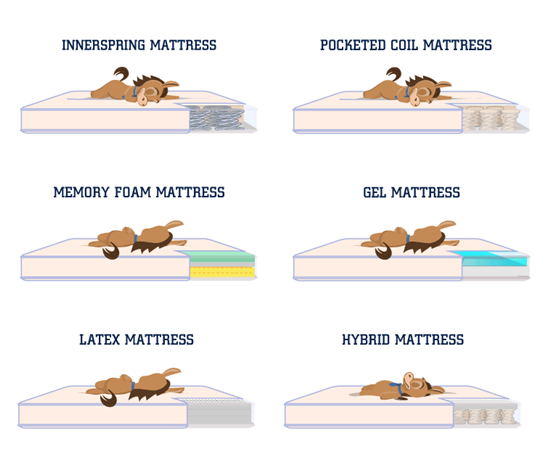 © CreditDonkey
Sleep is important. We spend one-third of our lives sleeping (or attempting to sleep). So before you shop for your new bed, it's good to do a little research. Take our short mattress quiz to find your perfect mattress type, and learn more about them below.
Innerspring
Great for cooling, bounce, and back sleepers
Innersprings are one of the most common and popular mattress types. They're made of sturdy steel coils that offer lots of support and bounce.
There are a couple different coil types, but pocketed coils stand out in modern innerspring mattresses. These are better at body contouring than traditional coils. They're individually wrapped in fabric, so they're also less likely to squeak when they eventually wear down.
Coils cool you down because they let a lot of air flow throughout the mattress. This makes the innerspring mattress one of the best options for hot sleepers.
Because they offer great support and decent pressure relief, it works well for people who switch sleep positions often. Combination sleepers should have no problem finding an innerspring that works for them.
Do more coils mean a better mattress?
Coil count can be an indicator of a quality mattress, but the coil gauge (thickness), also matters. If a mattress has lots of thin coils, it might not be as supportive as a bed with fewer, thick coils.

Memory Foam
Great for back pain and side sleepers
A memory foam mattress provides lots of cushion designed to hug your body. The material has great pressure relief, especially around the hips and shoulders. This makes it perfect for side sleepers and people with back pain.
It also has great motion isolation. Even with your partner's tossing and turning, you won't feel the movement on your side of the bed.
Memory foam doesn't allow for much airflow, so it sleeps hotter than other mattress types. But you can look for special types of memory foam designed to feel cooler, such as:

Gel memory foam

Copper-infused foam

Graphite-infused foam
These materials feel very similar to regular memory foam mattresses, but they don't trap heat as much.
When shopping for a foam mattress, make sure the company uses
CertiPUR-US certified foam
. This certifies that the material has been made without chemicals that are harmful to you and the environment, such as ozone depleters, formaldehyde, and high VOC emissions.
Hybrid
Great for heavy people and combination sleepers
Hybrid mattresses use two or more mattress materials, usually foam on top of an innerspring base. If you have a hard time choosing between the firmness of innerspring and the pressure relief of memory foam, a hybrid may be a good option.
Combo sleepers need versatile mattresses that offer a balance of support and pressure relief. With a hybrid, you can find the right mix of materials that gives you both.
A hybrid mattress is a good choice for heavier sleepers. It offers a good amount of support, plus enough comfort layers to prevent pressure points.
Latex Foam
Great for allergies and stomach sleepers
Latex mattresses have cooling properties that make them good for hot sleepers. The material resists dust mites and mold, so people with allergies can sleep comfortably.
A latex mattress won't hug your body as closely as memory foam, but some people prefer this. Latex mattresses have a bit of springiness to them. You won't get that "stuck in the mattress" feeling that you might get with traditional memory foam beds.
Stomach sleepers will appreciate the firmer support of a latex mattress. This helps keeps your spine aligned to prevent back pain.
Latex foam comes in natural, synthetic, and blended varieties. Natural latex tends to last the longest and has better bounce than other types. But synthetic and blended mattresses are more affordable options.
Pillow Top
Great for plush comfort
Pillow top mattresses have an extra layer of padding sewn onto the top layer. The extra cushion adds cloud-like comfort and makes the mattress feel softer. You can find pillow tops on top of any mattress type (memory foam, innerspring, etc.)
What mattress is used in 5-star hotels?
Pillowtop mattresses with innersprings are popular choices in luxury hotels though some now favor memory foam.

Airbed
Great for personalized firmness
If you can't commit to one mattress firmness, an adjustable air mattress lets you adjust the firmness with the push of a button.
Instead of springs or foam, airbeds use air chambers as their main support system. Some even have dual settings so couples can individually adjust how firm they want their side of the bed.
Waterbed
Great for a unique feel
Waterbeds aren't as popular today as they were in the '80s. But you can still find companies that make them. Today's waterbeds have features like temperature control and extra support layers.
Adjustable Bed
Great for the elderly and physical ailments
An adjustable base lets you change the position of your bed. You can adjust the incline and elevation for personalized comfort. This can help with issues like chronic back pain, snoring, and sleep apnea. Or, it can just make watching TV in bed more comfortable.
Many latex and memory foam mattresses pair well with adjustable bases. Innerspring and hybrids can also work, depending on the mattress.
What is the best type of mattress?
Innerspring: Good for cooling & bounce

Memory foam: Good for back pain & side-sleepers

Latex: Good for allergies & stomach sleepers

Hybrid: Good for combination sleepers
Whether you like innerspring or memory foam, your mattress needs to suit your sleep style. Take a look at the top factors that determine proper comfort and support down below.
How to Find the Right Mattress
Mattresses aren't one-size-fits-all. Shop with these factors in mind to find the right one for your body.
Sleeping Position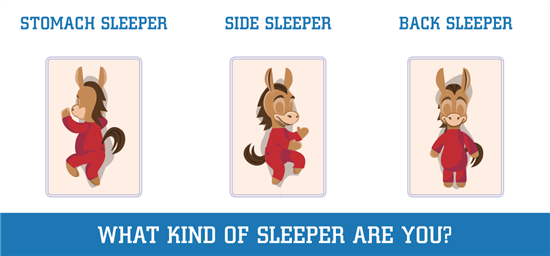 © CreditDonkey
Do you sleep on your side, back, stomach, or a combination of all three? Each sleeping position needs a different type of mattress.

Side sleepers need a softer mattress with good pressure relief.

Back sleepers need a medium-firm mattress that contours the lower back.

Stomach sleepers need a firm mattress for proper spine alignment.
Firmness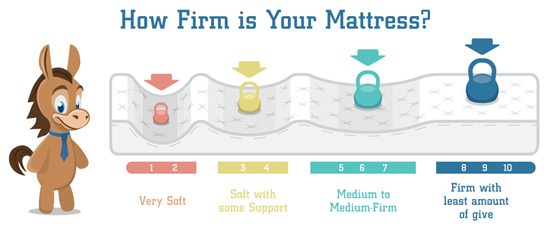 © CreditDonkey
The mattress industry uses a firmness scale of 1–10.

1–2 are very soft

3–4 are soft and good for side sleepers

5–7 are medium-firm and good for back and combination sleepers

8–10 are very firm and best for stomach sleepers
Body Weight
Your weight affects how firm your bed will feel.

Sleepers less than 135 lbs need a softer mattress. Since they don't sink as deeply, most mattresses feel firmer than they would to a heavier person.
Sleepers between 135–200 lbs are considered the "average" by mattress companies, so a standard firmness level should be adequate.
Sleepers over 200 lbs need a thicker, firmner and a bit firmer to get proper support and pressure relief.
Temperature
If you often freeze or sweat during sleep, try a mattress that caters to your temperature needs. Memory foam mattresses trap heat and are better for people who sleep cold. Innerspring mattresses have good airflow and are better for people who sleep hot.
Edge Support
If your mattress doesn't have proper edge support, you may have a hard time getting out of bed. A supportive edge also helps keep you on the bed when you sleep. It's extra important if you sleep with a partner and need to use the full sleep surface of the bed.
Health Concerns
If you have allergies or asthma, look for a mattress that's resistant to dust mites like latex or memory foam. For back pain, a bad mattress can worsen the problem. Acute back pain comes on suddenly but can turn into long-term, chronic back pain.
When shopping for a mattress for back pain, firmer isn't always better. Aim for medium-soft to medium-firm for side sleeping, and medium-firm to firm for back and stomach sleeping.
People who feel like their mattresses are uncomfortable tend to sleep worse and feel worse during the day. Sometimes this means taking longer to fall asleep, but more typically it has to do with awakenings during the night and feeling rested and that sleep was of good quality. Also, the issue of support is a complex one - it is possible for mattresses to be too firm or too soft, and this may also change over the course of a night and/or the life of a mattress. There is no evidence that one kind of mattress is better for everyone. The best advice I can give is to make sure whatever you buy has a good return policy so you can try it out for a few weeks.
Michael A. Grandner, PhD, MTR, Director of the Sleep and Health Research Program at the University of Arizona College of Medicine

Let's face it—size matters. Make sure your bed is the right size for your space and lifestyle next.
What Size Mattress Do You Need?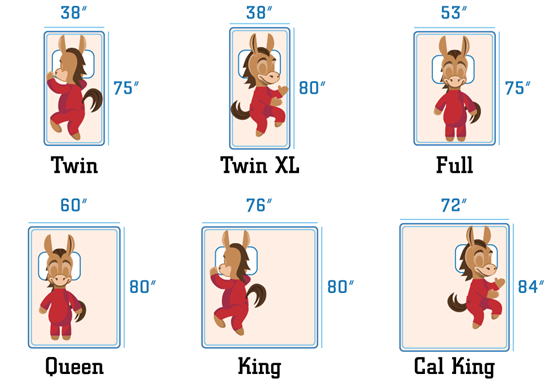 © CreditDonkey
Mattresses should fit comfortably in the room and be a good length for your body and the type of sleeper you are. If you have a sleeping partner, consider the room you'll both need to feel comfortable.
The following sizes are common among each mattress type:
| Mattress | Dimensions |
| --- | --- |
| Crib/Toddler | 27" x 52" |
| Twin | 38" x 75" |
| Twin XL | 38" x 80" |
| Full | 53" x 75" |
| Queen | 60" x 80" |
| King | 76" x 80" |
| California King | 72" x 84" |
As a general guide, here's what each main mattress size is best suited for:
Crib/Toddler: Good for infants and toddlers; learn more about mattresses for children below
Twin: Good for children, young adults, and small bedrooms; not good for multiple people or taller adults
Twin XL: Good for college-aged students, smaller bedrooms; not good for multiple people
Full/Double: Good for young or single adults; not good for partners who like to spread out
Queen: Good for couples and adults who want more space; not good for multiple people who want maximum personal space
King: Good for partners who want more personal space; not good for small bedrooms
California King: Good for taller partners; not good for small bedrooms
Choosing the right features is a huge part of shopping. But the big question is: how much does it cost?
Keep reading to learn how much you should budget—and how to NOT overpay for your new bed.
How to Choose a Mattress for a Child
Kids need great sleep too. Mattress shopping for a child is similar to shopping for an adult, but there are a few key differences to keep in mind:

Size: If your child is an infant, opt for a good crib mattress. (More on this below.) For older children who are still growing, consider a twin, twin XL, or full mattress that they can grow into. Toddler mattresses are sold, but many parents skip it since kids outgrow this size pretty quickly.
Price: Children's mattresses run the gamut from cheap to luxe. There are plenty of affordable, sturdy mattresses so you don't have to spend extra on a mattress your kid will outgrow.
Mattress type: Innerspring and memory foam mattresses are great for kids. They're affordable, and they offer the right amount of support for growing bodies. If you're in the market for a bunk bed, make sure it conforms to guidelines from the U.S. Consumer Product Safety Commission.
How to Choose a Crib Mattress
The biggest concern when choosing a crib mattress is safety. The American Academy of Pediatrics recommends a firm sleep surface to reduce the risk of SIDS and suffocation.
Be sure to keep soft, loose objects such as pillows and comforters away from the baby's sleep area. Instead, use infant sleep clothing to keep your baby warm.
For infants, back sleeping is the safest position. Until your baby reaches 1 year of age, every nap and sleep should be on the back.
How Much Should You Pay for a New Mattress?

© CreditDonkey
Setting a budget for a mattress can be difficult, especially with all the options at your disposal.
$1,000 is a Benchmark
If $1,000 for a queen mattress is way outside your budget, stick to a foam or innerspring mattress. If you can comfortably afford $1,000 or more, consider options like latex, hybrids, and airbeds.
Expensive Doesn't Equal Quality
Price alone is not a measure of the quality, durability, or longevity of any type of mattress. Research your options and read brand reviews online.
Budget for All Fees
Most stores will charge fees for delivery, set up, and removal of the old mattress. Some stores include the fees in the price of the mattress, while others charge separately. If you're unsure, ask a sales rep for more info.
Take Advantage of Sales
Retailers will always mark up their prices. But keep an eye out for holiday sales and seasonal deals. Knowing when to buy a mattress can save you money.
Best Time to Buy a Mattress
Late winter/early spring. Mattress stores offer discounts between February and May to make room for new models.

Holiday weekends. Look for sales on Presidents Day, Memorial Day, 4th of July, Labor Day, Veterans Day, and Black Friday.

Online, anytime. Save 50–60% year-round by shopping online.

You can buy anything online, even big mattresses. But should you? Find out the pros and cons of shopping on the web vs. at your local mattress retailer.
Shopping for a Mattress Online vs. In-Store

© CreditDonkey
You can shop for mattresses in-store or online. Each has its own benefits.
Shopping in person at a mattress store, furniture store, or department store allows you to:
Test Out Many Mattresses
Go in store to see how each mattress responds to your body and movement. Make sure you try the mattress in your usual sleeping position and spend at least a few minutes on it. Most importantly, don't feel pressured to get up before you're ready.
Negotiate the Price
The price tag you see on a mattress isn't necessarily the price you have to pay. Mattress retailers often have as much as 50% wiggle room in the price. Even if they can't bring down the price point, some salespeople will throw in pillows or other freebies to get you to buy.
Get In-Person Assistance
If you find all the different options overwhelming, a salesperson can help you narrow down your choices. Take the time to ask any questions you have.
Mattress Warranties
Make sure you know what your mattress warranty covers, such as coil defects and indentations. If you end up with a lemon, you'll definitely want to get a replacement.
Most warranties are longer than the actual life of the bed. So there's no need to pay extra for a 25-year warranty.
Shopping online opens you up to a huge range of brands and sellers. Benefits of an online mattress include:
Cheaper Options
Online companies have less overhead than brick-and-mortar stores. That money gets passed onto the customer in the form of cheaper prices.
Flexibility
Shopping online lets you do your research at your own pace. You can look at mattresses whenever you want without having to consider regular business hours. Comparison shopping is also easier online. You can take your time and really search for the best deals.
No Sales Pressure
Salespeople often try to upsell and pressure you into a purchase. If you're not a strong negotiator, looking online might be a better option for you. You can shop comfortably and make your own decisions.
Sleep Trial
Ask about trial periods and return policies. This is the most crucial part of choosing the right mattress: actually trying it out.
Does the mattress company offer a full refund, an exchange, or something else? Most stores give you around 100 nights to try it out. But always check with your retailer to make sure.

What Experts Say
CreditDonkey assembled a panel of industry experts to answer readers' most pressing questions:
What factors should people be aware of as they begin to search for a product online?

Do people behave differently when looking at products in store vs online?

Do online-only businesses target different customers than brick-and-mortar businesses?
Here's what they said:
How to Make Your New Mattress Last Longer
© CreditDonkey
A mattress is an investment. Treat it well to really get your money's worth out of it. Here are some of the best ways to protect your bed:
Rotate Your Mattress
Rotating your mattress at least every three months puts less wear and tear on one side of the bed. This prevents body indentations from forming and keeps your bed supportive for longer.
Change Your Bedding Weekly
Cleaning your bedding weekly prevents sweat and body oils from leaching into the mattress. Sweat and oil breaks down the fibers in your mattress and causes it to weaken over time.
Add a Mattress Pad or Protector
Consider adding a mattress pad, protector, or both. Putting more layers between your mattress and sweat, body oils, and spills will extend the bed's lifespan. Mattress pads also add an extra layer of cushion and comfort.
Don't Jump On the Bed
If you have kids or pets, don't let them jump on the bed. It can damage the mattress, especially if it's a bed with coils.
Bottom Line

© CreditDonkey
Choosing a new mattress is a big decision. Narrow down your decision by focusing on one type of material:
If you like bounce or sleep hot, choose innerspring.

If you have back pain or are a side sleeper, choose memory foam.

If you suffer from allergies, choose latex.

If you need targeted back support, choose hybrid.
Then, you can take your search in person or online to get a better night's sleep.
Write to Kim P at feedback@creditdonkey.com. Follow us on Twitter and Facebook for our latest posts.
Note: This website is made possible through financial relationships with some of the products and services mentioned on this site. We may receive compensation if you shop through links in our content. You do not have to use our links, but you help support CreditDonkey if you do.
Not sure what mattress is right for you?
Answer a few short questions in our mattress quiz to receive tailored recommendations.
Take Mattress Quiz
Read Next: