Ad Disclosure: This article contains references to products from our partners. We may receive compensation if you apply or shop through links in our content. You help support CreditDonkey by using our links.
(read more)
Couples often have different mattress preferences—and not just when it comes to sleep. Here are the best mattresses for good sex.
Everyone knows a comfy mattress is key to great sleep. But, if you're lucky, that's not all you use your mattress for.
Sex boosts your mood and strengthens your immune system. And your mattress plays a big role in how good it feels. Ever try having sex on a super-soft memory foam mattress? It's almost impossible to move around.
The best mattress for sex is cozy with just the right amount of bounce. See which beds have all the features for awesome sex. Plus, stick around for expert advice from sex therapists.
Best Mattress for Better Sex:
What Makes a Mattress Good for Sex?
Sleep isn't the only thing you do on your bed. When it comes to intimate moments with your partner, here's how to pick a mattress you'll both love:
Support
Your mattress should support both you and your partner and evenly disperse the weight. You'll also need adequate edge support so you don't roll off at the wrong moment.
Noise
Sex involves more movement than sleeping, which could result in more noise. Look for a mattress that doesn't squeak or draw unwanted attention.
Comfort
The right mattress will contour to your body, cradle your pressure points, and make you feel comfortable during all activities. A soft, mushy mattress can make you feel stuck, but a rock-hard mattress won't properly cushion your body.
Ease of Movement
If your mattress restricts movement, making love can become more frustrating than special. You want the perfect balance between bounce and cushion.
For a bed with all these key factors, try one of these top mattresses for sex.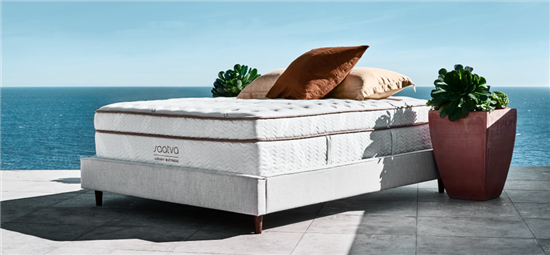 Credit: Saatva
The most well-rounded mattress you can get for sex is the Saatva Classic. This comfortable innerspring offers great bounce and durability when you need it the most. It has the feel of a luxury mattress with an organic cotton cover and Euro pillow top.
The Saatva Classic has exceptional edge support. Couples can get full use of the mattress without fear of falling off the bed. This is vital during both sex and sleep. The mattress comes in three firmness ratings, so there's something for everyone.
Saatva Classic features:

Support: Strong steel coils offer great edge support and body support

Noise: Individually wrapped coils make no noise

Comfort: Euro top provides extra cushion, coil layers keep it cool

Ease of movement: Bouncy innerspring is great for changing positions

180-night trial and 15-year warranty
An innerspring mattress is great for sex. See how the other mattress types compare at the end.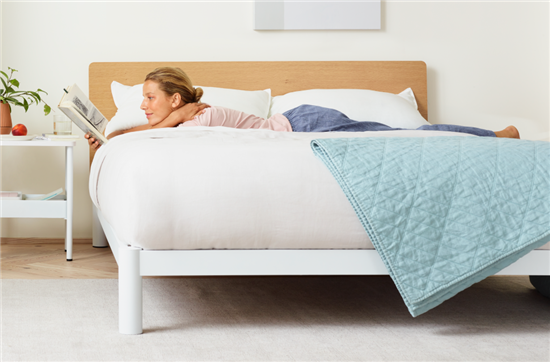 Credit: Casper
The Casper Wave Hybrid has the bounce and contouring your body needs during sex. It's a hybrid, so you get the benefit of springs, gel pods, and foam comfort layers. That gives you the combo of comfort plus a good support system.
Gel pods target support at your waist while softening pressure around your hips. This keeps your spine aligned. The foam itself is perforated with small holes for temperature control. It has a firmness rating of medium, which is great for side sleeping.
You'll pay more for these advanced features, though. The bed has a higher price range.
Casper Wave Hybrid features:

Support: Coils and gel pods target support where you need it most

Noise: Pocketed coils don't make unnecessary noise

Comfort: Breathable foam top feels cool and contours the body

Ease of movement: Bouncy hybrid construction makes it easy to shift positions

100-night trial and 10-year warranty
Although Tuft & Needle is best known for their all-foam beds, their hybrid makes a great mattress for sex. It's a 6-layer mattress made of responsive foam and pocketed springs that won't squeak. It features materials like graphite and ceramic gel to wick away heat.
The mattress has a medium firmness, which is great for back sleepers who need pressure relief. Because it's a hybrid, it's super breathable. Even when the night turns steamy, you'll stay cool and comfortable.
Tuft & Needle features:

Support: Hybrid with pocketed springs support your body

Noise: Individually wrapped coils stay quiet during sex

Comfort: Cozy pillow top hugs your body in the right places

Ease of motion: Responsive surface with reinforced edges help you move around

100-night trial and 10-year warranty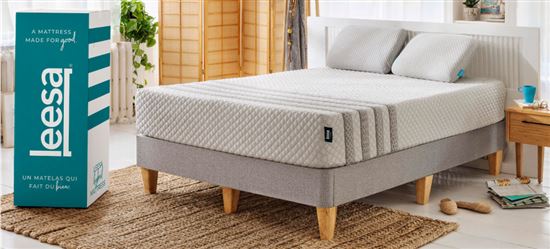 Credit: Leesa
The Leesa Hybrid mattress offers the perfect sleep surface for stomach sleepers. It's also a great option for your love life. It's a medium-firm bed with enough bounce for easy movement. Plus, it also has cooling technologies like hole-punched foam for a cooler sleep.
This hybrid mattress combines memory foam layers and a coil support layer. It's a balanced sleeping experience with great support without being too firm. The Leesa Hybrid also has good edge support, so you can use the full surface area of the bed for sex and sleep.
Leesa Hybrid features:

Support: 1000 pocketed springs and dense foam support

Noise: Pocketed springs won't wake up your neighbor

Comfort: Perforated foam for breathable cushion

Ease of movement: Coils provide enough bounce to keep you moving

100-night trial and 10-year warranty
You don't have to spend more than $1,000 on a good mattress for sex. The Nest Bedding Love & Sleep is an all-foam mattress at an affordable price point. The material is springier than regular memory foam, so you won't feel stuck in the bed. It's supportive and comfortable to move around on.
The Love & Sleep mattress has breathable, cooling comfort layers that don't trap body heat. You won't have an issue with body heat and sweating. Choose from medium and firm mattress options for your perfect comfort level.
Love & Sleep features:

Support: Dense foam base keeps you supported through the night

Noise: All-foam construction stays quiet during sex

Comfort: Cooling top foam cushions your body

Ease of movement: Responsive foam doesn't suck you in

100-night trial and lifetime warranty
Let's not tip-toe around it: This is an expensive mattress. But for the quality of materials you get, it's definitely worth considering. The Tempur-Breeze is durable mattress designed to keep you 3 degrees cooler. It even comes in a hybrid option to supply the bounce you need for good sex.
The mattress is available in a medium firmness level for both the all-foam and hybrid versions. No matter which one you choose, you'll get a bed that's stays comfortable throughout the night.
Tempur-Breeze features:

Support: Pocketed springs offer extra support

Noise: Individually wrapped coils and foam stay quiet

Comfort: Extra comfortable cooling surface cushions the body

Ease of motion: Hybrid provides subtle bounce to keep you moving

90-night trial and 10-year warranty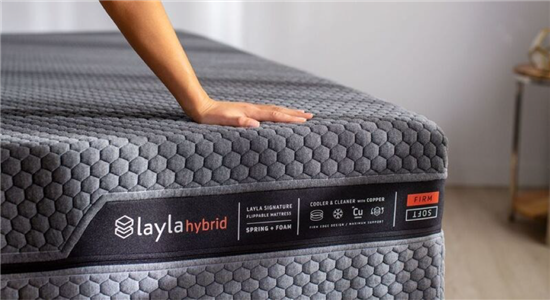 Credit: Layla
Back pain makes sleeping—and everything else—difficult. A too-firm mattress puts too much pressure on your body. But a super soft mattress can knock your spine out of alignment, causing more pain. With the Layla Hybrid mattress, you get the perfect mix of support and comfort.
It's a good mattress purchase for making love and sleeping without pain. The springs give you an extra bit of bounce. The mattress is double sided, so you can choose from two firmness options: soft and firm. It also has copper cooling technology. No heat retention issues here!
For a quality bed with a responsive memory foam feel, check out the Layla Hybrid.
Layla Hybrid features:

Support: Springs for deep support around the shoulders and hips

Noise: Foam and pocketed coils don't make noise at night

Comfort: Material wicks away moisture and heat

Ease of movement: The right amount of bounce to keep you mobile

120-night trial and lifetime warranty
Most Unique: Purple
Purple's innovative gel grid material is a really fun option if you're looking for something different. The surface of the bed is responsive and comfortable. It almost feels like you're floating on top of the bed.
The weightless feeling makes it very easy to change positions. And the open grid construction allows airflow to keep you and your sex partner cool. The original Purple mattress offers plenty of springiness for sex. But you can also opt for the hybrid option if you want additional bounce.
Purple features:

Support: Firm, dense foam for support

Noise: Zero noise from the gel and foam materials

Comfort: Cool, pressure-relieving grid hugs the body

Ease of motion: Gel grid bounces back to help you move

100-night trial and 10-year warranty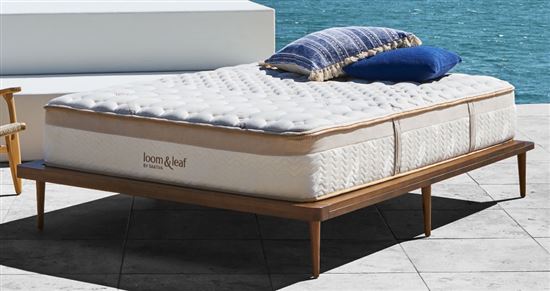 Credit: Loom and Leaf
The Loom & Leaf is a memory foam mattress with a small carbon footprint. Although it's foam, it's responsive enough to be a great mattress for sex. It's made with natural, organic materials for a more sustainable bed.
It has spinal zone gel to target your back. You'll get an extra boost of support where you need it the most. L&L comes in relaxed firm and firm options, with relaxed firm being the most popular. The support system distributes your body weight evenly during all bedroom activities.
The price point is a bit high for a memory foam mattress, but you get great quality for cost.
Loom & Leaf offers:

Support: Dense foam offers great support

Noise: Foam layers don't make noise during nighttime activities

Comfort: Gel memory foam doesn't leave you sweaty

Ease of movement: Foam bounces back quickly so you don't feel stuck

120-night trial and 15-year warranty
Are memory foam mattresses good for sex?
A memory foam mattress can work if you choose one with a fast response time. This means the material bounces back quickly when your press down on it.
Traditional memory foam can leave you excessively warm and unable to switch sex positions. Choose one with a breathable design and responsiveness to make sex enjoyable.


Credit: Helix
Couples who prefer different sleep positions should check out the Helix Midnight mattress. It offers support for all sleeping positions, especially for those who toss and turn. It's a great mattress selection for both sleeping and sex.
Whether you fall asleep on your side, wake up on your back, or switch throughout the night, your body will be supported. Plus, the coil layer has great bounce and airflow to keep the bed cool. The Midnight mattress has a medium firmness, but Helix offers three firmness options you can choose from.
For the awesome features you get, it's a pretty affordable bed.
Helix Midnight mattress features:

Support: Strong coil support base

Noise: Individually wrapped coils reduce noise and squeaking

Comfort: Multiple foam layers offer great pressure relief

Ease of movement: Good bounce makes moving around a breeze

100-night trial and 10-year warranty
Best for Heavy People: Big Fig
If you or your sex partner are heavy people, the last thing you need is a flimsy bed that doesn't support you. The Big Fig mattress is a high-quality hybrid designed specifically for larger folks. It doesn't trap body heat. And it has strong coils, dense foam comfort layers, and reinforced edges.
Many mattresses feel softer than advertised to heavy folks. But this bed actually feels like a medium-firm for big figures. Big Fig also includes a foundation with the mattress. It supports 5 times the weight of a normal foundation, so it'll last through all activity.
Big Fig features:

Support: 1,600 thick pocketed coils give plenty of support

Noise: Coils are wrapped in fabric to eliminate noise

Comfort: Gel-infused latex layer and dense foam comfort layers won't sag

Ease of movement: Durable hybrid construction offers some bounce

Credit: Dreamcloud
Although the DreamCloud is marketed as a hybrid, it has more of a classic innerspring mattress feel. It has enough bounce to add a little excitement to your sex life. This bed combines innerspring coils, gel-infused memory foam, and a quilted Euro pillow top.
Your body will feel contoured, cradled, and supported during any activities on this mattress. It's available in just one firmness level, medium-firm, which should work for most sleepers.
DreamCloud features:

Support: Hybrid with coils offers strong support

Noise: Pocketed coils add bounce without squeaking

Comfort: Gel-infused foam and Euro top keeps you cool and comfy

Ease of movement: Bouncy bed makes it easy to move around

365-night trial and lifetime warranty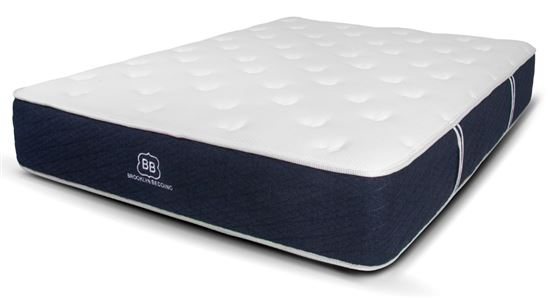 Credit: Brooklyn Bedding
Many memory foam mattresses don't have enough bounce for sex. The Brooklyn Bedding Bowery mattress has responsive foam comfort layers that make it easy to move and change positions. At the same time, it still cradles your body like a memory foam bed should.
It comes in a medium firmness which offers great support for almost any sleep position. But, stomach sleepers might need a firmer option. The bed consists of three layers. The base layer gives support, the transition layer is easy to move on, and the comfort layer cushions your body in all the right places.
Brooklyn Bedding Bowery offers:

Support: Dense foam base and decent edge support for an all-foam bed

Noise: Foam comfort layer stay quiet through rigorous activity

Comfort: Energex foam contours and responds to the body

Ease of movement: Foam layer bounces back quickly, doesn't trap you in

120-night trial and 10-year warranty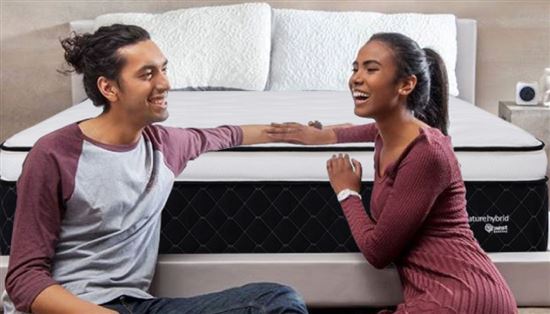 Credit: Nest
You probably don't always agree with your partner. That doesn't mean you can't get a bed you both love. The Nest Alexander Signature Hybrid is available in split firmness levels. So if you like firm beds and your partner likes soft, your mattress can accommodate both comfort levels.
The mattress features a combo of pocketed coils and a copper-infused memory foam layer. The support layer offers good weight distribution. This takes stress off your spine, so you'll stay comfy in every position. Plus, it has great edge support to keep you on the bed.
Alexander Signature Hybrid features:

Support: Good edge support and support for your body

Noise: Pocketed coils cut down on squeaking

Comfort: Copper-infused foam regulates temperature and reduces pressure

Ease of movement: 8-inch layer of coils offer plenty of bounce

100-night trial and lifetime warranty
What Sex and Couples Therapists Recommend
CreditDonkey reached out to expert relationship and sex therapists to get their advice on what to look for when shopping for a mattress for sex.
Here's what they had to say:
What Type of Mattress is Best for Sex?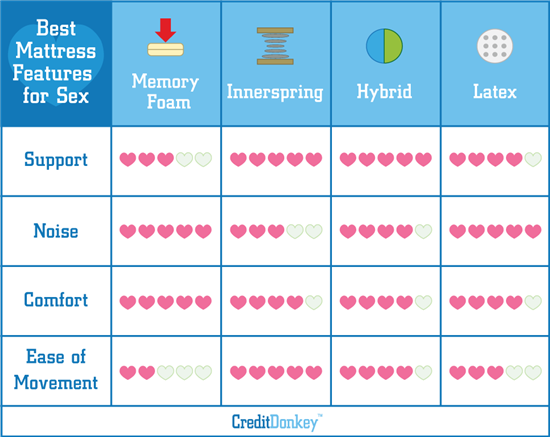 © CreditDonkey
Could your mattress type put a damper on your sex life? Some types are better suited for sexual activity than others. Find out below how they stack up.
Memory Foam
Pros

Cons

Not very bouncy

Lacks edge support

Feels warm
Traditional memory foam beds aren't the best for sex. The comfortable, body-hugging feel also makes it harder to change positions. The material also tends to run warm, which can make both sleep and sex uncomfortable.
Look for gel foam for more of a cooling mattress. Many modern foam mattresses also do a better job of preventing the "stuck" feeling. Plus, it's a great material for keeping down noise and relieving pressure. But you won't get a very bouncy feel if that's what you're looking for.
Innerspring
Pros

Very bouncy

Great edge support

Feels cool
Cons

Very noisy

Less pressure relief
Innerspring beds have great bounce and responsiveness. This makes them great for moving around. The tradeoff is the coils can get squeaky, especially on older mattresses. They also lack the great pressure relief of foam beds, so they might not feel as comfortable.
If the noise factor doesn't bother you, innerspring mattresses are a great for sex. You'll get great edge support so you'll be able to use the full surface of the bed. Plus, the breathable coils will make sure you don't get too warm.
Hybrid
Pros

Good edge support

Good bounce

Easy to move on
Cons

Can feel warm

Not as bouncy as innerspring
A good hybrid is one of the best mattresses for sex. Most hybrids are a mix of innersprings and foam. You'll get a good amount of bounce without squeakiness. Plus, you'll get good pressure relief without feeling too stuck in the mattress.
As with any mattress type, there are some cons. Some hybrids feel warm during sleep and sex. With hybrid mattresses, you also won't get the full benefits of each material. Hybrids aren't as bouncy as innersprings, and they don't contour the body as well as foam beds.
Latex
Pros

Easy to move on

No noise

Feels cool
Cons

Okay edge support

Not as bouncy as springs
A latex foam mattress is a great alternative if you're looking for a foam bed with a bit more bounce. It won't be as bouncy as an innerspring, but it's enough to keep you from sinking in. A latex mattress is easy to move on and doesn't make noise.
You'll want to look elsewhere if you're looking for a very bouncy bed. The edge support on latex mattresses depend on the model, but some are just okay. You probably won't feel like falling off on a latex mattress, but it won't feel as sturdy as an innerspring.
Latex mattresses have some added health benefits. Latex foam is hypoallergenic and dust-mite resistant—great for allergy sufferers.
Don't Miss: Important Mattress Buying Factors
When shopping for a mattress for sex, you might miss some important details if you're not careful. Consider these items when shopping for your next bed:
Bed Frame
Mattress construction is important, but you don't want to neglect your bed frame either. No one wants their bed to fall apart when things get hot and heavy. (Instant mood-killer.)
Look for strong slats that will evenly your weight and the mattress. If you choose a metal base, watch out for loose bolts that squeak if you put pressure on them.
Motion Transfer
The best mattress for sex isn't always the best mattress for sleeping. When your partner tosses and turns at night, you'll probably feel movement on a super bouncy mattress.
Look for a mattress with good motion isolation if you're a light sleeper. Foam tends to have good motion isolation. It doesn't bounce and spread motion throughout the bed. It might be a little harder to switch positions, but it's good to prioritize sleep too.
Sleep Trial
Many online mattress companies offer a sleep trial period for you to get a feel for your bed. The industry standard sleep trial is 100 nights long. Try your bed for at least a few weeks. And definitely don't settle for a mattress that causes aches and pains.
Delivery
Make note of the delivery process for each mattress you're considering. Some mattress brands offer bed in a box options, so it's not too hard to drag it to your room and unbox it. Other mattresses are delivered at their full size.
If you don't have anyone to help you move it, see if the company offers white glove delivery. This means their team will deliver your bed to your room and set it up for you.
Mattress Size
While there's no saying you can't have sex on a full bed, you might want to go with a larger sleeping surface for extra comfort. You'll have more room to get creative and not accidentally fall off.
| Mattress Size | Dimensions (inches) | Dimensions (feet) |
| --- | --- | --- |
| Twin | 38 in x 75 in | 3 ft 2 in x 6 ft 3 in |
| Twin XL | 38 in x 80 in | 3 ft 2 in x 6 ft 8 in |
| Full | 54 in x 75 in | 4 ft 6 in x 6 ft 3 in |
| Queen | 60 in x 80 in | 5 ft x 6 ft 8 in |
| King | 76 in x 80 in | 6 ft 4 in x 6 ft 8 in |
| Split King | (2) 38 in x 80 in | (2) 3 ft 2 in x 6 ft 8 in |
| California King | 72 in x 84 in | 6 ft x 7 ft |
What Experts Say
CreditDonkey assembled a panel of academic experts who study sexuality. We asked them the questions readers want to know but are too shy to ask:
What does it mean to have a healthy attitude toward sex?

How important is sex in a romantic relationship?

How do you start an open conversation about sex with your partner?

What are the benefits of a healthy sex life?

How much sex do we really need?
Here's what they said:
Bottom Line

© CreditDonkey
The best mattress depends on more than just your sleep preferences. You should consider what you like when it comes to sex, too.
Figure out what's important to you. A good place to start is to ask yourself:

Does noise bother me (or my neighbors)?

Do my partner and I need extra support?

What makes me comfortable?

How much bounce is right for my sex style?
You might find that some factors aren't as crucial to you. If noise doesn't concern you, don't shy away from an innerspring. If you generally stay in the same position, a foam mattress definitely works.
Just remember there are different mattress types with unique advantages and drawbacks. Find one that makes you and your sex partner happy.

Write to Kim P at feedback@creditdonkey.com. Follow us on Twitter and Facebook for our latest posts.
Note: This website is made possible through financial relationships with some of the products and services mentioned on this site. We may receive compensation if you shop through links in our content. You do not have to use our links, but you help support CreditDonkey if you do.
Not sure what mattress is right for you?
Answer a few short questions in our mattress quiz to receive tailored recommendations.
Take Mattress Quiz
Read Next: