Best Place to Buy a Mattress
Ad Disclosure: This article contains references to products from our partners. We may receive compensation if you apply or shop through links in our content. You help support CreditDonkey by using our links.
(read more)
Whether you buy a mattress online or in store, you should know how to get the best prices. Find out where to get a good mattress and NOT get ripped off.

© CreditDonkey
The average person spends 33 years on their mattress. Are you getting the best sleep you can get?
A bad bed can cause back pain, insomnia, and other issues you might not even realize yet. The good news is a new mattress can go a long way in improving your sleep and health.
But mattress shopping can be tricky. Some companies pull scams like changing mattress names so you can't comparison shop.
Find out the best places to get a good mattress below. Plus, learn how you can avoid the tricks mattress companies use to get you to pay more.
Here are the best places to buy a mattress online and in stores:
Ready to dive in? Here's the full list of mattress sellers you shouldn't miss.
Where's the best place to buy a mattress online?

© CreditDonkey
The key to shopping online is to know the features you're looking for in a new bed. (More on this below.)
See if these popular mattress companies are right for you.
Roundup Methodology
Here's how you can compare the best online companies. Each mattress company will be rated for:

Comfort: You should have an idea of how your online mattress will feel. A comfortable mattress will have a good balance of support and pressure relief.
Pricing: If you're shopping online, you want to get the best deals. Find out how much a queen bed costs with each company.
Customer Service: No one wants to be stuck with a mattress they hate. A good warranty, return policy, and customer support is key when making a big online purchase.
There are so many mattress companies out there. This list will help you narrow down your choices.
| What's my sleeping style? | Which mattress should I try? |
| --- | --- |
| Side sleeping | Leesa |
| Back sleeping | Saatva |
| Stomach sleeping | Avocado |
Best Customer Service: Saatva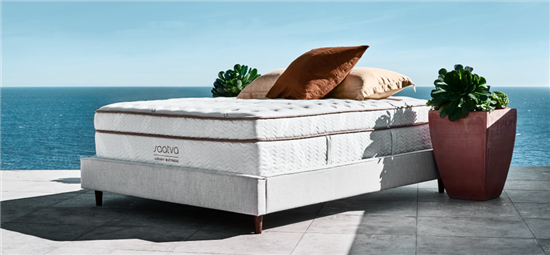 Credit: Saatva
Comfort: 5/5 - Multiple firmness options, great support and pressure relief for all body types

Pricing: 4/5 - Saatva Classic, Saatva HD

Customer Service: 4.5/5 - 15- and 20-year warranty and 180-night trial; great 24/7 customer support

CreditDonkey Score: 4.5
Saatva specializes in luxury hotel-quality mattresses. They sell six different models, but their main brand focuses on two hybrid models:
Saatva Classic: Their original innerspring and foam hybrid with Euro pillow top and three firmness options
Saatva HD: A heavy-duty version of their Classic, made with bigger bodies in mind
The Good
The Saatva mattress offers:

Euro pillow-top for comfort

Great edge support

Two layers of individually wrapped coils for stability and durability

Targeted back support
Saatva mattresses feel similar to hotel beds at a price that won't kill your wallet. You get a good number of options to choose from: The Classic is available in 11.5" and 14.5" heights, and you can choose from Plush Soft, Luxury Firm, and Firm models.
Saatva also offers free white-glove delivery, which means they'll set up your bed for you.
The Saatva Classic mattress comes with a 15-year warranty. Saatva HD comes with a 20-year warranty. Both come with a 180-night trial period.

The Bad
Saatva only has one showroom located in New York. Some people might not be comfortable buying a bed sight unseen.
Also, the traditional innerspring feel of the Classic and HD isn't for everyone. The beds are bouncier than foam mattresses. If your sleeping partner tosses and turns at night, you'll likely feel them moving around.
Who Should Try Saatva

All body types: Saatva HD is a quality online mattress specifically for larger bodies, and the Classic works great for average and petite sleepers.

Combination sleepers: Their firmness options suit all types of sleepers.

Innerspring lovers: Saatva provides traditional bounce for easy movement on the bed.
There's always some risk when you buy online. A mattress with a great return policy will prevent you from getting stuck with a bed you hate. Check out the next pick for more details.
Best Return Policy & Warranty: DreamCloud

Credit: Dreamcloud
Comfort: 4.5/5 - Balanced support and pressure relief for most sleepers

Pricing: 4/5 - DreamCloud

Customer Service: 4.5/5 - Great 1-year trial and lifetime warranty; good response times and hours

CreditDonkey Score: 4.33
The DreamCloud is a luxury hybrid mattress. It combines innerspring and memory foam for good pressure relief.
The Good
The DreamCloud offers:

Medium-firm option good for all sleep positions

Great airflow thanks to innersprings

Comfortable quilted Eurotop

Gel-infused memory foam for maximum pressure-point relief
The DreamCloud has enough bounce to avoid the trapped feeling you can get with memory foam beds.
It isn't available in stores, but their generous 1-year trial lets you really take your time to decide if you like the mattress. The company recommends you sleep on it for four to six weeks to truly decide if it's for you.
DreamCloud has a 365-night trial, free shipping and returns, and a lifetime warranty.

The Bad
The DreamCloud only comes in one firmness level. Though a medium-firm bed works well for many sleepers, it won't work for everyone. Petite side sleepers might not sink deep enough to activate the support system. Heavy stomach sleepers might not feel enough support to keep the hips up.
Who Should Try DreamCloud

Couples: The DreamCloud has great edge support, so both partners can use the whole bed. It also has decent motion isolation for an innerspring mattress, so you'll sleep soundly.

Back sleepers: It has the perfect balance of firmness and cushion for back support.

Uncertain shoppers: With the 365-day trial, you can take your time testing out the mattress to see if it works for you.
If you can't decide whether to buy online or in store, we don't blame you.
Stick to the end to learn how to shop and not get ripped off, no matter your shopping style.
Best for All Body Types: WinkBeds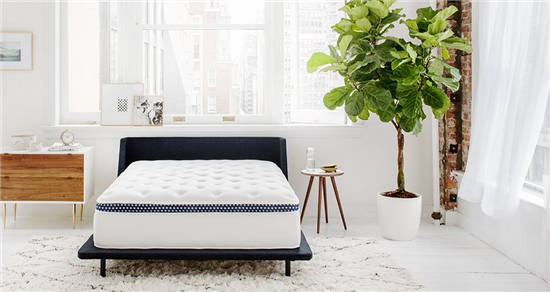 Credit: Winkbed
Comfort 5/5 - Many options for personalized support and pressure relief

Pricing: 3.5/5 - WinkBed, MemoryLux, EcoCloud

Customer Service: 4.5/5 - Great lifetime warranty and 120-night trial; good response times and hours

CreditDonkey Score: 4.33
WinkBeds are made in Wisconsin with U.S.-sourced materials. WinkBeds offers three mattresses:

WinkBed: Their original innerspring and foam hybrid available in four different firmness levels for more personalized support.

MemoryLux: Memory foam bed that sleeps cooler and is more responsive than traditional memory foam.

EcoCloud Hybrid: Natural latex hybrid bed made of ethically sourced and recycled materials.
The Good
WinkBeds mattresses provide:

Multiple mattress types and firmness

Cooling technology for a cooler sleep

Adaptive pressure relief

Good contouring for spine alignment
WinkBeds covers all the bases when it comes to mattress types and firmness. All their mattresses use high-quality materials like natural Talalay latex and breathable memory foam.
They offer an "Any Reason" replacement guarantee for all their customers. If you own a bed from them and want to get a new one for any reason after the trial period, they'll give you 50% off.
Each WinkBed mattress has a 120-night free trial, free shipping and returns, and a lifetime warranty.

The Bad
The original WinkBed model weighs more than the average hybrid mattress. The queen mattress weighs 135 pounds, so moving it can be a challenge. This won't make or break your sleeping experience, but it's something to keep in mind if you plan on moving at some point.
WinkBed mattresses are only available in person in showrooms in New York, Virginia, Minnesota, Illinois, and Texas.
Who Should Try WinkBeds
WinkBeds' versatile lineup of mattresses is great for:

People who want options: If you want a more customized options to choose from, WinkBeds has 3 mattresses with different firmness levels.

People with bigger budgets: WinkBeds makes quality mattresses, but you'll have to pay more compared to other online companies.

All body types: No matter your weight, you'll find a supportive mattress.
But what if you're on a tighter budget? You still need quality sleep. Find out below which company gives you a great mattress at the best price.
Best Budget Option: Tuft & Needle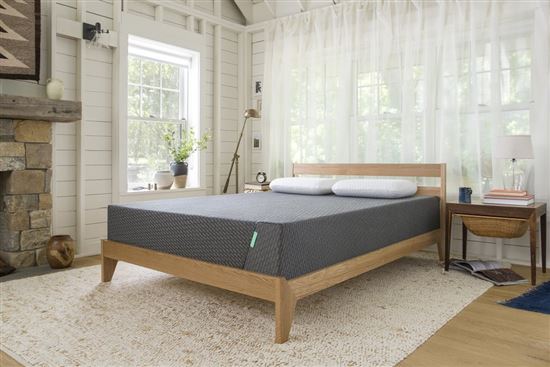 Credit: Tuft and Needle
Comfort: 4/5 - Good support and pressure relief for petite and average sleepers

Pricing: 5/5 - Original, Mint, Hybrid

Customer Service: 3.5/5 - Standard 10-year warranty and 100-day return policy; good support team and response times

CreditDonkey Score: 4.17
Tuft & Needle makes affordable mattresses with their T&N Adaptive Foam. The material is designed for breathable, flexible support. They offer three mattresses:

Original: Their flagship two-layer mattress with graphite and gel to wick away heat and moisture.

Mint: An upgraded 3-layer model with more graphite, gel, and adaptive foam for better pressure relief.

Hybrid: T&N's foam and innerspring hybrid with 6 layers of support and comfort layers.
The Good
Tuft & Needle mattresses provide:

Comfort layer cradles the body

Good motion isolation

Medium-firm support

Adaptive foam sleeps cool
Although their options don't feel like top-of-the-line luxury, they're a good value for a reliable mattress. Their all-foam versions are particularly easy on the wallet.
T&N uses graphite-infused foam to wick away heat. The foam reduces a lot of motion, which makes it good for couples. It hugs the body without letting you sink in too deeply, so you'll feel cradled and comfortable.
T&N offer a 100-night trial, free shipping and returns, and a 10-year warranty on all their mattresses.

The Bad
Each of their mattresses is only available in medium firm. Many sleepers will feel comfortable on their mattresses, but heavy folks should stay away from their all-foam models.
Their hybrid bed is a good choice for heavy people and all sleeping positions, but it costs a lot more than their most affordable Original.
Who Should Try Tuft & Needle
Tuft & Needle's comfortable mattresses are best for:

Foam lovers who sleep hot: Tuft & Needle's graphite-infused foam sleeps cooler than traditional foam.

Petite to average sleepers: Most of their mattresses are all-foam mattresses, which don't provide enough support for larger people.

Back and side sleepers: T&N mattresses strike a good balance between comfort and support, which makes it good for all sleeping positions.
Best High-End Mattress Selection: Bed Bath & Beyond
Not everyone wants the cheapest mattress. If you'd rather spend more for a luxurious bed, visit
Bed Bath & Beyond's website
. They offer many premium options from Beautyrest and Serta.
Everyone wants their mattress to be good for their health. But your mattress could be good for the Earth, too. See which option gives you the best of both worlds below.
Most Eco-Friendly: Avocado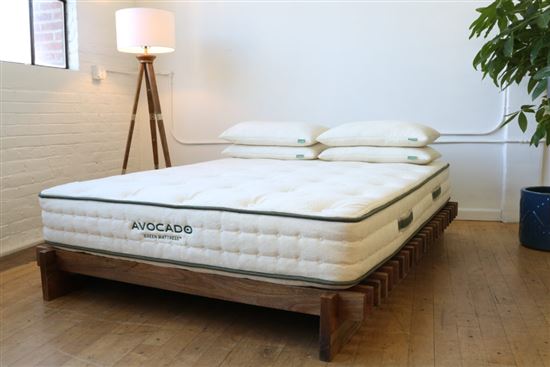 Credit: Avocado
Comfort: 4/5 - Good support and pressure relief for average and heavy folks

Pricing: 4/5 - Avocado Green

Customer Service : 4.5/5 - Great 1-year trial and 25-year warranty; good response times and hours

CreditDonkey Score: 4.17
If you want an organic mattress, Avocado offers an affordable option with its Green Mattress. They also have a vegan version with organic cotton instead of wool.
The Good
Avocado Mattresses offer:

Superior edge support

Wool acts as natural fire retardant

Strong innersprings

Eco-friendly materials with no off-gassing or harmful toxins
Their mattresses are certified by multiple organizations for meeting rigorous environmental standards. As a brand, they've reached net zero carbon emissions across all their operations.
You have the option to add a 2" pillow top, which is good for side sleepers or those who want a little more cushioning on top of the medium-firm mattress.
You can test out the online mattress in their showroom if you live in New York City or Los Angeles. If not, the 1-year trial period gives you enough time to decide if the mattress is for you.
The Avocado Mattress comes with a 1-year trial, free shipping, and a 25-year warranty.

The Bad
Their mattresses are very bouncy. If you're a light sleeper, you'll definitely feel your partner tossing and turning.
Even though it has a pillow top, the bed doesn't contour to your body very well. It's not the best choice for pressure relief or for people who like memory foam. Petite sleepers especially might feel the mattress is too firm.
Who Should Try Avocado
Avocado's handmade mattresses are good for:

The eco-conscious: Avocado's whole brand is centered on providing eco-friendly mattresses using sustainable processes.

Average and heavy people: The mattresses have great support for people above 130 pounds.

Allergy sufferers: Their natural wool is hypoallergenic, and natural latex discourages dust mites.
Your mattress type has a huge impact on your sleep. For lots of people, foam is the most comfortable.
Find out the best foam option your money can buy below. (Bonus points: It's affordable, too.)
Best Foam Option: Casper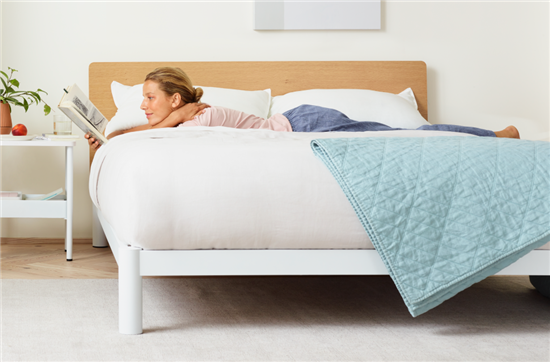 Credit: Casper
Comfort: 4/5 - Good support for petite to average sleepers, great pressure relief

Pricing: 5/5 - Essential, Casper, Wave

Customer Service: 3/5 - Standard 10-year warranty and 100-day return policy; support team can be hard to reach

CreditDonkey Score: 4
Casper was one of the first online mattress companies to sell a bed-in-a-box. They still sell the original mattress as well as a couple of other options:

Casper: The original mattress with four layers of foam and zoned support under the shoulders and hips (also available in hybrid).

Wave: Five-layer mattress with premium materials like a gel support layer for pressure-point relief (also available in hybrid).

Essential: Casper's budget mattress option with three layers of breathable foam.
The Good
Casper mattresses offer:

Breathable top foam

Zoned support at the hips and shoulders

Resilient springs (in hybrids)

Superior edge support (in hybrids)
Casper's foam is bouncier and more responsive than memory foam. This makes it easier to move around on the mattress. You won't feel stuck in your bed like you would with a traditional memory foam mattress.
Casper has retail locations throughout the United States. You can try, buy, or just window shop the mattresses at any of the Casper Sleep Stores.
They're also budget-friendly.
Casper offers a 100-night risk-free trial, 10-year warranty, and free shipping and returns.

The Bad
Casper doesn't offer a soft, plush mattress option. If you're a fan of traditional memory foam, you might not like Casper's more responsive top foam.
Each of their mattresses are only available in one firmness option, so sleepers looking for a more personalized bed won't have much to choose from.
Who Should Try Casper
Casper's balanced mattresses are great for:

Combination sleepers: Balanced support and responsive foam makes it easy to switch positions.

Side sleepers: Wave and Wave Hybrid relieve pressure at hips and shoulders.

Hot sleepers: Fans of foam will sleep cooler on Casper's breathable foam.
Foam mattresses are widely available and popular with a lot of people.
But what you need might be different. Our next pick is perfect for completely changing up your mattress feel.
Most Unique Feel: Purple

Credit: Purple
Comfort: 4/5 - Good support and pressure relief for average and heavy people

Pricing: 4/5 - Purple Mattress, Purple Hybrid, Purple Hybrid Premier

Customer Service: 3.5/5 - Standard 10-year warranty and 100-day return policy; decent customer support with limited hours

CreditDonkey Score: 3.83
Purple sells mattresses for any budget and sleep style. They have three mattresses:

The Purple Mattress: The original Purple made with high-density foam, a 2-inch gel grid for breathable support, and a soft cover.

Purple Hybrid: Combines the benefits of the original Purple with responsive support coils for more durability and support.

Purple Hybrid Premier: All the benefits of the Purple Hybrid with a 3" or 4" grid layer based on the amount of support you need (4" is softer and best for side sleepers).
The Good
Purple mattresses feature:

Unique gel grid layer

Breathable materials for a cooler sleep

Non-toxic, hypoallergenic materials

Zero-pressure support
The Purple Grid offers nice bounce and breathability. The mattress stays cool throughout the night thanks to the amount of airflow through the grid.
If you prefer to test it out in person, you can try Purple mattresses in major stores like Macy's and Mattress Firm.
If you buy the mattress in stores, you could pay a higher price. But you can always try it in person first, then buy it through the Purple website.
Purple makes it easy to shop for mattresses with a 100-night free trial, free shipping straight to your door, free returns (after at least 21 days), and a 10-year warranty.

The Bad
To get the advertised weightless feel, your body needs to press down into the Purple Grid layer. Petite sleepers might not weigh enough to activate the grid and get pressure relief.
The Purple Hybrid Premier model with 4" of grid could be a great option for petite side sleepers. But you'll pay a premium price for it.
Who Should Try Purple
Purple's unique gel grid mattresses are perfect for:

Hot sleepers: The Purple Grid has great airflow and is naturally cooler than memory foam.

Average-sized sleepers: Most Purple mattresses are best for people who weigh between 130 and 230 pounds.

Sleepers who need pressure relief: The grid collapses under pressure to cradle your pressure points.
A lot of people struggle to find the right mattress. What's the biggest hurdle in the way? Back pain.
See below how you can get past the pain and feel more well-rested.
Best for Back Pain: Leesa
Comfort: 4/5 - Good support and pressure relief balance for petite and average sleepers

Pricing: 4/5 - Leesa Original, Leesa Hybrid, Leesa Legend

Customer Service: 3.5/5 - Standard 10-year warranty and 100-day return policy; good support team with slow response times

CreditDonkey Score: 3.83
Leesa sells made-to-order mattresses shipped directly to your door. They offer three mattress options:

Leesa Original: A three-layer foam mattress with good body contouring

Leesa Hybrid: An innerspring and foam hybrid with bounce and extra support

Leesa Legend: A hybrid mattress with luxurious features like a cover made of organic cotton and merino wool
The Good
Each Leesa mattress offers:

Pressure-point relief

Breathable foam layers

Body contouring

A supportive base layer
Their foam hugs your body without letting you sink too far into the bed. You'll be able to move around just fine at night, especially if you go for the Leesa Hybrid with extra innerspring bounce.
Leesa also incorporates charity into their business. For every 10 mattresses they sell, they donate one to nonprofits.
You can try various Leesa mattresses out in certain Macy's, Pottery Barn, and West Elm stores.
Each Leesa mattress has a 100-night trial, free shipping and returns, and a 10-year warranty.

The Bad
Leesa mattresses don't offer enough support for heavier folks. Their hybrid models use an innerspring support system with plenty of support for people under 230 pounds. But heavy stomach sleepers in particular might find Leesa mattresses too soft to keep their hips afloat.
Who Should Try Leesa
Leesa's body-contouring mattresses are ideal for:

Average and petite sleepers: All Leesa mattresses offer good support for sleepers under 230 pounds.

Back and side sleepers: Their mattresses might be a bit soft for strict stomach sleepers, but back and side sleepers should feel a good balance of support and cushion.

Sleepers with back pain: Leesa's soft foam top layer relieves a lot of pressure on the body. People with back pain should feel cradled and comfortable.
Back pain isn't the only sign of a bad mattress. Find out below what you need to look for so your sleep doesn't suffer.
Where's the best place to buy a mattress in store?

© CreditDonkey
You have lots of options when buying a mattress in stores. Both specialty stores and department stores carry popular brands like Simmons Beautyrest, Sealy, Serta, and Tempur-Pedic.
Specialty Mattress Stores
Popular mattress stores include:

Mattress Firm (Best selection)

Denver Mattress (Best customer service)

Sit 'n Sleep (Most knowledgeable staff - Southern California only)

American Mattress (Most Knowledgeable staff - Midwest only)

Original Mattress Factory (Most affordable)

Sleep Number (Adjustable beds only)
Best Adjustable Bed: Sleep Number
If customization is a must for you, try a
Sleep Number adjustable bed
. These mattresses let you customize firmness and incline from a mobile app. It's especially great if you sleep with a partner. Both sleepers can adjust their side of the bed to their liking.
If you have no idea what kind of mattress you want, try shopping at a specialty store. You can take advantage of their experienced sales team and big selection.
Specialty stores are notorious for marking up their prices. If you want the best deal, try to haggle with the salesperson. Most mattress sellers have some wiggle room and even expect you to bargain.
Department Stores
Top department stores to shop for mattresses:

Macy's (Best selection)

Costco and Sam's Club (Best value)

Walmart (Best budget option)
Shopping at a department store can be cheaper if you take advantage of sales and price match policies. The sales team won't know as much as a dedicated mattress salesperson. But, it's still a convenient way to try out mattresses in person.
Wholesale clubs like Costco and Sam's Club are a great place for cheaper options not sold at mattress specialty stores. You do need a membership to shop at these stores, however. If you don't have access to a wholesale club, Walmart offers lots of cheap options online.
Macy's: Best Mattress Selection
Although Macy's really shines for its in-store mattress showroom, it also has an
extensive online selection
. And since it's a department store, it's a good way to get all your shopping done in one place.
Should I buy a mattress online or in store?

© CreditDonkey
When it comes to shopping for a new mattress, is it better to buy online or in store?
It depends on your shopping style. If you want the cheapest prices and easy comparison shopping, try online. If you like to negotiate for the best price and need to see your mattress in person, try in store.
Online

Lower prices: No middleman or overhead, which keeps prices low

Easy comparison shopping: Look up hundreds of mattresses from home

Avoid pushy salespeople: Shop on your own time without aggressive sales pitches
Shopping online means lower prices and less of a hands-on experience. You can't test out the bed before you buy. But many online retailers compensate by offering generous free trial periods, sometimes as long as a year.
If you're willing to risk the hassle of returning a bed, there are plenty of ways to shop online:

Direct manufacturers: Many companies sell mattresses directly, including popular bed-in-a-box models. They ship the mattress to your door. Depending on the type of bed, it'll ship at its full size or rolled up for you to unbox.
Store websites: Many furniture stores also sell mattresses online. Top stores include Wayfair, Costco, Pottery Barn, IKEA, and Ashley Furniture.

Are Costco mattresses good?
Costco sells all types of mattresses from reputable brands like Sealy, Casper, and Tempur-Pedic. They also have great cheaper options not sold in other stores.
Some companies give you a shorter trial period if you don't buy directly from their site. If you shop on Amazon, pay attention to the mattress's trial period and return policy.

In-Store

Test before you buy: See and feel a mattress before you buy it

Easy to ask questions: Knowledgeable salespeople can answer all your questions

Better chance of satisfaction: More opportunities to physically try out mattresses
You might spend more, but shopping for a mattress at a store lets you thoroughly test out the beds BEFORE making a decision. You'll also have to haggle for the best deal, since mattress stores tend to mark up their prices.
If you're determined to buy a mattress the old-fashioned way, here are your options:

Mattress stores: Many people live just a few blocks away from a mattress store. The sales team at mattress stores are very knowledgeable and can answer any questions you have.

Is Mattress Firm a good place to buy a mattress?
Mattress Firm has a great selection and lots of locations throughout the U.S. Their sales team can help you find a good mattress. But make sure you're ready to haggle to get the best price.

Department stores: Retailers like Macy's and Sears often have showrooms with popular mattress brands. They have a smaller selection than specialty stores, but they're a convenient way to browse mattresses on your trip to the mall.
Hybrid stores: Some companies have both an online and in-store presence. These could be mattress showrooms or setups at a department store. You can try the mattress in-store then try to save money by buying online.
What should I look for when buying a mattress?

© CreditDonkey
Whether you buy in person or online, you should go into it having an idea of what you want. That way, you can find the right mattress the first time.
Your ultimate goal is to find a mattress that keeps your spine aligned and addresses any issues you have, such as back pain, hip pain, or sleeping hot.
Pay attention to these factors as you shop for a new mattress:

Support and Body Alignment
Do your shoulders and hips sink into the mattress while your lower back stays supported? If a mattress is too firm, it'll put a lot of pressure on your body. Your spine will rest at an unnatural angle throughout the night, which can cause back pain.

A very soft mattress will also knock your spine out of alignment. If you don't have enough support, you'll feel your body curve too deeply into the mattress.

Pressure Relief
When testing a mattress in stores, try lying in your usual sleeping position for at least 10 minutes. Do you feel uncomfortable, feel like your limbs fall asleep, or have pain in your shoulders or hips? If so, the mattress doesn't give you enough pressure relief.

If you buy an online mattress, use the trial period to monitor your quality of sleep. Do you wake up with aches and pains? Do you feel well-rested? Most online mattress sellers give you at least 100 days to test it out.

Motion Transfer
If you sleep with a partner, your bed should limit motion transfer for a good night's rest. Lie down and have your partner move around on the other side of the mattress. See how much motion transfers to your side of the bed.
Heat
Look for mattresses with gel, individually pocketed innersprings, latex, or perforated foam. These materials help keep you cool. Watch out for cheap memory foam, which traps a lot of body heat and keeps you extra toasty all night.
Edge Support
Look for reinforced edges or innersprings beds for maximum edge support. If you sleep with a partner, you'll want extra support so you can both use the full surface of the bed. Larger people also need good edge support to make it easy to get in and out of bed.

Try sitting on the side of the mattress when you're testing it to see if it holds you up.
If you buy a mattress online, be sure to read up on its materials, firmness, pressure relief, and edge support. Pay attention to the trial period and return policy, too.
Many companies require you to sleep on the bed for at least a few weeks (sometimes longer) before deciding if the mattress is for you. With the techniques above, you'll know exactly what to look for when choosing your best mattress.
Mattress companies make it hard to compare prices. Some sell the same mattress under different names at different stores. You can get around this by looking up the product details online so you have concrete specs to compare.
What Experts Say
CreditDonkey assembled a panel of industry experts to answer readers' most pressing questions. Here's what they said:
When is the best time to buy a mattress?
If you buy a mattress in person, you'll want to shop around major shopping holidays. Department stores and mattress stores have the biggest sales on holidays like:

Fourth of July

Labor Day

Memorial Day

Black Friday

Presidents Day
If you shop for a mattress online, you'll find lower prices year-round. Many online retailers will also offer discounts around the holidays, especially on Black Friday and Cyber Monday. Of course, you should always comparison shop to make sure you're getting the best deal.
How much should I spend on a mattress?

© CreditDonkey
You see advertisements for mattresses as low as $200, or department stores prices as high as $3,000. But what's the right amount to spend on a new mattress? On average, you can expect to pay around $1,000 for a decent queen size mattress.
Your best bet for a cheaper bed is a Signature Sleep mattress, such as their 12" Hybrid Encased Coil Foam mattress. For less than $500, it offers individually wrapped coils, breathable foam, and edge support.
If you stick to the $1,000 range, you'll find mattresses with higher-quality coils, better foam, and more features.
Where's the best place to buy a bed frame?
After all that hard work finding the perfect mattress, you need somewhere to put it. Most people use the same bed frame even longer than they use their mattress. You want a quality bed frame that will last you a long time.
Here's where to buy the best bed frames and foundations:

Amazon (Biggest selection)

Wayfair (Lowest prices)

Macy's (Best one-stop shop)
You can order your bed frame online from all three places. Macy's gives you the added bonus of browsing some of them in store.
Before you commit to a bed frame, always check your mattress warranty. Some mattresses have specific base requirements. For example, some companies require a base with slats less than 3" to 4" apart.
Comfy mattress? Check. Solid bed frame? Check. All that's left is to catch some Zs.
Bottom Line

© CreditDonkey
Bad sleep spills over into all areas of your life. Waking up tired or in pain sets the tone for the rest of your day.
Whatever your budget, you can find a comfortable bed that suits your sleep style. Remember, shopping online can get you better prices. But if you don't want to buy something before you try it, shop in stores around major holidays. You'll find the biggest sales during these times.
Either way, it means better sleep for you. And if a purchase can improve your daily life, it's worth investing in. Your body and mind will welcome the better sleep.
Additional Resources
Donna Tang is a content associate at CreditDonkey, a mattress comparison and reviews website. Write to Donna Tang at donna.tang@creditdonkey.com. Follow us on Twitter and Facebook for our latest posts.
Note: This website is made possible through financial relationships with some of the products and services mentioned on this site. We may receive compensation if you shop through links in our content. You do not have to use our links, but you help support CreditDonkey if you do.
Not sure what mattress is right for you?
Answer a few short questions in our mattress quiz to receive tailored recommendations.
Take Mattress Quiz