Best Mattress for Heavy People: Buying Guide
Ad Disclosure: This article contains references to products from our partners. We may receive compensation if you apply or shop through links in our content. You help support CreditDonkey by using our links.
(read more)
Choosing the wrong mattress for your weight could ruin your sleep. Luckily, you've got plenty of choices. Read on for the mattresses with the perfect features, firmness, and comfort for heavy people.
Mattress shopping can be tricky. Not every mattress is suited for larger body types.
If you weight more than 200 lbs, you need an extra durable mattress that's thick enough to support your body. Sleeping on a very soft or flimsy mattress can really get in the way of good sleep.
Don't settle for a bad mattress that doesn't work with your body. Check out the 10 best mattresses for heavy people for every type of sleeper below. Plus, stick to the end for the most important factors in a great mattress for plus-sized folks.
Here are the top 10 mattresses for heavy people:
Best Overall: WinkBed Plus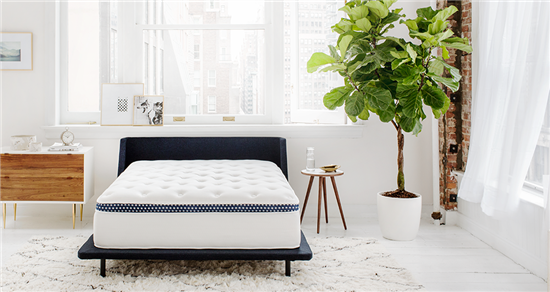 Courtesy of Winkbed
The WinkBed Plus is a hybrid mattress designed with heavier people in mind. Its combination of foam, latex, and steel coils offer strong support for heavy sleepers.
Proper support is key in a mattress for heavier folks. The WinkBed Plus delivers extra support with its 2.5" zoned latex layer. This flexible layer distributes weight and provides support for heavier sleepers. Combined with pocketed coils, this mattress contours the body for a more comfortable sleep surface.
WinkBed pays special attention to the lumbar area. This makes it a great choice for every sleeping position. And if you're a combination sleeper, you'll get sturdy support even as you change positions through the night.
Larger people often struggle with sleeping hot. The WinkBed addresses this with cooling materials like latex foam, gel memory foam, and a breathable innerspring system. The mattress is thick at 13.5 inches tall—this ensures heavier people won't bottom out.
WinkBed Plus Features

Hybrid mattress type

Firmness level: 8 (firm) if you're <200 lbs; 6.5 (medium-firm) if you're >300 lbs

Zoned for better support

120-night trial period

Lifetime warranty

Free shipping and returns
Why You Should Consider It
The WinkBed Plus is one of the best mattresses for heavy people. It has support and pressure relief at the spine and joints to help you get a good night's sleep. The reinforced lower back region and edge support prevents sagging.
What type of mattress is best for a heavy person?
Innerspring and hybrid mattresses offer the best firmness and support. If you prefer memory foam, look for a thick mattress with dense support layers. Or, you can try hybrid mattresses with memory foam comfort layers.
Personal preference matters. But remember: the main goal is to keep your body aligned and relieve pressure.

Side Sleepers: Saatva HD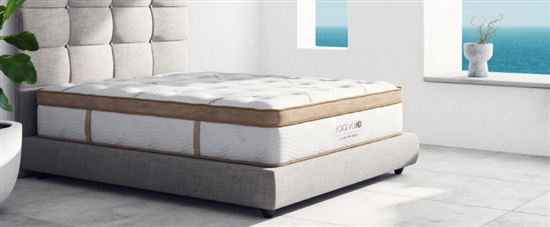 Courtesy of Saatva
Side sleeping puts a lot of strain on your pressure points. If you're carrying extra weight, the stress on your shoulders and hips gets even worse. Side sleepers need a mattress with a comfort layer that contours the body.
The Saatva HD mattress is the perfect example. It's a hybrid innerspring made with extra supportive 12.5-gauge steel coils and flexible foam layers on top. It's an innerspring mattress that's nothing like the hard, wiry beds of the past.
Saatva HD even has an organic cotton pillow top for better comfort. And the Talalay latex layer keeps you supported without sagging.
The 15.5"-tall HD mattress has a thick innerspring support system. This is key for heavy sleepers who need extra cushion to push into. With the memory foam layers, you'll get a nice medium to medium-firm surface. That's perfect for side sleepers who need lots of pressure relief.
Saatva HD Features

Innerspring mattress type

Firmness level: 5–7 (medium to medium-firm) if you're 300–500 lbs

Free white glove delivery

180-night trial period

20 year warranty

$99 transportation fee for returns
Why You Should Consider It
The Saatva HD features luxurious comfort and support materials specifically for people over 300 lbs. It ticks all the right boxes for heavy side sleepers: targeted support zones, thick comfort layers, and good contouring.
Is the Casper mattress good for heavy people?
The Casper mattress doesn't have a weight limit, according to the manufacturer. But foam mattresses tend to feel softer than desired to heavier sleepers. Adding an additional supportive base can help increase its stability and firmness.

Back Sleepers: Helix Plus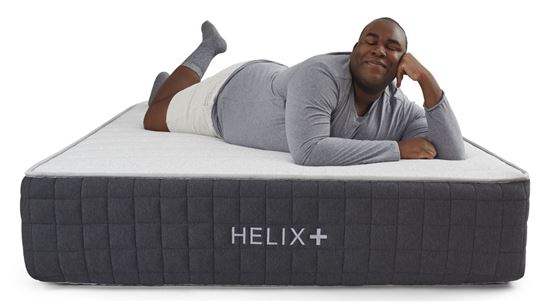 Courtesy of Helix
Back sleepers need enough cushion to conform to the lower back. The right mattress also needs to support you so your body doesn't cave in. With the Helix Plus mattress, you'll get proper spine alignment to avoid back pain.
The mattress was designed for big and tall people. It's made with high-density foam and pocketed coils for better comfort and support. The extra-tall coils ensure your spine rests in a neutral position—very important if you want to avoid aches and pain.
The Helix Plus is 12 inches tall. It's not the thickest mattress on the list, but it's substantial enough for sleepers up to 500 lbs. Plus size sleepers should have no problem with the hybrid design. The coil support core and base foam is strong enough for a large weight range.
Helix Plus Features

Hybrid mattress type

Firmness level: 6–7 (medium-firm) up to 500 lbs

CertiPUR-US and OEKO-TEX Standard 100 Certified materials

100-night trial period

10 year warranty

Free returns after you try it for 30 nights
Why You Should Consider It
The Helix Plus is a solid mattress that takes bigger bodies into consideration. Taller coils and an extra support layer prevent sagging and improves responsiveness. This makes it a good option for heavy sleepers that have back pain.
Best Mattress Firmness for Heavy Sleepers
Heavier sleepers need a firm mattress that keeps the spine aligned. But you also need some cushion to prevent cutting off circulation. Pay close attention to how your body sinks into the mattress.
Shopping with a friend is helpful because they can tell you if your spine looks straight. Otherwise, sleeping with a curved spine can cause aches and pains.

Stomach Sleepers: Big Fig
Heavyweight stomach sleepers need the firmest support. If your mattress dips and sags, it'll put a lot of strain on your hips and back. Big Fig, made specifically for bigger figures, is a hybrid bed with the right support and comfort layers for a good night's sleep.
The durable mattress features latex, memory foam, and pocketed coils designed to fight sagging and softening. Their 20-year warranty covers free repairs and replacement for all body impressions over 1".
The Big Fig mattress is a good option for both back and stomach sleepers. Stomach sleepers especially will welcome the extra support around the midsection. But side sleepers should probably stay away. It doesn't have the plush cushion needed for proper pressure relief.
The Big Fig has a 13" mattress thickness. It also comes with ThermoGel cooling material to regulate your body temperature. That's really important for stomach sleepers since they tend to overheat. It's rated a 6–7 in firmness, and it's designed for people who weigh up to 550 pounds.
Big Fig Features

Hybrid mattress type

Firmness level: 6–7 (medium-firm) up to 550 lbs

Gel foam and good air flow keep you cool

120-night trial period

20 year warranty

Free 3-5 day shipping and returns
Why You Should Consider It
The Big Fig hybrid mattress was created for heavier sleepers. It provides the firm feel that stomach sleepers need without premature mattress sagging. The sturdy base and comfort layers make it one of the best mattresses for heavy people.
Do mattresses have weight limits?
Most mattress brands have weight limits, but they don't always list it on their website. You'll definitely feel the difference when you lie on a mattress designed specifically for bigger bodies.
Always ask the manufacturer about the weight capacity. It'll help you pick the right mattress for your body.
Back Pain: Casper Wave Hybrid
If you have back pain, you know how debilitating it can be. According to Harvard, back pain is one of the top reasons people lose mobility as they age.[1] A new mattress won't always cure the pain, but it'll prevent it from getting worse.
The Casper Wave Hybrid targets back support so your spine stays supported all night. Spinal alignment is an important factor in aches and pains. When your body is properly supported, you don't have to worry about twisting your joints in uncomfortable positions.
Because it's a hybrid, you'll also get extra support from springs. But what sets this Casper apart is the gel pods that feel firmer toward the middle of the bed. That means you'll feel supported around the lower back while your shoulders and hips get a softer foam feel.
The Casper Wave Hybrid stands 13 inches tall and has a medium-firm feel. This firmness level is great for people with back pain. It's not too firm that it puts too much pressure on your body. It's also not too soft that you sag into the mattress.
Casper Wave Hybrid Features

Hybrid mattress type

Firmness level: 6.5 (medium-firm) with no weight limit

Gel pods target back support where you need it

100-night trial period

10-year warranty

Free shipping and returns
Why You Should Consider It
Casper Wave Hybrid was designed for folks with back pain. The mattress strikes a good balance between support and cushion. Firm beds aren't always the best if you struggle with pain. This mattress feels firm only where you need extra support.
Most Unique: Purple Hybrid Premier
Not impressed with traditional foam and innerspring beds? For a different sleeping experience, check out the Purple Hybrid Premier. Purple is known for their special gel grid that folds around high-pressure areas. It takes the load off your hips and shoulders, and has an almost weightless feel.
The grid is made of Hyper-Elastic Polymer. It sounds fancy, but it's basically a gel-like material that is extra flexible and breathable. The grid and pocketed coils circulate a lot of air, so you'll never feel suffocated by your mattress.
You can choose between 3" or 4" of grid on the Purple Hybrid Premier. Both models can work for heavy folks. If you want a firmer bed, go for the 3". The 4" offers extra cushion which makes it softer—great for side sleepers.
The 3"-grid mattress is 12 inches tall and the 4"-grid mattress is 13 inches. They're both good options for heavy sleepers who need extra cushion to sink into.
Purple Hybrid Premier Features

Hybrid mattress type

Firmness level: 5.5 (medium) for 3" grid, 6.5 (medium-firm) for 4" grid

Flexible gel grid folds to cradle pressure points

100-night trial period

10-year warranty

Free shipping and returns
Why You Should Try It
If you've tried regular foam and innerspring mattresses without any luck, you could try a new mattress material. The unique feel of the Purple Grid is springier than foam, but not as bouncy as innerspring beds. Plus, it sleeps cool through the night.
Budget Mattress: The Titan by Brooklyn Bedding
The Titan Hybrid from Brooklyn Bedding is the most budget-friendly option on our list. A queen mattress price is around $1,000, and you can frequently find discounts on their website.
The Titan mattress is the company's bed in a box made for larger people. Its TitanFlex foam and coil layers give the stability and comfort plus-size sleepers need. It boasts 961 pocked coils for responsiveness. That said, side sleepers might not get the cushion they want for maximum pressure relief.
All in all, the mattress delivers a solid sleeping surface for the money. Sleep hot? If you have extra cash to spend, you can add a cooling panel for $250 dollars. There's also a Talalay latex topper that you can add for extra contouring.
At 11 inches in height, the Titan comes short of our recommended thickness of 12 inches. But it's a good option for those looking for a cheaper mattress made for heavy people. It's rated a 7–8 in firmness and accommodates sleepers up to 500 pounds.
Titan Hybrid Features

Hybrid mattress type

Firmness level: 7–8 (medium-firm to firm) up to 500 lbs

Designed for extra durability

120-night trial period

10 year warranty

Free shipping and returns
Why You Should Consider It
The Titan mattress offers quality mattress materials like high-density foams and pocketed coils for a budget price. Some cheaper mattresses aren't very durable. But Titan materials are better for supporting larger people than standard mattresses.
Heavy Couples: Dreamcloud

Courtesy of Dreamcloud
Heavy couples need a mattress with little motion transfer and good edge support. The Dreamcloud is a hybrid mattress that delivers on both of those criteria. It has a six-layer design that includes multiple layers of foam and a pocketed coil system.
This translates to a supportive mattress that's great at reducing motion. Its innerspring support core helps with edge support, so you and your sleeping partner can use the full surface of the bed.
It strikes a good balance between comfort and support. This means it's good for all sleeping styles, which is important if you're looking for a bed that you and your partner both agree on. Plus, if you end up not liking it, you can return it within their generous 365-day trial period.
The folks at DreamCloud say the mattress has no weight limit. Given its high quality construction, this mattress should last a long time without body indentations for all body types.
Dreamcloud Features

Hybrid mattress type

Firmness level: 6–7 (medium-firm)

Pocketed coil system supports plus size sleepers

365-night trial period

Lifetime warranty

Free shipping and returns
Why You Should Consider It
The DreamCloud features 6 layers of durable foam and coils. It offers great pressure relief for heavy sleepers. The memory foam layers feel plush, but steel coils keep you and your sleep partner supported all night.
Best Bed Frame for a Heavy Person
Heavier people need a durable bed frame that won't sag, squeak, bend, or break. Generally, the sturdiest bed frames are made of steel. Look for a frame with more than the standard four legs, plus crisscross slats for even more support.
A few of our favorites are the Classic Brands Hercules Bed Frame and the Zinus Elite SmartBase Deluxe Bed Frame.

Cooling Mattress: Layla Hybrid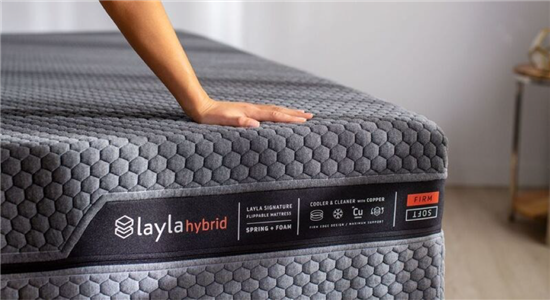 Courtesy of Layla
It can be difficult to fall asleep on a mattress that traps heat. The Layla Hybrid mattress is packed with cooling features for hot sleepers. It uses copper and an innerspring support core to give larger people a comfortable sleep.
Copper-infused memory foam is super conductive. It carries away your body heat so you don't have to simmer in it all night. It also has the benefit of being anti-microbial to keep your bed clean and smelling fresh. The innerspring system also improves air circulation to cool you off.
The Layla Hybrid is 13 inches tall and comes in 2 firmness levels. It's actually a flippable mattress with a soft side and a firm side, so you can try out both. Heavy sleepers usually prefer the firm side for better support.
Layla Hybrid Features

Hybrid mattress type

Firmness level: 7 on the firm side up to 500 lbs

Special cooling properties for better heat distribution

120-night trial period

10-year warranty

Free shipping and returns
Why You Should Consider It
The Layla Hybrid uses copper technology to naturally cool your body while supporting it. You might be tempted to overlook temperature when shopping for a mattress. But it can make the difference in getting you a more restful night's sleep.
Best Memory Foam: Loom & Leaf
Although many memory foam mattresses aren't ideal for larger sleepers, the Loom & Leaf firm model offers great support. Some folks prefer the motion isolation of memory foam, or they like the feeling of being "hugged" by their mattress.
Since it is an all-foam mattress, it doesn't quite offer the same heavy-duty support as some of the other options on our list. But we suggest it for those who weigh up to 300 pounds. People who weigh more than that might want to opt for a mattress with an innerspring support core instead.
The Loom & Leaf mattress uses high quality materials for its supportive base, transition pad, contouring foam, and cooling gel layer. The mattress is finished off with a layer of organic cotton that feels luxurious.
The mattress is also taller than some memory foam beds out there. At 12 inches tall, it'll prevent heavy sleepers from bottoming out on the mattress.
Loom & Leaf Features

Memory foam mattress type

Firmness level: 7.5 (firm) up to 300 lbs

Dense memory foam layers that can handle heavier weights

180-night trial period

15-year warranty

Free white-glove delivery and shipping; $99 fee for returns
Why You Should Consider It
Finding the right memory foam mattress as a heavy person can be tricky. The Loom & Leaf firm model offers a good amount of support without compressing too much. Unlike some cheap memory foam mattresses, it'll last longer without signs of premature sagging.
Wherever you decide to shop, there are key factors that make a mattress great for heavier people. Find out what they are below, and don't miss the important mattress accessories that many people overlook.
What to Look for in a Mattress

© CreditDonkey
Everyone needs a supportive mattress and a good night's rest. But for heavy folks, a good night's sleep is even more critical. Obesity is associated with sleep apnea, poor sleep quality, and daytime sleepiness.[2] The right mattress can help you get better sleep.
Pay extra attention to spinal alignment and comfort. If you're a larger person in search of a new mattress, consider these factors:
Support
Mattress support is the most important factor for overweight people. Larger bodies need more support to keep the body aligned. The best mattresses for heavier people are hybrids and innersprings. But some thick memory foam mattresses can also provide good support.
When trying out a mattress, make sure your body rests in a neutral position with your spine straight. Even if it doesn't hurt while you're testing the mattress, sleeping with your spine bent for an extended time can cause aches and pains.
Pressure Relief/Comfort
Bigger people put a lot of pressure on their bodies. Finding a mattress that has enough give to cradle your body will help you avoid unnecessary strain. Look for a mattress with thick middle and top layers made of memory foam or latex for the most comfort.
Comfort is especially important for side sleepers, since that's the position that puts the most pressure on the hips and shoulders.
Sleeping Position
Your sleeping position will help you decide the correct firmness. Side sleepers need a softer mattress with good pressure point relief. Back sleepers need a slightly firmer mattress that conforms to the lower back. Stomach sleepers need the most firmness to support the torso.
One study found that neither extra soft nor extra firm mattresses are suitable for any sleep position—especially for heavy men.[3] Try to stay away from either extreme for maximum comfort.
Temperature
Overweight and obese people often sleep hot. This can affect your quality of sleep, so look for mattresses that have cooling materials near the surface like:

Gel

Copper or graphite-infused foam

Latex
Innerspring mattresses also tend to sleep cool since coils allow a lot of airflow through the bed.
Edge Support
If you and your sleeping partner are overweight, you'll need good edge support to avoid slipping off the mattress. Good edge support also helps you get in and out of bed more easily.
Motion Transfer
An extra bouncy bed that transfer motion across the bed can be a dealbreaker if your sleep with a partner. The extra motion can disturb your sleep if you or your partner tosses and turns at night.
Thickness
Larger people should go for thicker mattresses with lots of comfort layers. That's because a thick mattress gives you more to sink into. You don't want to bottom out when lying on your mattress.
Firmness
Larger sleepers usually need a firmer mattress. Most beds feel soft to heavy people since they put more weight on the mattress. If you're looking for a bed with medium firmness, don't immediately write off options advertised as firm. You may find that it feels softer than you expected.
Best Pillow for Heavy People
Side sleepers tend to sleep best on higher pillows to keep the neck in line with the spine. Back and stomach sleepers usually prefer lower pillows for the same reason. If you have sleep apnea, a special wedge pillow could actually be the most beneficial.
[4]
You can find these characteristics in any type of mattress. But some are better than others. Find out below which are the best beds for plus-size sleepers.
Best Mattress Types for Heavy People
Heavy folks need supportive mattresses. Here are the most popular types of mattress and how they work for larger sleepers:
Innerspring
This is one of the best choices for heavy sleepers. The main support system of an innerspring mattress is a steel coil layer. It can stand up to more weight than other mattress types. But there is a downside: innersprings tend to have a shorter lifespan than other beds because the coils compress over time.
Hybrid
Hybrids are similar to innerspring mattresses, except they have thicker foam comfort layers on top. Comfort layers can be made of latex, memory foam, or other materials on top of an innerspring base. The springs give the mattress lots of support and a lot of pressure relief as well.
Latex
This is a type of durable foam that cushions the body but doesn't get overly soft. Many mattresses catered to heavy folks have latex layers. It's a long-lasting material with a good amount of springiness and comfort. It's also the most expensive type of mattress if you want an all-latex bed.
Memory Foam
A lot of memory foam beds aren't great for heavy folks. Many are too flimsy and soft to provide adequate support. But if your heart is set on this cushy material, don't worry—you can still get good quality memory foam. Just be prepared to pay a little more for better quality and durability.
The right mattress is important, but it needs a strong base too. Don't skimp on the next purchase, or your dreams of a good night's sleep might literally come crashing down.
Choose the Right Foundation
So, you've gone through the effort of finding a great, supportive bed. But have you thought about what type of mattress foundation you're going to get?
There are many types of bases out there. Make sure to reach out to the company and ask about any weight limits. The last thing you want is to get a flimsy foundation that can't support you or your partner's weight.
The most popular mattress foundations are:
Platform Base
A platform base, or platform bed, doesn't require a box spring. Your mattress goes directly on top of the slats on the bed frame itself. Many mattress companies have slat spacing requirements to uphold the warranty. So make sure your foundation fits the description.
Box Spring
Box springs go on top of your bed frame. Low mattresses can be hard to get in and out of, so the extra height is great for big and tall people. A quality box spring also adds extra support to your mattress.
Adjustable Base
These bases come with a remote that controls the positioning of your bed. You can angle the head of the bed up to make it easier to watch TV or get out of bed. It's also useful if you have back pain and need to rest a certain way to avoid your pain points.
All these can really change the way you sleep. But, let's be honest, it can get expensive. If you want to switch up how your mattress feels without paying too much, don't miss the next tip.
Transform Your Bed With a Mattress Topper
Mattress toppers are a great way to change the feel of your bed without dropping $1,000 or more on a new mattress. They're a cheap way to add cushioning to a firm mattress or keep your old mattress comfy for longer.
Most mattress toppers range between 1" and 4". As a heavy person, look for those thicker 3"–4" toppers for the best feel and durability. Thick toppers tend to be better for heavier sleepers since they last longer and don't soften as quickly.
The best mattress toppers for heavy people are:

Latex: durable material, hypoallergenic, sleeps cool

Memory Foam: great pressure relief, comfortable, hypoallergenic

Gel Memory Foam: sleeps cooler than memory foam, same great pressure relief
If you're on the heavier side, avoid toppers made of only down or feathers. These might feel soft to the touch, but they don't provide enough support for most heavy people.
What Experts Say
CreditDonkey assembled a panel of industry experts to answer readers' most pressing questions:
What can overweight people do to improve sleep quality?

Is a person's weight correlated with their sleep quality?

What special health considerations should heavy people take?

What are common misconceptions about people with larger bodies?
Here's what they said:
Bottom Line

© CreditDonkey
When choosing a new mattress, focus on the comfort and support level. A bed that's too hard can leave you feeling stiff, while a mattress that's too soft can cause alignment issues. Both extremes will make it hard to get quality sleep.
Lie on the mattress and ask:

Is my spine straight?

Does the mattress cushion my pressure points?
When you find a mattress that does both, it'll be smooth sailing to a better night's sleep. With so many mattresses on the market today, you'll find plenty of options for your body type.
References
Write to Kim P at feedback@creditdonkey.com. Follow us on Twitter and Facebook for our latest posts.
Note: This website is made possible through financial relationships with some of the products and services mentioned on this site. We may receive compensation if you shop through links in our content. You do not have to use our links, but you help support CreditDonkey if you do.
Not sure what mattress is right for you?
Answer a few short questions in our mattress quiz to receive tailored recommendations.
Take Mattress Quiz