How Long Does a Mattress Last
Ad Disclosure: This article contains references to products from our partners. We may receive compensation if you apply or shop through links in our content. You help support CreditDonkey by using our links.
(read more)
How do you know if you need a new mattress? If you're waking up tired and sore, it may be time to replace. Find out how long pillow top, memory foam, hybird, latex and more can last.

© CreditDonkey
How Long Should a Mattress Last?
Mattresses can last a long time with proper care. Most mattresses are good for 7 to 10 years, depending on the materials and how you use it. If you relax in bed outside of sleeping hours, your mattress will wear down faster.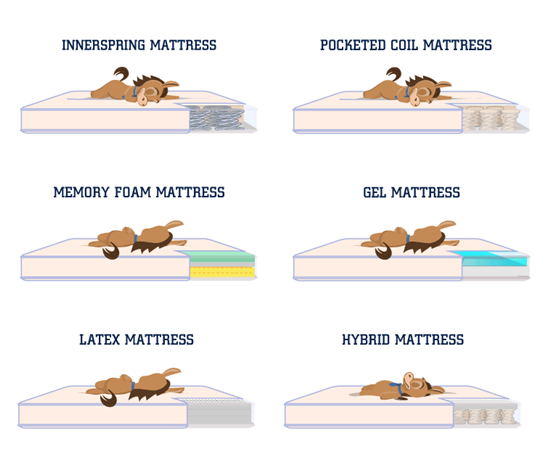 © CreditDonkey
| Mattress Type | Lifespan | Cost |
| --- | --- | --- |
| Innerspring | 8 years | $950-$1,000 |
| Memory Foam | 10-15 years | $900 |
| Gel Memory Foam | 10-15 years | $1,000 |
| Latex | 15 years | $2,000 |
| Hybrid | 8-10 years | $1,200-$1,650 |
| Pillow Top | 7 years | $1,000-$1,200 |
| Waterbed | 8-10 years | $150-$2,000 |
Innerspring Mattress
These typically have a lifespan of 8 years. A continuous coil mattress tends to last longer, as its single coil is less likely to break.
Memory Foam
Memory foam mattresses contain an extra layer of foam for added comfort. With proper care, they can last for 10-15 years depending on the density of the foam.
Gel Memory Foam
This type of mattress helps to dissipate the heat throughout the bed and keep the mattress cooler at night. It also has a lifespan of 10-15 years.
Latex
A natural latex mattress lasts up to 15 years due to its elasticity. If the top layer wears out, you can replace it rather than purchase a new mattress. Latex mattresses are also the only mattresses that are naturally resistant to dust mites, making them particularly good for people with allergies or asthma.
Natural vs Synthetic Latex
Companies use petrochemicals to create synthetic latex mattresses. Choose natural over synthetic for your mattress, as it will last longer.

Hybrid
The lifespan of a hybrid mattress depends on its material. Typically, a hybrid mattress combines inner coils with foam and has a lifespan of 8-10 years.
Waterbed
Waterbeds are made with a vinyl covering that can puncture or tear. With proper care, a waterbed can last between 8-10 years.
Pillow Top
The soft top of a pillow top mattress shortens its longevity. With proper care and rotating, it can often last about 7 years.
Can a mattress last 20 years?
It's possible - but not likely - that a mattress can last 20 years. The longevity of your mattress depends on several factors, including how much wear and tear it undergoes and the quality of its parts.
Some mattresses, like memory foams and latex, can last up to 15 years, much longer than the average innerspring. In the end, it's up to you how long your mattress lasts. If you're still getting a good night's sleep, you might not need to make a change.

Mattress lifespan depends on the materials and how you take care of it. Most mattresses last 10 years before they sag and soften. This can hurt your back and your sleep quality. You can help it last longer by rotating it and keeping your sheets clean.
Don't settle for a saggy mattress. Learn all the tricks to getting the most out of your mattress below.
How to Extend the Life of Your Mattress
Mattresses can last longer than expected depending on their use and care. Here are some preventative measures to extend the life of your mattress.
Use a secure base
Without the right support, your mattress will sag prematurely. Use a proper foundation, such as a box spring, wooden slats, or a metal base.

A box spring typically lasts 10-20 years. With proper care, you may be able to use the same one when you get a new mattress.

But consider to purchasing a new base if yours:


No longer retains its shape
Has dents or sagging areas
Squeaks when you move around on the bed

Get a Mattress Protector
Dust, sweat, body oils, and lotion seep into the mattress and wear down its fibers.
Clean Your Mattress
Ideally, your mattress should be cleaned twice a year. Sprinkle it with baking soda and vacuum after 30 minutes.
Wash Your Sheets
Wash your sheets weekly to eliminate dust, body oils, and debris that collect. This will prevent the debris from leaking into the mattress.

Read the manufacturer's directions that comes with your mattress. It may contain special instructions for cleaning and maintaining your new bed.


Rotate Your Mattress
Overuse of the area that supports your body will cause your mattress to feel less comfortable. Rotating it every 3 months can eliminate wear and tear in one area.
Don't Jump on the Bed
This can cause wear and tear. For certain types of mattresses, you also risk damaging the springs.
Don't Sleep with Your Pets
Your pet's oils, dander, and urine can leak onto the mattress.
Prevent Bed Bugs
Always check your luggage and clothing for bed bugs when traveling. Getting bed bugs may require buying a new mattress altogether.
How often should you buy a new mattress?
While some experts say you should buy a new mattress every 7-10 years, there's no set timetable to
replace your bed
. If you're getting a good night's sleep and waking up rested, then there's no reason to make a switch. But if your mattress is starting to show signs of wear and tear, it may be time for a change. Keep reading for some ways to tell if your mattress needs replacing.
How to Know if You Need a New Mattress
Here are some telltale signs that your mattress may be past its prime:
You wake up feeling older than your age - One of the biggest signs that it's time to replace your mattress is when you consistently get a poor night's sleep. Pay attention to how often you feel worse upon waking than you do when going to bed.
You feel like the coils poke you in your sleep - This could be a sign of advanced wear and tear, depending on the type of mattress. It means you don't have proper support and will likely affect your sleep quality.
Your bed has become noisy - You'll want to make sure that the mattress' base is secure and still supports the mattress. You may have to replace both at once, or just one at a time, depending on the level of wear and tear.
You just can't get comfortable - Though an old mattress isn't always the culprit of sleep discomfort, it should be one of the first things you check.
Sleeping aggravates your allergies/asthma - Some dust mites live in every mattress and pillow, but they can accumulate over years of time. In addition to dust mites, common allergens, including mold, can grow in your mattress.
Your mattress has dents or saggy areas - Depending on the mattress type, this can mean that the coils are damaged.
Overall, if you're consistently waking up feeling unrested, it's probably time to start shopping. You'll likely be able to save some money by looking online instead of in mattress stores.
Thinking you should get a new mattress?
If you can afford it, it's a great investment. We recommend Saatva, which offers a great quality mattress at reasonable prices. Read our full review of Saatva here.
What is the average life of a memory foam mattress?
Memory foam mattresses can last up to 8-10 years depending on the density of the foam.
What's the true cost of a mattress?
Mattress Value Calculator
Bottom Line
Finding a mattress that lasts long can be tough. Once you find the right one, prolong its lifespan by taking care of it properly.
Write to Kim P at feedback@creditdonkey.com. Follow us on Twitter and Facebook for our latest posts.
Note: This website is made possible through financial relationships with some of the products and services mentioned on this site. We may receive compensation if you shop through links in our content. You do not have to use our links, but you help support CreditDonkey if you do.
Not sure what mattress is right for you?
Answer a few short questions in our mattress quiz to receive tailored recommendations.
Take Mattress Quiz