Mattress Size and Dimensions
Ad Disclosure: This article contains references to products from our partners. We may receive compensation if you apply or shop through links in our content. You help support CreditDonkey by using our links.
(read more)
You have plenty of size options when purchasing a mattress. How are they different? Read this comparison guide to find the best size for you.

© CreditDonkey
There isn't a one-size-fits-all approach when choosing the right mattress. Here are some questions to consider:

Do you sleep alone or with a partner?

Are you average height or taller?

How much space do you have in your bedroom?
Once you know these answers, picking the right size mattress gets a lot easier. Read on for our mattress size comparison.
Mattress Size Chart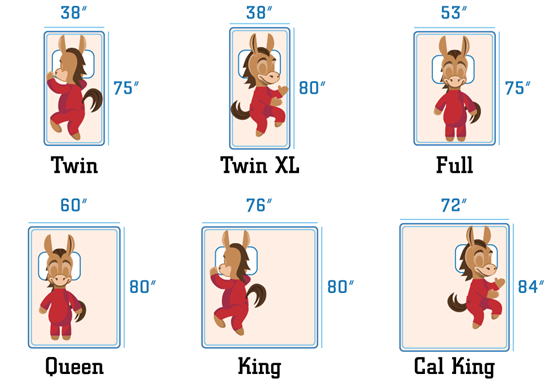 © CreditDonkey
Here is a dimensions chart for common mattress sizes:
| Mattress Size | Dimensions (inches) | Dimensions (feet) | Best For |
| --- | --- | --- | --- |
| Twin | 38 in x 75 in | 3 ft 2 in x 6 ft 3 in | Children, single adults |
| Twin XL | 38 in x 80 in | 3 ft 2 in x 6 ft 8 in | Tall single sleepers |
| Full | 54 in x 75 in | 4 ft 6 in x 6 ft 3 in | Single adults |
| Queen | 60 in x 80 in | 5 ft x 6 ft 8 in | Single adults who need lots of space, couples |
| King | 76 in x 80 in | 6 ft 4 in x 6 ft 8 in | Couples, people with children or pets |
| Split King | (2) 38 in x 80 in | (2) 3 ft 2 in x 6 ft 8 in | Couples with different sleep preferences |
| California King | 72 in x 84 in | 6 ft x 7 ft | Tall couples, tall people with children or pets |
Twin Mattress

© CreditDonkey
Measurements: 38" W x 75" L
Best for: Children and single adults
Twin mattresses, also called single beds, are the smallest of the standard mattress sizes. This makes them great for small or oddly-shaped bedrooms.
They're the perfect size for children who have outgrown their cribs. And they work great for bunk beds, daybeds, and cramped guest rooms, too.
Is there a mattress smaller than a twin?
There are two mattresses smaller than a twin—the crib and toddler mattresses. Both measure 27" wide by 52" long. Both tend to be firmer than a twin mattress.

Twin XL Mattress

© CreditDonkey
Measurements: 38" W x 80" L
Best for: Tall single sleepers
If you need a few more inches in length, a twin XL mattress offers the same length as a king size bed. But it's the same width as a regular twin, so fitting more than one person isn't advised. Many college dorm rooms use them because they're great for single sleepers.
They're also great for sleeping partners who can't agree on a mattress. Two twin XL mattresses fit a king size frame, so you can each find the right mattress. (More on split king mattresses below.)
What size mattress do you sleep on?
Full Mattress

© CreditDonkey
Measurements: 54" W x 75" L
Best for: Single sleepers
A full size mattress, or double bed, provides more width but the same length as a twin bed. They aren't ideal for couples, unless you like to cuddle close to your partner. Each person would only get as much personal space as the width of a crib mattress.
Full size mattresses are great if you like to sprawl out in bed. They're relatively inexpensive, which makes them a good transition mattress. They're also easy to move and are still narrow enough to fit in most bedrooms.
Fun Fact: Full mattresses were the most popular size in the U.S. until queen and king sizes caught on in 1950s.

Queen Mattress

© CreditDonkey
Measurements: 60" W x 80" L
Best for: Single sleepers who need more space and couples
A queen mattress is five inches longer than a twin or full bed. They're wider, too, which is why couples often opt for a queen.
In fact, a queen size mattress is the most popular mattress size—nearly half of American adults sleep on a queen mattress.[1] That's why you'll see them advertised more than any other size.
If you like to spread out and sleep with a pet, a queen size gives you enough room to be comfortable. But make sure your bedroom is big enough to accommodate the bigger bed.
What is the best size mattress for couples?
Queen mattresses offer a good amount of space for couples on a tighter budget. If you have the extra money, a king size bed gives you more space to sprawl out. Just be sure it can fit in your bedroom.
King Mattress

© CreditDonkey
Measurements: 76" W x 80" L
Best for: Couples and people co-sleeping with children or pets
If you want an even wider bed, opt for the king size. A king size mattress is the same as two twin XL mattresses pushed together.
The extra space makes a king bed perfect for couples who both like to spread out, or parents who co-sleep with children or pets.
Keep in mind that king mattresses are harder to move around due to their size. And make sure your room size allows 24 inches of walking space on each side of the bed.
Do I need a specific sheet size?
Your sheets and mattress should be the same size. Sheets that are too big can get tangled while you sleep. Sheets that are too small can come off the mattress.
Pay close attention to the depth of your sheets as well. Some mattresses, including many pillow- and euro-tops, are too tall for standard sheets.

Split King Mattress

© CreditDonkey
Measurements: (2) 38" W x 80" L
Best for: Couples with different sleeping preferences
A split king bed uses two twin XL mattresses. If you and your partner each want a personalized sleeping experience, a split king with an adjustable base is the way to go.
You can find split king mattresses that are either split completely from top to bottom or only at the top. The split lets couples adjust each side of the bed independently, so neither has to compromise on sleep quality.
If you opt for a split top bed, you should know that sheets for this type of mattress are usually hard to find.
California King Mattress

© CreditDonkey
Measurements: 72" W x 84" L
Best for: Sleepers taller than six feet and couples
The California king bed is a twist on the standard king. It was originally designed by a Los Angeles company for celebrity mansions.[2] You lose four inches in width for a bed that's four inches longer.
If your feet usually hang off the edge of a standard queen or king, consider a Cal king for extra legroom. It's a good option for taller couples and people with pets that like to sleep at the foot of the bed. The extra space means you won't have to worry about accidentally kicking your furry friend at night.
What is the biggest mattress?
"Biggest" depends on how you measure it. The California king offers the most length. But a standard king size mattress is the widest.
Best Mattress Size for Your Bedroom
If you're in the market for a larger bed like a queen or king, you should have an idea of how it'll fit in your bedroom.
Make sure to know the measurements of your room and your new mattress. This is especially important if you're moving. You don't want to buy a mattress only to find it doesn't fit in your new room.
Your room size should be at least 10' x 10' to comfortably fit a queen bed, and 12' x 12' to comfortably fit a king bed. Take a look at this diagram to find the right bed size for your room: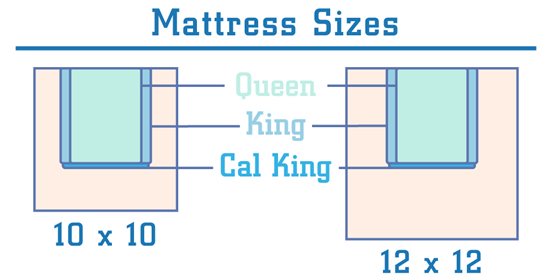 © CreditDonkey
What to Know Before Buying a Bed
What mattress size are you shopping for?
Mattress shopping is easier when you know what to look for. Read our tips to find the best mattress (and the best deal) for you.
Mattress Type
You can narrow your search to just one mattress type to make shopping less intimidating. Each type feels different and works best for different people:

Innerspring - Supportive, bouncy, breathable; Best for back sleepers, larger people, people who sleep hot

Memory foam - Hugs the body, pressure relief, no motion transfer; Best for side sleepers, couples, people with joint pain

Hybrid - Balanced support and pressure relief, cooling; Best for combo sleepers, versatility seekers, people with back pain

Latex - Responsive, hypoallergenic, durable; Best for stomach sleepers, allergy sufferers, eco-conscious folks
Dust Mite Allergies
Dust mites—microscopic bugs that feed on dead skin and mold spores—are everywhere. If you have dust allergies, protect your mattress, pillows, and box springs with dust mite covers. This reduces the number of dust mites. It can even reduce how often people with asthma need to use an inhaler.
[3]
Mattress Firmness
When in doubt, go for a medium-firm mattress. Medium-firm mattresses have been shown to be optimal for sleep comfort, quality, and spine alignment.[4]
How Much to Spend
Mattresses can range anywhere from $200 to $5,000. On average, you'll spend at least $1,000 for a decent-quality queen bed.
Here are the average queen prices for each mattress type:

Innerspring: $950–$1,000

Memory foam: $900

Hybrid: $1,650

Latex: $2,000
Of course, expensive doesn't always mean better. These prices are just a guideline, and you can also find budget mattresses that fit your needs.
Best Time to Buy a Mattress
Major holidays mean major savings in the mattress world. Try shopping around these times for your best shot at a discount:

Presidents Day

Memorial Day

July 4th

Labor Day

Thanksgiving/Black Friday
Mattress sellers need to sell off old models to make room for their new arrivals. You'll find the biggest savings in late winter to early spring (between February and May). Or, you can shop for a mattress online for year-round savings.
No matter what time of year it is, it doesn't hurt to haggle. Even if you shop online, haggling with the customer service rep can be successful. Consumer Reports found that 66% of people who haggled online got a discount.[5]
What type of mattress do you prefer?
Mattresses to Consider
If you don't know where to start on your mattress hunt, we've rounded up a few popular choices for you:
Casper - Best for back sleepers, couples, cooler sleep

The Casper is a foam mattress that feels supportive and relieves pressure. Their foam sleeps cooler than traditional memory foam but still isolates motion, so it's great for couples.

Leesa - Best for side sleepers, petite sleepers, people with back pain

Leesa makes foam mattresses that hugs the body and takes pressure off the joints. It's a comfortable mattress with good support for people under 230 pounds.

Saatva - Best for all body types, combo sleepers, personalized firmness

Saatva's innerspring mattresses are supportive and come in three firmness options. They even offer an extra-supportive version made especially for heavy folks.

Purple - Best for hot sleepers, pressure relief, average-sized sleepers

Purple uses a special gel grid material that lets a lot of air flow and feels weightless. It's a great option for average-sized sleepers, but petite sleepers might feel that the mattress is too hard.
What the Experts Say
As part of our series on consumer spending, CreditDonkey asked a panel of industry experts to answer readers' most pressing questions. Here's what they said:
Bottom Line
Choosing the right-sized mattress comes down to your need for personal space and room size. Ideally, you should try out the mattresses in stores or buy one online that has a generous trial period. This gives you time to test its size, durability, and comfort before making a final decision.
References
Write to Kim P at feedback@creditdonkey.com. Follow us on Twitter and Facebook for our latest posts.
Note: This website is made possible through financial relationships with some of the products and services mentioned on this site. We may receive compensation if you shop through links in our content. You do not have to use our links, but you help support CreditDonkey if you do.
Not sure what mattress is right for you?
Answer a few short questions in our mattress quiz to receive tailored recommendations.
Take Mattress Quiz