What is a Euro Top Mattress
---
Are Euro Top mattresses any good? And can you flip them? Find out their pros and cons, plus the best Euro Top mattresses to buy.

© CreditDonkey
A Euro top is a type of pillow top mattress. Both types of mattresses have an extra layer of padding on top.
But there's one large difference: A Euro top mattress has the extra layer underneath the mattress' top cover. A pillow top has the extra layer sewn on top of the cover.
Find out which is better below.
Is a Euro Top Mattress Softer Than a Standard Mattress?
Many assume if you don't get a pillow-top or Euro top mattress, you'll be uncomfortable. That's not the case.
Euro top mattresses offer a hybrid feel without paying more for a hybrid. If you want an innerspring mattress but like a cushioned feeling, try a Euro top or traditional pillow-top mattress.
You can also find a plush innerspring mattress without a Euro top to cushion your pressure points and support your spine.
Can you flip a euro top mattress? You can't flip a Euro top mattress because the cushioning surface is only on one side of the bed. If you flip it, you'll sleep on a hard, uncomfortable surface.

Pros and Cons of a Euro Top Mattress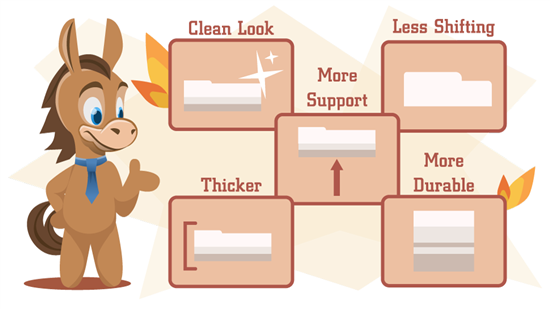 © CreditDonkey
Euro top and pillow-top mattresses seem rather similar, but are Euro top mattresses better than pillow-tops? Both offer an extra layer of comfort, but the Euro top has some added benefits like:
A Cleaner Look
With the extra layer of comfort sewn into the mattress, there isn't the unsightly gap pillow-top mattress create.
Less Shifting
Pillow-top mattresses often have problems with shifting because the layer is on top of the mattress. This makes the mattress uncomfortable at times. The Euro top mattress doesn't have this issue, providing longer-lasting comfort.
More Durable Materials
Euro tops are usually constructed of denser foam or fiberfill than standard pillow-top mattresses. Pillow-top mattresses often look fluffier than they are only because they sit on top of the mattress.
More Support
Euro top mattresses typically provide more support rather than just "fluffiness." They cradle pressure points and give comfort to the areas you need most.
Euro tops also offer the following benefits:
Decreased motion transfer compared to an innerspring mattress

Many firmness levels suit all sleep positions, whether you are a side, back, or stomach sleeper.

Ability to transform any mattress type to a plush mattress. People who want a hybrid option but can't afford a true hybrid mattress benefit from a Euro top.
The added cushion is nice, but you should also look out for potential issues with Euro tops:

Shorter Lifespan
Euro tops are more durable than pillow tops. But they don't last as long compared to mattresses without extra padding.
Sleeps Hotter
If you tend to sleep hot, pay attention to what your Euro top is made of. Memory foam Euro tops can make your temperature issues worse.
Can't Flip the Mattress
Some people like flippable mattresses for different firmness options or extra longevity. Euro top and pillow top mattresses are one-sided only.
What is the Best Euro Top Mattress?
Euro tops could be a good option for you if you need extra cushion and better contouring. If you're in the market for one, don't miss out on our picks for the best Euro top mattress:
Saatva Classic - Best for All Sleeping Positions

Antimicrobial organic cotton cover

3 firmness options and 2 height options

2 layers of pocketed coils for support

Free white-glove delivery

24/7 customer support
Saatva mattresses are designed to feel like luxury hotel beds at a less intimidating price. With their Classic mattress, you'll get nice features like an organic cotton cover, durable memory foam, and heavy-duty steel coils.
Saatva Classic is available in Plush Soft, Luxury Firm (medium-firm), and Firm models. Plus, you can choose from 11.5" and 14.5" heights. No matter your preferred sleeping position, you'll be able to find a firmness that works for you.
Once your mattress is delivered, you won't have to worry about lugging it to your bedroom. They offer free white-glove delivery, which means they'll set it up for you. The mattress also comes with a 15-year warranty and a 120-night trial period.
DreamCloud - Best for Hot Sleepers

Gel-infused foam and coils sleep cool

Medium-firm option suitable for most sleepers

High-gauge pocketed coil system

Free shipping within U.S. (except AK and HI)

Generous return policy and warranty
The DreamCloud is the perfect mattress if you tend to wake up hot and sweaty. Beds with coils generally sleep cool thanks to great airflow. But the DreamCloud takes it one step further by incorporating cooling gel memory foam.
Although it's only available in medium-firm, this is the firmness level most people prefer. The DreamCloud is a good option for most sleeping positions. But its good balance of support and comfort especially shines for back sleepers.
If you're not sure if it'll will work for you, you can take advantage of their 365-day trial period. You can take the whole year to try it out and return it for free if you don't like it. The mattress also comes with a lifetime warranty.
Serta Perfect Sleeper Elkins II Euro Top - Best Budget Option

Foam reinforcement for edge support

Medium firmness good for side and back sleepers

Gel foam helps to sleep cool

Available in mattress stores

Affordable price point
For shoppers on a tight budget, this Serta euro top model is a great option. Unlike the other mattress brands, Serta is available in stores. There's a good chance you'll be able to try this one out before you buy.
The Elkins II Euro Top comes in a medium firmness. This slightly softer mattress provides good pressure relief for side and back sleepers. Stomach sleepers might need a firmer mattress to prevent their hips from sinking.
Although you won't get the most durable materials with this pick, it's a great option if you're trying to save money. This mattress retails at $599 for a queen mattress—about half the price of our other picks!
Serta mattresses can be sold under different names at different mattress stores. Instead of shopping by product name, take note of the product details and shop for the features.
How Long Does a Euro Top Mattress Last?
The average mattress lasts 8 to 10 years, but a Euro top mattress may last less time, depending on its use.
The top layer provides cushioning, which can also wear out faster than the rest of the bed. If you sleep in the same position or put a lot of weight in one area of the mattress, it may lose its comfort faster.
You can lengthen the life of your Euro top mattress by:
Cleaning the Mattress Regularly
Make it a regular part of your routine to vacuum the mattress, removing harmful dust and debris. If you spill anything on it, clean it up right away and take care of any stains as quickly as possible.
Rotating the Mattress
You can't flip a Euro top mattress, but you can rotate it 180 degrees. Set a schedule to rotate the mattress at least twice a year. This changes where you put the most pressure, allowing your mattress to last longer than if you slept in one spot every night.
Is a soft or hard mattress better for your back?
Your sleep position, not the firmness of the bed, determines the mattress for your needs. What really matters is spinal alignment and comfort. For example, back sleepers benefit from an innerspring mattress, whereas side sleepers prefer memory foam mattresses.
As long as your spine remains in alignment while you sleep and you have adequate comfort on your pressure points, you can choose the most comfortable firmness for you.

What Is the Difference Between a Tight Top and Euro Top Mattress?
A tight top mattress is a mattress without a pillow top or Euro top. Instead of the extra cushion, a tight top just has thick layer of upholstery under the mattress cover.
Tight top mattresses aren't necessarily uncomfortable, though. You still choose between firm and plush covers, giving your body the level of comfort it needs.
Bottom Line
Euro top and pillow-top mattresses don't have a large cost difference. As long as the mattress supports your spine, it all depends on your personal sleeping preferences. If you find tight top mattresses uncomfortable, exploring your options for a softer top may help you get a better night's rest.

Write to Kim P at feedback@creditdonkey.com. Follow us on Twitter and Facebook for our latest posts.
Not sure what mattress is right for you?
Answer a few short questions in our mattress quiz to receive tailored recommendations.
Take Mattress Quiz