How to Buy a Mattress: Beginner's Guide
This article contains references to products from our partners. We may receive compensation if you apply or shop through links in our content. You help support CreditDonkey by reading our website and using our links.
(read more)
---
How much should I spend on a mattress? And when should I buy? Read on for the answer and how to find the best mattress for you.
To find the mattress—and the best deal—you need to have a plan. Follow these steps before you start shopping:
Do your homework
Research the best mattress type, firmness level and temperature for your sleep needs. If you have a partner, they should be involved in the process, too.
Set a budget
Prices will vary significantly. Set a maximum that you're prepared to spend before shopping and stick to it.
Decide where to shop
You can buy online or visit a store. Your approach will be very different for each.
Read on to learn how to find the best mattress whichever way you choose to shop.
How Much to Spend on a Mattress
On average, you can expect to pay around
$1,000
. There are ways to lower the cost, including buying online or haggling for a lower price (we'll cover those a little later.)
Try to strike a balance between the price you can afford and the features you need for a good night's sleep. It may make sense to spend a little more—consider it an investment in your health and well-being.

How to Buy a Mattress At A Store

© CreditDonkey
Buying a mattress in person comes with a couple advantages: you can try out the product before you buy and talk face-to-face with a salesperson.
But prices at mattress retailers and department stores are generally higher than online. If you do plan to shop in stores, follow these tips to find the perfect mattress.
Test several beds
Make sure to lie down the way that you normally sleep and spend a few minutes in that position. Remember, you spend one-third of every day asleep, so this is not a decision to take lightly.
Ask questions
Know the details of the warranty, including how long it lasts and what it covers. You should also make sure you understand the store's delivery and return policy. Some "money-back guarantees" include a re-stocking fee, which means you won't get back the whole purchase price.
Try bargaining
The price you see isn't necessarily the price you have to pay. Mattress retailers often have some wiggle room, especially at certain times of the year.

The best time to buy a mattress

is the end of March or beginning of April. This is when mattress stores need to get rid of older models and make room for the next year's inventory.

Stores begin to mark down prices. You may also have an easier time haggling for a better deal.


Be ready to walk away
There's always another store out there. Or you could save a lot by shopping online. But remember, you likely can't comparison shop since manufacturers create exclusive lines for retailers.
How to Buy a Mattress Online

© CreditDonkey
Buying a mattress online can save you 25%—50%. Why?
Online retailers don't have physical stores so they have less overhead. They can pass those savings onto consumers.
Shopping online also removes the sales pressure and allows you to search more stores much faster. Of course, you won't be able to test out the bed until after you've made your purchase, but you can read our mattress reviews to get an idea of what you're looking for such as our review of Saatva.
Understand the Trial Period: Since you can't try out your mattress in advance, many online companies, offer extended risk-free trials. The terms and return policies vary by seller, so always make sure to read the fine print. Otherwise, you may find yourself stuck with a mattress that you hate.

Follow these steps to find the best bed for your needs (and budget) online:
Cast a wide net
Unlike in-store, you can "shop" dozens of places online in just a few short minutes. While you won't be able to make an apples-to-apples comparison of specific mattresses, you can get a general sense of how much you should pay for different styles and types.
Search by your preferences
The sheer number of products can be overwhelming—unless you know what you're looking for. If you took the time to narrow down your preferences, use them to limit your choices.
Read customer reviews
As with any kind of online shopping, what most other users think may impact your thinking about the product.
Contact customer service
While there are no salespeople to answer you questions face- to- face, online retailers do provide ways to assist customers. Some sites have live texting available while others offer a 24-7 customer service line.
Look for discounts
Online retailers may offer sales or coupon codes during special times of the year, usually around the major holidays. Search online for these "promo" codes before completing your purchase.
How to Buy a Mattress on Amazon
Like just about everything else, you can buy a mattress on Amazon. Start by narrowing your options according to:
Type

Firmness

Box spring thickness

Customer reviews and average ratings

Brand

Mattress top type
Be sure to read the dimensions of each mattress, learn about its features, and get information on its warranty. And pay attention to the return policy though. You'll want to choose a mattress that offers a free pick-up service.

How to Buy a Mattress with Bad Credit
Unlike buying a car or a house, you may be able to buy a mattress even with bad credit.
Many mattress stores work with financing companies that specialize in clients with bad credit or no credit at all. However, you may pay a great deal more in interest.
Before you accept a plan, make sure you read the fine print. Calculate how much the interest will add to the total cost of the mattress and decide if the cost of financing is worth it.
Can you negotiate the price of your mattress?
When shopping in stores, you may be able to get a better deal than sticker price. Salespeople will sometimes lower the price, especially when they need to make room for new inventory.
In other words, it never hurts to try. You can also keep an eye out for seasonal sales and special coupons.

How to Buy a Crib Mattress
A crib mattress doesn't offer any choices when it comes to firmness. Babies need a firm mattress to reduce the risk of suffocation.
Just like adult mattresses, though, you'll have options that include innerspring, foam, and cotton (possibly even organic). But size should be your biggest concern.
You need a mattress that fits the crib snugly (there shouldn't be more than a 2-finger width between the crib rails and the mattress.
Best Mattress for a Toddler
When your child transitions to a toddler bed, you'll need to buy an appropriately-sized mattress. Toddlers don't need the super-firm mattress that babies require. Instead, buy a mattress with medium firmness to support their growing bodies.
The material also matters. If you child has allergies, cotton may be the best bet since it's the most breathable.

Mattress Buying Basics

© CreditDonkey
Here everything you need to know before you start shopping for your new bed.
How to Buy a Good Mattress
Start by
knowing what you need
. Don't fall for the latest "pillow top" trend or get a mattress just because your neighbor raves about it. A good mattress is one that suits your body type, is within your budget, and provides the features you and your partner need.
What to Look for In a Mattress
Mattresses may all look the same but lie on a few and you feel the difference. How do you decide the best fit for your needs? Use these factors to narrow down your choices.
Comfort
Comfort depends on personal preference. A side sleeper may want a softer mattress to avoid unnecessary pressure on their joints. A stomach sleeper, on the other hand, may prefer a firmer one to avoid the "enveloped feeling" of a soft mattress.
Support
A supportive mattress keeps your body properly aligned while you sleep. One way to test for support is to lie on the mattress for at least a few minutes in your typical sleeping position. Are you comfortable in that position for a few minutes or do you find yourself fidgeting?

Is It Better to Sleep on a Soft or Hard Mattress?

Your mattress should keep your spine in a neutral position. With your body in alignment, you shouldn't feel pressure on your joints.

For back and stomach sleepers, a firm mattress is best. People with back pain, arthritis, or other joint issues may benefit from a soft mattress, where they feel more cushion than rigid support. The "best" mattress is the one that suits your needs.


Temperature
Without proper ventilation, a mattress can trap heat, which can mean many sleepless nights. You want a mattress made of breathable material and with proper ventilation, even if you live in a cold climate.
Motion
If you share a bed, you'll need to know how much it moves when your partner does. Be sure to test the mattress together. Have your partner roll around and even get in and out of the bed to see how much movement you feel. While you'll likely feel something, it shouldn't be enough to disturb your sleep.
Edge Support
A bed with edge support retain its shape even when you sit on it while one without edge support will sag. If you take your time getting out of bed or use the bed to help you get dressed, edge support will play an important role in your decision.
Which Type of Mattress is Best
Different mattresses suit different types of sleepers. What's the best one for you? It depends on your needs.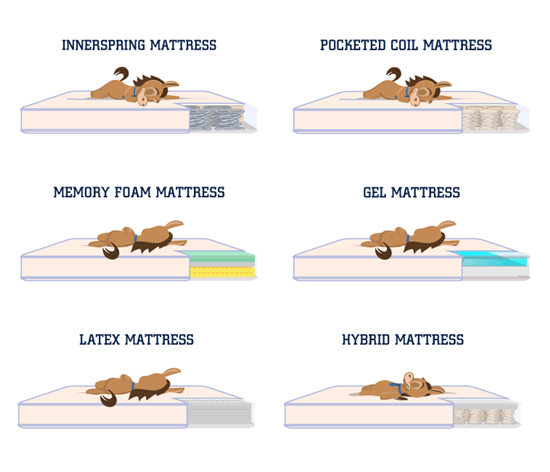 © CreditDonkey
Here are your choices:
Innerspring
One of the more popular options, this mattress has interlocked coils under a comfortable top layer. The top layer's material can vary, as can the number and distribution of coils within the mattress. An innerspring mattress provides firm support and may be suitable for stomach, side, or back sleepers.
Memory Foam
When you lie on a memory foam mattress, you'll feel as if you are "sinking in." The mattress will conform to your body, then return to its original shape when you aren't on it. Memory foam may help relieve pain in certain pressure points. It's often a beneficial material for side sleepers.
Pocketed Coil
Pocketed coils are individually wrapped innerspring coils. These coils are not interconnected like an innerspring mattress. They offer more support and less movement when your partner moves or gets out of bed.

How Often Should You Buy a New Mattress?

Mattresses

typically last around 8 years

depending on the style and manufacturer. Pay attention to the warnings signs. As soon as you notice them, it's time to start shopping for a new mattress.

Gel Memory Foam
Gel memory foam offers a greater level of air circulation than memory foam, which doesn't have ventilation to keep you cool. The gel captures body heat, rather than transferring the heat to your body.
Pillow Top
A pillow top mattress has an extra layer of comfort on top of a traditional innerspring or foam mattress. It's ideal for those who want firm support but like a cushiony feeling. Keep in mind, though, that the pillow top is often a thicker mattress, so it can be more difficult to find the right-sized sheets.
Hybrid
The best of both worlds, you get a coil spring mattress with a foam top. Of course, each manufacturer has a different definition of hybrid, so you'll want to research your options carefully before choosing yours.
Water Bed
As the name suggests, this mattress uses water as the support system with a top layer of foam. Choose from free-flow water or limited-flow water, which controls how much the water moves in the bed. If you have a partner or don't like the motion of a traditional waterbed, the limited-flow may be the better choice.
Best way to find a cheap mattress
When it comes to something as important as sleep, cheaper may not be the way to go. However, finding a
good quality, inexpensive mattress
is
definitely possible.
Your best bet is buying online where prices can be up to 50% less than in stores. If you prefer to buy your mattress in person, when to shop is just as important as where.

How to Tell When It's Time for a New Mattress

© CreditDonkey
While you can look for the obvious signs of a worn mattress, there are other signs that tell you to buy a new mattress, including:
You wake up feeling older than your age.

You feel like the coils poke you in your sleep.

Your bed has become noisy.

You just can't get comfortable.

There are obvious dents or saggy areas in the mattress.
If you're consistently waking up feeling unrested, it's probably time to start shopping.
Does Costco sell mattresses?
Costco sells a variety of mattresses in stores and online. You need to be a member to take advantage of their deals. And in many cases, you might be able to find as good or even
better prices from online retailers
.
Do You Need a Mattress Pad/Protector
You spend as much as 33% of every day on your mattress, so it's bound to get a bit dirty. A mattress pad ensures oils, stains, and allergens from your body never reach the mattress itself.
And the best part is, you can just throw the pad in the washing machine to keep it clean.
Before you buy a mattress pad, consider your reasons for getting one.

Do you need waterproof protection for a bed wetter?

Do you have allergies?

Do you need temperature control?
These factors can help you choose. For example, a person with allergies may need a hypoallergenic mattress pad. Thicker mattress pads can add a layer of comfort to a mattress. A breathable mattress pad can help keep the temperature of the mattress down, allowing a better night's sleep.
Bottom Line
Buying a mattress is a decision you'll live with for the next 7 to 9 years. Take the time to do your research, consider your needs, and shop around to find the mattress that is right for you.
Disclaimer: Opinions expressed here are author's alone. Please support CreditDonkey on our mission to help you make savvy decisions. Our free online service is made possible through financial relationships with some of the products and services mentioned on this site. We may receive compensation if you shop through links in our content.
More from CreditDonkey: