Ad Disclosure: This article contains references to products from our partners. We may receive compensation if you apply or shop through links in our content. You help support CreditDonkey by using our links.
(read more)
How much should you spend on a mattress? And when should you buy? Read this mattress buying guide to pick a good mattress for you.
Sleep is important. Everyone knows this, but so many people let a bad mattress get in the way of good sleep.
Besides the obvious signs of wear and tear, other signs you should buy a new mattress include:

Your mattress is more than 8 years old.

Your mattress is lumpy or saggy.

You wake up with aches and pains.

You just can't get comfortable.

Your body has changed.
Your old mattress isn't doing you any favors. If you're consistently waking up feeling unrested, it's probably time to replace it.
Should I buy a mattress in store or online?
If you're a strong negotiator, have a lot of time to shop around, and need to see a mattress in person, try shopping in store.
If you want the cheapest prices and the convenience of easily comparing your options, try shopping online.
No matter which way you shop, there are ways to get the best deal. Find out what steps you need to take down below.
Mattress Buying Basics
Here's everything you need to know before you start shopping for your new bed.
How to Buy a Good Mattress
Start by
knowing what you need
. Don't fall for the latest trends or get a mattress just because your neighbor raves about it.
A good mattress is one that suits your body type, is within your budget, and provides the features you and your partner need.

How Much Should You Spend on a Mattress?

© CreditDonkey
The first thing you have to do when making a big purchase is set a budget. Remember: More expensive doesn't always mean better quality. You don't have to spend thousands of dollars to get a good night's sleep.
Here are the average prices of a queen size mattress for each mattress type:

Innerspring mattress: $950–$1,000

Memory foam mattress: $900

Hybrid mattress: $1,650

Latex mattress: $2,000
$1,000 is a good place to start your budget for a quality queen bed. You can find mattresses that cost as little as $200, but you'll get less durable materials with them. On the other hand, a $5,000 mattress could be packed with extra features that you don't even need.
Best Way to Find a Cheap Mattress
When it comes to something as important as sleep, you shouldn't always go for the cheapest option. However, finding a good quality,
inexpensive
mattress is definitely possible.
Your best bet is to buy online, where prices can be up to 50 percent less than in stores. If you prefer to buy your mattress in person, knowing when to shop is just as important as where.

Now that you know how much to spend, let's figure out which mattress type is right for you.
Which Type of Mattress is Best?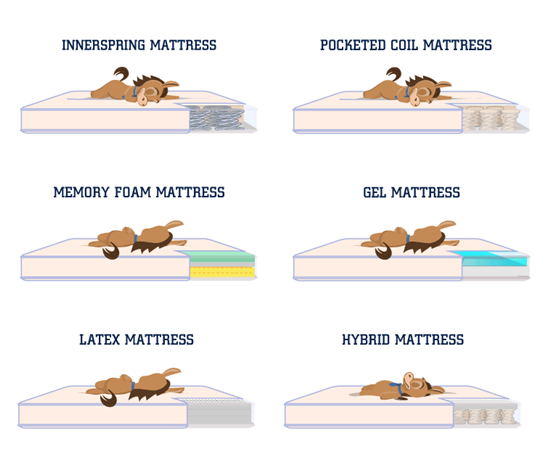 © CreditDonkey
There are a lot of mattress types, with pros and cons for each. The best one for you depends on your needs. Find out below which popular choice fits your sleeping preferences.
Innerspring
Pros

Sleeps cool and has good airflow

Strong support for all body types

Bounciness makes moving around easy
Cons

Sleeping partners will feel each other toss and turn

Doesn't conform closely to the body

Cheaper models can be noisy/squeaky
An innerspring mattress uses metal coils under a comfortable top layer. The top layer's material and the number of coils can vary. An innerspring mattress provides firmer support and can work for side, stomach, or back sleepers.
Fans of innersprings love the bounciness of the bed. But if you're concerned about movement disturbing your sleeping partner, look for one with pocketed coils.
These coils are individually wrapped in fabric and not interconnected. It'll cut down on movement while still giving you the strong support innersprings are known for.
Memory Foam
Pros

Great pressure relief

Lots of budget-friendly options

Doesn't transfer motion to your partner
Cons

Sleeps hottest out of all mattress types

Less support for bigger bodies

Less bounce makes it harder to move around
When you lie on a memory foam mattress, you'll feel as if you are sinking in. The mattress conforms to your body. Memory foam mattresses helps relieve pressure, which makes it especially great for side and back sleepers.
Because it's so good at contouring your body, it tends to sleep warm. To combat this, try looking for gel memory foam or copper/graphite-infused memory foam. These materials are better at wicking away heat.
New memory foam mattresses sometimes smell. It's part of a process called off-gassing, where the mattress gives off small amounts of VOCs. Look for foams that are CertiPUR-US certified to ensure that the foam is made without harmful amounts of chemicals and ozone depleters.
It's a good options for couples who move around a lot at night. Since it absorbs motion, you won't be disturbed by your partner's tossing and turning.
How often should you buy a new mattress?
Mattresses
typically last around 8 years
depending on the style and manufacturer. Pay attention to the warnings signs. As soon as you notice them, it's time to start shopping for a new mattress.
Hybrid
Pros

Good pressure relief

Breathable and sleeps cool

Has benefits of multiple materials
Cons

Don't get full benefit of each material

Tends to be expensive

Can be confusing to shop for
If you like more than one mattress material, try a hybrid. Hybrids use thick layers of two or more materials. Most hybrids are made of innerspring and memory foam. The result is like an innerspring bed with more pressure relief and less motion transfer thanks to memory foam.
Hybrid beds are great for all sleeping positions and body types. They're good for people who sleep hot. The combination of innerspring and foam lets more air flow than an all-foam mattress would.
Hybrids are a big trend in the mattress world. Be wary of innerspring "hybrids" that only use a thin layer of foam. These will feel like a regular innerspring rather than a true hybrid.
The best time to buy a mattress
is the end of March or beginning of April. This is when mattress stores need to get rid of older models and make room for the next year's inventory.
Stores will begin to mark down prices. You may also have an easier time haggling for a better deal.
Latex
Pros

Hypoallergenic and resistant to dust mites

Very durable material

Good bounce and support
Cons

Most expensive mattress type

Can be too firm for petite sleepers

Bounciness can disturb sleeping partner
Latex mattresses have good support but less pressure relief than foam mattresses. When you lie on a latex mattress, you'll feel like you're sleeping on top of it rather than sinking into it. This supportive choice is a great option for stomach and back sleepers.
Softer latex mattresses exist, but most tend to be a bit on the firmer side. This makes it great for average and heavy people. But very petite sleepers might need a softer mattress.
If you're looking for a natural mattress, latex is one of the few mattress materials that can actually be organic. Keep an eye out for mattresses with Global Organic Textile Standard (GOTS) and Global Organic Latex Standard (GOLS) certifications.
The material is also hypoallergenic and resistant to dust mites, so allergy sufferers should have no problem on it.
Fun Fact
: Latex is a natural material made from the sap of the
rubber tree
.
What to Look for in a Mattress
Mattresses might look similar, but lie on a few and you'll feel the difference. Use these factors to narrow down your choices before buying a mattress:

Pressure Relief
Pressure relief refers to how well a mattress conforms to your body. Imagine lying down on concrete. It feels uncomfortable because your weight pushes into the hard surface. This puts a lot of strain on your body.

A mattress with good pressure relief would soften around your body's contours. This takes pressure off your shoulders and hips and prevents sore joints.

Support
A supportive mattress keeps your body properly aligned while you sleep. One way to test for support is to lie on the mattress for 10 to 15 minutes in your normal sleeping position. Are you comfortable in that position or do you find yourself fidgeting?

It's helpful to mattress shop with a friend. Ask them to take a look at your spine and see if it's straight or unnaturally bent.

Is it better to sleep on a soft or hard mattress?

For back and stomach sleepers, a firmer mattress is best. People with back pain, arthritis, or other joint issues may benefit from a soft mattress with more cushion than rigid support.

The "best" mattress is the one that keeps your spine in a neutral position. With your body in alignment, you shouldn't feel pressure on your joints.


Temperature
If you've ever felt too hot to fall asleep, it might be caused by a warm mattress. Look for a mattress with cooling materials and proper ventilation if this is an issue for you. Innersprings, gel foam, and latex can help with sleeping hot.
Motion Transfer
If you share a bed, you want to be sure it doesn't transfer motion. This means that your partner can shift in bed without disturbing your sleep. Be sure to test the mattress together. Have your partner roll around and even get in and out of the bed to see how much movement you feel.
Edge Support
Without proper edge support, the mattress will sag when you sit on the side of the bed. If you take your time getting out of bed or use it to help you get dressed, good edge support will keep you from sliding off the mattress.

If you have a sleeping partner, good edge support allows you both to use the full surface of the mattress without falling off.

Trial Period
Always ask about and make use of the trial period. It's there for a reason! Most online and in-store sellers will give you at least 90 days to sleep on your mattress. You'll never truly know if a mattress is right for you until you try it out for at a few days.
Shipping and Delivery
Some online sellers offer free shipping and delivery within the U.S., except Alaska and Hawaii. Many mattress stores will charge shipping and delivery fees. Each retailer is different, so make sure you ask about all fees.

If you don't want to drag a heavy mattress to your room, some sellers offer white-glove delivery. This means they'll set the mattress up for you. But, you might have to pay extra.
Do I need a mattress pad/protector?
You spend about 33% of each day on your mattress, so it's bound to get a dirty. A mattress pad or protector ensures oils, stains, and allergens never reach the mattress itself.
Look for one that addresses your concerns. If you have allergies, look for a hypoallergenic mattress pad. Thick mattress pads can add a layer of comfort on a firm mattress.
Phew, you've gotten through the nitty gritty of mattress shopping. The rest is easy. Find out at the end what steps you can take to get the best deals.
Choosing the Right Mattress Size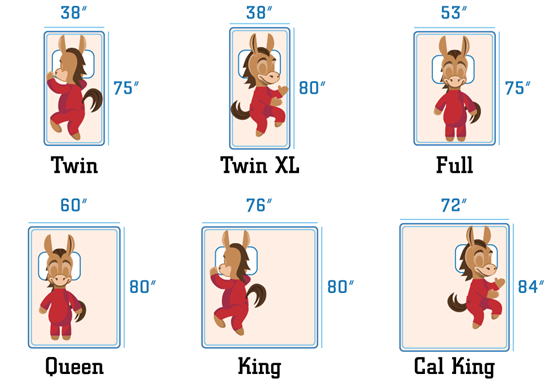 © CreditDonkey
Is your mattress still the best size for you? A lot of things have probably changed since you first got your old mattress. Maybe you now sleep with a partner, pet, or both. You want to be sure you have enough space to fit everyone without sacrificing your sleep quality.
Here are the common mattress sizes and who they're best suited for:

Twin - Children and single adults

Twin XL - Tall single sleepers

Full - Single adults

Queen - Single adults who want space, couples

King - Couples and people with children or pets

Split king - Couples with different sleep preferences

California king - Tall couples and tall people with children or pets
Unlike buying a car or
a house
, you can buy a mattress even with
bad credit
.
Many mattress stores work with financing companies for clients with bad credit or no credit. Before you accept a plan, calculate how much the total cost will be with interest. If the cost is much higher, it might not be worth it to finance the mattress.
How to Pick the Right Mattress Firmness
Mattresses are rated on a scale from 1 to 10:

1–2 are very soft

3–4 are soft

5–6 are medium to medium-firm

7–8 are firm

9–10 are very firm
The average person sleeps well on a medium-firm mattress, or around a 5–7. Your ideal mattress firmness depends on your sleeping position and body weight.
Here are some guidelines to see which firmness is right for you:

Side sleepers
Side sleepers usually prefer a medium-soft to medium mattress since side sleeping puts a lot of pressure on your body. A softer mattress lets you sink in and takes pressure off your shoulders and hips.
Back sleepers
Back sleepers do well on medium-firm mattresses. When you sleep on your back, you need enough support to keep your body from sagging. But a mattress that's too firm will make your back arch up uncomfortably.
Stomach sleepers
Stomach sleepers need a medium-firm to firm mattress that keeps the hips from sinking. The front of your body should lay flat on the mattress surface. If your mattress is too soft, your hips and spine will dip too much.
Your body weight will affect how firm a mattress feels to you. In general, heavy people will need a firmer mattress and petite people need a softer mattress.
Do I need a box spring?
You'll need some sort of support for your new mattress. Options for your base include:
Traditional box spring made of wood with springs inside

Foundation made of wood or metal and covered in fabric

Platform bed with a solid or slatted base
Some manufacturers will void your warranty unless you use a specific type of box spring or foundation.
What Experts Recommend
CreditDonkey interviewed a medical expert about getting a good night's rest:
How can you tell if you're getting high-quality sleep?

Is there any consensus on how much sleep we really need?

What can people do to make sure they're getting quality sleep?
Here's what she said:
How to Buy a Mattress in Store

© CreditDonkey
The biggest draw of shopping at a mattress store is seeing the mattress before you buy. You can also talk face-to-face with a knowledgeable sales team. If you have any questions, they'll be able to point you in the right direction.
Can you negotiate the price of your mattress?
When shopping in stores, you have a chance at getting a better deal than sticker price. Salespeople will sometimes lower the price, especially when they need to make room for new inventory.
In other words, it never hurts to try. You can also keep an eye out for seasonal sales and special coupons.

If you plan to shop in stores, follow these tips to find the perfect mattress at a good price:

Test several beds
Take time to try out many types of mattresses. Make sure to lie down the way you normally sleep and spend a few minutes in that position.
Ask questions
Find out as much as you can about the warranty, delivery, and return policy. Ask about the warranty, delivery, and return policy.

Some "money-back guarantees" include a re-stocking fee, which means you won't get back the whole purchase price.

Try bargaining
The price you see isn't necessarily the price you have to pay. Mattress sellers often have some wiggle room, especially at certain times of the year.
Be ready to walk away
You have options. There's always another mattress store out there. Or, you could save a lot by shopping online.
Popular mattress stores include:

Mattress Firm - Best selection and helpful sales team

Macy's - Best department store pick

Costco and Sam's Club - Best value
Does Costco sell mattresses?
Costco sells a variety of mattresses in stores and online. But you need to be a member to take advantage of their deals.
In many cases, you might be able to find as good or even better prices from online retailers.

How to Buy a Mattress Online

© CreditDonkey
You can save 25%–50% by shopping online. Online companies don't have physical stores, so they have less overhead costs. They pass those savings onto consumers.
Follow these steps to find the best bed for your needs (and budget) online:

Cast a wide net
You can shop dozens of places online in just a few short minutes. While you can't make an apples-to-apples comparison of specific mattresses, you can get a sense of what features you need.
Read customer reviews
As with any kind of online shopping, figure out what other people are saying about the product. Take a look at both positive and negative reviews to see if the pros outweigh the cons.
Contact customer service
Talk to a representative if you can't find an answer to your questions on the website. Some sites even offer 24/7 customer service. Though it's unconventional, people have even had luck negotiating price online. According to Consumer Reports, 66% who haggle online get a discount.
Look for discounts
Some online retailers have sales or coupon codes during special times of the year, usually around the major holidays. Search online for these promo codes before buying.
Popular online mattresses include:
Saatva - Best Place to Buy Online
Saatva is known for their reasonably priced, high-quality innerspring mattresses. They have great customer service available 24/7. This makes it easy for online shoppers to get any questions or issues addressed quickly.
Casper - Best Bed in a Box
Casper sells affordable foam and hybrid beds. Their mattresses are a great choice for people who like foam but sleep hot. The material they use is more breathable than traditional memory foam, so you won't wake up sweaty.
Tuft & Needle - Best Budget Option
Tuft & Needle is the best pick if you're looking for a cheap bed that doesn't skimp on quality. You won't find any luxury, high-end features here, but you will get a good foam mattress that doesn't sleep too hot.
How to Buy a Mattress on Amazon
Like just about everything else, you can get your new mattress on Amazon. Start by narrowing your options according to:
Type

Firmness

Customer reviews and average ratings

Brand

Mattress top type

Thickness
Be sure to read learn the mattress's dimensions, features, warranty, and return policy. You'll only have 30 days to return most mattresses sold on Amazon.

What Cyber Security Experts Say
CreditDonkey assembled a panel of cyber security experts to get their advice on how to safely buy things online.
Here's what they said:
Bottom Line
Buying a mattress is a decision you'll live with for the next 7 to 10 years. Take the time to do your research, consider your needs, and shop around to find the mattress that is right for you.
Write to Kim P at feedback@creditdonkey.com. Follow us on Twitter and Facebook for our latest posts.
Note: This website is made possible through financial relationships with some of the products and services mentioned on this site. We may receive compensation if you shop through links in our content. You do not have to use our links, but you help support CreditDonkey if you do.
Not sure what mattress is right for you?
Answer a few short questions in our mattress quiz to receive tailored recommendations.
Take Mattress Quiz