What is a Hybrid Mattress
---
Hybrid mattresses are all the rage. But are they really different from regular innerspring beds? Read on to see if they're a good match for you.

© CreditDonkey
What Is a Hybrid Mattress?
A hybrid mattress uses two or more support materials. Most hybrids have innerspring coils with a memory foam top. The result is a bed that has the bounce of innerspring with the pressure relief of foam.
This best-of-both-worlds approach sounds great, but aren't all innersprings technically hybrid beds?
It's true that all innerspring beds use some form of padding on top of coils. The difference is that hybrids have thicker layers of foam or other materials on top.
What you get is a mattress feel that lands right in between memory foam and innerspring. For example, it hugs the body less than a memory foam mattress, but more than a traditional innerspring.
"Hybrid" is a trendy buzzword in the mattress world. Any mattress can technically be called a hybrid as long as it has two different support materials. But it might not have that actual hybrid feel you're looking for.
The only real way to be sure is to feel it yourself. If you're buying online, try to read up on the product details to see if it has thick layers of each support material.
Here's a closer look at how they are constructed: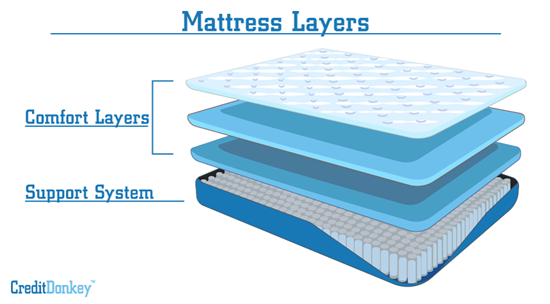 © CreditDonkey
Comfort Layers
The top layers of the mattress target comfort. Each manufacturer uses its own blend of comfort materials. You'll usually find one or more layers of:


Memory foam

Latex

High-density foam

Gel

Support System
The bottom part of the mattress is made up of coils or springs. Higher-end models have individually wrapped coils that cut down on motion transfer.
Are Hybrid Mattresses Good?
Hybrid mattresses can give some people a Goldilocks "just right" experience. But what if you actually like all-foam or innerspring mattresses? Hybrids aren't for everyone. Read our list of pros and cons to see if it could be right for you.
Pros

Good contouring and pressure relief

Breathable for a cooler sleep

Easy to move on
Hybrids give you the support of innerspring mattresses with the pressure relief of foam. Because of the coils, you'll also sleep cooler than you would on a memory foam mattress.
Sinking into a memory foam mattress feels great until you try to shift positions. You're less likely to have that "sunken in" feeling with a hybrid mattress.
Cons

Don't get full benefit of each support material

Broad term makes shopping more confusing

More expensive than innerspring and memory foam
Hybrids will only give you some benefits of each support material. For example, you'll feel less motion on a hybrid than you would on an innerspring. But it won't compare to the great motion isolation of an all-foam bed.
The term "hybrid" can make shopping difficult since it can be applied to so many beds. Hybrids are also one of the most expensive mattress types. (Learn more about how much to spend on a mattress.)
Do you need a box spring with a hybrid mattress?
Many mattresses today can work on any solid surface. But make sure you check the warranty first. The manufacturer could void your warranty if you don't use the right foundation or box spring.

Which Sleep Position Is Best for a Hybrid Mattress?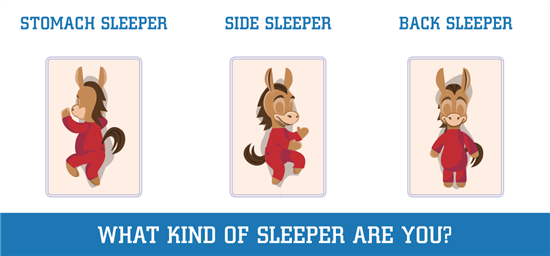 © CreditDonkey
Almost any sleeping style can feel good on a hybrid bed. Read on for factors to keep in mind when shopping for your sleep position.
Back Sleepers
If you're a back sleeper, you'll need a medium-firm mattress that contours to the lower back. A hybrid mattress provides enough support to take pressure off your upper back and hips.
Make sure the mattress strikes the right balance of support and cushion for your body. Too much softness gives your spine an unnatural curve while sleeping. But too much firmness is bad for your pressure points.
Stomach Sleepers
If you're a stomach sleeper, you'll need a firmer mattress that prevents your stomach and hips from dipping out of alignment. A hybrid could be a good option for you if you like the feel of memory foam, but need that extra support.
Side Sleepers
If you're a side sleeper, you'll need a softer mattress that conforms to the body. Your hips and shoulders need proper cushioning to align with your spine.
When looking for a hybrid mattress, make sure its support layers are soft and thick enough to let your body adequately sink in.
Some manufacturers make "semi-hybrid" mattresses. These variations have a pillow top, rather than memory foam, on top of an innerspring mattress.

What to Look for in a Hybrid Mattress
Choosing any mattress comes down to:

Personal preference

Sleeping positions

Your partner (if you have one)
Read on for all the factors you shouldn't miss when shopping for a mattress.
Firmness
The bottom eight inches of the mattress is what provides the support, according to Michael Breus, Ph.D., from the American Academy of Sleep Medicine.
Do you want firm or medium-firm support? Very firm support means thicker or lower gauge coils. If you prefer more "bounce," look for a mattress with higher gauge coils.
Comfort
The top three to four inches of your mattress is the comfort layer. If you are a side or back sleeper, you want some softness to take the pain off your pressure points. If the mattress is too firm, you'll wake with aches and pains.
Type of Coils
If you sleep with a partner, consider a mattress with pocketed coils. This helps with motion isolation when your partner moves in bed, which means a better night's sleep for you.
Quality Foam
A mattress is an investment—you want it to last as long as possible. Look for high-density foam or latex to give your mattress a long life.
How Long Do Most Hybrid Mattresses Last?
On average, you can expect to get 7–10 years out of your mattress. If you choose a latex top, you may get even more time. But just how long it lasts comes down to a few factors:

Use
Your mattress lifespan depends on how often you use it and how much weight you put on it.
Care
Clean up spills right away, vacuum the surface, change sheets regularly, and avoid moisture to extend your mattresses life.
Maintenance
Rotating your hybrid mattress helps even out the wear and tear. A good rule of thumb is to rotate it 180 degrees every 3–6 months.
Average Mattress Lifespans
A memory foam mattress will usually wear out at 10 years or less. An innerspring mattress typically lasts 6–7 years.

Bottom Line
When shopping for a hybrid mattress, focus on materials that provide the support, temperature, and longevity you need. Try several out in person or buy one online with a long trial period to find the best new mattress for you.
Write to Kim P at feedback@creditdonkey.com. Follow us on Twitter and Facebook for our latest posts.
Not sure what mattress is right for you?
Answer a few short questions in our mattress quiz to receive tailored recommendations.
Take Mattress Quiz