Ad Disclosure: This article contains references to products from our partners. We may receive compensation if you apply or shop through links in our content. You help support CreditDonkey by using our links.
(read more)
Is an extra firm mattress good for back pain? Not always. Find out how to choose the best firm mattress for your back.

© CreditDonkey
Here are the best firm mattress
:
Is a Firm Mattress Better for Your Back?
You might have heard that sleeping on a firm mattress is better for back pain. This isn't always true.
If you struggle with back problems, consider a medium-firm mattress first. Studies have found that a new, medium-firm mattress can reduce back pain by 48%[1]. But if your hips sink on a medium-firm bed, a firm mattress might be your perfect match.
A mattress should keep your spine aligned. This means your head, shoulders, and hips should be in line with each other. Your spine will rest in a natural position, and you'll avoid straining your back.
Firmer mattresses are a great choice for heavy people or stomach sleepers who need more support. If you don't fall in those groups, going firmer is fine as long as your body is aligned.

© CreditDonkey
Mattress Firmness Scale
1–2: Very soft, little to no support

3–4: Soft with some support, good for petite side sleepers

5–7: Medium to medium-firm, good for most sleepers

8–10: Firm with least amount of give, good for heavy people
Mattresses are expensive. You don't want to waste money on one that isn't right for you.
Don't miss the breakdown of firm mattress pros, cons, and shopping tips at the end.
Side Sleepers: Leesa Hybrid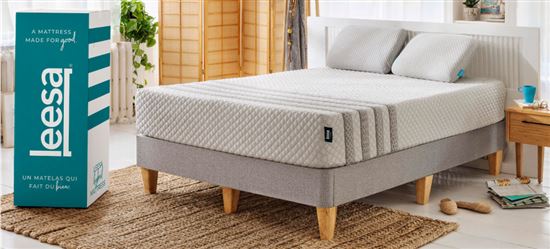 Credit: Leesa
Side sleepers need the most pressure relief out of all the sleeping positions. The best mattress for a side sleeper is usually on the softer side. If you're set on getting a firmer mattress, go for a medium-firm bed like the Leesa Hybrid.
The Leesa Hybrid has pocketed coils for firmness. But it also has memory foam top layers for pressure point relief at your shoulders and hips. A firmer bed could cause your limbs to fall asleep or put stress on your spine.
If you end up not liking the bed, you can return it for free. But the company suggests you try it for at least 30 days before returning it.
Leesa Hybrid features:

Price range: $$

Firmness level: 6.5 (medium-firm)

Customer service: Fair; slower response times

Sleep trial: 100 nights

Warranty: 10 years

You can buy Leesa mattresses online or in person at Pottery Barn and West Elm stores.
Back Sleepers: WinkBed Firmer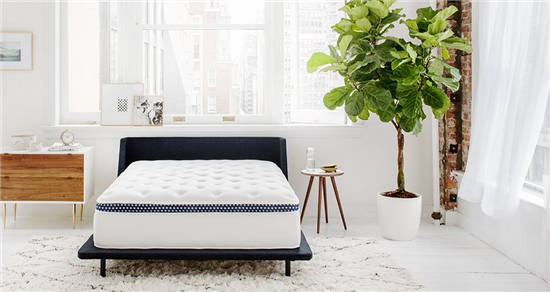 Credit: Winkbed
Back sleepers need a balanced mattress that contours the body and keeps the spine aligned. The WinkBed Firmer is a good firm bed without being too hard. It has enough push back so you won't feel like you're sinking into the mattress.
The mattress features targeted back support that cradles your pressures points. Top layers of gel memory foam keep you cool throughout the night. It also has great edge support so you can use the entire surface of the bed.
WinkBeds offers free returns if you don't like your mattress. But they ask that you try it for at least 30 days first.
WinkBed Firmer features:

Price range: $$$

Firmness level: 7.5 (firm)

Customer service: Good; average response times

Sleep trial: 120 nights

Warranty: Lifetime

If you exchange your mattress, you'll only get a 60-night trial on the second mattress.

Stomach Sleepers: Saatva Classic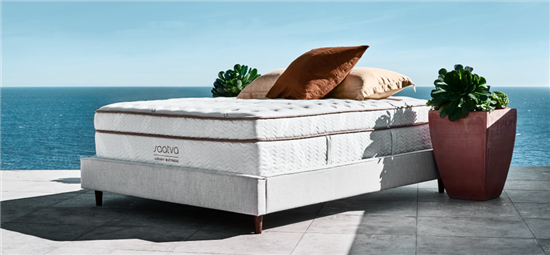 Credit: Saatva
The Saatva Classic comes in three firmness options. Their firmest model is perfect for stomach sleepers who sleep hot. You won't struggle with temperature regulation on the Saatva mattress. It has a breathable organic cotton cover and coils to keep you cool.
The Classic comes in 3 firmness levels: Plush Soft, Luxury Firm, and Firm. The Firm is especially great for stomach sleepers. The foam layers keep the mattress from feeling too hard.
Saatva offers free white glove delivery and setup in the room of your choice. They even remove your old mattress. If you don't end up liking it, you can return it with a $99 transportation fee.
Saatva Classic Firm features:

Price range: $$$

Firmness level: 8 (firm)

Customer service: Very good; responsive support team

Sleep trial: 180 nights

Warranty: 15 years

Best Firm Mattress Topper
Latex is a great topper material to firm up a mattress. It distributes your body weigh without sagging or softening. Try the PlushBeds 3" Extra-Firm Latex Topper if your mattress is too soft and unsupportive.
Back Pain: Amerisleep AS2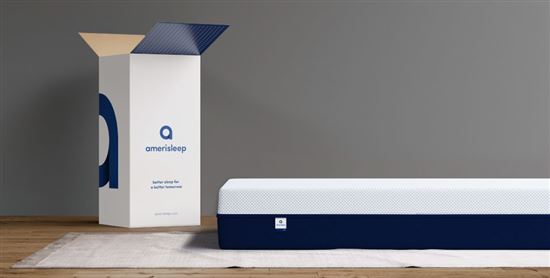 Credit: Amerisleep
If you suffer from back pain, watch out for super firm or soft mattresses. A bed at either of those extremes can put more stress on your back. Look for a mattress that has just enough cushion to keep your body aligned without sagging.
The Amerisleep AS2 has a good amount of comfort while still feeling firm. It's designed to give you targeted support for proper spinal alignment. While a mattress might not completely cure your pain, it can give you the right support for a good night's sleep.
Amerisleep offers a full refund for returns. They'll pick up your unwanted mattress for free.
Amerisleep AS2 features:

Price range: $$$

Firmness level: 7.5 (firm)

Customer service: Good; fair response times

Sleep trial: 100 nights

Warranty: 20 years

Can a firm mattress cause lower back pain?
Lower back pain can be caused by many underlying issues. While a firm mattress might not be the root of the problem, it can make the problem worse. One study found that people who slept on medium-firm mattresses had less pain lying in and getting out of bed than people on firm mattresses.
[2]
Hot Sleepers: Layla Hybrid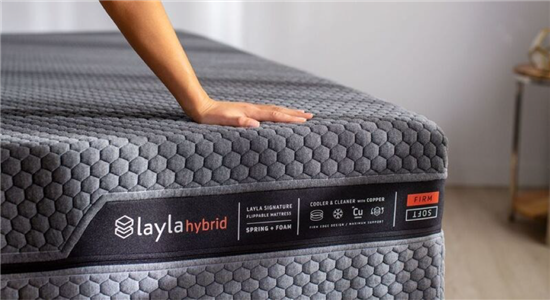 Credit: Layla
Sleeping hot doesn't just make it hard to fall asleep. It can also make it harder to stay asleep and get deep sleep.[3] Layla Hybrid's copper-infused gel is specially designed to wick away heat and moisture. Even though it's made of memory foam and springs, the mattress doesn't trap heat like traditional memory foam.
One of the most unique features of the mattress is that it's flippable. It has one soft side and one firm side. The firm side is perfect if you want support but still need cushion around your pressure points. And if you don't love it, don't worry. Layla offers free returns.
Layla Hybrid features:

Price range: $$$

Firmness level: 7.5 (firm)

Customer service: Good ratings

Sleep trial: 120 nights

Warranty: 10 years

Budget Friendly: Nest Love & Sleep
You don't always have to pay extra for a quality mattress. If you're looking for a good firm mattress without the bells and whistles, check out the Love & Sleep from Nest Bedding. It's an affordable memory foam mattress with a truly firm feel.
The Love & Sleep mattress keeps you well-supported with its dense foam base. It comes in two firmness levels: Medium and Firm. Their Firm is a great value, especially if you tend to sleep hot. It uses a special phase change material that helps you feel cooler at night.
Nest Love & Sleep features:

Price range: $

Firmness level: 7.5 (firm)

Customer service: Positive customer experience

Sleep trial: 100 nights

Warranty: Lifetime years

Bed in a Box: Brooklyn Signature Hybrid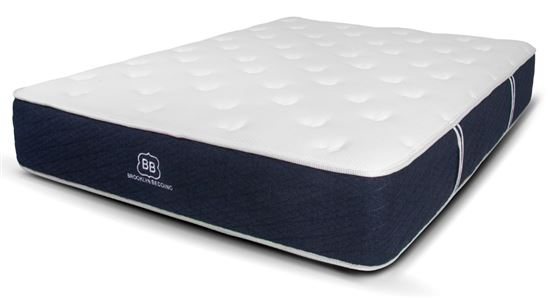 Credit: Brooklyn Bedding
Beds in a box come in a huge variety, including firm options. The Brooklyn Bedding Signature Hybrid is a memory foam and coil hybrid that comes in 3 firmness levels. The Firm is perfect if you're looking for great support in a convenient package.
The mattress is made of dense foams and flexible coils. It's firm without being too hard or unforgiving. It also has cooling technology that helps you regulate your body heat. It also has great edge support, so you'll feel secure using the entire sleeping surface.
Brooklyn Signature Hybrid features:

Price range: $$

Firmness level: 8 (firm)

Customer service: Good customer reviews

Sleep trial: 120 nights

Warranty: 10 years

Extra Firm Mattress: Plank by Brooklyn Bedding

Credit: Brooklyn Bedding
If most firm mattresses just don't feel firm enough, the Plank mattress was made for you. Like its name suggests, it offers a flat, supportive sleeping surface that won't sag. Surprisingly, this ultra-supportive mattress is actually an all-foam bed.
Despite the lack of innersprings, you'll definitely get that rigid support you're looking for. The mattress is also flippable, so you can choose from a firm or extra firm sleeping experience. If you sleep hot, there's even an option to add a cooling panel to regulate sleeping temperature.
The Plank is perfect for firm mattress lovers. But if you're not in love with it, you can get a free return after trying it for 30 days.
The Plank offers:

Price range: $$$

Firmness level: 7.5 (firm) and 9 (extra firm)

Customer service: Very good; responsive customer support team

Sleep trial: 120 nights

Warranty: 10 years

Take Advantage of the Trial Period
Most companies give you at least 100 days to try out a mattress. If you don't like it, you can return it and get your money back. Some companies, like
Nectar
, even provide a 365-day trial period.
With any seller, make sure you ask about return fees and restocking fees. You don't want to be surprised by a smaller refund than you expected.

Pros and Cons of a Firm Mattress
If you're in the market for a firm mattress, make sure you weight the pros and cons before you shop. Firm mattresses aren't for everyone, so take your time to decide if it's right for you.
Pros

Good support for back and stomach sleepers

Great for heavy folks

Sturdy materials last longer

Resists sagging

Good edge support

Proper weight distribution
Cons

Not enough pressure relief for side sleepers or combination sleepers

Could cause aches and pains for petite sleepers

Poor pressure relief

Firm mattresses can cause back to arch
What can you do if your mattress is too firm?
You can soften a mattress instantly with a soft mattress topper. Make sure the layer you choose softens around your pressure points. This way you get the best of both worlds—a firm base with a cushiony top.

Who Should Try a Firm Mattress

Larger people who struggle with mattress sagging

Back and stomach sleepers who need better spinal alignment

Couples who need extra edge support

People with medical conditions that require firm support
What Experts Say
CreditDonkey assembled a panel of industry experts to answer readers' most pressing questions. Here's what they said:
What to Consider Before Buying a Firm Mattress
Budget
Today, you can find mattresses for almost any price. Set your budget and know your sleep needs before shopping. $1,000 is a good price to start shopping. If you go for something cheaper, you might get a softer bed with less durable materials.
Sleeping Position
Stomach and back sleepers need the most firmness. Most people are actually side sleepers.[4] In this case, a firm mattress might not give you enough pressure relief. If you're a combination sleeper, shop with your main sleeping position in mind. Check out our mattress firmness breakdown as a guide.
| Sleep Position | Body Type | Best Mattress Firmness |
| --- | --- | --- |
| Side | Petite | Medium-soft |
| | Average | Medium |
| | Heavy | Medium-firm |
| Back | Petite | Medium |
| | Average | Medium-firm |
| | Heavy | Firm |
| Stomach | Petite | Medium-firm |
| | Average | Firm |
| | Heavy | Firm to extra firm |
Body Weight
Body type affects the level of firmness you need. Heavier sleepers need a firmer mattress to account for sinking. If you sleep on a bed that's too soft, the sagging will put stress on your spine. This can lead to pain and sore joints.
Mattress Type
Fans of firm mattresses should look for hybrid, latex, and innerspring mattresses. These types usually have more firm options. You can still find firm memory foam beds, but they're less common.
Comfort Layer
Just because you're looking for a firm mattress doesn't mean it can be rock solid. The comfort layer is the top layer of a mattress. Depending on your sleeping issues (heat, pressure, etc.) you can find a material that suits your needs.
Motion Isolation
Pay attention to this if you sleep with a partner. Bouncy beds cause motion transfer. So when your partner moves around, you'll feel the motion on your side of the bed. Memory foam beds are best for motion isolation since the material absorbs movement.
Trial Period
No matter which bed you buy, mattress companies usually offer a pretty good trial period. Use it! You'll never know how your body reacts to a mattress until you actually sleep on it for a couples of weeks.
What's Your Perfect Mattress Type?

© CreditDonkey
There are 4 main mattress types, but the best one depends on each sleeper. Which one is best for you? Find out below.
Innerspring Mattress
A spring mattress is bouncy and supportive. It's great for heavier folks who need a durable coil base to sleep comfortably. If you tend to sleep hot, this type of mattress will keep you cool with all the airflow through the coils.
Modern innerspring beds usually use pocket coils. These springs are individually wrapped in fabric and have decent pressure relieving abilities.
Memory Foam Mattress
Memory foam hugs the body and takes pressure off the hips and shoulders. The soft comfort layers can be a bit hard to move around on. But that also means it's a great material that doesn't transfer motion.
Memory foam mattresses are also some of the most affordable options. It's a great choice if you're trying to stick to a tight budget.
Hybrid Mattress
Hybrid mattresses are usually made with memory foam comfort layers on top of a coil support system. The resulting feeling is not as bouncy as an innerspring. But not body-hugging as pure foam.
Shopping for a hybrid mattress can be tricky. Mattress manufacturers often use the term for any foam and coil bed. But you won't get a true hybrid feel unless the foam top layers are at least 3-4 inches thick.
Latex Mattress
Latex mattresses are a great option for fans of foam who want a little extra springiness. The material is naturally cool and hypoallergenic. And the unique material makes you feel as if you were floating on top of the mattress.
It's a very high-quality material, but it's also the most expensive. The average cost of a queen latex bed is $2,000.
Bottom Line
The right mattress firmness depends on your sleep needs and preferences. The most important factor for long-term comfort is that it keeps your body aligned.
Make sure your shoulders and hips are cushioned while your lower back is supported. If a mattress is too firm or soft for your body, it'll cause a lot of pressure. This can lead to issues like neck pain or hip pain.
Luckily, most companies offer generous trial periods so you can test your mattress in your home. Take at least a few weeks to really see if the mattress works for you. A good night's sleep is so important, and the right mattress can make a big difference in your quality of sleep.
References
Write to Kim P at feedback@creditdonkey.com. Follow us on Twitter and Facebook for our latest posts.
Note: This website is made possible through financial relationships with some of the products and services mentioned on this site. We may receive compensation if you shop through links in our content. You do not have to use our links, but you help support CreditDonkey if you do.
Not sure what mattress is right for you?
Answer a few short questions in our mattress quiz to receive tailored recommendations.
Take Mattress Quiz