How Often Should You Replace Your Mattress
Ad Disclosure: This article contains references to products from our partners. We may receive compensation if you apply or shop through links in our content. You help support CreditDonkey by using our links.
(read more)
How do you know when your mattress needs replacing? It might be sooner than you think. Find out if you're ruining your sleep and how to tell when you need a new mattress.

© CreditDonkey
How Frequently Should You Replace Your Mattress?
Some experts say you should buy a new mattress every 7-10 years. But the timetable depends on several factors, including:

The type (including inner spring, memory foam, latex, waterbed, etc.)
The amount of wear and tear your mattress experiences
How you feel after sleeping on your mattress
If the circumstances in your life change (e.g., have a new partner, gain/lose weight)
While the rule of thumb says you should change your mattress every 8 years, this doesn't apply to everyone. If you're still sleeping well on your mattress and it show no visible signs of deterioration, don't feel pressured to make the switch.

When to Change Each Type of Mattress
Here's a breakdown of the best time to change each type of mattress: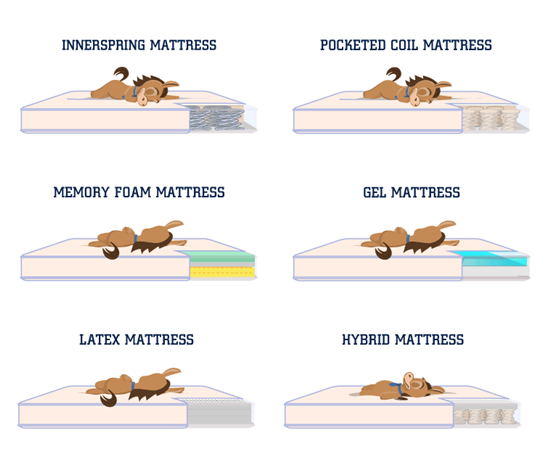 © CreditDonkey
Innerspring Mattress
This type lasts 7-8 years with regular use. A continuous coil innerspring mattress may last as long as 10 years due to the increased stability of the longer coil.
Memory Foam Mattress
The extra layer of foam helps prolong the life of the mattress, since the springs don't get as much direct contact. Some people get up to 10–15 years out of their memory foam mattress.
Latex Mattress
A latex mattress is one of the longest lasting mattresses available today with a lifespan up to 15 years.
Latex has the most elasticity, resulting in less premature sagging. Many manufacturers allow the replacement of the top layer of a latex mattress too, making it last even longer. It's also the only mattress that is naturally resistant to dust mites, making it a solid choice for people with allergies.
What's the cost of a new Mattress?
You could spend anywhere from a few hundred to several thousand dollars replacing your mattress. It depends on the type, quality, and where you buy it.
Shopping for a mattress online can save you money. Many mattress companies offer free trial periods for all types of mattresses for as long as 100 nights to decide if you like them.

Why You Should Replace Your Mattress
The best reason to replace your mattress is a lack of quality sleep. If you are starting to wake up feeling unrested, it may be time for a change.
A poor night's sleep can put your health at risk. You may have an increased risk of health conditions, including:

Stroke

Heart disease

High blood pressure

Diabetes

Depression
Sleep quality and mental health are more connected than you might think.
"Insomnia is commonly seen in depression and anxiety disorders," says Dr. W. Vaughn McCall, department chair of psychiatry and health behavior at Augusta University. "Furthermore, once an episode of depression or anxiety disorder are in full swing, the presence of the insomnia symptom adds its own unique burden of poor quality of life."
Good sleep is worth prioritizing. Keep reading for other signs your mattress needs replacing.
Can a mattress last 20 years?
In rare cases, a mattress can last 20 years. The longevity of your mattress depends on several factors, including the quality of its parts and the way you've taken care of it.
Memory foams and latex mattresses can last up to 15 years, much longer than the average innerspring. In the end, it's up to you how long your mattress lasts. If you're still getting a good night's sleep, you might not need to make a change.

how to tell when you need a new mattress
No matter what type you have or how long you've had it, it may be time for a replacement if:
Coils poke you as you sleep
This could be a sign of advanced wear and tear, depending on the type of mattress. It means you don't have proper support and will likely affect your sleep quality.
Your bed makes noises as you move around
You'll want to make sure that the mattress' base is secure and still supports the mattress. You may have to replace both at once, or just one at a time, depending on the level of wear and tear.
You just can't get comfortable or wake up sore
Though an old mattress isn't always the culprit of sleep discomfort, it should be one of the first things you check.
There are dents or saggy areas in the mattress
Depending on the mattress type, this can mean that the coils are damaged.
You have an allergic reaction or frequent congestion
Some dust mites live in every mattress and pillow, but they can accumulate over years of time. In addition to dust mites, common allergens, including mold, can grow in your mattress.
Other Reasons to Change Your Mattress
Sometimes changes in your life, not your bed, may require a new mattress. If you've lost or gained weight or have a new partner, it may be time for a change.

Prolong the Life of Your Mattress
There are a few things you can do to help extend the life of your mattress:
Get a Mattress Pad/Protector
These provide an extra layer of protection from dust mites, dander, sweat, and body oils.
When should I replace my mattress pad/protector?
A quality mattress pad/protector can last for several years. Be sure to clean it regularly and look out for tears or signs of fraying.

Wash Your Bed Linens Weekly
Regular care of your bed linens can help prevent the accumulation of sweat and body oil from seeping into the mattress and can help prevent dust mite buildup.
Vacuum Your Mattress Semi-annually
Sprinkle your mattress with baking soda and let it sit for 15–20 minutes before vacuuming it off. This will deodorize the mattress and remove any debris that might have seeped through the bed linens or mattress cover.
Don't Let Kids Jump on the Bed
Kids jumping on the bed can ruin the integrity of the springs, causing your mattress to sink.
Keep Pets off the Mattress
Your pet's dander, body oils, and urine can eat away at the fibers of the mattress.
FAQ
Do you need to replace the box spring when replacing your mattress?
A good box spring can last 15-20 years. You won't necessarily need to replace yours when buying a new mattress.
However, it is important to ensure that your box spring provides the support that you need.
The telltale signs that you need a new box spring include:
Broken slats

A sagging box

Squeaky springs
Will rotating a mattress help preserve it?
Flipping your mattress is beneficial ONLY if you have a double-sided mattress. You should double-check to make sure.
If you rotate your mattress every 3 months, you could prevent premature and excessive wear and tear. But if you are already experiencing issues, you may still need a new one.
How often should pillows be replaced?
You should replace your cheap cotton or polyester pillow every 6 months or so. Higher quality pillows, like memory foam, can last 1-2 years or even longer.
But regardless of type, pillows aren't meant to last forever. They tend to be breeding grounds for mites and allergens. If you can't remember the last time you got a new one, it may be time.
Bottom Line
Your mattress may last anywhere from 7 to 20 years. But when your quality of sleep diminishes, it's time to make a change.
Remember: A new mattress isn't an added expense—it's an investment in your overall health and wellness.
Write to Kim P at feedback@creditdonkey.com. Follow us on Twitter and Facebook for our latest posts.
Note: This website is made possible through financial relationships with some of the products and services mentioned on this site. We may receive compensation if you shop through links in our content. You do not have to use our links, but you help support CreditDonkey if you do.
Not sure what mattress is right for you?
Answer a few short questions in our mattress quiz to receive tailored recommendations.
Take Mattress Quiz