Ad Disclosure: This article contains references to products from our partners. We may receive compensation if you apply or shop through links in our content. You help support CreditDonkey by using our links.
(read more)
Yieldstreet gives everyday investors access to alternative investments in non-traditional assets. But are they safe to invest with? And what will it cost you?
Online Alternative Investments

Overall Score

3.1

---

Minimum Deposit

3.0

Customer Service

3.0

Commissions and Fees

4.0

Ease of Use

4.0

Liquidity

1.5
5-point scale (the higher, the better)
---
Pros and Cons
Alternative assets
$10,000 minimum for Prism Fund
Reasonable 1-2% annual fee
Illiquid investment
Most offerings only for accredited investors
---
Bottom Line
A unique platform to invest in non-traditional assets
Sure, there's stocks and bonds. But how do you get in on alternative investments like private real estate debt and supply chain financing?
Enter: Yieldstreet, the crowdfunding platform for alternative investments.
Find out how it works, what their returns are like, and whether it's right for you in this guide. Plus, see how their real-estate investments compare to Fundrise, Masterworks and Crowdstreet.
What is Yieldstreet?
Yieldstreet is a crowdfunding platform that offers alternative investments like real estate, art, commercial financing, and even marine projects. These investments are not impacted by the stock market.
Traditionally, these investments are only for hedge funds and other professionals. But Yieldstreet allows everyday investors access at relatively low minimums.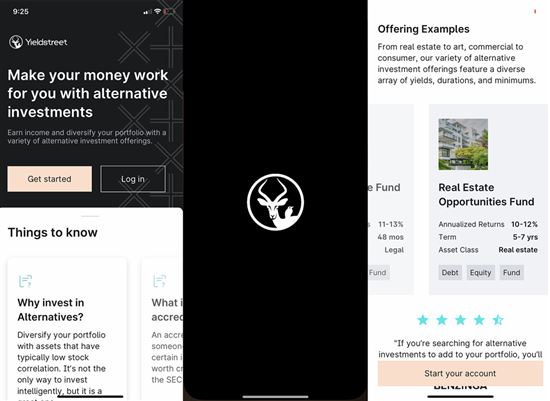 screenshot of Yieldstreet
Yieldstreet mostly offers debt investments backed by an asset (like real estate or art pieces). This reduces risk for investors while allowing you to earn passive income.
Yieldstreet's stats to date show a strong track record and proven results since its inception in 2014:[1]
| | |
| --- | --- |
| Number of investors | 432,469 |
| Total invested | $3.49 billion |
| Total dollars returned to investors | $1.8B+ |
| Total interest & principal returned to investors | $2.11 billion |
| Total offerings launched | 403+ |
| Individual offerings fully repaid | 200+ |
| Net internal rate of return | 9.8% |
What is an alternative investment?
Alternative investments are considered to be any investment made in asset classes other than stocks, bonds, and cash. This can include real estate, commodities, and physical assets.
Who is Yieldstreet Best For?
Wondering if YieldStreet is the right fit for your portfolio? Review the points below to find out if you should buy in.
Yieldstreet is best for:

Investors looking to diversify their portfolio beyond stocks and bonds

Investors who want passive income

Anyone looking for asset-backed investments

Accredited and non-accredited investors alike
Yieldstreet Pros & Cons
Pros:
Large range of alternative investments

Invest in assets not tied to the stock market

Opportunities for both non-accredited and accredited investors

$10,000 minimum investment for Prism Fund

Reasonable annual management fees

Traditional and Roth IRAs available
Cons:
Most investments are multi-year (except for short term notes)

High minimums for individual offerings

Limited number of open offers
Who Can Invest in Yieldstreet
Yieldstreet offers investment opportunities for both non-accredited and accredited investors.
Everyone can invest in the Prism Fund starting with just $10,000. Accredited investors can also invest in individual offerings and short term notes.
What is an accredited investor?
An accredited investor means:
[2]
Annual income of $200,000 for the past two years (or $300,000 if filed jointly), OR

Net worth of at least $1,000,000 (excluding the value of your primary residence), either alone or with a spouse
What is the Minimum Investment?
Yieldstreet has several offerings with different minimum investments. They are:
Note that only the Prism Fund is available to everyone without accreditation requirements.
Read on to learn more about them in more detail.
Yieldstreet Prism Fund (For All Investors)
The Yieldstreet Prism Fund is open to all investors. It's a ready-made professionally managed portfolio of different alternative investments.
No net worth or accreditation requirements

$10,000 minimum investment (additional repurchases of $1,000+)

1.5% annual management fee

8% annualized distribution rate[6]

Share repurchase program
With one investment, you're automatically invested in a diversified mix of alternative assets. You don't need to pick and choose yourself.
About half of the fund is made of real estate and corporate financing, with smaller allocations to legal finance, art, and marine investments.
Here's a snapshot of the top 5 holdings in the Prism Fund:
| Holding # | % of Fund | Target Yield | Value |
| --- | --- | --- | --- |
| 1. Consumer finance lending | 5.71% | 13% | $5,000,000 |
| 2. Luxury vehicle leasing | 5.60% | 9.75% | $4,905,000 |
| 3. Blue-chip artwork financing | 5.22% | 8.25% | $4,570,000 |
| 4. Real estate loan (single family rentals) | 5.14% | 10.86% | $4,500,000 |
| 5. Real estate loan (single-tenant industrial property) | 4.59% | 8.75% | $4,024,362 |
The Prism Fund is continuously open to new investors and to purchase additional shares. The current fund's expected termination is March 2024.

Build a fixed-income portfolio spread across multiple asset classes with a single investment.
Yieldstreet Prism Fund is not open to investors residing in or located in Nebraska or North Dakota at this time.

Yieldstreet Individual Offerings (For Accredited Investors)
For individual offerings for accredited investors, Yieldstreet offers debt investments for things like:

Residential real estate developments

Commercial real estate developments

Sports car leasing

Art financing

Marine vessels and deconstruction

Supply chain financing

Litigation financing
All the investments on Yieldstreet are asset-backed, meaning an asset helps secure the loan against default. For example, your investment might involve debt financing for a multi-family development (the asset).
Asset-backed investments have some degree of safety that other investments don't.
If the borrower fails to make an interest payment, the debt holders become legally entitled to the assets that were purchased with the debt (e.g., the residential development or sports cars).
Here are some examples of recent offerings on Yieldstreet, so you have an idea of what you can invest in.
Short Term Notes (For Accredited Investors)
Yieldstreet issues short term notes, which are used to fund investment opportunities on the platform. This is a good option if you need liquidity and want to earn a higher interest rate than what you'd get with a bank savings account.
$10,000 minimum investment

No fees or expenses charged

4.6% annualized interest rate

Terms 3 - 9 months
You're paid the same interest rate for the entire term. Interest is paid monthly directly into your Yieldstreet wallet. Your principal will be repaid at maturity.
Unfortunately, this investment option is only open to accredited investors.
What are the Returns Like?
So how much can you make with Yieldstreet?
The net annualized returns for all the investments featured on Yieldstreet's platform excluding Short Term Notes is currently 9.8% (after fees are taken out).[1] It depends on the specific offering. Here's a general idea of the returns of the different investment options:
Prism Fund: 8%

Short term notes: 4.6%

Individual offerings: 8% - 20%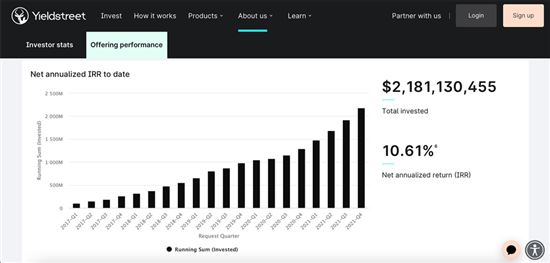 Screenshot of Yieldstreet
Here's a more detailed chart showing the returns across the different asset classes:
You can play around with this calculator to see what kind of returns you can get. You can look at Yieldstreet's current offerings and put in some numbers.
Can you lose money with Yieldstreet?
No investment is guaranteed and Yieldstreet is no exception. Because their offerings are mostly debt, Yieldstreet has a lower risk profile than most other real estate investment platforms that offer equity investments. But you could still lose money and should therefore always diversify your portfolio.
What are the Fees?
Yieldstreet's offerings have different fee structures. Generally, the management fees will run you 1% - 3%.
| | |
| --- | --- |
| Prism Fund total annual fees | 1.5%[7] |
| Short term notes | No fees |
| Individual offerings annual management fee | 0 - 2.5%[8] |
| Individual offerings annual flat expense | varies* |
| IRA annual maintenance fee | $299 - $399, based on amount deposited |
*The annual flat expense for individual offerings can be charged as either a percentage (0.25%) or a flat rate fee. Generally, flat fees are $100-$150 for first year and $30-$100 in subsequent years.
How Do You Get Paid?
Once you choose and fund your investment, you'll receive interest payments from the borrower. Each investment will have their own payment structure.
Prism Fund: Dividends are distributed quarterly (February, June, September and December). Distributions are automatically reinvested, but you can also choose to receive them in cash.
Short term notes: Interest is paid monthly into your Yieldstreet wallet
Individual offerings: Depending on the investment, interest is either paid on a schedule (bi-weekly, monthly, quarterly), or you receive payment once the project is settled (like in litigation financing)
Can You Sell Your Investments?
Yieldstreet is generally an illiquid investment. But the Prism Fund offers a share repurchase program on a quarterly basis (typically in March, May, August and November). This gives you the opportunity to liquidate a portion of your shares.
However, each quarter Yieldstreet limits the total shares repurchased to no more than 5% of the total number of shares.[9] This means if a lot of investors want to sell their shares, you may not get the full amount you requested.
But this program still offers some liquidity if you want to get out before the termination date.
If you invest in individual offerings, you are locked in for the full length of the term. Once your investment is fully processed, you cannot change or cancel it.
Do These Investments Have Risk?
Like all investments, there is risk. Yieldstreet seeks high-yield returns, which is generally riskier. But because their loans are backed by assets, that safeguards your investments somewhat.[10]
And yes, there have been loans that defaulted on Yieldstreet. If the borrower can't pay back the loan, Yieldstreet works with the borrower to find an alternate strategy to recover as much of your principal as possible.
However, workout strategies can be complex and lengthy. And there is the chance that you may not get your full principal back.
For example, an Orlando Hotel project was forced to shut down in March 2020. Yieldstreet was able to find a successful workout strategy and recover 100% of investor principal and outstanding interest. Read more about that case
here
.
Yieldstreet Competitors
Annual Fee
1.5% management fee for the Prism Fund; Fees vary for individual investment offerings (usually 1-2%)

1% management fee

1.5% (plus 20% of future profits)
Minimum Deposit
$10,000 minimum for the Prism Fund; Individual investment offerings typically starts at $10,000

$10

$500 - $1,000

Dividends

Prism Fund pays dividends quarterly; can choose to auto-invest or cash payout

Choose quarterly payouts or auto reinvest

N/A

Investment Period
5 years for Prism Fund (with opportunities to liquidate on a quarterly basis); Varies for individual offerings

5+ years

3-10 years

Investment Types

Residential & commercial real estate, sports car leasing, art financing, marine vessels and deconstruction, supply chain financing, litigation financing

Commercial, single family, industrial

Fine art

Wealth Requirements

None for the Prism Fund; Must be accredited investor for individual investment offerings

None

None

Visit Site
Visit Site
Learn More
Terms Apply. Offering Circulars
Yieldstreet is unique in that they are one of the few platforms that provide non-accredited investors access to a wide array of alternative asset classes.
However, they still have many competitors in the real estate investing space. We'll provide a brief comparison to the larger ones below.
Yieldstreet vs. Fundrise
Fundrise is another popular private real estate investing platform that launched the eREIT, which is almost like an ETF that holds a diversified mix of their properties from different real estate sectors.
They offer three different investment plans that target different portfolio goals like generating income, long-term appreciation, or a balance of the two.
Like Yieldstreet, Fundrise doesn't require you to be an accredited investor. In fact, you can achieve diversified real estate exposure with a low minimum investment.
Fundrise also offers quarterly dividend payments and even liquidity if you wanted to redeem your investment ahead of schedule. And just like CrowdStreet, Fundrise focuses exclusively on real estate investments.
Choose Fundrise if: You're an un-accredited investor that's looking exclusively for real estate investments

Only $10 minimum investment
Get a diversified portfolio of real estate projects across the US
Open to all investors
Ready to dive into the world of real estate crowdfunding? See how it works and what kind of returns you can expect in
our in-depth guide
to this popular type of investment.
Yieldstreet vs. Masterworks
Masterworks is the only platform that lets you invest in fine art. It features sought-after artists, such as Banksy, Kaws, and Basquiat.
There is no accreditation required, though the minimum investment is usually $500 - $1,000.
The platform also tends to have higher fees. It has a 1.5% annual management fee, plus it takes 20% of the profit once a painting is sold.[11]
However, the returns could be significant. So far, Masterworks' track record has seen annual returns of 15% (after fees).
Choose Masterworks if: You're looking to diversify into alternative art investments.
Yieldstreet vs. CrowdStreet
CrowdStreet is another popular platform targeting investors looking for institutional-quality real estate exposure.
Compared to Yieldstreet, they boast a higher level of risk and reward, primarily because they offer equity investments in real estate whereas Yieldstreet offers debt investments. As such, CrowdStreet's historical IRR on completed deals averages 19.2%.[12]
While Yieldstreet has investment options for both accredited and non-accredited investors, CrowdStreet is exclusively for accredited investors. Their offerings have a minimum investment of $25K.[13]
This means getting diversified exposure to alternative investments is a lot more cost-effective through Yieldstreet's Prism Fund versus ponying up $100K+ to allocate across different projects on CrowdStreet's platform.
Choose CrowdStreet if: You're an accredited investor who wants a high-quality (and higher-risk) investment

Access to institutional grade commercial real estate deals
Choose your own projects or invest in a fund
$25,000 minimum investment
Yieldstreet vs. Cadre
Cadre is a newer platform in real estate investing. While they offer some very high-quality properties, they may be out of reach for many investors.
Cadre's investment minimums start at $25,000 and are only open to accredited investors. If you can put up $25K, though, you should look into their offerings, which include individual deals as well as a diversified fund offering.[14]
The few deals on Cadre's platform that have already matured have yielded impressive IRRs between 15% and 27%.
Management spends a lot of time researching the investments on their platform, and they have skin in the game by investing alongside investors in every deal.
Cadre also offers a secondary market where existing investors can list their investments for sale on the platform to interested buyers. This allows for more flexibility and some liquidity in an otherwise illiquid asset class.
Choose Cadre if: You want to invest in real estate alongside some industry experts and are an accredited investor
Is Yieldstreet going public?
Yieldstreet CEO Milind Mehere commented in June 2021 that the company is considering going public via a SPAC in the next year or two.
Customer Support
Yieldstreet offers pretty basic customer service and a FAQ section on their website.
For any detailed questions beyond the cookie-cutter ones, they also offer an email address and phone number to reach them.
Yieldstreet Customer Service
Phone: 844-943-5378
Email: investments@yieldstreet.com

Is Yieldstreet Worth It?
For any investors looking to add some alternative investments to their portfolio, Yieldstreet offers an attractive opportunity that is unique from the competition.
There are several platforms out there that allow you to invest in institutional-quality real estate projects, but Yieldstreet is one of the few that really covers the full spectrum of the alternatives space - with offerings including art, litigation, and supply chain financing.
Furthermore, many smaller investors are excluded by platforms that are exclusively for accredited investors, making it difficult for retail investors to add diversified Alts to their portfolio.
Yieldstreet's Prism Fund provides a unique solution to this dilemma, with a $10,000 minimum investment.
References

Exclusive access to private market investments
Wide range of alternative investments like art, real estate, legal financing, and more
Goal-based investing for growth or income
Minimums starting from $10,000

Only $10 minimum investment
Get a diversified portfolio of real estate projects across the US
Open to all investors
Write to Andrew Fitzgerald at feedback@creditdonkey.com. Follow us on Twitter and Facebook for our latest posts.
Note: This website is made possible through financial relationships with some of the products and services mentioned on this site. We may receive compensation if you shop through links in our content. You do not have to use our links, but you help support CreditDonkey if you do.
Fundrise, LLC ("Fundrise") compensates CreditDonkey Inc for new leads. CreditDonkey Inc is not an investment client of Fundrise.
Compare: