Ad Disclosure: This article contains references to products from our partners. We may receive compensation if you apply or shop through links in our content. You help support CreditDonkey by using our links.
(read more)
Looking to diversify and boost returns with commercial real estate investing? With above 19% returns, CrowdStreet might be just what you need.
Invest in Private Equity Real Estate

Overall Score

3.0

---

Minimum Deposit

2.5

Customer Service

3.0

Commissions and Fees

4.0

Ease of Use

4.5

Liquidity

1.0
5-point scale (the higher, the better)
---
Pros and Cons
Above average returns
Low fees
Well-vetted properties
No option for early redemption
High minimums
Accredited investors only
---
Bottom Line
Commercial real estate investing with good returns but high minimums
CrowdStreet is one of the largest commercial real estate marketplaces today.
It has a wide range of projects and strong historical returns.
But it's only open to accredited investors. Find out how it works and how it stacks up to other platforms like RealtyMogul or Fundrise.
What is CrowdStreet?
CrowdStreet is a commercial real estate investment platform for accredited investors only.
CrowdStreet connects investors with top-notch commercial projects. Since its launch, they've closed on over 750 deals and raised more than $4 billion. They've averaged an impressive IRR (Internal Rate of Return) of 19.2%.[1]
The platform offers both equity and debt investment opportunities. You can pick individual deals or invest in funds, which contain a selection of real estate projects.
Crowdstreet's stats-to-date show very strong performance since its inception in 2014:[1]
| | |
| --- | --- |
| Annualized IRR | 19.2% |
| Deals funded | 752 |
| Deals realized | 157 |
| Total invested | $4 billion+ |
| Total distributions made | $508 million+ |
| Average equity multiple | 1.58x |
| Average holding period | 3 years |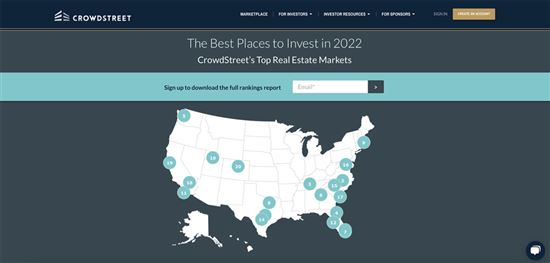 Screenshot of Crowdstreet
Is CrowdStreet legit?
CrowdStreet has completed a large number of successful deals that have earned them a strong reputation. Plus, their executive team has 120 years of cumulative experience in real estate, business, and investing.

Who is Crowdstreet Best for
CrowdStreet is very clear that they are for high net worth individuals. CrowdStreet investors are:
Accredited investors looking for high quality commercial real estate deals

Those with at least $25,000 to invest[2]

Those who don't need liquidity for 3 to 10 years
These requirements might away turn smaller investors. But it lets CrowdStreet offer higher quality deals with higher potential returns to those who can put up the extra cash.
How to Qualify for Crowdstreet
Crowdstreet is only open to accredited investors. This means you must have:[3]
Annual income of at least $200,000 ($300,000 if filing taxes jointly), OR

Net worth of at least $1 million, excluding the value of your primary home
You must be a US citizen or resident. It's not open to international investors.
CrowdStreet Pros and Cons
Ready to invest in CrowdStreet? Check out these pros and cons before signing up.
Pros

Above average returns

Institutional-quality properties

Fees are average to below average

Very thorough due diligence

Many seasoned sponsors list on the platform

Can invest with a self-directed IRA
Cons

Only for accredited investors

No liquidity/option for early redemption

High investment minimums

No mobile app
How CrowdStreet Works
Crowdstreet works with sponsors to offer real estate deals to investors. The sponsors are large real estate firms that need capital for their projects.
Crowdstreet helps firms raise funds quickly from investors nationwide. At the same time, investors get access to institutional-grade deals that were once not available.
It has a very thorough evaluation process. Only about 5% of deals make it to the platform.
CrowdStreet offers 3 investing options:
Individual Deals: choose your own properties.

Funds & Vehicles: get a simple diversified portfolio.

Tailored Portfolio: create a custom investment strategy with professional advisors.
Below, learn how to start investing on CrowdStreet and more about each option.
How to Start Investing on CrowdStreet
Investing in a CrowdStreet property or fund is easy. Here's how it works:
Create an account for free.

Confirm your accreditation status.

Browse deals on the CrowdStreet Marketplace.

Submit your offer.

Once approved, fund your offer via wire, ACH or check.
You can immediately view all of Crowdstreet's current deals once you've opened your account. You can see their investment stats, like the expected IRR, cash yield, and holding period.
The way you make money depends on what kind of project it is. You earn returns as interest (for debt investors) or as a share of profits (for equity investors).
3 Ways to Invest on CrowdStreet
CrowdStreets gives investors 3 ways to invest, depending on how involved you want to be. We'll go over them below.
1. Individual Deals
You can browse the individual deals on the CrowdStreet Marketplace. Each listing shows the relevant stats and the value proposition.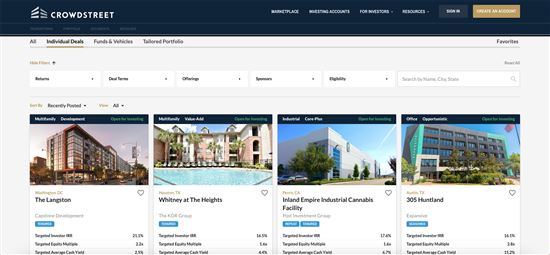 Screenshot of Crowdstreet
Property types include:

Office

Multi-family

Hotels

Industrial

Retail

New developments
Each investment is categorized by a "Investment Profile." This tells you the risk/returns projection, planned work on the building, and how it generates income.
You can find new construction developments to established properties with long-term tenants.
The minimum investment for CrowdStreet deals generally start at $25,000.
The investment period is usually 3 to 5 years. Some projects go up to 10 years.
Individual Property Example
One recent property on CrowdStreet is
Pinnacle Corporate Park
in Ft. Lauderdale. It's an existing office building with an ~83% occupancy rate.
The sponsor, Feldman Equities, is the largest private owner of office buildings in the Tampa Bay area. They plan to enhance the property, such as adding a fitness center. The goal is to attract new tenants and bring the occupancy rate up to 95%.
If successful, the expected IRR is15.7% over a 5-year period.
CrowdStreet provides extensive info for each investment property. Each deal includes:
An archive of legal documents

The sponsor's offering memorandum

Business plan

Property details

Video of the elevator pitch for their project

The sponsor's contact info
2. Funds and Vehicles
CrowdStreet's Funds & Vehicles gives you easy diversification with just one investment.
They're a great option if you don't have the time or expertise to research your own properties.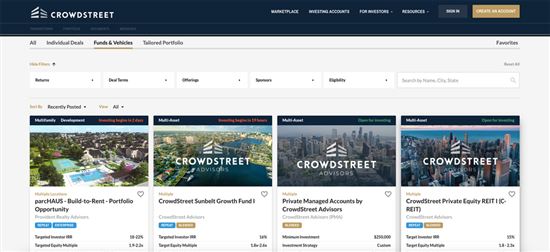 Screenshot of Crowdstreet
You can invest in either Crowdstreet's own funds or a sponsor's fund. Crowdstreet funds are managed by their in-house real estate professionals.
They also offer funds from their sponsors (such as from Rainbow Realty Group or Priam Capital).
Each fund focuses on a specific investment strategy, property type, or region. Examples may include a multi-family fund or an industrial development fund.
Minimums for CrowdStreet funds also start at $25,000. Instead of investing in only one deal, you're invested in multiple projects.
Funds & Vehicles Example
One example of CrowdStreet's funds offerings is the
New Era Medical Investment Fund
. The projects in this fund include medical office buildings, post-acute care hospitals, and specialty medical facilities.
The targeted term length for this fund is 5 years, with an optional 2-year extension. Their projected IRR for the investor is 18% - 20%.
3. Tailored Portfolio
The last way to invest is the privately managed account option by Crowdstreet advisors. The minimum investment is $250,000.
Professional advisors will create a custom investment strategy for you based on your goals. They can help you diversify your portfolio with different property types and risk profiles.
Once you agree to a strategy, they will invest in properties on your behalf. They also handle the day-to-day management of your portfolio.
The first year will have 2% to 2.5% management fees. After that, the fee is 0.25% in subsequent years.[4]
What are CrowdStreet's Fees?
CrowdStreet does not charge any fees for using or viewing listings on their platform.
However, each sponsor will charge you a fee for investing in their property or fund. This fee covers their work for developing and managing the properties.
These fees vary by project. But you'll usually pay a one-time acquisition fee and then an annual management fee. Both are generally between 1% and 2%.
As with any investment, be sure to fully understand the fees before submitting your offer.
CrowdStreet Returns
Crowdstreet has a very strong track record. From 2014 to April 2023, their annualized IRR is 19.2%.
Out of the 752 deals funded, 157 have been fully realized. Investors have seen a 1.58x equity multiple average. This means they have gotten back 1.58x on their initial investment.
But all investments have some risk. And as always, remember that past performance doesn't guarantee future results.
CrowdStreet lawsuit: The law firm "Peiffer Wolf" has brought a lawsuit against CrowdStreet on behalf of investors who have lost money on certain deals. It notes that one such deal, Cloverleaf Suites - Lincoln, saw its investors lose 74%. Whether or not it has merit, this lawsuit reminds us that the high returns in real estate also come with significant risk.
CrowdStreet Common Complaints
One of the biggest complaints is that CrowdStreet deals can get funded very quickly once they go live on the platform.
Making a real estate investment requires a lot of time and research. It's important to go through the extensive offering documents and make sure the terms are to your liking.
This is a process that could take weeks. So understandably, investors are discouraged when popular offerings get fully funded in just a few days.
Other users have noted that the customer service response time is subpar, sometimes taking several days. Other than these two items, we aren't seeing many complaints. Most investors are pleased with their experience using CrowdStreet.
CrowdStreet Competitors
There are several other platforms that specialize in real estate crowdfunding.
We'll offer a brief comparison to their larger competitors below.
Visit Site
Visit Site
Visit Site
Annual Fee
$0 platform fee; Sponsor fees vary for each deal

1% - 1.5%

1% management fee

Minimum Deposit

$25,000

$5,000 for REITs; $25,000 for individual deals

$10

Dividends

Some properties generate monthly or quarterly dividends

Monthly or quarterly payouts or auto reinvest

Choose quarterly payouts or auto reinvest

Investment Period

3 - 10 years

3 - 10 years

5+ years

Investment Types

Commercial, multi-family, industrial, land

Commercial, multifamily, office, industrial

Commercial, single family, industrial

Wealth Requirements

Accredited investors only

REIT offerings open to everyone; Accredited investors have access to private placements

None

Visit Site
Visit Site
Visit Site
Terms Apply. Offering Circulars
CrowdStreet vs.RealtyMogul
RealtyMogul is another one of biggest platforms for commercial real estate investing. It has achieved over $5.8 billion in deals to date.
It's available to both accredited and non-accredited investors. Everyone can invest in their REIT offerings with a minimum of $5,000.[5] Accredited investors have access to private placements.
RealtyMogul has an extremely rigorous underwriting process. Only 1 out of 1,000 deals may pass. So it doesn't have as many deals on the platform as Crowdstreet. It focuses more on cash-generating properties instead of ground-up development.

Invest in individual properties
$25,000 minimum investment
Available to accredited investors only
CrowdStreet vs. Fundrise
Fundrise is one of the most popular real estate investing platforms. It's open to everyone and only has a $10 minimum investment.[6]
They offer three different investment plans that target different portfolio goals like generating income, long-term appreciation, or a balance of the two. You get quarterly dividend payments, which is better if you're looking for some cash flow.
Another pro is that Fundrise offers a quarterly early redemption plan (with a small fee). This gives you some flexibility to get out of the investment earlier.

Only $10 minimum investment
Get a diversified portfolio of real estate projects across the US
Open to all investors
Read more: Fundrise Review
CrowdStreet vs. YieldStreet
YieldStreet is a unique platform that offers a large variety of alternative investments. This includes real estate, art, supply chain financing, and litigation finance.
Accredited investors can invest in individual deals at YieldStreet (usually $10,000 minimum). Everyone can invest in their Prism Fund with just $10,000 minimum.[7]
Yieldstreet's investments are debt-based, which comes with a lower risk/return profile. If you want to invest in equity and can pony up the high minimums, CrowdStreet is the best option.

Exclusive access to private market investments
Wide range of alternative investments like art, real estate, legal financing, and more
Goal-based investing for growth or income
Minimums starting from $10,000
Read more: YieldStreet Review
Bottom Line: Is CrowdStreet Worth It?
Our assessment is yes, CrowdStreet is definitely worth it for accredited investors.
They have some of the best offerings in the private real estate crowdfunding space. It boasts high-quality properties, above average returns, and are backed by experienced sponsors.
They also include a ton of detailed information and research on each deal. This adds to our confidence in their ability to scout out good deals.
CrowdStreet offers something for all investors - whether you want to hand-pick your properties or want a simple diversified portfolio.
The biggest drawback to investing with CrowdStreet is their high minimums. But if you're able to put up the extra cash, it's worth it based on the strong performance it's had.
References

Access to institutional grade commercial real estate deals
Choose your own projects or invest in a fund
$25,000 minimum investment

Only $10 minimum investment
Get a diversified portfolio of real estate projects across the US
Open to all investors

Exclusive access to private market investments
Wide range of alternative investments like art, real estate, legal financing, and more
Goal-based investing for growth or income
Minimums starting from $10,000
Write to Andrew Fitzgerald at feedback@creditdonkey.com. Follow us on Twitter and Facebook for our latest posts.
Note: This website is made possible through financial relationships with some of the products and services mentioned on this site. We may receive compensation if you shop through links in our content. You do not have to use our links, but you help support CreditDonkey if you do.
Fundrise, LLC ("Fundrise") compensates CreditDonkey Inc for new leads. CreditDonkey Inc is not an investment client of Fundrise.
Compare: