Digit Review: Is It Safe?
Editorial Note: This content is not provided by the companies mentioned. Opinions expressed here are author's alone, and have not been reviewed, approved or otherwise endorsed by the companies.
Ad Disclosure: This article contains references to products from our partners. We may receive compensation if you apply or shop through links in our content. You help support CreditDonkey by using our links.
(read more)
Digit automatically builds a savings fund for you by withdrawing small, affordable amounts. But it's not perfect. Is it worth the fee? Let's find out.
Overall Score

3.3

---

Annual Fee

2.0

Minimum Deposit

5.0

Customer Service

3.0
5-point scale (the higher, the better)
---
Pros and Cons
No minimum balance
Save without thinking
1% annual savings bonus
High monthly fee
No phone support
Not for long term savings
---
Bottom Line
Good savings app that analyzes your finances and automatically saves money
Saving a dollar here and a dollar there might seem ridiculous. How will that ever amount to anything? Digit set out to change this way of thinking with their microsavings platform. Is it worth it? Can you save even the smallest emergency fund this way?
With Digit, you can save money even when you live paycheck-to-paycheck.
You don't have to change how you live. Digit evaluates your income, bills, and spending habits and then finds little "pockets" of money that they can withdraw and put aside for savings for you.
Will you get rich off it? It's not likely.
But can you save for a rainy day, vacation, or sudden necessary repairs? It may be possible. Digit likes to position themselves as the "stress-free" savings app. They take the thinking out of savings by making it automatic for you.
Keep reading to find out more.
How Digit Works
Digit uses an algorithm to determine how much money you can save. This is how it takes the "thinking" out of saving. It doesn't necessarily save the same amount every week or even every month. It continually calculates how much you can save each day and puts the money aside accordingly. If your income changes or you suddenly go on a spending spree, your savings will change accordingly.
All you need to get started with Digit is your personal identifying information and your checking account information. You do have to provide Digit with your login information for your checking account, which they link to your Digit account. The first few days after you sign up, Digit analyzes your cash flow in the account. It then determines the best pattern to withdraw money, putting it into your savings account.
Digit withdraws between $0.05 and $150, depending on your cash flow and needs. In the Digit app, you can set up specific goals with end dates that give Digit an idea of how much money you need and when. They will use their algorithm to look for money every two to three days to help you meet that goal.
Digit's algorithm looks at the basic things, such as your payday and recurring bills. They also consider upcoming expenses (based on past history), current spending patterns, and your daily balance to make sure they won't put you in a financial bind.
Is Digit Safe? Digit isn't a bank. Your money is held at one of their partner banks, which are FDIC insured. This protects your savings should the bank go out of business. FDIC insurance provides protection for up to $250,000.
Digit also claims to provide 256-bit encryption to keep your personal financial information safe.

Compare Savings Account Promotion

To get your $150 or $200 Bonus: What to do: Apply for your first Discover Online Savings Account, online, in the Discover App or by phone. Enter Offer Code CY923 when applying. Deposit into your account a total of at least $15,000 to earn a $150 Bonus or deposit a total of at least $25,000 to earn a $200 Bonus. Deposit must be posted to account within 30 days of account open date. Maximum bonus eligibility is $200.
What to know: Offer not valid for existing or prior Discover savings customers or existing or prior customers with savings accounts that are co-branded, or affinity accounts provided by Discover. Eligibility is based on primary account owner. Account must be open when bonus is credited. Bonus will be credited to the account within 60 days of the account qualifying for the bonus. Bonus is interest and subject to reporting on Form 1099-INT. Offer ends 12/14/2023, 11:59 PM ET. Offer may be modified or withdrawn without notice. See advertiser website for full details.

No fees
$1 minimum deposit
24/7 online access
FDIC insured

5.05% APY with a balance of $5,000 or more
0.25% APY with a balance of less than $5,000
$100 minimum opening deposit
No monthly maintenance fee
Member FDIC
Who Is Digit Best For?

© CreditDonkey
Millennials. Digit was created with millennials in mind. Many millennials rely on technology to conduct many of their daily habits, including banking.
If you have trouble saving on your own. Digit is literally "saving without thinking". People who have trouble putting money away themselves can build up a savings fund without any work on their part.
If you have more consistent financial patterns. It's best if you have consistent income and predictable spending patterns. If you have varying income or erratic spending habits, it may be harder for Digit's algorithm to predict how much you can save.

No Account Minimums
You don't need to make a deposit to open an account. Leave as little as you want in Digit.
What Are the Fees?
Digit does charge a $5 monthly fee. They deduct the fee directly from your linked checking account on the same day each month.

Try out 30 days of Digit for free then just $5/month.
How Do Withdraw Your Savings?
If you need your savings from Digit, withdrawing the money is simple. You can start the process in the app by clicking on the fund or goal you would like to withdraw the money from or even text your request to Digit's chat bot. You state the amount you want to withdraw and it will show up in your linked checking account.
Withdrawal requests made on a business day before 4 p.m. PST may arrive by the next business day in your checking account. Any withdrawal requests made on Saturday or Sunday may arrive by Tuesday morning. If you make any requests after 4 p.m. PST, your money may take up to two business days to be deposited.
Wells Fargo and Chase Customers:
If your checking account is with Wells Fargo or Chase, you can receive "instant" withdrawals. If you request the transfer before 11 a.m. PST, the money may be in your account by that afternoon. If you request it after 11 a.m. PST but before 4 p.m. PST, it may arrive in your account that evening. Any requests made after 4 p.m. PST arrive the next business day.

Reasons We Like Digit
You can save without thinking. Even if $1 here or $5 there doesn't seem like much, it adds up. Digit takes the thinking out of saving, making it automatic for you. Before you know it, you might have a decent start on that emergency fund that you never thought would be possible. The best part is you won't have to change your habits.
You don't need a minimum investment to get started. You don't have to make a deposit to open an account. The automatic saving program will determine when the best time is to make that first withdrawal from your checking account. It could be in a few days or it may take a few weeks. There are no penalties for low balances.

In fact, you can use Digit even if you don't have income or are paid irregularly. Digit can still analyze your spending patterns and help you save money.


You get a 1% savings bonus every 3 months. Digit rewards you with a 1% bonus every year, paid out every 3 months. Your bonus is calculated from the average daily balance over the previous 3-month period. It's automatically deposited into your Digit account.

The total bonus you receive is 1% annually. Since it's paid out quarterly, that means you receive 0.25% each time. It's not a huge bonus, but hey, that's free money. The more you save, the more you earn.

You can put a stop to automatic withdrawals for up to 30 days. Even though Digit evaluates your account regularly, you may get to a point where you are uncomfortable having any money withdrawn from your account. The "pause" feature allows you to stop withdrawals for 30 days at a time. Digit alerts you a day before the pause is about to expire in case you still need more time.
You can set up as many goals as you want. A few examples include vacation fund, wedding fund, credit card payments, or student loan payoff. Digit will divvy up the amount they withdraw from your checking account equally amongst the goals.

If you don't set up specific goals, the default account is a "rainy day fund". This helps you create an emergency fund for any unexpected expenses.

You can "boost" a specific goal. If you have one goal that has priority over the other goals, you can choose to "boost" it. By choosing this option, Digit will deposit a larger portion of the funds withdrawn from your checking account into this account. The program will still save towards your other goals; the portion will just be smaller.
You can make withdrawals whenever with no penalty. Even if you haven't reached a specific goal yet, you can withdraw your funds. Digit realizes that life happens. All you have to do is choose the goal you want to withdraw from and click "withdraw." Digit offers this service without any penalties or service charges.
You can make changes to your account via text message. While the Digit app is user-friendly and probably more convenient, they do offer the option to text commands, such as "Pause" or "Withdraw." This can be convenient if you aren't connected to Wi-Fi but need to make a change to your Digit account.
You get low balance protection for your checking account. It can be scary that a bot is taking money out of your checking account. What if they take out too much? This feature protects your checking account from going below a level you're comfortable with.

Low Balance Protection

Digit automatically transfers money into your checking account when the balance is low.

You can set an amount that you don't want your checking account to go below (for example, $750). If your checking account dips below that amount, Digit will automatically transfer the difference from your Digit account into your checking account.

Digit offers overdraft protection if they take too much money out of your checking account. Digit isn't supposed to take money out of your checking account unless their algorithm shows that you can afford the withdrawal. Mistakes happen, though, which is why they offer reimbursement of your overdraft fees on automatic savings transactions.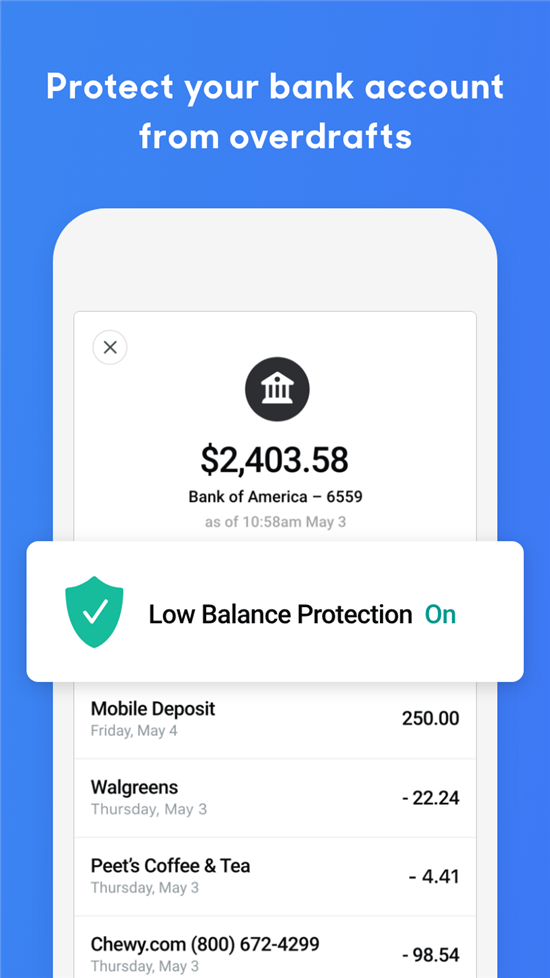 Reasons You May Want to Look Elsewhere
The monthly fee. It costs $5/month to use Digit. Of course, if you can be disciplined about saving yourself, you can avoid this fee. But if you have trouble saving yourself, then you may find that this fee is worth it to save without thinking.
You can earn higher interest somewhere else. While it's nice that Digit gives you 1% savings bonus, you can earn higher interest than that from other online banks. Other banks give you daily compounding interest, so it helps your savings grow faster.
Limited customer service. There is no telephone number for Digit. The only way to contact them is through email support, so you may not be able to receive immediate response to your questions.
You have to use a debit card to get the most accurate results. If you use a credit card for regular spending, Digit can't see your spending habits. They can see how much you pay towards your credit card each month, but unless you pay the balance off in full, Digit won't know your true spending habits because it only has access to your checking account.
How It Compares
Digit vs Acorns:
Acorns rounds up purchases made on your credit cards, and withdraws the spare change from your linked checking account. Acorns doesn't just put your money in a savings account, though. They invest it in a portfolio. Investing money can give you better returns; however, you also have the potential for losses.
Benefits and Features

Savings

Yes

No

Stock Trading

Part of service fee. No add-on trading fees.

Options Trading

No

Annual Fee

30 days free; then $5/month

$3/mo for Acorns Personal (includes personal taxable account, IRA, and checking account)
$5/mo for Acorns Personal Plus (includes everything in Personal, emergency fund, and 25% match on rewards)
$9/mo Acorns Premium (includes everything in Personal Plus, investment accounts for kids, 50% match on rewards, custom portfolio, Trust & Will, $10K Life Insurance, and free GoHenry account)

Checking

No

Yes

Mutual Fund Trading

No

Phone Support

No

Yes

iPhone App

Yes

Yes (4.7 stars, 760k ratings)

Android App

Yes

Yes (4.3 stars, 156k ratings)

Banking

Included in Acorns Personal ($3/mo). Free metal debit card, no minimum balance, no overdraft fees, and 55,000+ fee-free ATMs nationwide.

Taxable Accounts

No

Yes

IRA Accounts

No

Yes

Roth IRA Accounts

No

Yes

SEP IRA Accounts

No

Yes

Visit Site
Visit Site

Digit: Pricing information from published website as of 07/02/2018

Acorns: Pricing information from published website as of 09/28/2020.

Open an Acorns account (new users only)
Set up the Recurring Investments feature
Have your first investment be made successfully via the Recurring Investments feature
Digit vs Qapital:
Qapital is microsavings app that automatically savings money for you when "rules" are triggered. You can set up rules, such as saving the change from purchases, save $5 whenever you go to Starbucks, etc. The aim is to make saving fun and keep you motivated. It also offers a checking account that you can use alongside your savings account.
Benefits and Features

Annual Fee

30 days free; then $5/month

Basic: $3/mo; Complete: $6/mo; Master: $12/mo

Checking

No

Yes

Online Platform

Yes

No

Visit Site
Learn More

Digit: Pricing information from published website as of 07/02/2018

Qapital: Pricing information from published website as of 07/02/2018
Digit vs Mint:
Mint doesn't do the saving for you, but they do help you find ways to save. They analyze all of your linked accounts, including checking, savings, credit card, and investment accounts. After analyzing your accounts and spending, they help you see where you might be able to save more money. It's up to you to put the suggestions into action, though.
Bottom Line
Digit may work for you if your income and spending habits are consistent. While you won't "get rich quick," it can help you put money aside for that rainy day or special goal. While it might not be the best as your primary savings vehicle, any amount you can save is never a bad idea.
Write to Kim P at feedback@creditdonkey.com. Follow us on Twitter and Facebook for our latest posts.
Note: This website is made possible through financial relationships with some of the products and services mentioned on this site. We may receive compensation if you shop through links in our content. You do not have to use our links, but you help support CreditDonkey if you do.
Compare: