Amazon Review Sites for Free Products
---
Get free stuff shopping through Amazon. Sound too good to be true? Nope. Find out how to get free products to review on Amazon.

© CreditDonkey
Here is a list of legit Amazon review sites. You can find amazing deals and 100% discounts.
Remember those old shopping-spree game shows? Some lucky shopper races down the aisles, chucking items into their cart? Action figure. Lipstick. Houseplant. Television.
If only shopping were always that exciting.
With Amazon review sites, you can get a taste of that excitement. Earn steep discounts by leaving reviews on Amazon or social media—typically between 50% and 90%, but 100% off is not as rare as you'd think.
Find out which sites offer free products and what important policies you must follow to reap the benefits.
The Best Amazon Review Sites
Before you sign up with a review site:
Amazon prohibits leaving reviews in exchange for discounts or free products. If you do leave a review on Amazon, remember that it's completely voluntary, and no seller can demand it of you for any price. Most sites also require you to post a disclaimer in your review if you got a product at a discounted price.

1. Snagshout: Sample New Products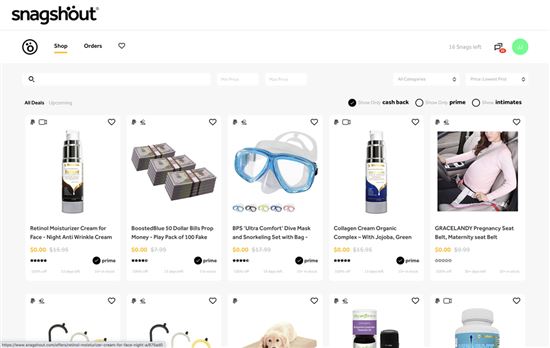 Credit: Snagshout
Snagshout provides fantastic deals for forward-thinking shoppers.
According to Snagshout, they reward "early adopters and influencers" for trying out new products from growing brands.
There's plenty of items to choose from: workout gear and supplements, phone accessories, even high-end items like a wireless home security camera system, down from $629.99 to just $189.00 at the time of writing. (That's 70% off, by the way.)
Pay attention to the type of deal, as cash-back deals take 30 days before you get your money. However, with many of Snagshout's deals, the savings are upfront and you don't have to worry.
2. Vipon: Earn Cash for Video Reviews
Shop on Vipon through their website or their app, available on the Android or iOS store. They share deals collected from sellers on Amazon for a wide range of products. Usually, the deals are for 50% off or more.
One feature that sets Vipon apart is V Show, where you can actually earn money for video reviews. Upload videos to their site (for free) and earn $1 for every 10 likes you get. If you're looking to up your review game or break in as an influencer, it may not be a bad place to start.
3. Rebaid: Save 50%-100% with Rebates
With Rebaid, you don't even have to leave a review. That's right, it's optional. And their website is loaded with deals from 50% to 100% off. Some discounts are as low as 25%, but the higher values appear to be the majority.
Check their website to see what's available before you shop. If something catches your eye, activate the offer, buy on Amazon, and then go back to Rebaid to confirm your order number.
Best of all? There's no catch. Up-and-coming brands rely on these deals to help get the word out to potential customers like you. Everybody wins.
4. Cashbackbase: Earn Points for Cash Back
Cashbackbase is all about points. Earn points by completing tasks like leaving reviews or inviting friends. They'll even reward you with points for blogging or vlogging about the site itself.
Use your points to get cash-back deals, even as high as 100%. The value of points seems to vary, sometimes exactly 1 cent, other times a bit more, but with 1,200 points, you can expect to get somewhere in the ballpark of $12 cash back.
Get 2,000 points just for signing up.
5. Deal Go!Go!Go!: Save Effortlessly with a Browser Extension
If you want to find easy deals for things you were already planning to buy, Deal Go!Go!Go! is a no-brainer. Install their browser extension and have millions of verified Amazon coupons applied automatically. If the deal is out there, you'll get it.
That doesn't mean you can't browse, of course. They have plenty to choose from on their site, as well, with most deals ranging between 40% and 80% off.
It's worth investing in an Amazon Prime account if you plan on reviewing lots of products. Free, speedy shipping ensures you don't end up paying extra for otherwise discounted goods, and makes you more appealing to sellers since they won't have to pay for shipping either. Plus, it shows you'll get your products quickly—which means faster reviews for them.

6. Jump Send: Huge Selection
You could spend a lot of time scrolling through the deals at Jump Send. Toys. Smartphone cases. Office chairs. The list goes on.
The ability to search by category (there are 18), name, price, age, or discount makes the site easier to navigate than most.
And with discounts from 20% to 95%, you're sure to find something you like at a price well below retail.
7. Elite Deal Club: Daily Deals
This site wants to make sure that everybody gets a chance at the 250+ discounts they offer each day. That's why from 10 a.m. to 2 p.m. Eastern Time, members can choose one deal to grab. After that, you're free to take as many as five.
This site also doesn't require a review in order to save. With lots of discounts (usually between 50% and 100%) on electronics and phone accessories, and the chance to win Amazon gift cards for shopping, Elite Deal Club sounds like… well, a pretty great deal.
8. Giveaway Service: Review and Save 40%-100%
Giveaway Service aims to connect influencers (that's you) with brands and design agencies that want your feedback. In exchange for heavily discounted or free products, all they want is your honest review.
You aren't required to review the products you get, but the site does keep track of your completion rate. Plus, brands must approve you as a tester before products ship and might pass you over if that number is low.
Most deals were between 40% and 100% off.
9. AMZDiscover: Sellers Come to You
AMZDiscover aims to connect Amazon sellers with qualified reviewers. If you sign up, sellers will have access to your:

Name

Reviewer ranking

Helpful votes

Contact information, and

Any social media accounts that you choose to disclose.
Once you sign up by linking your Amazon account and profile page, sellers will begin contacting you with offers in exchange for your reviews. Having a high reviewer ranking will most likely get you a wider range of offers.
10. Tomoson: Become an Influencer
With Tomoson, you link your social media accounts (Facebook, Twitter, Instagram) the site ranks you by Total Reach (the sum of your followers, visitors, likes, and friends) and engagement.
If your numbers are high enough, you can set a rate (or range) for exerting your influence.
But don't worry if you don't have a million followers. Tomoson will also provide discounts and freebies to average folks for sharing products or giving feedback. Discounts range from 100% to 10% or 20%.
If you've already got a solid social media following, Tomoson is a great place to leverage it for deals.
If you want to become an influencer, consistency is key. That means regular, quality posting. Start by picking your platform:
Will you blog? Post videos on YouTube?

Publish stories on Instagram?

Review on Facebook?
Then, it may help to make a posting schedule. Post often, and honestly. If you can find an audience that appreciates your insights, you've won half the battle.

11. VIP Amazon Review Club: Review on Facebook
Despite the name, you aren't required to leave an Amazon review for products you get through VIP Amazon Review Club by Premier Deals Club.
Instead, you'll post your review on Facebook within five days of receiving your product to get discounts on products from 20%-60% off.
Of course, Amazon reviews are appreciated, so if you have something useful to say, speak up.
12. Deals for Reviews: Save 50%-100% with New Brands
New products, great deals, and quality reviews—that's what Deals for Reviews is all about.
It's free to join, and you can get deals from 50% to 100% off. Their goal is to help brands launch and perfect new products.
Just leave a review within two weeks after you get the product, and you can take advantage of all they have to offer.
13. AMZRC: Save on Sport and Outdoor Equipment
Amazon Review Club offers a range of relatively low-priced items, discounted from 10% to 70%.
This site didn't have the best selection, but they did have a fair range of sport and outdoor equipment, accessories, and a few useful gadgets.
14. VIP Power Club: Save 90%-99% via Email
You have to join VIP Power Club in order to get a chance at their discounts—typically as high as 90%-99%. Then you'll get offers exclusively via email.
Signing up is free, and it isn't difficult to become a VIP.
Since all the offers come to your inbox, you can't browse their site. With most products coming in under $5, it can't hurt to give it a shot.
15. TestZon: Earn Freebies and EXP Points
Tester price: $0. It's all over the homepage at TestZon.
And with over 100 pages worth of products, and 60 products to a page, there's a lot to choose from. Many of the products are in limited quantities, 10 or 20, so you must act quickly to get the best deals.
As with all Amazon review sites, you aren't required to leave a review—but at TestZon, you'll earn experience points if you do (one review, one point). Plus, some brands require a certain amount of experience before they'll select you as a tester.
If gamification and very low prices are your thing, give TestZon a shot.
If you leave a review, make sure it's what you really think.
Accurate reviews help future shoppers make good choices, and pointing out flaws helps companies learn. If you have something negative to say, consider reaching out to the company directly first. They'll be grateful and may send you a product update with your feedback in mind.

16. Home Product Testing: Deck Out Your Home
Get a chance at testing hundreds of personal and home products at discounts that run the gamut from 10% to completely free with Home Product Testing.
They've got a truly wide range of products, from video doorbells to bronze sculptures to pineapple curry hot sauce.
Browse their site daily for new products, and when you see one you like, contact the seller or click "Reveal." If you get approved, they'll send you the discount code and soon your product will be on its way.
Tip: Make sure to use your code quickly— they expire within 24 hours.
17. iReviewHome: Often $1 or Less
Frequent shoppers and consistent reviewers win at iReviewHome, where you have to be approved by each seller before you receive a discount code.
Products are often free or as low as a $1.
It's worth noting that your discount code may not cover shipping, which varies from customer to customer. Make sure to check the cost, even if the item itself is free.
18. Oz Naturals: Save on Organic Skin Care
Oz Naturals makes a variety of skin care products for concerns like redness, inflammation, and breakouts.
They use exclusively natural and organic active ingredients, and you can try out their products for low prices if you're willing to leave a review.
From facial cleansers to serums and anti-aging creams, if you want to save money and take care of your skin, it's worth giving it a chance.
19. Social Nature: Health-Conscious Savings
If you're looking to make healthier choices, Social Nature is for you. Get discounts (15%-30% generally) or apply to participate in free trials for new products like vegan protein powder, passionfruit Greek yogurt, and organic soy-free dressing.
One interesting feature of Social Nature is their Launchpad, where consumers can voice their support for products they like in an effort to get them into local brick-and-mortar stores.
The more you share reviews on social media (Facebook, Twitter, Instagram, Tumblr), the more likely you are to get invited to future campaigns.
20. EtekCitizen: Save on New Tech
Enroll as an EtekCitizen at EtekCity and try out new tech—all from the EtekCity brand. Get discounts up to 90% off healthy living, smart living, active living, and practical living products.
They don't always have products available through their EtekCitizen program, so check back regularly for your chance at deeply discounted gadgets.
21. Secret Deals Club: Access Secret Deals
The Secret Deals Club website looks a bit like Craigslist without any content. It's very bare-bones.
But that's because the deals come straight to your inbox. After all, they're supposed to be a secret, right?
Every day at 10 a.m. Pacific Time (great for West Coast folks), you'll get an email with the daily deals, which start at $1. Don't let it languish in your inbox. All the discounts are first come, first served.
22. GMYLE: Save on Phone Accessories
Test a range of smartphone accessories like earbuds and phone cases through the Lab Promotion at GMYLE.
They only ask that you provide honest feedback on the product page in a timely manner, so that future buyers can make an informed decision when they shop.
You can only participate in two promotions per month, and they require that you provide proof of feedback before they refund the cost of the item to your account.
23. Review Directory: Grow Your Influence
With Review Directory, you can receive testing and review opportunities by email from one of their dedicated campaign coordinators.
Leave reviews on Twitter, Facebook, Instagram, or a personal blog. But they ask that you do not review on marketplace sites like Amazon.
You can use this as an opportunity to test new products and expand your reach as a blogger or influencer. If you leave detailed, consistent, high-quality reviews, you'll get invited back for more promotions.
24. UberZon: Save on Health and Well-being
At UberZon, get access to deals from 50% to 100% off on health and well-being products, clothing, supplements, and more. Sign up to become a member to browse their range of products.
If you're looking for a new shampoo or immune booster, UberZon is worth checking out.
25. KabelDirekt: Test Cables and Gadgets
KabelDirekt is a German company specializing in TV, HDTV, audio, and computer accessories.
Navigate to the English portion of their site by clicking US or UK in the top right corner.
You can sign up to become a Premium User and get exclusive deals and even small gifts. All of the products available are produced by KabelDirekt.
If you're into tech, give it a look.
26. Blue Ribbons Review: Request Products
Blue Ribbons Review doesn't always have products in stock, but with advertised discounts of 70% or more, it's worth checking in from time to time.
They have products in a range of categories: toys, clothing, entertainment, automotive, and more. Simply sign up at their website and you'll begin getting offers through email as well.
And if they don't have what you want, they have a request feature that may allow you to get it in the future.
Amazon Review Sites Alternatives
If you are looking for a different approach than those listed above, try out some of these methods to maximize your savings and earn freebies.

Become an Amazon Pro Reviewer
Becoming an Amazon pro reviewer is no easy task, but if you can manage it, the rewards will be huge.

First and foremost, it requires having a following, whether it's through Facebook, YouTube, Instagram, or a blog (the bigger, the better).

Once your following is big enough, and you have a reputation for doing reviews, companies will find you.

Consider picking a niche that suits your interests. Making consistent content—both topically and in quality—will help make sure that the right people come across your account.

Review with Amazon Vine
With Amazon's Vine Program, you're going straight to the source: it's run by Amazon itself.

Getting chosen as a Voice on Vine requires a high reviewer ranking, which means you've got to leave a lot of high-quality reviews.

If you're picked, you'll start getting free products to review from Amazon. As long as you're honest (note: not positive, honest), and maintain a high reviewer ranking, you'll continue to be able to participate.

The Vine program is invitation only.

Free Kindle eBooks
Whether they're out of copyright (typically the author's life + 70 years), or promotions for new authors or new works, free eBooks are a great opportunity for big readers.
Free Audiobooks
No time to sit down and read? Check out Audible, one of the largest audiobook providers in the world, which is owned by Amazon. You can get two free audiobooks just for signing up.
Free Music
Not all of the music on Amazon costs money to listen to. Sort by price from low to high to find free digital albums.
Free Apps
Just like the music, some of the apps on Amazon are free. Remember though, "free to download" doesn't necessarily mean you won't have to sign up for a membership or make in-app purchases.
Sample Box Program
Prime members can get sample boxes from Amazon—though it's limited to one per customer. Purchase through the site and you'll be reimbursed with an Amazon voucher. It's worth a try if you're the curious type.
Free Cloud Storage
Get unlimited photo storage with your Amazon Prime membership, as well as 5GB of cloud storage with Amazon Drive—absolutely free.
Amazon Prime Free Trial
Anyone can binge with a free 30-day trial of Amazon Prime. Get same day delivery, TV shows, movies, music, ebooks, and more.

Plus, if you're a student with a valid student email address, that time is bumped up to six months. It's a pretty sweet deal.
Bottom Line
You don't have to be an influencer to get free stuff on Amazon. And with the sheer number of sites offering freebies and discounts, you're sure to find an offer you're excited about.
For access to bigger and better deals, consider becoming an influencer by leaving consistent, quality reviews for the products you buy or test. The rewards are plentiful, and it can be a fun challenge if you enjoy the spotlight.
Getting deals on Amazon is not quite as exciting as throwing TVs into a fast-moving shopping cart—but when that little brown smiley face box shows up at your door, it does feel just a little bit like your birthday.

Jeremy Harshman is a creative assistant at CreditDonkey, a personal finance comparison and reviews website. Write to Jeremy Harshman at jeremy.harshman@creditdonkey.com. Follow us on Twitter and Facebook for our latest posts.